Bubble bob explained: will this season's chicest crop work for you?
Full of body and movement, the bubble bob is a rounded cut that takes its cue from the '90s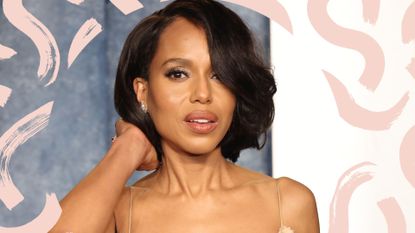 (Image credit: Future/Getty images)
Another week, another trending bob, and this time it's the bubble bob. Made famous by Winona Ryder and Natalie Portman in the '90s, this bouncy short haircut is making a comeback. Already spotted on several A-listers (including Ciara, Kerry Washington, and Elsa Hosk), expect to see this chic crop everywhere.
"The bubble bob, as its name suggests, is a variation of the classic bob hairstyle but with a bouncy and bubble-like appearance," explains David Dossola, senior stylist at Neville Hair and Beauty. Taking its cue from the '90s, Ryan Humpage, style master at STIL salon, believes this is one of the reasons it's so popular today. "The '90s influence has come back around in music, fashion, and TV, so it's not surprising to see this short hairstyle take off again."
Considering the chop? There are plenty of reasons to go for it, according to Humpage, "It makes a statement, enhances facial features, and speeds up getting ready in the morning." Here, the experts break down everything you need to know about the bubble bob and why it could be your new summer haircut.
Bubble bob: what you need to know
What is the bubble bob?
"The bubble bob gets its name from its rounded shape and silhouette," explains Humpage. "It's a chunky cut that's full of body and movement for an aerated, swishy look." According to Adam Reed, legendary hair stylist and editorial ambassador for L'Oréal Professionnel, styling is key to creating this 'do. "To me, the bubble bob is much more based on how it's styled versus how it's cut, which is really interesting."
To achieve that bubble effect, "the ends need to be turned under to give the hair a rounded shape," says Humpage. A round brush or your best curling iron will do the trick here. "It's this rounded shape that gives the hair a full-of-volume look which has a real '90s supermodel feel to it," adds Reed.
Who does the bubble bob suit?
"A variety of people," assures Humpage, "as the length can be adjusted to suit different face shapes and features." Dossola agrees and notes that it's because of its versatility that this style, much like the Italian bob, is creeping up in popularity. "This subtly graduated bob, which boasts airiness, can be adapted to add volume to fine hair but also soften features of certain face shapes, such as square." As ever, having a detailed consultation with a stylist you trust is how to avoid being left wondering how to fix a bad bob haircut.
What separates the bubble bob from other bob hairstyles?
"It's all in the styling," says Reed, "you can style the French bob and the boyfriend bob differently to give it a bubble bob reinvention." So while the French bob tends to be undone with a relaxed, tousled texture – it can easily become the bubble bob with some careful styling.
How to style the bubble bob
The experts agree that prep is key when styling the bubble bob. "I start off by applying a texturizing spray or volumizing mousse to prep the hair before blow-drying it with a round wooden brush," says Dossola. To blow-dry, Humpage recommends rough drying hair with fingertips until it's about 70% dry before taking your round brush and wrapping the ends under to create that rounded shape.
Once the hair has dried, "add some Velcro hair rollers to really maximize the oomph," suggests Reed. "Then finish with hairspray brushed into the hair – not over it, but through it – to keep that movement and flexibility." An alternative way to achieve this look, as Dossola suggests, is by using the best hot rollers, "but personally, I prefer using the brush," he notes.
Our beauty editor recommends...
Our favorite A-list bubble bobs to inspire
Side-parted bubble bob
So sophisticated, Kerry Washington's bubble bob exudes glamour with its deep side parting, high shine finish, and swishy ends. For maximum shine, apply one of the best hair masks before styling.
Sleek bubble bob
Ask your stylist to subtly graduate the baseline, keeping the front sections slightly longer, to recreate Ciara's sleek, polished bubble bob. When styling at home, use one of the best hair straightener brushes to smooth strands.
Tousled bubble bob
If you prefer a more relaxed finish, take inspiration from Laura Harrier and add beach hair waves to the hair using a curling iron or waving tool to give it that tousled texture.
Emma Stoddart is a freelance beauty journalist and self-confessed skincare aficionado with over five years' industry experience. Emma has worked for some of the UK's top women's titles including Net-A-Porter, Stylist and Grazia. Her experience spans online and print as well as producing editorial shoots with some of the industry's biggest artists, including Val Garland. Asides from working with them behind the scenes, she's also had the chance to interview the likes of Patrick Ta, Pat McGrath, and Sam McKnight for all their insider tips and tricks.