How to fix a bad bob haircut, according to hairdressers
Wondering how to fix a bad bob haircut? Don't panic! Experts share their top tips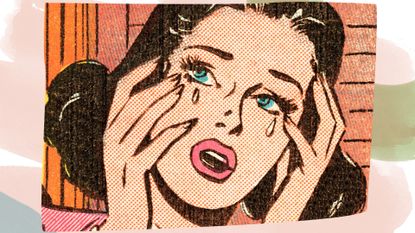 (Image credit: Future/Getty images)
Frantically searching online for how to fix a bad bob haircut? Do not fret, we've asked pro hair stylists to share their expert advice on what to do when you end up with an unflattering crop. The good news is, there are plenty of styling tips and trending buys that can help.
Bob hairstyles are having a major moment and are undeniably one of the top hair trends 2023 has to offer. But with more and more of us experimenting with short hairstyles – from the classy French bob to the '60s-inspired Italian bob – there's also a growing interest in how to fix a bad bob.
"A bad bob haircut can be caused by uneven length, poor layering (think mushroom shapes) or a lack of attention to the individual's face shape and hair texture," says Samantha Cusick, hairdresser and ghd UK ambassador. Although it's frustrating to leave the salon with a less-than-ideal chop, the experts assure us that with the right styling and tools, it can be fixed.
How to fix a bad bob haircut, according to the pros
Let's start by saying that a bad bob haircut can result from a number of bob mistakes. And it's important to identify the mistake in order to find an appropriate solution. David Dossola, senior stylist at Neville Hair & Beauty, outlines the key bob issues that can arise:
An uneven cut
An overly long or overly short bob
Too many layers or layers that are too blunt
A face frame that doesn't suit the client's face shape
A cut that is not considered for the specific hair type
"If you end up with a bad bob haircut, go to a reputable hairstylist or salon to get it fixed," suggests Cusick. "Alternatively, you can try styling your hair differently to make it look better until it grows out." Here, the experts break down how to fix the most common bob mistakes.
1. Too short? Use accessories
"At this point, sometimes it's best to just roll with it," says Cusick. "It could be that you need to let the cut settle for a week or so and experiment with styling as it's probably quite a change." The experts agree that when it comes to styling, investing in one of the best hair straighteners is key, as you can create a multitude of looks with this one tool.
Another top tip? Tick off a trending summer hairstyles 2023 by adding an accessory! "Try experimenting with different hair accessories, such as headbands or hair clips hairstyles, to add interest to your style," continues Cusick. Neil Moodie, top editorial stylist and founder of Neil Moodie Studio, agrees, adding that "hair slides, barrettes, and butterfly clips can all distract from a bad bob haircut that's too short."
2. Uneven length? Add texture
Rule number one: never attempt to fix an uneven length at home. Even if you've mastered how to cut your own hair, it's always best to visit a hairstylist who can expertly trim the ends to make it even.
For a quick-fix temporary solution, consider adding body and texture with your best curling iron. "Adding waves and some texture with large curling irons and texture sprays can help balance out the unevenness," says Moodie. "You can also try using hair clips to hold back any longer or shorter pieces while you style it," adds Cusick.
3. Poor layering? Flip the parting
One of the easiest tips to try, the experts agree that a simple parting change can totally transform a bad chop. "Sometimes a different parting can help balance out asymmetrical or uneven layers and create a more flattering shape," says Cusick. "It can also add volume and movement to a flat or lifeless bob." The best hair thickening products can help here, too. Trial and error is the best way to find your new parting, "play around until you find the one that flatters you most," advises Dossola.
4. Too high maintenance? Let it grow
"If the maintenance required for a bob is too much, you may want to consider finding an alternative or simplifying your current approach," says Cusick. For example, a longer bob doesn't require cutting as often as a sharp jaw-length bob or a bob with bangs. Let your hair grow out to your shoulders for less upkeep.
Another piece of advice from the pros is to change the way you're styling your hair. "Work with your natural texture more to avoid having to use so many products and heat styling tools," says Moodie. "And speak to your stylist," adds Dossola, "as they'll be able to recommend services and the best hair products that will make managing your hair a whole lot easier."
5. Unflattering cut? Seek advice
If the cut doesn't suit you, it's worth speaking to an expert. "Consult your hairstylist and tell them what you don't like about the bob to find a better haircut that suits both your face shape and hair type," says Cusick. A subtle change to the shape or a tousled texture can make a big impact. "Adding highlights or lowlights to your hair to create depth and dimension might give your bob the look you want."
How to style a bob that's too short
"If you feel your hair is too short, switch up the way you style it," advises Dossola. "Using a styling gel or a mousse to create texture can completely transform the look. Alternatively, depending on how short your hair actually is, it may be possible to add in some tape extensions to subtly lengthen the hair." Read our guide to find out which hair extensions are best for your hair type - and which can help you nail how to fix a bad bob haircut.
Emma Stoddart is a freelance beauty journalist and self-confessed skincare aficionado with over five years' industry experience. Emma has worked for some of the UK's top women's titles including Net-A-Porter, Stylist and Grazia. Her experience spans online and print as well as producing editorial shoots with some of the industry's biggest artists, including Val Garland. Asides from working with them behind the scenes, she's also had the chance to interview the likes of Patrick Ta, Pat McGrath, and Sam McKnight for all their insider tips and tricks.