Shaggy bob explained: the effortlessly cool style that's trending for 2023
Love a layered look? Turn your head to the shaggy bob, a laidback chop that's flattering for all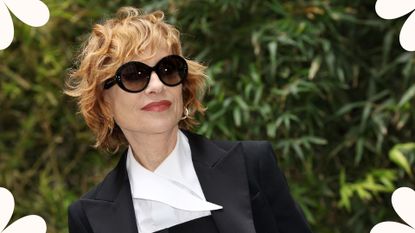 (Image credit: Future/Getty)
It's out with the sleek styles, as this season the shaggy bob is tipped to be the hottest hair trend around. Already proving popular among the celebrity circuit, Isabelle Hubbert, Lizzo and Selena Gomez are just a few of the A-listers who have recently experimented with this style, sporting a short shag cut that's full of texture and body.
There's no denying the appeal of a shaggy bob. One of the most flattering bob hairstyles to try, this style combines the rebellious shag haircut with 2023's most in-demand length (short, of course) to create a cool, mussed-up look. "The shaggy bob is a modern iteration of the classic bob," says David Dossola, senior stylist at Neville Hair & Beauty, "distinguishable by its choppy layers and texture, this haircut is loved for its effortless effect."
Unlike more polished trending bobs, such as the bubble bob, this style has a grungy vibe that the A-list can't get enough of. "When you see a model or celebrity go for a shaggy bob, it instantly creates a trend," says Syd Hayes, BaByliss ambassador, and celebrity session stylist. Keen to give it a go? Here, we ask the experts to break down everything you need to know about the shaggy bob – from what it is to who it suits and whether or not it makes a good hairstyle for fine hair.
SHAGGY BOB: WHAT YOU NEED TO KNOW
What is the shaggy bob?
Let's start with the basics, what is the shaggy bob exactly? "It's a really textured bob that has plenty of layers and movement," explains Robert Eaton, Wella Professionals' technical director. As for length, the shaggy bob is shorter than other trending styles such as the longer chopped bob, sitting somewhere between the chin and shoulders.
"To me, it's undone," says Hayes, who adds that "the baseline of the bob is shattered and uneven." It's this that gives the shaggy bob its carefree, rock 'n roll attitude that makes an ideal summer hairstyle for 2023. "You might pair it with a long fringe that has been razor cut to give definition," suggests Eaton.
Who does the shaggy bob suit?
The experts assure us that this cut suits most hair types, textures, and face shapes. "Personally, I love creating this hairstyle because I can adapt the layers to suit oval, round, square, or heart-faced shapes," says Dossola. Unlike many short hairstyles, "the shaggy bob is customizable and can be altered to suit the individual's features – whether it's balancing out a round face or softening angles to suit a square face." On the subject of a round face shape, Hayes notes that "it's important you don't go too short with the length."
Are shaggy bobs low maintenance?
"As far as haircuts are concerned, the shaggy bob is relatively low maintenance," says Dossola, "however, this does depend on your hair type." For instance, some light styling may be required to achieve the laidback, tousled look that complements this choppy bob so well. With that said, it's not one of those haircuts that requires the perfect finish – "it looks great lived in," he continues.
"If your hair is very straight and flat, then it will need a helping hand with a few of the best hair products and tools to create volume and movement," says Eaton. "But if your hair is already textured or curly, this cut is ideal as it will require little-to-no styling." Styling aside, the experts all agree that regular trims are a must to keep the haircut at that optimum length and avoid the appearance of pesky split ends.
Can you have a shaggy bob with fine hair?
"Yes, bobs often make people's hair look thicker," assures Hayes, "just make sure that the baseline is not as broken or as shattered as someone with thick hair." Dossola agrees and says, "the shaggy bob is one of those styles that suits most people, however, I'd tread cautiously if you have thin or fine hair as it may result in hair looking even thinner."
If hair thinning is a concern of yours, consider other bob styles too, like the boyfriend bob. "It's important your shaggy bob is tailored by your hairdresser to suit your specific hair type," continues Hayes. Our advice to avoid having to google how to fix a bad bob haircut? Always book in for a consultation with your stylist first to discuss if your desired hairstyle can be achieved with your hair type.
How to style a shaggy bob
First, "onboard your stylist's advice and don't be afraid to ask them how to recreate the style at home," says Dossola. If your hair is naturally straight, Eaton recommends using one of the best hair straighteners to curl sections for beach hair waves. "You can also use your best curling iron, but straighteners give a much less structured look." To refresh your style on day two, "apply a styling spritz or texture spray."
Alternatively, if your hair is curly, "leave it to set naturally," says Eaton. "Apply a curl cream or anti-frizz cream to wet hair and twist each section with your finger to create a curl. Leave the curls to air dry and then gently tousle the hair with your fingers once it's dry." This final step is key, "if you break up the curls before your hair is set, you'll end up with frizz," warns Eaton. To add definition, you can also use one of the best curlers for short hair, as these tend to have smaller barrels for creating extra texture – just be sure to match the barrel size to your natural curl size.
The experts recommend...
A-list shaggy bobs to inspire
Jaw-length shaggy bob
Isabelle Huppert's new chin-sweeping cut is loaded with layers for body and texture. Follow suit and ask your stylist for a short, tousled shaggy bob with bangs.
Long shaggy bob
This long shaggy cut is especially flattering on round and square face shapes and is a great cut if you're transitioning from a hairstyle for long hair to a shorter 'do.
Wavy shaggy bob
This shoulder-grazing style is a modern take on the shaggy bob. Style hair using a waving tool for a relaxed, beachy finish as seen here - our Amika High Tide Deep Waver has all the details on the ideal tool for this.
Emma Stoddart is a freelance beauty journalist and self-confessed skincare aficionado with over five years' industry experience. Emma has worked for some of the UK's top women's titles including Net-A-Porter, Stylist and Grazia. Her experience spans online and print as well as producing editorial shoots with some of the industry's biggest artists, including Val Garland. Asides from working with them behind the scenes, she's also had the chance to interview the likes of Patrick Ta, Pat McGrath, and Sam McKnight for all their insider tips and tricks.