A beauty editor's detailed, honest Dyson Airwrap review
Still debating an Airwrap purchase? A beauty editor shares her Dyson Airwrap review to help you decide if it's right for you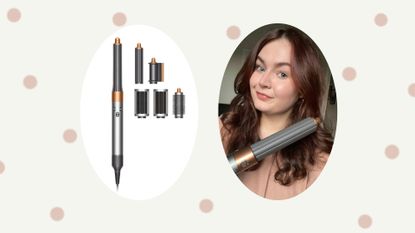 (Image credit: Lucy Abbersteen)
An undoubtedly very expensive tool but also one that gets results, with good staying power thanks to its built-in cold shot. You're spoilt for choice with styling options, making this essentially multiple hair tools in one sleek and stylish case.
Reasons to buy
+

Uses air to style rather than direct heat

+

Bundle comes with six attachments

+

Lightweight

+

Handy storage case for the tool and its attachments
Reading a Dyson Airwrap review is an absolute must before you buy. Why? For one thing, I estimate the Airwrap is the most talked about hair styling tool of the century – partly because of its advanced technology, partly because of its considerable price tag. If a tool costs hundreds of dollars or pounds then it must be pretty special, but you still want to do your homework before putting it on your holiday wishlist.
Specifications
Weight: 611g
Watts: 1,300w
Cord length: 2.7m
Warranty: 2 years
RRP: $599.99/$479.99
Makers of one of the best hair dryers around, the Supersonic, Dyson first launched the Airwrap in 2018, a do-it-all styler that can dry, smooth, curl, and create wavy hairstyles with hot and cold air instead of direct heat. It's now supremely famous; ask any beauty editor and they'll tell you that one of the questions they're most often asked is, "is the Dyson Airwrap worth it?" (Second place goes to, "what about Dyson Airwrap dupes?", FYI.)
In 2022, the brand released a 'new and improved' version of the viral tool with re-engineered attachments to further improve its styling abilities and suit more hair types. By then the Airwrap had already taken over social media as one of the top TikTok beauty products of the year, a good indicator that a buy is that good. So, how does the 2.0 edition fare?
To bring you a comprehensive Dyson Airwrap review I've tested my own for months, washing and styling with all of the various attachments that come with the Complete Long kit. There is a bit of trial and error involved as you figure out how to use the Dyson Airwrap in the best way for your hair type, but essentially my beauty-tester eye was assessing how easy the Airwap is to use, how polished the results are and how long they last.
Our beauty editor's Dyson Airwrap review
Dyson Airwrap Multi-Styler Design
When Dyson first forayed into hair styling tools, its technology revolutionized the game. Without giving you too in-depth of a science lesson (I'm a beauty editor, not an engineer) it utilizes what's called the Coanda effect to draw hair towards the barrel and style it with air, rather than direct heat, like many of the best curling tongs would.
The Airwrap is the main gadget onto which you screw one of the different attachments depending on your desired style, be it smoothing your hair into a sleek, straight finish, or creating a bouncy blow dry that Kate Middleton would be proud of. There are also three speed settings and three heat settings to experiment with to find a styling regime that works best for your hair type.
What attachments come with the Dyson Airwrap Multi-Styler?
You have the option to personalize your Airwrap attachments when you buy the Multi-Styler direct from Dyson, or you can purchase one of two 'Complete' bundles – one of which has slightly longer barrel attachments for hair that's chest-length or longer, like mine.
A ready-made bundle will kit you out with a 30mm and 40mm barrel, a smoothing dryer and flyaway attachment, a round volumizing brush, one firm smoothing brush, and one soft smoothing brush. There are other brush, comb, and barrel attachments available too, all of which I've broken down below.
Coanda dryer: A 2-in-1 dryer nozzle with the new smoothing tool built-in. This tool is perfect for roughly drying the roots and removing excess water before you style with the curling barrels. The smoothing tool is, frankly, genius, as it flattens all flyaways to help you create a flawlessly smooth finish.
Curling barrels: Re-engineered to now curl in both directions, these barrels are your go-to for creating close-to-heatless curls and waves. There are three different widths depending on how big and bouncy you like your curls: 30mm and 40mm, which come as standard with the Airwrap, and 20mm.
Wide tooth comb: Designed specifically for very tight curls and coily hair types, this attachment helps to elongate and shape the hair while you dry and style, as well as add volume.
Round brush: A classic vented round brush head, this is great for creating a smooth blow dry with bounce and adding volume and shape throughout. A must if you like to swoop your bangs, '70s-style. This attachment is also available in a smaller size for shorter hair.
Soft smoothing brush: Perfect for creating straighter, sleeker styles that retain a little volume, this brush lends itself well to finer hair types. This attachment is also available in a smaller size for shorter hair.
Firm smoothing brush: Similar to the soft smoothing brush, but for hair that's thicker and more prone to frizz. The firm brush is also best for straightening or partially drying hair that's thick or very curly before styling, and it's another that's available in a smaller size for shorter hair.
As mentioned this famous tool had an update this year, with its snazzy attachments now re-engineered for even better performance. A big bonus of this is that, with the original Airwrap, you previously had two different barrel attachments for each direction you can curl your hair. Now, there's only one of each size barrel, complete with a dial to change the styling direction, so no need to keep changing the attachments during your styling session. Handy!
These new attachments are also compatible with the older Airwrap, so existing Airwrappers can get in on the easier styling action, too.
How well does the Dyson Airwrap perform?
Any new Airwrap owner will tell you that the barrel stylers take a little getting used to but practice makes perfect, as they say, and it doesn't take long to get the hang of them. I'd never used the Airwrap until I got my hands on my own a few months ago, but I haven't struggled to get to grips with it. If any strands of hair from your chosen section aren't drawn towards the barrel, you can either wrap them around the barrel or move the Airwrap back and forth very slightly to encourage it to pick them up.
The cold function is also particularly useful here, as it allows you to set your style in place before withdrawing the barrel – something you won't get with, say, a curling wand. They're definitely the star of the Airwrap show and I found bouncy styles lasted all day, if not longer.
The round vented brush attachment is decent, but I felt it could be longer to style bigger sections of hair. A wider brush head option could also be good for a more voluminous blow-dried look. It's by no means a bad attachment, though, and it's useful for adding a bit of volume to the topmost layers and for swooping curtain bangs or larger face-framing sections of hair, which I did for the look in the right-hand snap above.
I personally am prone to frizzy hair and flyaways (so the firm smoothing brush lends itself better to my hair than the soft one for a straighter style). Because of this, I wouldn't have said no to an even lower speed setting. But that's not a massive issue as the new flyaway attachment – which is built-in to the dryer nozzle – soon fixes this. It is, in short, incredible. I don't think I've ever seen a hair tool be able to completely flatten flyaways as well as this does. I might be slightly in love with it.
I'd also recommend bearing in mind how well your hair holds a curl when you use other styling tools before you pick up the Airwrap. I know that my hair holds fairly well because of its ringlet pattern (muscle memory, if you will), but if your hair drops out fairly easily, make sure to prep your hair with the best hair styling products to give your strands some hold, and use that all-important cold shot function.
What's not good about the Dyson Airwrap?
No surprises here, the price of the Airwrap is its biggest drawback. No matter how excellent the tool or how cutting-edge its technology, for lots of people spending almost $600 or £500 on a hair styling tool isn't an option, or at the very least not something they can do on a whim. It's very versatile, but that price tag is pretty prohibitive. For a slightly more affordable alternative, our Shark FlexStyle review breaks down what you need to know about the dupe.
For those who aren't that dextrous with hair styling tools, it'll probably take a bit of practice to get to grips with the Dyson Airwrap's Coanda effect. But the brand has a few demos on its YouTube channel for each of the attachments, so you can practice along at home. Or you can book into a Dyson Demo Store for a wash and styling appointment and be shown how to use the Airwrap, if you don't live too far from one.
Dyson Airwrap Multi-Styler review: my verdict
Now to return to the question I asked all the way back in the intro of this Dyson Airwrap review: is the Dyson Airwrap worth it? If you are going to use it all the time and you can afford it, then yes, I do think that this is a great tool. It's hugely versatile and essentially combines one of the best hair dryer brushes, smoothing tools and curling tongs in one.
That said, I don't think I could hand on my heart say that I'd happily give up all other hair styling tools and only use the Airwrap for the rest of my life. There are tools I turn to for certain looks, and even the brand offers a separate hair straightener (which you can find out more about in our Dyson Corrale review). But for bouncy loose curls, retro blow dries and smooth and sleek finishes that last well, it really is a winner.
Lucy is a UK-based beauty journalist who has written for the likes of Marie Claire, Cosmopolitan, OK!, Women's Health and more, as well as contributing to woman&home. Her work covers everything from expert skin and haircare tips to the latest product launches and the show-stopping beauty looks spotted backstage at London Fashion Week. During her career she's interviewed some seriously famous faces, from Little Mix to Drag Race royalty The Vivienne, as well as chatting to the industry's leading hairdressers, dermatologists and make-up artists.