Dyson launches the brand new Airstrait hair tool and we couldn't be more excited
The Dyson Airstrait is here to transform straighteners as you know them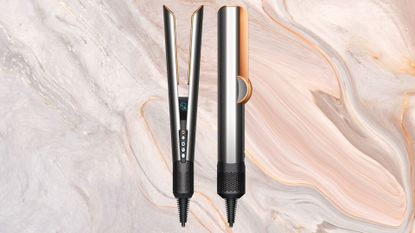 (Image credit: Future/Dyson)
Dyson has unveiled the latest hair tool that will join their myriad of stellar styling products - the Dyson Airstrait. Designed to straighten hair with no heat damage, this could be one of the brand's most exciting launches yet.
Our Dyson Airwrap review will tell you what huge fans we are of the brand, so we couldn't be more excited about the brand-new Airstrait. This innovative tool promises to stretch and straighten multiple hair types from wet to dry, using the brand's signature air power, all without any heat damage.
The Dyson Airstrait doesn't have any hot plates like typical straighteners, so there is no frazzling or frying of hair involved - just focused airflow that will give you the perfect straight style with a sleek and shiny finish. We're certain this will soon join the ranks of the best hair straighteners on the market. Our beauty editor Fiona McKim got the chance to see the tool in action and even try it herself, and this is what she thought.
The new Dyson Airstrait: our beauty ed's thoughts
"I was lucky enough to visit Dyson's London HQ for a sneak peak of the brand's latest creation - the equivalent of a golden ticket to the chocolate factory for us beauty eds. When the Airstrait was unveiled we had a collective 'why didn't we guess earlier?' moment. That's what these guys do so well, create seemingly simple (albeit technologically complex) solutions to obvious-when-you-think-about-it problems like damage from hair straightening.
"Genius stylist Larry King demoed the tool on my long, fine hair, one side wet to dry and one side dry. My thoughts? Wet to dry was incredibly quick - quicker than other hybrid tools I've tried and far, far quicker than blow drying and then straightening. I had been skeptical about dry styling, because how much can air really do? A lot, it turns out. Both sides of my hair were sleek and crucially, soft and very shiny - not at all frazzled. A friend popping by that evening genuinely commented on my hair's smoothness.
"The tool also looks great and has plenty of gorgeous little features like an auto-clean before you start and auto-pause when you put it down. This is Dyson, so you'll pay big for the privilege, but if that's not an issue this would be a real time-saver and hair health savior."
The one downside for UK shoppers? You'll have to exercise patience, as the brand notes the "Dyson Airstrait will be available in the USA, Mexico and Canada from the 11th of May and the rest of the world (including the UK date) at a later date."
Breaking down the technology behind the Airstrait, Dyson explains that "the hair tress is contained by two arms, from which a precisely angled high-pressure blade of air is forced downwards and into the hair, both simultaneously drying and straight styling, with one machine." This highly effective technology provides everything you could want for a gorgeously straight style.
Retailing for $499.99 it isn't a cheap tool, but as with other Dyson tools, like the best hair dryers, you can expect seriously impressive results that will also keep your hair healthy. What's not to love?
Amelia joined woman&home after graduating with an MA in Magazine Journalism from City University in 2022. She specialises in lifestyle journalism and throughout her undergraduate degree she wrote for a variety of student publications, where she developed a love for all things style, beauty and sustainable fashion. She has previously written for titles including OK! Magazine, New! Magazine and Notion before she started her career as a lifestyle journalist with woman&home after completing an internship with the brand.