Worried about damage from hair straighteners? Here's what happened when two women quit the heat
Does ditching the heat reverse damage from hair straighteners? We investigate...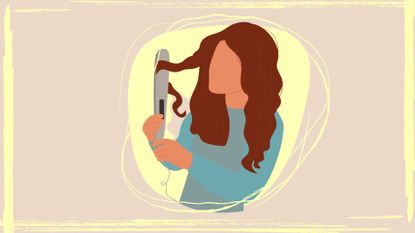 (Image credit: Future/Getty images)
Ask around about beauty guilty pleasures and heat styling (then worrying about damage from hair straighteners) is sure to come up.
Let's face it, even the best hair straighteners can negatively affect our hair's health because heat – particularly the extreme heat that hair straighteners emit – is simply bad news for strands. "When you style your hair using heat, you break down the bonds within your hair, temporarily altering the shape," explains Live True's Expert Stylist & Educator Natalia Vera (opens in new tab), "It can also rapidly evaporate the moisture in your hair, leading to excessive dryness and frizz."
Many regular straighteners know this, deep down, while simultaneously feeling dependent on their flat irons for day-to-day styling, But have you ever thought about giving it all up? And is it even possible to nail how to straighten hair without heat? As a society, we have moved away from generic beauty ideals and towards embracing hair in all its beautiful forms. And many women lucky enough to sport a curly hairstyle are taking the opportunity to ditch the heat, show off their natural texture and mitigate some damage from hair straighteners in the process. Here's what happened when two women braved it.
What you need to know about damage from hair straighteners
Do straighteners damage hair?
In a word, yes. Some damage from hair straighteners is inevitable with regular use. Hair-straightening addicts can find themselves in a vicious circle. Even the best hair dryers can leave flyaways, so we reach for straighteners to eliminate frizz. However, high levels of heat, as well as friction from dragging the styler through hair lengths, can harm the hair and cause yet more frizz. "Damage caused by hair straighteners to the hair's cuticle can leave the surface prone to frizz and curling. This can prevent shine, as only smooth hair is capable of reflecting shine," explains Craig Taylor (opens in new tab), creative director of Hari's Salons.
Bad habits such as clamping the plates tightly or straightening damp hair can also cause issues, explains Vera, "Before using straighteners, your hair must be 100% dry. Wet hair is more prone to damage and applying heat can do even more harm when it's in this state." Straightening fragile strands can cause breakage, too. "Excessive heat can damage fine new hair, which can split and break off," explains Taylor.
Can you repair damage from hair straighteners?
The sad truth is, once hair is damaged it does not have the ability to heal itself in the way that our skin does. "Hair is dead once it grows out of your head – there's no way to truly repair damaged hair," states Vera.
With that said, cutting down straightening (or stopping entirely) along with regular trims and reparative products can help. "When you've broken the habit of straightening your hair, it would be worth using hair treatments to restructure the hair's strength and smooth the ends," explains Taylor, "slowly the hair will start to show signs of improvement in its quality." Bond builders for hair such as Olaplex are fine examples of this sort of treatment, while Vera advises that "You can help the look and feel of it by applying oils, serums, and bond repairing hair masks."
But how to escape the daily cycle of straightening if smooth is your go-to look? "A good way to break the habit of using hair straighteners is to have a salon-smoothing treatment," advises Taylor. "Adding keratin to strengthen the hair will keep it smooth, straighter, and stronger. This process will prevent the need for hot heat on the hair and make a noticeable difference to the quality of your hair".
What happens when you stop using hair straighteners?
Yasmin's story
My hair history
"I got a pair of straighteners when I was 16 because at the time there was such a trend to have perfectly straight hair. I have very thick, wavy long brunette hair and always felt self-conscious at school, which is why I begged my parents to buy me a pair of straighteners. I went on to use them every single day – sometimes even twice a day so I could maintain that dead-straight look!
Before I started using straighteners my hair was as healthy as could be. I rarely used heat (just a quick bouncy blow-dry now and then) and everyone used to comment on how lovely and thick it was. However, after around two years of intense straightener use, I noticed my hair becoming straw-like – it wasn't as thick as it used to be and it was really dry and damaged. I began using a heat protection spray, which helped slightly, and the best shampoo and conditioner for damaged hair, but nothing I tried seemed to be able to get my hair back to how healthy it was."
Why I stopped straightening
"After that, I continued to use my hair straighteners just out of habit for around three years, but not as often as I used to – giving in to them only a few days in the week or if I was out at the weekend. It would take me a good half an hour in the morning to get that poker-straight look. It would be the first thing I did when I got out of the shower and if I was going out in the evening I would even do it twice.
But when I started a full-time job in London in 2020, I didn't have the time every morning to do my hair, so I decided to take the plunge and ditch the stylers altogether – and my hair has never felt so good."
My hair and I now
"My locks have managed to get back so much natural goodness and my hair feels a lot more healthy. Before it felt so burnt out, dry, and even had that horrible heat smell to it. Looking back at the pictures, I don't even like how straight I used to wear my hair – it was really flat and stuck to my head! But now it has life and its natural thickness is returning. I still blow-dry my hair and occasionally use heated rollers if I am going to a special event, but I haven't used my straighteners at all since breaking the habit. I've fallen in love with my natural waves and have embraced them 100 percent.
It now takes me less than five minutes to style my hair if I'm not washing, as I simply wake up, give it a brush and I'm good to go. I'm embracing my hair in its natural form, which has even led to more compliments than I ever got when it was straight. I would potentially use straighteners once in a blue moon if I was going out, but I would never ever go back to using them the way I did before."
Beth's story
My hair history
"I have the kind of thick hair that takes two people to blow-dry in the hairdresser and it grows at a crazy rate. It's naturally curly and very long, with tighter corkscrew curls underneath, and looser on top. As all curly-haired girls know, it never curls the same way twice!
I've even had a few questionable styles due to my curls, where I've asked for a cut that you should only really get if you have naturally straight hair; I braved a fringe at university and (because I'm a sucker for punishment) again a couple of years ago. It was a disaster. I'd straighten it in the morning, and by the end of the day, it would be all over the place – and don't get me started on getting caught in the rain.
I must have been about 15 or 16 when I started straightening my hair. Poker-straight hair was in so I wanted to get the same look. As I started working, I thought having straight hair looked more sleek and professional. For 14 years I used hair straighteners almost daily, except if I was on holiday or in hot weather. I rarely used heat protection and had a tonne of split ends – when I brushed, strands would break off at the end! But it was still glossy so to me I thought it looked pretty healthy."
Why I stopped straightening
"Daily straightening was doing nothing to help me get out the door in the mornings. I'd wash my hair every other day and after 20-30 minutes of blow-drying would then spend another 45 minutes straightening it. And regardless of my time and effort, the natural curls would fight their way through anyway, so by the end of the day my straight hair would develop a sneaky ringlet (or ten) again.
My transformation came when, during a spell of hot weather, I became sick and tired of spending more than an hour on my hair and being a sweaty mess at the end. So on a whim, I started just using conditioner to scrunch my hair when it was wet and left it to dry naturally. Little did I know how many lovely compliments I would get from people – some of whom I'd known for years – who'd assumed I had naturally straight hair, which led to me feeling confident enough to keep it going."
My hair and I now
"It's now been months since I used any heat on my hair (including a hairdryer) and over a year since I reached for the straighteners – and I can safely say I won't be going back. I've had no new split ends and fewer wispy hairs around my face where the hair had broken from straightening. It's also glossier and more manageable now.
I would possibly consider a hit of heat for a special occasion if it was required (like a wedding), but I'm finally really comfortable and accepting of my natural hair – greys and all – so haven't felt the need to. It can be a shock to the system leaving the house with wet hair in the winter, but the time it's saved me is brilliant. I wash my hair twice a week maximum now – usually to coincide with a work meeting or night out. I've been fairly loosely following the Curly Girl Method for just under a year and try to use products without alcohol or sulfates where possible.
I wouldn't go back to using straighteners. It's not that I don't like straight hair – I have so many friends with beautiful, straight hair and I'm sometimes envious that they don't have to spend hours singeing it – but after turning 30 I've come to accept how I am and not fight it. I think it would be amazing if everyone could be empowered to feel that way – irrespective of their hair type."
Aleesha is a digital shopping writer at woman&home—so whether you're looking for beauty, fashion, health or home buys, she knows what the best buys are at any moment. She earned an MA in Magazine Journalism from City, University of London in 2017 and has since worked with a number of brands including Women's Health, Stylist and Goodto. A year on the w&h news team gained her invaluable insight into where to get the best lifestyle releases first—as well as an AOP awards nomination.