How to straighten hair without heat: can it really be done?
We asked hairdressers for their thoughts on how to straighten hair without heat – here's what they had to say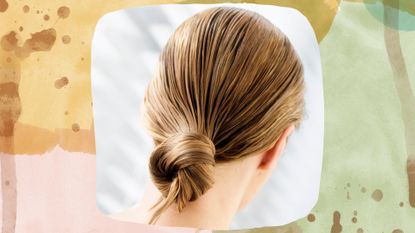 (Image credit: Future/Getty images)
With heatless curling all over social media, we wouldn't be surprised if you've wondered how to straighten hair without heat as well. After all, if bouncy curls are achievable without any heat damage, perhaps a sleek look is too.
The best hair straighteners are, without question, your most reliable method for achieving poker-straight hair, but perhaps like many flat iron addicts you want to cut down on the amount of heat you're using on your strands daily or weekly. Which begs the question: can you straighten your hair without using any heat at all?
To find out if there are any heat-free straightening methods that are worth their salt, we tapped into the expertise of two hairdressers to gauge their thoughts and share expert tips.
How to straighten hair without heat: is it actually possible?
As Dom Seeley (opens in new tab), hairstylist and international creative director for Color Wow, notes, straightening hair without any heat is quite difficult unless your hair is already at the straighter end of the spectrum naturally.
"Heat is needed to alter the formation of your hair, as hair responds to hot and cool processes," he explains."It's not impossible to straighten hair without heat, but if your hair is prone to any frizz or has a slight bit of a wave or a curl texture, then the chances are super slim [that it'll work well] and you're going to need heat."
However, you can still achieve some styling without heat damage. "There are a few techniques that work, but they take effort and time – they're not going to smooth or straighten your hair with high shine or lock down the cuticle layer as a blow dryer or flat iron would do," says Seeley.
Three heatless straightening methods to try
Though they're unlikely to get your hair as sleek as a pair of straighteners or hair dryer will, these are the best heat-free methods to try to straighten out your hair.

Cool it: Your first option involves using your best hair dryer to dry with cool air. "You can apply products that will smooth the hair and blow dry it on a cold setting," advises Seeley. "Make sure you are pointing the nozzle of the blow dryer directly down the hair shaft, following the natural fall of hair, to reduce as much wave, curl, or frizz as possible. Again, it won't get your hair pin-straight, but it will work to some capacity."
Wrap it: Another option, which keeps the hair pulled taut while it dries. "Straightening your hair without heat will take time," advises Belle Cannan (opens in new tab), co-founder of Salon Sloane and Hair Rituals by Sisley ambassador. "The easiest way [to wrap it] is to part your hair in two sections and comb the left side, wrap it around your head to the right, keeping it flat against your head. Then do the same to the right side combing it over to the left, and secure it with pins. I would wrap my hair in a silk scarf and leave it all day or sleep with it – but bear in mind that this only works on long hair. Seeley notes the results "won't be amazingly straight, glossy or sleek, but it will have done a decent job at removing soft waves and bends."
Roll it: If you aren't able to wrap the hair, Cannan advises trying one final trick. "Alternatively, try a good old-fashioned wet set with rollers." Pulling the hair taut around a velcro roller or similar will create smoothed-out volume and bends, as it dries, so may help ease out curls but, again, won't entirely straighten the hair.
How to use less heat when straightening your hair
If the above methods aren't quite what you're after – or you don't have hours to spare using your hair dryer on its coldest setting – there are a couple of other things you can try. These pre-straightening tricks will ensure your hair is well-protected and cut down how much heat you use when you want to style it straight.
As well as being gentler on your strands and resulting in less friction, "microfiber towels will absorb more moisture," says Cannan. By removing as much water from your hair as possible before you dry, you'll save time on blow drying, which means less heat.
Our beauty editor recommends...
The second key thing to bear in mind if you're concerned about heat damage – and one that any hairdresser will tell you is non-negotiable and a no-brainer – is applying some form of heat protection every time you use heat on your hair.
Many styling products come with built-in heat protection, but using one of the best heat protection sprays before you blow dry or straighten your hair means you're guaranteed to be guarding your strands against any damage.
Our experts recommend...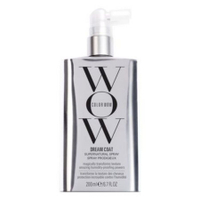 (opens in new tab)
Color Wow Dream Coat Spray | RRP: $28/£27
Seeley recommends Color Wow's Dream Coat spray. "It's non-greasy and has the weight of water so there is no residue," he explains. "It also gives insane shine and transforms the texture of any hair type into silky strands that last for 3-4 washes."
Lucy is a UK-based beauty journalist who has written for the likes of Marie Claire, Cosmopolitan, OK!, Women's Health and more, as well as contributing to woman&home. Her work covers everything from expert skin and haircare tips to the latest product launches and the show-stopping beauty looks spotted backstage at London Fashion Week. During her career she's interviewed some seriously famous faces, from Little Mix to Drag Race royalty The Vivienne, as well as chatting to the industry's leading hairdressers, dermatologists and make-up artists.