The 9 best clear mascara options for that 'no-makeup makeup' look
The best clear mascaras provide the ultimate natural look and have a multitude of uses. Our beauty writer rounds up her favorites...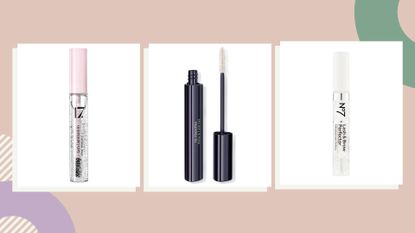 (Image credit: Future)
Some of the best clear mascara options on the market are having their well-deserved resurgence. Many of us are now craving natural-looking faces, and clear mascaras are giving us exactly that.
We all have our go-to best mascara buys - they're the ones that give us the ultimate length, emphasized volume, and tons of jet-black formula to play with. But what about those days when you want a more low-key look? Enter, clear mascara.
"Clear mascara is great for incorporating into your 'no makeup' makeup looks which have become super popular over the past year," says NYX Professional Makeup Expert Make Up Artist Emma Kirk. "I think people are still gravitating to the 'clean' girl aesthetic so clear mascara is a great addition to this overall look. Makeup artist Ere Perez agrees, saying that the product comes into its own for low-key days working from home. "Clear mascaras are popular for touch-ups before zoom, and for fresh-looking eyes for a quick catch-up with someone."
Clear mascara could be the ideal way to try out natural make-up looks, and they're also impressive multitaskers. You can use them as a primer, to tame baby hairs, and create bushy eyebrows, as well as to style flyway strands. Tempted? Read on to find out my pick of the bunch.
HOW WE TESTED EACH BEST CLEAR MASCARA OPTIONS
Why you can trust Woman & Home Our expert reviewers spend hours testing and comparing products and services so you can choose the best for you. Find out more about how we test.
Each clear mascara in this list has been tested and worn by me to provide the most authentic recommendations and opinions. I tried each one over the course of a couple of weeks to make sure I had the most well-rounded view and could see the product's longevity and impact.
I tried to sample products from a range of brands, price points and styles. Some of the clear mascaras were dual-purpose and were designed for multi-use, so I wanted to make sure I had tested all the product's functions, to give a fair review.
The best clear mascaras on the market, as chosen by our beauty writer
1. 17. Brow + Lash Lamination Clear Mascara
Best overall clear mascara
Specifications
RRP: £2.50 (UK only)
Brush type: Bristles
Extra Features: Super thin brush, Ophthalmologically tested, can use on both lashes and brows
Colors Available: Clear
Reasons to buy
+
Great value for money
+
Thin applicator wand and brush
+
A little goes a long way
Reasons to avoid
-
Slightly clinical fragrance
-
Only available in UK
This was one of the last mascaras I tried from my batch and to be honest, I wasn't expecting much for the price tag. Being one of the cheapest in the pack, I naturally assumed it might not live up to the standards of the other best clear mascara formulas, but boy was I wrong. The first thing that impressed me was the thin wand and brush, which meant that application was a total dream. The slenderness of the design meant that the formula swept onto my lashes with zero drama and instantly (I mean instantly) curled and defined the hairs. I'm pretty sure I audibly gasped when it trying out.
The brush emerged from the tube fully loaded with the clear formula and didn't oversaturate my lashes, applying just the right amount of product. I actually didn't need to go back for anymore, which was a rarity amongst all the other clear mascaras I tested. The product dried pretty quickly and didn't leave a sticky residue. It also did a decent job of adding texture to my brows, although it didn't leave my eyebrow hairs as flexible as my lashes. On the whole, I couldn't recommend this clear mascara enough, it ticks all the beauty boxes for me. Without a doubt, it was the best clear mascara I tried.
2. Barry M Eyes Wide Strengthening & Conditioning Mascara
Best clear mascara for taming baby hair
Specifications
RRP : £5.99 (UK only)
Brush Type: Silicone
Extra Features: 100% Cruelty-Free & Vegan, contains Green Tea Extract and Vitamin B5 to hydrate and strengthen
Colors Available: Clear
Reasons to buy
+
Silicone bristles are more hygienic
+
Great for taming baby hairs
+
Large wand gives a quicker application
Reasons to avoid
-
Brush didn't hold much product
Barry M can do no wrong in my eyes, offering some of the best mascaras under £10, in vegan and cruelty-free formulas. The brand consistently delivers and this clear mascara did not disappoint. The chunky silicone brush was the largest in the selection I tried and this meant that after I had swept across my lashes for some natural definition, it took to my brows like Gen Z to Tik Tok. Managing to create some of the best brushed-up bushy brows that my face had ever seen. 10/10.
The product really came into its own though when I used to tame my truly unruly baby hairs and frizzy hair. Managing to stick them down without looking like an oily Danny Zuko from Grease was an absolute triumph and it held all day long, whilst looking like I had zero product in. I must mention that despite its multi-tasking qualities, this particular clear mascara did struggle to hold much product on the silicone brush. So, if you don't mind a mild arm workout when you require a little more product, then this really does do the job well. For the price and respectable cruelty-free and vegan formula, this clear mascara is well worth adding to your beauty collection.
3. E.l.f Clear Brow & Lash Mascara
Best clear mascara for lashes & brows
Specifications
RRP: $3 / £3
Brush Type: Bristles
Extra Features: Dual-sided, two different brush types, free from parabens
Colors Available: Clear
:
Reasons to buy
+
Dual- sided for lash and brows
+
Brushes held a lot of product
+
Thick bristles meant application was easy
Reasons to avoid
-
Dries down a little hard
With one side designed for brows and the other for lashes, this translucent gel covers all face bases. I started off with the lash side and the product seamlessly coated my lashes with its thick gel, meaning a little went a very long way. I only needed one coat to notice that my lashes were instantly longer, curled, and more defined. Immediately sold.
I then smothered my brows and baby hairs in the same product, which again managed to impress me. After a couple of hours, I noted that my brow hairs were still bushy and brushed up and my baby hairs were under control (very out of character). The formula on my lashes did dry a little tacky but I think if you used less product and gradually built up, you could avoid this. For the price and the multi-use of purposes it promises, this handy clear gel is a handbag essential for just about anyone and everyone. It will have your back no matter what beauty emergency you have.
4. Catrice Cosmetics Lash & Brow Designer Shaping + Conditioning Gel
Best clear mascara for brows
Specifications
RRP: $5 / £3.99
Brush Type: Bristles
Extra Features: Uniquely shaped brush for brow application
Colors Available: Clear
Reasons to buy
+
Vegan
+
Slender packaging means it won't take up space
+
Long bristles mean each hair is coated
Reasons to avoid
-
Found the shape tricky to navigate
-
Struggled to get much product onto the brush
The first thing I noticed about the brush of this clear mascara was that it had one straight side rather than a completely rounded shape. So, it was giving more of an 'I'm suited to brows' vibe from the outset but I went straight in for the lashes regardless. Unfortunately, my instincts were correct. I sadly really struggled to make this work for my lash hairs. Barely any product managed to travel from the container onto my eyes, despite me trying many a technique. But if you like a really subtle lash look, then this would be absolutely fine.
I quickly moved on to brows and the product showed its true colors. Clearly meant for a life of providing brows with a lovely natural texture and height, this clear gel worked its magic and transformed my brow hairs. The formula kept everything in place and gave a really lovely natural finish to my brows, flyaways baby hairs. The perfect product for maintaining bushy brows at home. It's a shame this wasn't working for my lashes but if you think of it as more of a brow and baby hair tamer then you certainly won't be disappointed. And for just less than $5/ £4, it's a no-brainer purchase.
5. Essence Lash & Brow Gel Mascara
Best budgetclear mascara
Specifications
RRP: $3.99 / £1.99
Brush Type: Bristles
Extra Features: Opthalmologically-tested, paraben and cruelty-free, vegan-friendly.
Colors Available: Clear
Reasons to buy
+
Shorter tube for compact packing
+
Higher ml than other clear mascaras
+
Great brush shape for easy application
This lash and brow gel ticks every single beauty box for me. I'm actually struggling to think of any slight negative and I just can't. Making it into the top three best clear mascara products I tried! I would first like to just remind everyone of the price point here… I honestly can't think of anything you can get for that little money these days so we're off to an impressive start already. It also contains more product than most of the other clear mascaras that I tried, so it's also huge value for money, another box ticked off.
The perfect-sized bristle brush helped the perfect thickness of formula onto my lashes with ease and left me with a lovely natural flutter. I only needed a very small amount to create my desired look, giving me volumized and defined hairs with ease. Performing as one of the best mascaras for short lashes from the group, this clear mascara was really showing off. It also did a fabulous job of taming flyaways, frizz, and my brows, helping create volume and smoothness where necessary. Tick, tick. After being utterly impressed with this little beauty, I plan to take this everywhere with me. I just know it will help make me look a 'better me' with a little top-up whenever I might need it throughout the day.
6. Dr Hauschka Brow and Lash Gel
Best clear mascara for repairing lashes
Specifications
RRP: $22 / £15
Brush Type: Bristles
Extra Features: Enriched with botanical ingredients, dermatologically tested
Colors Avilable: Clear
Reasons to buy
+
Dermatologically tested
+
Smells lovely and frgrant
+
Luxe packaging
+
Product dries quickly
Reasons to avoid
-
Formula left sticky residue on the tube rim
The luxe-looking packaging was the first thing to impress me about this product, I really liked that it stood out from the pack as the only one that didn't have a transparent tube. Then the reasons to love this clear mascara just continued from there. This product gets our vote as one of the best clear mascara options for nourishing and repairing, thanks to the formula that's bursting with botanical extracts and hydrating ingredients. If you've developed bad habits that are ruining your lashes like wearing old mascara or extensions, then this caring formula will help bring your natural lashes back from the brink.
In my opinion, it was one of the best clear mascara buys as it has lash health as a top priority. I also loved this product because it made my lashes look curled and lengthened while I knew my lashes were being treated to a mini treatment while I wore it. I would happily wear this every time I WFH and need something to make me look a little more polished for a work call.
7. Collection Colour Lash All Day Wear Colour Mascara
Best clear mascara for all day hold
Specifications
RRP: £2.49 (UK only)
Brush Type: Bristles
Extra Features: Protein enriched formula, high ml tube
Colors Available: Clear
Reasons to buy
+
Thin applicator and brush for precision
+
Great brow staying power and hold
+
Quick drying
+
Acts as a lash color setting agent
Reasons to avoid
-
When mascara was applied ontop it did flake slightly
This clear mascara had an interesting take on how to wear it, suggesting it can be worn over the top of your mascara to help maintain the color all day. While I hadn't tried this technique with any of the other clear mascaras, I did with this one and the results were surprising. I popped on my favorite mascara as normal and left it to dry, once it was ready I then applied a light layer of this clear mascara over the top. While it definitely made my lashes thicker and less natural looking, I really enjoyed how it locked in the color to prevent fading and smudging. Acting like a setting agent for my mascara, it worked hard to make sure my lashes looked in top condition all day long.
I also attempted trying this clear mascara out as a lash primer before applying my mascara but it didn't have such great results. I noticed it made my mascara flake which it wouldn't normally do, which was disappointing. On the whole, I loved that this acted as a protective layer on top of my mascara and I would say with confidence that it was the best clear mascara for locking color in place all day.
8. No. 7 Lash and Brow Perfector
Best clear mascara for length
Specifications
RRP: £9.95 (UK only)
Brush Type: Bristles
Extra Features: Suitable for sensitive skin
Colors Available: Clear
Reasons to buy
+
The angled brush gets into all the corners of your lashes
+
Natural finish
+
Instant lengthening effect
Reasons to avoid
-
The effect didn't last all day
Winning the top prize at the best lengthening mascara competition, this clear mascara really impressed across the beauty board. The brush is small and angled so you can get into the corners really easily and the bristles separate your eyelashes well so they don't clump together. I instantly saw it uplifted my eyelashes really well and added the illusion of a bit more length. I also really enjoyed that you couldn't tell I was wearing anything on my lashes, meaning it had such a lovely natural finishing effect.
It's also been formulated to be suitable for sensitive skin so alongside using your best mascaras for sensitive eyes, this product will make sure delicate eyes are being looked after. I think it's best used as a primer before mascara, but it also works really well on its own.
9. Ere Perez Natural Cosmetics Aloe Gel Lash & Brow Mascara Clear
Best clear mascara for short lashes
Specifications
RRP: $28 / £25.20
Brush Type: Silicone
Extra Features: Vitamin-rich formula, suitable for sensitive skin
Colors Available: Clear
Reasons to buy
+
Small applicator so ideal for short lashes
+
Packed with nourishing ingredients
+
Silicone brush so hygienic use
Reasons to avoid
-
Expensive for such a low-key item
This little beauty of a clear mascara encourages you to use it overnight to boost lash health and strength. Not one to break the rules, I did just as I was told and generously doused my lashes in the gel formula pre-slumber. Not only did I wake up to perfectly separated lash hairs, ready and waiting for my black mascara application but they looked magically curled too. Consider this a lazy-girl move for time-saving in the mornings.
Managing to coat my lashes in just about enough product, this nourishing formula is the perfect WFH no-makeup makeup. The small silicone brush was the ideal size for my not-so-bushy brows and also did a solid job at holding down my misbehaving baby hairs. Whilst I do wish it could hold more product on the brush for a less time-consuming application, this still was one of the best clear mascara formulas I tested. You don't have to spend this much on a clear mascara, but if your budget permits, it's a really great option.
How to choose the best clear mascara
Each person has a different lash type and just like when selecting which normal mascara to purchase, you always choose the best clear mascara for you based on your individual needs and lash requirements. Here are some tips for helping you choose the best clear mascara for you:
Bristle or silicone brush: Depending on what sort of lash effect you're after, selecting the mascara brush material is a super important decision to make. If you're after thickness, drama, and ultimate volume then bristles will be your best friend. Silicone brushes will help add definition, length, and tons of jet-black formula. Silicone brush heads are also much more hygienic and last longer too. They can also be used after finishing your mascara product as a brow brush or to control flyaways and baby hairs.
Shape over substance: The shape of your clear mascara brush can make or break your lash look. Check the clear mascara you're interested in has the right design and shape for your lashes. Opt for a smaller and angeled brush head if you have short lashes and a longer and thicker brush head if you have longer lashes.
Check out the ingredients list: We all love a multi-purpose product and especially one that helps care for the health of our lashes whilst we wear it. Look out for ingredients like Green Tea Extract, peptides, botanical extracts, and Vitamin B5, which all help to nourish and strengthen your lash hairs.
Invest in tools: A lash curler will really help a clear mascara work its magic on your lashes. Simply curl your lash hairs for ten seconds before applying the clear gel, and you'll notice a massive difference. Lashes will look longer, curled, and emphasized.
Annie Milroy is the Beauty Writer for Woman & Home and other publications.
She spent three years studying Journalism and English Language at the University of Portsmouth before starting her career in magazines in 2017.
After 5 years working as a Fashion & Beauty Writer, she refined her career and is now working at Future as a Beauty Writer.