How to recreate Lady Gaga's Inauguration Day crown braid
Second-day hair never looked so good.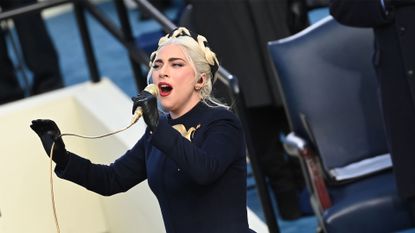 (Image credit: SAUL LOEB/Getty Images)
Is it just us or is Lady Gaga's Inauguration Day crown braid utterly mesmerising? Her look was never going to fly under the radar. Nor was it ever going to be predictable. But when it comes to walking the gamut between classic and quirky, Gaga's updo, Couture jacket and voluminous, crimson Shiaparelli skirt didn't disappoint.
The singer confirmed on January 14th that she'd be singing the National Anthem and ever since she's been dropping hints that her look would be more low-key than normal. Like on the eve of the presidential inauguration when she posted a picture of herself on Instagram in the Capitol building, wearing a white caped suit (a nod to the Suffragette Movement) and that same now-famous braid.
Unlike when Beyoncé sang the National Anthem at Barack Obama's inauguration with long waves blowing in the wind, Lady Gaga wore her hair up. In fact, for two days in a row she wore her hair woven in braids that were pinned into a crown.
The only difference at the big event was a thick, black ribbon woven throughout, which matched her jacket and wrapped around to the back, where red flowers were pinned. A few pieces of hair were left loose to softly frame her face.
Lady Gaga's Inauguration Day crown braid is- quite literally - second-day hair at its best. Hair needs a bit of grit [read: not grease] for styling an updo and Sam Knight, hairstylist for fashion houses like Chanel, has this top tip:
"Spray dry shampoo (opens in new tab) on to the roots before bed to give the powder enough time to absorb sweat. The next morning, brush thoroughly and blast with the cool setting on your hair dryer to bring strands back to life." (Check out our edit of the best hair dryer (opens in new tab) for speed and every hair type).
Then simply center part your hair and brush it into two ponytails. Tie a ribbon around the base, leaving the end loose. Start braiding, weaving in the ribbon as you go. Finally, pin both braid into a crown around you head, tucking the end of the braid and ribbon out of sight.
We're literally gaga (sorry couldn't not do it) about this hairstyle for long hair (opens in new tab) and the fact that we can hit snooze for an extra 30 minutes in the morning.
Fiona Embleton is a beauty writer who is now Acting Beauty Editor at Stylist. She is obsessed with Isabel Marant and cats.