What to wear on a cruise: From casual day looks, to evening glam
When it comes to what to wear on a cruise, these are the most versatile style buys of the season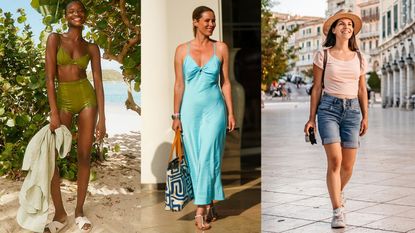 (Image credit: J.Crew / Getty)
Deciding what to wear on a cruise can be a challenge. While cruise liners don't have the same capacity issues as planes, you might need to fly to your departing port, meaning you're still limited by luggage weight and need to pack smart.
Learning what to wear on a cruise can solve a pre-vacation sartorial meltdown. A jam-packed holiday, where you're likely to visit numerous destinations and have a range of activities on offer, the range of clothing you might need to wear on a cruise can leave some feeling overwhelmed. Before embarking on working out what to wear on a cruise, you will need to consider the type of cruise, such as river cruises vs ocean cruises - as they might require a different wardrobe.
While a cruise might not have a strict dress code in the same way the races do, there are a number of events throughout your trip that you'll need to account for. While the era of ballgowns at dinner has largely (sadly) departed, it is generally still expected that guests will dress up a little for the evening meal - which is fun for holidaymakers too. Then consider days by the pool and excursions off the boat and you've got a fall wardrobe to prepare. When planning what to wear on a cruise, consider the number of days you're going for and the climate - the best river cruises in Europe might not be quite as hot as Caribbean cruises. Try to limit heavy and bulky items, such as shoes, opting for versatile items that can work across outfits. If you prefer separates to dresses, ensure your holiday looks can be mixed and matched to give you maximum wear per garment, dressing items up and down for the range of activities encountered, creating a capsule closet.
What to wear on a cruise: From day to evening, the looks to pack
To ease you into vacation mode, we've compiled a guide of some of our top pieces to slide into your suitcase and how to wear them. As a starting point, divide your wardrobe into six sections. While some items may work across categories, thinking about the different needs of your cruise wardrobe, will ultimately help you to navigate what to pack, without going overboard.
1. Casual attire
Casual attire will be the majority of what you pack when deciding what to wear on a cruise. Essentially a capsule wardrobe for travel, you want to have a varied selection of basics that you can mix and match throughout your trip, items that will take you from breakfast, to sightseeing and beyond. Think your best t-shirts, mixed in with shorts, relaxed-fit trousers, maxi skirts and the best summer dresses. Seeing you through the largest part of your trip. Some of these items will be able to be dressed up for more laidback dinners, or like a luxe linen shirt, used as an easy pool-side cover-up too.
2. Swimwear
As you gently sail from stop to stop, you'll want to enjoy the onboard facilities. The pool, or pools (depending on the size of your liner) is largely where a lot of the daytime activity is happening and offers a chance to unwind when you're not exploring a new city. When choosing the best swimwear to wear on a cruise, we recommend taking a 3-4 looks for a week long trip. Consider the most comfortable swimsuits for your body type, that will offer the most support to your silhouette, from one-pieces to bold two-piece designs, neutral and block color hues offer the most in terms of style longevity, although the swimwear trends 2022 are definitely worth checking out too for directional pieces.
3. Swim Cover-ups
With the best swimwear comes the need for the best beach cover-ups, and if you're planning on spending time around the pool or hanging out on the deck, then investing in items to up-style your swim looks is a must. Save space in your case and give yourself extra day outfits by opting for cover-ups that are multi-functional. From floaty kaftans that offer instant glamour, to classic sarongs that act as a skirt over your outfit, to dresses that you can slip on and off and rework as casual or evening attire.
4. Dinner outfits
While dressing to the nines used to be the norm on a cruise, these days, dinners are not quite as fancy. That doesn't mean to say you should be showing up in your flip flops though. Even though you no longer need to pack a ballgown, it is still general practice to get changed from casual and poolside attire for dinner and the evening entertainment. When deciding what to wear on a cruise for dinner, opt for easy to pack styles that offer a nod to glamour without going over the top. Think your most flattering jumpsuits, on-trend dresses and your best tuxedo inspired separates for outfits that will make you feel dressed up without too much fuss. Swap sandals for wedges, or low block heels for a smarter finish, or go for flats with added jewel detail for a little glitz.
5. Shoes
Many of us are guilty of overpacking on footwear when we head on vacation, but too many shoes is such a waste of space in your suitcase. Instead, opt for neutral shoes that will go with all your outfits and be strict about the number of shoes that you truly need to see you through the trip. If you're planning on disembarking, you'll want some comfortable flats such as trainers or plimsolls for walking, as well as a pair of flip-flops or sandals for round the pool. When it comes to the evening, opt for a neutral or metallic colored flat sandal, wedge or low block heel that will give your dinner looks a more dressy feel.
6. Accessories
When it comes to accessorising your cruise wardrobe, we say keep to the core necessities, the best sunglasses, a great hat for sun protection and a bag that will allow you navigate handsfree. When it comes to jewelry though, we say less is more. If you love to add finishing touches, go for a couple of statement pairs of earrings that you can team with several looks, tapping into the jewelry trends 2023 to give wardrobe basics a directional feel, or for a more relaxed, boho feel, try inexpensive layered chains or lightweight bangles.
Rivkie is a fashion editor, writer and stylist with over fifteen years' experience in the industry. Having studied design and pattern cutting at the London College of Fashion, Rivkie fell in love with styling and journalism, covering fashion weeks in London, Paris and New York.
Specialising in plus size fashion, Rivkie has long championed that style is for everyBODY and has been a regular talking head on a host of radio stations and television shows, pushing for greater representation for plus size women and fashion throughout her career.