Swimwear trends 2022 - the best swimsuits and bikinis to help you make a splash this season
The top swimwear trends 2022 has to offer, from flattering swimsuits to teeny bikinis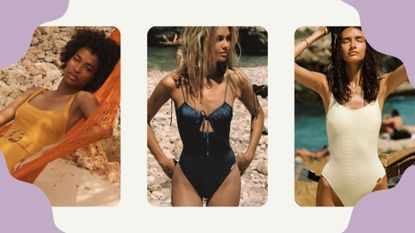 (Image credit: Future / Ever Rae / Devon Windsor/Beach Café / Free People)
The swimwear trends 2022 has to offer are a mixture of practical poolside styles and beach-ready glamour to ensure you look and feel great this season.
With summer finally on the horizon and travel back on the agenda, it's time to invest in the best swimsuit for your upcoming vacation. Book those flights, open up that suitcase and get ready to fill it with the best bikinis and swimsuits from the latest swimwear trends—from subtle updates of your favorite styles to the return of the everyone's '80s favorite, the Hunza G crinkle swim, there's something for every taste this season. Pack your sunscreen, dig out your best beach bag and get ready to look seriously stylish in the sun with our pick of the best swimwear styles. Whether you're looking for the best plus size swimwear, a teeny bikini, or a new one-piece to pose by the pool, we've got you.
When it comes to swimwear, remember fit is all-important. If you're conscious of your middle, or thighs, you'll want to look for swimwear that offers the same kind of support as the best shapewear, sculpting, smoothing, and lifting your silhouette. Don't feel you need to stick to black either for the most flattering swim pieces. When it comes to looking and feeling good in your swimwear it's all about confidence. Invest in styles in this season's fashion color trends 2022, such as a bright and bold-hued bikinis to evoke the mood-boosting, dopamine dressing trend as you top up your tan. Just don't forget to finish your new stylish swim look with your best sunglasses!
Swimwear trends 2022
1. Square Necks
If you're looking for a chic swimsuit with a structured neckline, a square neck style is a flattering option. By framing the decolletage, it draws attention up towards your neckline and the delicate bones of your shoulders, often one of the slimmest points on your body. Look for styles with wider straps that will create a stronger framing effect. If you usually wear one of the best bras for large busts, then this shape is great for enhancing your curves. Achievable with both straight straps or halter necks we love Boden's Santorini style which is both flattering and supportive.
M&S Blue Tummy Control Swimsuit
RRP: $50 / £29.50 | Not only is the neckline of this swimsuit super cool but this swimsuit also has added tummy control built in to make sure you feel your best on the beach—ideal for apple body shapes.
Boden Santorini Suit in Navy Stripe
RRP: $98 / £65 | Available in five colorways and two fits, it's easy to see why this is an annual hit. Add a red lip and low bun to this chic French navy striped suit for a glam nautical look— yacht optional.
2. Belted Swimwear
A perennial favorite, the belted swimsuit is a great way for hourglass body shapes to define their waist. The addition of a belt to your swimwear draws attention to the narrowest natural point on your torso. Typically found on a one-piece swimsuit, this swimwear trend has also made it to high waisted bikinis. To further highlight your most svelte point, look for styles where the belt is in a contrasting color. For added swimwear trend points, look for a belt with a ring detail buckle to nail two trends in one.
Solid & Striped Nina Belted Swimsuit
RRP: $216 | £165 | The cool retro style of this belted Stripe & Solid suit has serious St Tropez in the Sixties vibes plus the removable belt means that you essentially get two swimsuits for the price of one.
EVARAE Pale Blue Bikini Top
RRP: £170 / Bottoms, £170 (Worldwide delivery available) | Made from regenerated yarn, this stylish blue bikini is great for those looking for a tummy flattering finish. The belt is adjustable so you can get the fit that works for you.
3. Brights
While monochrome swimwear is a style staple, why not try swapping your classic black swimwear for something a little more exciting this summer?
As swimwear queen Melissa Odabash says: "You can never go wrong with timeless white and black swimwear, monochrome is always elegant. However, green, yellow and orange hues are a big trend this summer—it's all about the brights for Summer 2022!"
Bright swimsuits are a great way to overcome those first few pale days on the beach, plus you'll be channelling one of this spring's biggest trends for bright color clothing too—a look that has been proven to lift your mood. Add in a spot of sunshine and you'll feel on top of the world. If you're wondering 'what color suits me?', the general rule of thumb is that warm shades such as hot pink, tomato red and vibrant sky blue are universally flattering and will work with every skin tone. While yellow may seem daunting, when teamed with a tan, the sunny shade is guaranteed to bring a smile to your face.
Melissa Odabash Tosca Swimsuit
RRP: $248 / £242 | This sleek, pared back style from Melissa Odabash lets the bright orange do all the talking. With a supported bust and adjustable straps, this is one swimsuit you'll keep coming back to, year after year.
Paper London Shell Swimsuit
RRP: $260 / £195 | When it comes to swimwear, Paper London is one of the best sustainable clothing brands. Fulfill your mermaid fantasies in its quirky shell swimsuit. Featuring flattering paneling and a fun ruffled neckline it's ideal for pear body shapes.
Seafolly Sea Dive High Rise Bikini Bottoms
RRP: $45.50 / £40 | When it comes to great fit, look no further than Australian swimwear brand, Seafolly—all that time in the sun definitely pays off! The Sea Dive High Rise Bikini is a summer hit available in a range of colors—we love this fresh jade green version.
4. Crochet
One of the biggest handbag trends of 2022, crochet has made a huge comeback on the runway. Usually left to the best beach cover-ups, there's plenty of stylish crochet swimwear out there but this is one style that is typically made for sunbathing rather than swimming as the knit is prone to soaking up water so it's worth checking the small print before you invest if you're looking for something you can actually take a dip in. There are, however, plenty of brands offering a micro-crochet style—essentially a knit construction that is still functional and water-friendly. Look to M by Missoni, River Island, and ASOS for cool crochet styles that won't leave you feeling soggy!
Norma Kamali Crochet Swimsuit
RRP: $135 / £130 | A cool update on your granny's best blanket, the bandeau cut will help you avoid tan lines. Pool friendly, this swimsuit features a clever crochet print, so you get the look and can still have dip.
RRP: $175 / £130 | Kiini's crochet finished swimsuits and bikinis have a cult following in fashion circles. Not advised for swimming, these are for lazing by poolside only. We love the bold green hue.
5. Cut Out
While the words 'cut out' might strike fear in many women, the cut out swimwear trend is actually surprisingly flattering. Rather than barely-there pool party styles, look for those with subtle detailing such as cut-outs above the hip, on the shoulder, or across the ribcage under your chest—the latter are both naturally slender points on your body. This trend is also great for those who want something that falls between a bikini and a swimsuit. Just don't forget the sunscreen with this style or you may end up with some very interesting tan lines!
Zara Halter-Neck Cut Out Swimsuit
RRP: $47.90 / £29.99 | So subtle, you could easily miss the rib cage cut out detail on this one piece. A soft and stylish interpretation of the trend, they're placed at the slimmest part of your upper body.
Alexandra Miro Bikini Bottoms
RRP: $160 / £135 | The discreet triangle cut out detail on the sides of these high waisted bikini bottoms are a great way to dip a toe into the cut-out trend. The high sides will pull in your tummy while a peekaboo flash of flesh is visible at your hips.
6. Metallics
With vacations firmly back on the menu, why not extend glamorous outfits to the pool side? Channel glitzy vibes with swimwear in metallic colors and glitter finishes. After all, this summer is the time to truly shine. When it comes to beachwear, womanandhome.com fashion editor Rivkie Baum is a big fan of metallic:
"Reflecting the sun, silver, gold and bronze instantly add an A-Lister feel to your swimwear look. With '90s nostalgia still being a huge trend across all major fashion cities there is a real desire for pieces that feel dressed up and glossy. Pair your metallic swim with a pair of big statement sunglasses for a look that will turn heads".
Stories Pewter Bikini Top
RRP: $29 / £23 | This subtle dark silver glitter bikini is just right for adding a touch of sparkle to your swimwear. Team with gold hoop earrings and cool pool slides for a directional look.
Lisa Marie Fernandez Swimsuit
RRP: £108 (UK only) | Make a style statement in this bold bronze one shoulder. Ideal for pear shapes as it draws the eye up and along your torso, instantly lengthening you. Try teaming it with wide leg linen trousers for a cool evening look too.
7. Crinkle Fabric
A staple of every beach in the '80s, ribbed swimwear is back with a bang. Largely made in one-size, this look is not always the most accessible if you're above a size 16. If you're looking to invest, check out Hunza G—the label was relaunched by Georgiana Huddart in 2015 and has become a style staple amongst the fashion set, collaborating with influencers including Pandora Sykes. Their super stretchy swimsuits can also be worn two ways—try looping one strap over to the other side to create a cool asymmetric look.
RRP: $20 / £14 | ASOS' mix and match crinkle swim offering means you can customize your bikini with the preferred top and bottom style to suit your figure. Each piece is one size fits all too.
Good American Always Fits Swimsuit
RRP: $89 / £84 | Good American has its own take on the stretch crinkle suit called the Always Fits suit. In 14 colors from poppy red (pictured) to classic black and zingy lime; sizes range from XS to 5XL, so you're guaranteed to find the one.
8. Ring Detail
Ring details can really add interest to the most of simple of swimsuit and bikini styles. Whether it's between the cups of a bikini top, creating a cut-out or found on a shoulder or hip, it's all in the details with this style. With a nod to the best jewelry trends 2022, horn or shell-look rings are a great way of adding a subtle nod to the tropics or if you're after a polished look go for metallic hardware styles but be warned—these can heat up in the sun and literally end up too hot to handle!
Accessorize Textured Bikini Top
RRP: $32 / £22 | The faux tortoiseshell detailing on this rust-colored texture bikini gives an air of sun baked days in the tropics. With removable straps, this bikini can be worn in a multitude of ways.
RRP: $118 / £132 | How to elevate a simple black swimsuit? Add rings, of course! We love the dual decoration on the straps and back of this otherwise classic design.
Heidi Klein Zanzibar Bikini Top
RRP: $165 / £120 | The subtle gold hardware adds a luxurious finish to this triangle bikini top. Give a nod to the sunglasses trends of 2022 and go for an oversized '70s-inspired pair for maximum glam points.
Are tankinis out of style?
Tankinis never really go out of fashion, the cut simply changes depending on current swimwear trends. Tankinis are a great middle ground between bikinis and one-piece swimsuits if you're not sure you want to all of the coverage of a swimsuit but feel too exposed in a bikini. Traditionally the top is more of a camisole style, allowing for extra coverage across the stomach but many brands are now offering an update on the tankini with a longline style top that offers more coverage than a regular bikini top and perhaps a more high waisted style of bikini bottom that can be flipped down for optimal tanning. Fear not, the tankini isn't going anywhere this summer—other than the beach!
The most flattering swimwear colors
While it's easy to opt for black or navy swimwear for a slimming effect, there are several flattering colors that might not spring to mind immediately when you're shopping for a new swimsuit or bikini.
Brighter, warm tones are surprisingly great on—adding color to a paler complexion is an easy way to enhance your beachside look, even on the initial days of your holiday when you might be feeling pasty. Look towards pinks, red, and orange for an uplifting look on your summer holiday.