Best plus size swimwear to ensure you feel confident and supported this season
The best plus size swimwear will sculpt, shape, and secure your curves. These are the top styles to shop this season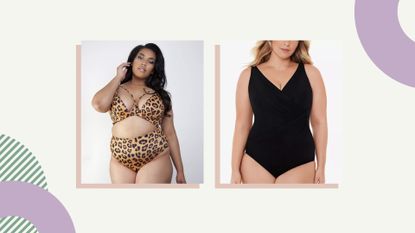 (Image credit: Wolf & Whistle / Macy's - Miraclesuit)
Finding the best plus size swimwear used to be a challenge. Options were limited and at best, a little frumpy, but thanks to a growing plus size fashion market, vocal plus size fashion influencers, and a generally more body-positive industry, the plus size swimwear market is blossoming.
When it comes to the best plus size swimwear, there are lots of factors to consider. Aside from looking at size, you also might want to consider the best swimsuit for your body type. While this does add extra things to think about, once you've deciphered if you have a pear-shaped body, an hourglass silhouette, or an apple-shaped body, you can more easily navigate which cuts and shapes will offer you the best support and find the most flattering plus size swimwear for you.
Swimwear is a notoriously tricky item and something that many women, regardless of size struggle with. But like lingerie shopping, when it comes to swimwear, whatever your size, we're all looking for items that will enhance our figures, offering just the right level of lift and contour. With a growing number of fashionable options both in the two-piece and one-piece arenas, finding the best plus size swimwear has never looked or felt so good.
How to choose the best plus size swimwear
Why you can trust Woman & Home Our expert reviewers spend hours testing and comparing products and services so you can choose the best for you. Find out more about how we test.
When it comes to selecting the best plus size swimwear, fabric and fit should reign supreme. If you already invest in the best bras for large busts, then you should follow a similar fit mentality when looking for the best plus size swimwear.
Styles that have built-in bras, underwiring, or come in cup sizes will offer the best fit for those looking for good bust support, while a halter neck style or a swimsuit with adjustable straps will ensure you can easily give yourself some added uplift if necessary.
Many of the best bra brands for fuller figures also have fantastic, curve-flattering swimwear lines and these brands will naturally make some of the most supportive swimwear when it comes to fit as they can draw on their experience from designing the best bras to ensure great coverage and lift.
When it comes to fabric, just like with the best plus size shapewear, you want to feel supported and sculpted. Opt for slightly thicker and heavier weight elastane and lycra and opt for your regular size. Buying a size too small will pinch, go too big and you risk your swimsuit shifting in the water - not something any of us want.
The best plus size swimwear - selected by our fashion expert
The pieces in this list have been selected for their fit, quality and style. We have chosen a mixture of one and two pieces in a range of cuts to suit all body types so that you can find flattering plus size swimwear that will make you feel great.
Just remember, everyBODY deserves to wear and feel good in swimwear this summer, so whatever swimwear you buy, wear with confidence, as that's the only accessory you really need.
1. Miraclesuit Plus Size Oceanus One-Piece Swimsuit
Best plus size swimsuit
Specifications
Sizes: 16W-24W (US)
RRP: $180 / £152.30
Reasons to buy
+
Flattering shape
+
Classic style
+
Several one-pieces available
Miraclesuit is a brand that specializes in swimwear that sculpts and shapes. Working in the same way as the best jeans for curvy women, Miraclesuits live up to its name with some serious skimming and lifting abilities. While not the most fashion-forward of options, the classic styles won't date and the thick fabric offers added support and comfort. The ruched style across the midriff ensures this is a flattering design and one of the plus size swimsuits for those conscious of their middle, while the sweetheart neckline will help to frame a full bust.
There are a number of iterations of this one piece available in muted tones, but one thing is for sure, this flattering swimsuit is a wardrobe essential.
---
2. MAGISCULPT Illusion Ruffle Swimsuit
Best for plus size apple shapes
Specifications
Sizes: 12-32
RRP: £42 (UK only)
Reasons to buy
+
Great size range
+
Adjustable straps
+
Flattering fit
If you're conscious of your middle and usually opt for the most stylish dresses to hide a tummy, then this might be the swimsuit that gives you the confidence boost you need. The front ruffle paneling will help skim over your midriff, while the innovative Magisculpt fabric helps to contour and shape your silhouette.
With a hidden inner bust shelf for light lift and support, this swimsuit will work best for apple body shapes with a smaller bust. The swimsuit also has some light foam padding to give the look of a fuller and rounder bust. While it's another black swimsuit, the frill front renders it trend-ready as well as figure flattering.
---
3. Pour Moi Control Briefs
Best for smoothing a tummy
Specifications
Sizes: 10-22
RRP: £20 (UK only)
Reasons to buy
+
High waisted
+
Smoothing abilities
+
Classic colorway
A navy and white bikini never dates and this one is ideal if you're conscious of your midriff but want to try out a two-piece. Working much in the same way as one of the brand's best shapewear pieces - the tummy-smoothing briefs, these bikini bottoms have a high rise, sitting above your belly button to help hold you in securely without feeling uncomfortable. The gorgeous stretch fabric also helps to smooth and sculpt your shape. The matching bra top again calls on Pour Moi's lingerie expertise and offers great lift and fit so you end up with a timeless bikini that you'll feel confident in and around the pool.
In a classic blue and white print - ideal for what to pack for a beach vacation, try wearing a white linen shirt over the top as one of the best beach cover-ups this summer.
---
4. Elomi Bardot Bikini
Best for plus size pear shapes
Specifications
Sizes: 34-44 / DD-HH
RRP: $71.50 / £54
Reasons to buy
+
Brilliant bust support
+
Stand out design
+
Matching briefs
Reasons to avoid
-
Statement print
-
Not great for apple shapes
This clever plus size bikini offers a host of dressing tips and hacks. The flirty sleeve offers upper arm coverage, for those that are conscious of that particular body part. The high-waisted brief will help skim and sculpt a tummy, while the bardot style neckline adds fullness to your bust line. The ruffled top will create the illusion of a larger bust but will also help to balance out a pear shaped body by mimicking hip-width up top. This automatically narrows your waistline, creating an hourglass silhouette. The added frill sleeve detail also behaves a lot lie a holiday-ready crop top, meaning if you can make this part of a long skirt outfit idea for a sunny vacation too.
---
5. River Island Monogram High Waisted Bikini Briefs
Best for arm coverage
Specifications
Sizes: US: 14-24 / UK: 18-28
RRP: $34 (briefs) $47 (top) / £18 (briefs) / £25 (top)
Reasons to buy
+
Directional design
+
Classic colorway
+
Great for apple shapes
Monogramming is one of the biggest fashion trends 2022 and this designer led look shows no sign of abating as we head into the fall 2022 fashion trends either. A way for brands to wear their hearts on their sleeves (or emblems on chests or briefs as the case maybe) this runway look is made more accessible here with the River Island RI logo version.
Giving a nod to the classic monograms of Gucci and Fendi, River Island have been leaning into this nostalgic '90s look for some time and if you're a fan of the look, this is a budget friendly way of adding it to your holiday outfit ideas. The classic chocolate brown and latte colorway renders this plus size bikini a timeless classic, while the high waist pant will flatter midriffs. There is of course a matching bikini top (opens in new tab) so you can create a two-piece.
---
6. Simply Be Swim Dress
Best for plus size swim dress
Specifications
Sizes: 12-32
RRP: £34 (UK only)
Reasons to buy
+
Feminine shape
+
Offers extra coverage
+
Timeless design
Reasons to avoid
-
Not got the most bust support
A swim dress is the unsung hero of a swimwear capsule wardrobe. For those who find getting into a two-piece or a swimsuit too revealing, the swim dress allows you to be pool ready without having too much on show. While this particular swim dress has a more fitted silhouette, there are a number of options out there with skater-style skirts (with attached briefs underneath) that are flattering on all body types, Swimdresses skim your shape and offer a more retro-style aesthetic - ideal for effortlessly swooping over stomachs and hips. While many come with attached briefs, be aware that some swim dresses and separate swim skirts will require a pair of swim briefs underneath.
---
7. Wolf & Whistle Plus Size Bikini
Best for fashionable plus size swim
Specifications
Sizes: UK only: 18-26
RRP: UK: £16 (top) / £35 (briefs)
Reasons to buy
+
Fashionable options
+
Collaboration collections
+
Lingerie experts
Playful Promises is one of our favorite plus size lingerie brands. Its pieces often have a boudoir feel but are also incredibly fashion-forward and body positive. While the brand mainly focus on lingerie collections, collaborating with a host of curvy celebrities, plus size models and the best fashion bloggers, Playful Promises also does a small swim edit for plus size that calls on its extensive underwear experience. Serving up to an I cup, this brand is really inclusive, but due to small runs, you have to get in quick as pieces sell out super fast. They carry a number of brands including the likes of Curvy Kate and Wolf & Whistle (who have great price points)
This particular set is by Wolf & Whistle and we love the thoughtful, flattering, high-waisted briefs, paired with the strap detail bra top that flatters and emphasizes a fuller bust. In a timeless leopard print, this design might have a vintage boudoir feel, but it will never go out of fashion.
---
8. Next Bubble Hem Tankini
Best for plus size tankinis
Specifications
Sizes: 12-30
RRP: £32 (UK only)
Reasons to buy
+
Relaxed fit
+
Timeless style
+
Great coverage
A tankini is a perfect way to dip your toe into the two-piece water if you're nervous about baring your midriff. A tankini essentially is a swimwear top paired with briefs. As with all swimwear, the styles vary drastically from brand to brand and you can get several iterations that have bra-style tops, offering plenty of support. A tankini is ideal for tummy-conscious apple shapes and this polka dot design will never go out of fashion. The bubble shape on this tankini offers a more relaxed fit around the stomach, offering extra skimming abilities if that's your area of self-consciousness.
With an almost camisole like appearance, you can also file this under what to wear in the heat, for an easy, fashion-ready vest top that won't see you break out in a sweat.
---
9. Swimsuitsforall Zip Front Suit
Best for curve creating
Specifications
Sizes: 8-26
RRP: $94 (US only)
Reasons to buy
+
Optical illusion paneling
+
Great pops of color
+
Fun design
Swimsuitsforall has a fantastic collection of swimsuits and bikinis and really do live up to its brand name. With a plus size collection up to a US 26, they also have collaboration collections with the likes of plus size fashion influencer, Gabi Fresh.
This illusion paneled swimsuit has a zip front fastening, giving it wetsuit style appeal, while the color block sections create a narrowed waistline, making you look longer and leaner. Ideal for those with hourglass body shapes or for those looking to create one.
---
10. Curvy Kate Navy Swimsuit
Best for a plus size hourglass
Specifications
Sizes: 30-44 / D-J
Prices: $86 / £58
Reasons to buy
+
Up to a J cup
+
Sleek design
+
Flattering fit
This gorgeous nautical blue swimsuit is mainly aimed at women with a fuller bust, rather than being specifically 'plus size'. Serving up to a J cup, Curvy Kate already makes some of the best plus size lingerie, so it's no surprise that they make fantastically supportive swimwear too.
Featuring a slim belt with a tortoiseshell buckle, this is an ideal silhouette for curvy hourglass shapes. The sweetheart style neckline, coupled with the waist-defining belt will draw the eye down your silhouette and to your smallest part, really enhancing your curves.
---
11. Eloquii Romper Swimsuit
Best for extra coverage
Specifications
Sizes: 14-20 (US only)
RRP: $149.95
Reasons to buy
+
Clever added coverage design
+
Can be worn in the pool or as an outfit
+
Great colorway
Reasons to avoid
-
Only up to a US 20 (UK 24)
From one of the best plus size clothing brands, this swimsuit is a genius two-in-one design that offers added coverage, should that be more your swim style. Shaped like a romper, this clever swimsuit gives coverage on thighs and is fully lined for a contoured finish. Featuring powernet lining and fixed foam cups for added bust support, while we wouldn't recommend this for large busts particularly, for small to medium cup sizes, you should find enough support.
In a bright orange, this swimsuit-come-romper is an ideal holiday outfit idea as it's a piece that can be worn both in and out the pool - a great look for water parks and activities that might involve a mix of water-based and dry land hiking. The cut-out detail gives this look a modern feel and a nod towards the swimwear trend 2022 for cut out detailing.
---
12. ASOS Curve Mesh Hipster Bikini Brief and Top
Best for style choice
Specifications
Sizes: US: 12-26 | UK: 16-30
RRP: US: $35 (top) / $30 (briefs) | UK: £24 (top) / £20 (briefs)
Reasons to buy
+
Crop top style
+
Flattering square neck
+
Bright colors
Reasons to avoid
-
Fixed straps so can't be adjusted for personal fit
If you're looking for fashionability, ASOS Curve has stylish plus size bikinis and swimsuits that won't break the bank. This particular iteration has a nostalgic '90s feels to it and we love the bright pink and purple hues, tapping into the Barbiecore aesthetic that is becoming evermore prominent in the fashion landscape (check out what is Barbiecore for more info).
The square neckline is universally flattering for both large and small busts and the high waisted pants ensure you're well sculpted and contoured. With a longer line top, this is also a great bikini for those who are a little newer to the two piece seen. Available up to a size 30, this is an inclusive style, although be aware you can't adjust the shoulder straps for a more personal and uplifting fit.
Rivkie is a fashion editor, writer and stylist with over fifteen years' experience in the industry. Having studied design and pattern cutting at the London College of Fashion, Rivkie fell in love with styling and journalism, covering fashion weeks in London, Paris and New York.
Specialising in plus size fashion, Rivkie has long championed that style is for everyBODY and has been a regular talking head on a host of radio stations and television shows, pushing for greater representation for plus size women and fashion throughout her career.