The best jeans for curvy women—the best plus size cuts from flares to straight leg
Meet the best jeans for curvy women that deliver on style, comfort, and quality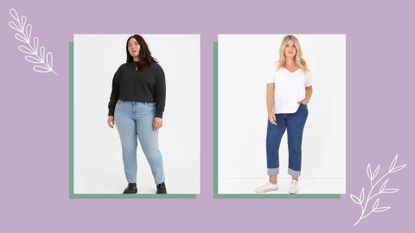 (Image credit: Future / Levi's / Live Unlimited)
Finding the best jeans for curvy women can be a real challenge. Despite denim pants being an everyday essential, shopping for jeans in person is one of fashion's trickiest tasks, no matter your size.
The best jeans are one of the foundation pieces of many a capsule wardrobe. But selecting the right fit—vintage mom jeans, classic straight leg styles, flares?!—can be as difficult as bagging the right size. Considering your body type is key so that you can find a pair that hugs your waist, fits your thighs and makes your bum look great too. Although the market has vastly improved, for plus-size women, choosing the best jeans has often been an even taller order, with plus-size shoppers left with uninspiring, unflattering styles that sag, bag, and gape.
Sizes vary from brand to brand, which makes finding the right fit an even bigger challenge, but deciphering what is plus-size when it comes to shopping can help you pinpoint the right retailers to investigate first. Although the average dress size in the UK is a size 16, this is considered the start of plus-size territory. While we think all jeans should be made in inclusive sizing to fit everyBODY, when shopping for the best jeans for curvy women, looking at some of the best plus-size clothing brands can be a really good place to start. We've compiled a great selection of jeans that fit and flatter different figures at any end of the price spectrum. From American Eagle's top-rated Curvy Mom Jeans to Levi's Straight Cut 501s, these are the best jeans for women with curves.
What to look for in the best jeans for curvy women
Why you can trust Woman & Home Our expert reviewers spend hours testing and comparing products and services so you can choose the best for you. Find out more about how we test.
Online shopping might take a little longer, but trying jeans on in the comfort of your own home means you can also have a big styling session too, working out exactly what you would wear with any new purchase before deciding what to keep. When it comes to finding the best jeans for curvy women that deliver on style and comfort, there are some key details to consider.
Be flexible: Jeans with a high percentage of elastane will hug curves and styles with a lot of stretch will prove as comfortable to wear as best plus-size leggings.
Button up: Look for jeans with a combination button and zipper fastening that offer extra security and prevent flies from coming undone.
Pocket placement matters: Side pockets positioned on hips can add bulk—great if you want to give the illusion of fuller hips, but if you want a more streamlined finish, choose jeans with neat front pockets that sit a couple of inches on either side of the zipper instead.
Back it up: Larger back pockets that sit wide and angle upwards will make bottoms look perkier.
The thicker the better: Reach for jeans in thick, good-quality denim. These will last longer and are less likely to tear. This is particularly good to note if your thighs rub together as that can cause the fabric to wear away quickly. Opting for thicker fabric will slow down wear and tear.
---
Which style of plus-size jeans are best?
With so many jeans shapes around this season, it can be hard to know where to begin. But with fashion currently celebrating every cut, from retro flares to vintage-inspired mom jeans, there's a style to suit whatever you're looking for.
Wide leg: Tapping into to '90s nostalgia, wide-leg jeans make for a relaxed take on denim pants. A-line shapes skim thighs and wide hems balance out bigger bums and fuller busts. They're also great for highlighting or creating hourglass figures as the wider hem can help to create dramatic curves, just make sure to tuck your top in.
High-waisted: These jeans are great for lifting and sculpting and are particularly good for those with an apple body shape. With a high-rise waist that comes over your midriff, you can feel really secure in your jeans. When it comes to plus-size jeans, many high-rise styles will have some form of built-in contouring panels to help you achieve a comfortable and flattering smooth finish.
Retro flare: Adding height is the fastest way to make yourself appear longer and leaner. A retro flare teamed with a platform or wedge will elongate your legs in an instant. Again these are great for balancing out a bigger bust by adding width to your hemline.
Vintage: 'Mom' jeans offer a high-waisted finish, which is again really good for skimming and flattering midriffs. Often with high-up back pockets, they also offer extra bum perkiness too. 'Boyfriend' styles are perfect for off-duty wear, with a relaxed slouchy fit, these can add bulk, particularly for a pear body shape, so look for slightly slimmer, straighter leg styles if this is something you're conscious of.
Classic skinny legs: These were once seen as the adversary of curvy women, but a skinny jean can offer great sculpting properties, much like some of the best plus size shapewear. Skinny jeans are super versatile and easily go with every shoe in your wardrobe. Once seen as a bit of a fashion fad, they've been adopted as one of the denim looks to keep in your wardrobe. Opt for styles with front pockets, rather than side pockets to smooth out hips.
Whatever style you opt for, as plus-sized fashion influencer Nelly Elliot says, it's all about wearing the jeans that make you feel most confident. "I spent years in skinny jeans and long tops trying to hide my shape, and it made me miserable. As I have started to love my body more, I find I feel more confident in trying new styles.
"My top tip for buying jeans is just to try new things—don't be inhibited by fashion 'rules' or what is 'flattering' and branch out."
---
The best plus-size jeans as reviewed by our experts
We've compiled a list of the best plus-size jeans that sculpt, shape, and promise not to gape. From classic cuts to on-trend silhouettes, these are some of the best jeans for women with curves.
1. Universal Standard Seine High Rise Skinny Jeans
Best plus-size skinny-leg jeans
Specifications
RRP: $98 / £71
Sizes: US: 00-40 / UK: 0-38
Material: 73% Cotton, 23% Polyester, 4% Elastane
Reasons to buy
+
Available in regular, tall and petite
+
Invisible stretch
+
Everyday style
Widely considered one of the best plus-size clothing brands, Universal Standard is built on the ethos that women should be able to shop stylish, well-made clothing no matter their dress size. The brand's comprehensive offering spans everything from loungewear to the best midi dresses, plus chic workwear and all the wardrobe essentials.
The Seine High Rise Skinny Jeans are their best-selling jean, and with a good reason. They're constructed with invisible built-in stretch to give a comfortable, snug fit that holds its shape all day long. The high waist makes you feel secure and is perfect for tucking in t-shirts and shirts, plus it doesn't gape at the back. We love that they come in three fits: regular, tall, and petite. The style is also available in five versatile colorways.
---
2. American Eagle Stretch Ripped Curvy Mom Jeans
Best plus-size mom jeans
Specifications
RRP: $49.95 / £74.95
Sizes: US: 000-20 / UK: 00-18
Material: 81% Cotton, 13% Modal, 5% Polyester, 1% Elastane
Care: Machine wash cold
Reasons to buy
+
Specially designed hip to waist ratio
+
Made with water-saving processes
+
On-trend style
Well-loved for its expertise in this field, American Eagle is a leader in the world of inclusive denim. One of the few brands to feature models over a dress size 18, its 2019 denim campaign featured body-positive activist and size 22 plus-size model Saaneah Jamison—a move that was widely celebrated.
While the brand's entire denim offering is covetable, with over 800 five-star customer reviews, we especially rate the AE Stretch Ripped Curvy Mom Jeans, which have a vintage-inspired cut and make for the perfect off-duty style. A small amount of stretch allows the denim to comfortably hug hips and thighs, while the high-rise waistband offers midriff support. Particularly clever is that the waist to hip ratio is 13 inches, as opposed to the standard 10 inches, meaning they properly fit both areas without any gape. Extra points go to the fact they're made with water-reducing processes. Choose between four easy-to-wear washes.
---
3. Beauty in Curves
Best for plus-size sculpting jeans
Specifications
RRP: $199 / £145
Sizes: 10-22
Materials: 98% cotton 2% elastin
Care: Machine washable
Reasons to buy
+
Independent denim brand with attention to detail
+
Amazing lift and sculpt shaping within the jeans
+
Classic fit, won't date
Denim devotee turned jeans expert, Alice Dogruyol is the woman behind curvy jeans brand, Beauty in Curves. Forever searching for the perfect jeans for her curvy frame, she simply decided to launch her own label.
"I started Beauty in Curves because of the lack of flattering, high-quality denim on the high street. BC Secret-Sculpt Jeans deliver everything that a great pair of jeans should; they are tailored to perfect your silhouette and hug your body like a second skin.
"Made with a high density, polyester-free, stretch cotton denim with invisible stitching to give a slim thigh look. They have triple-stitch side seams to help create a smooth line from hip to thigh, a high rise, gape-free waist, discreet back pockets for a perfectly perky look, and a hidden non-stretch panel to help flatten your tummy. They are designed to lift, tuck, smooth and slim in all the right places. The snugger the fit, the better the secret-sculpt effect!"
Their jeans have built-in curve contouring technology and their high-density stretch denim is great for those looking for the best jeans for curvy thighs.
---
4. All Worthy Hunter McGrady Flared Leg Jeans
Best plus-size high-waisted jeans
Specifications
RRP: $63.73 / £46.69
Sizes: US: 0-36 / UK: 2-34
Material: 69% Cotton, 29% Recycled Polyester, 2% Elastane
Care : Machine wash
Reasons to buy
+
Holds shape
+
Cut to hug curves
+
Leg-lengthening
Plus-size model Hunter McGrady's All Worthy collection has become a go-to destination for curvy women. Not only are the styles, which range from XXS‒5X, on-trend, they boast some best fits on the market.
The flared leg jeans are no exception, with a cut-to-contour fit, which hugs and shapes every dip and curve. The gentle flare widens from the knee, balancing out bigger hips, making for an easy-to-wear retro shape that can be worn just as easily with sandals in the summer or boots in the fall. The high waist offers hold and helps to create a streamlined silhouette, while large back pockets give bottoms a lifted look. The flared leg is also ideal for giving the illusion of a narrower waist, making this a great option for hourglass body shapes. They come in a classic mid and bleach wash.
---
5. Eloquii Button Front Barrel Leg Jeans
Best plus-size barrel leg jeans
Specifications
RRP: $99.95 / £75
Sizes: US: 14-28 / UK: 12-24
Material: 97% Cotton, 3% Spandex
Care: Wash before wearing. Machine wash cold gentle cycle with like colors
Reasons to buy
+
Fashion-forward silhouette
+
Can wear across all seasons
+
Great alternative to blue jeans
Reasons to avoid
-
Only comes in one colour
Running from a US size 14 to 28, Eloquii has a covetable selection of on-trend pieces, ensuring plus-size women don't feel as though they're being left behind in the style stakes. They stock everything from casual to occasionwear and are launching plus size bridal too.
These barrel-leg jeans are a case in point. We love the fashion-forward silhouette, which is made extra flattering thanks to a high-rise waistband and large back pockets. The easy fit from hip to thigh is skimming rather than hugging for those who don't want a tight fit. Spandex offers a comfortable amount of stretch that doesn't bag after wearing. The narrow cuff pairs easily with a myriad of footwear styles, from boots to the best white trainers.
---
6. Levi's Classic Straight Jeans
Best plus-size classic jeans
Specifications
RRP: $59.50 / £100
Sizes: US: 14-26 / UK: 12-24
Material: 79% Cotton, 19% Polyester, 2% Elastane
Care: Machine wash inside out
Reasons to buy
+
Bum-sculpting
+
Contains sustainable fabrics
+
Classic silhouette
Undoubtedly the most iconic denim brand in the world, Levi's has made a name for itself offering top-quality jeans that last a lifetime. The brand's plus size range runs up to US 26 and includes some of the best plus-size jeans on the market.
Every wardrobe should have versatile classic straight leg jeans, and Levi's Classic Straight Women's Jeans are the style to choose. Made using the brand's innovative Levi's Sculpt fabrication, the style hugs thighs and hips while lifting the bottom and offers supportive hold. The super-soft denim contains plenty of stretch for comfort. It's worth noting that these have a mid-rise waistband so they don't offer as much hold over the stomach as high-rise styles. They come in five classic washes and contain ECOVERO™, a sustainable alternative to viscose rayon.
---
7. Torrid Boyfriend Straight Jeans
Best plus-size boyfriend jeans
Specifications
RRP: $65.50 / £48
Sizes: US: 10-30 / UK: 0-28
Material: 98% Cotton, 2% Spandex
Care: Machine wash cold inside out
Reasons to buy
+
True to size
+
Short, regular and tall lengths
+
Cool turn-up style
American clothing brand, Torrid, is popular among plus-size models and influencers and specifically caters to dress sizes 10-30, offering up stylish, flattering wardrobe pieces from work to occasionwear. However, it's the brand's robust denim collection where it really excels with a myriad of on-trend styles coming in five fits: extra short, short, regular, tall, and extra tall.
If you're seeking maximum comfort, these top-rated boyfriend jeans are the best boyfriend jeans we've come across. A snug fit around the hips and bottom and looser around the legs, they're as comfy as jeans get. The turn-up hem also looks great with trainers, heels, boots, or even comfortable flats. These fit true-to-size, but it's worth sizing up for a slouchier fit.
---
8. Serra Retreat by Joie Rucker El Sol Straight-Leg Jeans
Best plus-size cropped jeans
Specifications
RRP: $99.43 / £74
Sizes: US: 00-28 / UK: 0-26
Material: 99% Cotton, 1% Spandex
Care: Machine wash
Reasons to buy
+
On-trend raw hem finish
+
No-gap waistband
+
Raw-hem style
An off-duty staple, cropped jeans can be worn with trainers or the best Chelsea boots for easy weekend style. Hems that hit on the ankle bone are also universally flattering, showcasing the slimmest part of your leg.
With the brand's signature laid-back Californian aesthetic, Serra Retreat by Joie Rucker's El Sol style comes top of the list for cropped plus-size jeans. Crafted with a smart no-gap waistband, they sit snug to the waist and hips, creating a smooth silhouette. Angled belt loops are flattering over the stomach, while large back pockets make bottoms look lifted. We love the straight-cut leg which gives a long, lean look, and the on-trend raw hem finish.
---
9. Only Curve Augusta High Waisted Skinny Jean in White
Best plus-size white jeans
Specifications
Price: $47 / £30
Sizes: US 12-22 / UK 16-26
Material: 98% Cotton, 2% Spandex
Care : Machine wash cold
Reasons to buy
+
Stretch for comfort
+
Cross-seasonal color
+
Super affordable
Danish high-street brand Only is a favorite among fashion fans seeking Scandinavian clothing brands on a budget. Its collection of cool, contemporary basics is well worth having on your radar, not least for its inclusive range of plus-size jeans.
The Augusta jeans come in a stylish white shade that pairs easily with both neutrals and brights. The waistband sits high on the waist creating a nipped-in shape and adding length to legs. A good amount of stretch makes these very comfortable to wear and we love the classic skinny cut that works with anything from ankle boots to heeled sandals. They're also a great price, hitting under $50 (£30).
---
10. NYDJ Ava Flared Ankle Leg Jeans
Best plus-size flared jeans
Specifications
RRP: $109 / £81
Sizes: US: 14-28 / UK: 8-22
Material: 67% Cotton 26% Polyester 5% Viscose 2% Elastane
Care : Machine wash cold
Reasons to buy
+
Bum sculpting
+
Slimming panel
+
Leg-lengthening flare style
Flared jeans are having a fashion moment this season and make for a fresh take on denim. The trick is not to go too baggy, and NYDJ's iteration has the perfect amount of width.
They also contain the brand's innovative Lift Tuck® Technology—a slimming panel with cross-cross stitching at the front to smooth and flatten the stomach, and a contoured construction at the back which hugs and lifts bums. The extra-high, thick waistband helps hold you in and is perfect for tucking a t-shirt or blouse in. We love the frayed hem finish, which gives a relaxed nod to the style. The slimming technology means you end up taking a size smaller than your regular dress size. The cropped leg makes these some of the best jeans for curvy petites.
---
11. Good American The Weekender Jean
Best plus-size relaxed-fit jeans
Specifications
RRP: $203 / £153
Sizes: US: 00-26 / UK: 00-26
Material: 99% Cotton, 1% Elastane
Care: Machine wash cold inside out
Reasons to buy
+
Feature recycled trims
+
Drop crotch for comfort
+
Celebrity-approved
Reasons to avoid
-
Little amount of stretch
Founded in 2016 by Khloé Kardashian and Emma Grede, Good American has swiftly become one of the go-to destinations for the best plus-size jeans and best jeans for curvy women, with the jeans often worn by plus-size models, celebrities and influencers. A really inclusive fashion brand, you can view different model sizes wearing the jeans on the brand's website, helping you to envision what you might look like in the jeans, making Good American a great online shopping experience too.
The product lives up to the hype, none more so than the Weekender Jeans. This relaxed, boyfriend style has a stylish amount of slouch with a rolled hem for casual appeal. The high-rise waist keeps muffin tops tucked in, while the drop crotch means they have a roomy fit. These are made from thicker denim with a little stretch for a vintage feel, but the loose leg means they still deliver high on the comfort factor. We also love that they feature recycled trims, and have been made with energy-saving processes in a solar-powered factory.
---
12. Live Unlimited London Boyfriend Jeans
Best plus-size blue jeans
Specifications
RRP: $100 / £75
Sizes: US: 8-24 UK: 12-28
Material : 99% Cotton 1% Elastane
Care: Machine washable
Reasons to buy
+
High waisted fit
+
Great everyday style
+
Can turn up the hems to show off your shoes
Reasons to avoid
-
A tighter fit that other boyfriend styles
Live Unlimited London is a British clothing brand that caters to curvy women in a way that makes everyone feels included. With trend-led designs and modern cuts, the label is one to watch for everyday essentials including dresses, tops, and of course, jeans. The boyfriend style in blue will work across all seasons, work with every shirt, or top you own, even your best cashmere sweater and its cropped hem will show off any of the new shoe trends 2022 has to offer.
Machine washable, slightly high-waisted, and with a little bit of stretch, these jeans are ones you'll want to stock up on.
---
13. H&M+ Shaping Skinny Jeans
Best plus-size affordable jeans
Specifications
RRP: $59.99 / £39.99
Sizes: US: 16-28 / UK: 16-34
Material: Cotton 62% Modal 17% Polyester 17% Elastane 4%
Care: Machine wash
Reasons to buy
+
Shaping abilities
+
Ideal everyday style
+
Super affordable for repeat purchase
If you're looking for a pair of everyday jeans that won't break the bank, look no further than H&M. With regular, petite, plus, and maternity styles, they're the destination for affordable, on-trend styles. The affordable fashion retailer has had a plus-size range for a long time, but like the rest of the market, it has really developed over the past few years, offering more and more on-trend clothes and often reflecting pieces available in the mainline collection.
These are some of the best skinny jeans we've seen for curvy women. Available in three shades, black, indigo and grey, they're ideal for any occasion. With inbuilt shaping technology, you'll feel like you're wearing some of the best shapewear, as these jeans use technical stretch to hold in and shape your tummy, thighs, and bum, while still retaining their shape. Reviews on-site are positive, but you may want to size up as they're a snug fit.
---
14. Simply Be Curve Control Skinny High Waist Shaper Jeggings
Best plus-size jeggings
Specifications
RRP: £14
Sizes: UK: 10-32
Material: 70% Cotton, 26% Polyester, 4% Elastane
Care: Machine washable
Reasons to buy
+
Pull on style
+
Ethically sourced cotton
+
High waisted fit
Reasons to avoid
-
Can be trickier to get on
A great alternative to jeans, jeggings are a style that will allow you to pull on and go. This particular pair from UK-based retailer Simply Be is a shaper jegging, which is great for curvier figures to lift and shape. The elasticated waistband with a high waist will make you feel supported in all the right places. And the super stretch material will be comfy throughout the day with everything from roll-neck knits to soft, silky shirts. Simply Be never fails when it comes to well-fitting, plus-size jeans that are affordable too.
---
15. River Island Plus Black Coated High Waisted Jeans
Best for fashionable plus-size jeans
Specifications
RRP: $84 / £45
Sizes: US: 14-24 / UK: 18-28
Material: 54% Cotton 5% Elastane 41% Polyester
Care: Machine washable
Reasons to buy
+
Fashion-forward coated finish
+
Flattering high waist
+
Comfortable, stretch fit
Reasons to avoid
-
Stretch might lose shape
River Island is a British brand known for their great separates and party-ready dresses, but they also have a fantastic range of denim. With well-developed cuts and silhouettes, when you find the River Island shape that works for you, you can easily stock up on your favorite cut in multiple iterations and they have a great array of on-trend plus size styles too.
In a super skinny fit, but with good stretch, these coated jeans are bang on-trend. Mimicking leather trousers, these slick jeans are great for giving your denim wardrobe a glam makeover. With a flattering high-waisted style, these sculpt and lift your bum, gently flatter midriffs, and the super skinny leg will look great with heels or trainers too. Made from Responsibly Sourced Cotton via River Island's partnership with the Better Cotton Initiative, who work to improve cotton farming practices, could these jeans get any better?
Sign up to our free daily email for the latest royal and entertainment news, interesting opinion, expert advice on styling and beauty trends, and no-nonsense guides to the health and wellness questions you want answered.
Charlie is the Deputy Fashion Editor at Future plc across multiple women's magazines including Woman & Home, Woman and Woman's Own.
She bagged her first magazine job in 2009 and has previously written for titles including Stylist, Closer and Dare. Over the years Charlie has embraced anything that was thrown at her from styling celebrities to testing out the best jeans on the high street to writing about must-have beauty buys.
With a weakness for a printed midi dress, Charlie is on a mission to shop more sustainably and loves finding new ethical brands and second-hand buys.