What is plus size, anyway? We ruminate on this divisive term
What is plus size? From models to clothing, the term plus size is being used more than ever—but what size is plus size and should we be using the divisive term at all?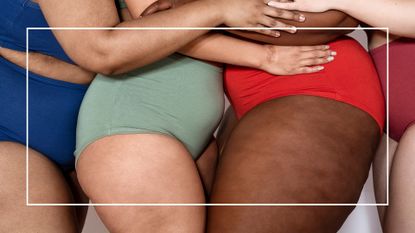 (Image credit: Future)
woman&home newsletter
Sign up to our free daily email for the latest royal and entertainment news, interesting opinion, expert advice on styling and beauty trends, and no-nonsense guides to the health and wellness questions you want answered.
Thank you for signing up to . You will receive a verification email shortly.
There was a problem. Please refresh the page and try again.
Plus size is now a buzz term that is being used more than ever in the world of fashion. With the average US dress size being a 14 and the average UK dress size a 16, it's high time fashion catered to a larger market. But, what is plus-size? How is it defined? And should we be pushing back on this trending phrase?
The plus size market has been valued globally at $178 billion in a report by statista (opens in new tab), and retailers have caught on to the opportunity. Plus size models have never been more in demand, and big-name brands from the high-street to high-end labels are launching inclusive lines offering wardrobe staples, including everything from plus size leggings to jeans for curvy women and plus size shapewear.
The best plus size clothing brands are challenging beauty standards too, they're normalizing cellulite and stretchmarks via unretouched images, and celebrating big boobs, back rolls and broad hips by showcasing stylish clothes on bigger bodies.
Recent catwalk moments like the Victoria's Secret fashion show, Savage X Fenty's famous showcases and Ashley Graham walking for Fendi's SS21 collection, also prove that more plus size women are taking center stage. And the abundance of plus size models and influencers has begun to open the door for women over a US 12 to be part of the fashion and body image conversations—two topics that go hand-in-hand.
So, what is plus size?
The Cambridge Dictionary states that the term plus-size means: Designed for people who are larger than average, or used to describe someone who is larger than average in size.
A vague statement if there ever was one.
Figuring out what is considered plus sized is a minefield because it's so open to interpretation. Designers, brands and model agents all follow their own individual definitions—and plus size US and plus size UK dress sizes differ—so knowing what size is plus-size can be very confusing.
But generally speaking, plus-size models are a US 12/ UK 14 and above, while the curvy clothing ranges they model start from a US 12/ UK 14 and expand up to a US 30/ UK 28.
It is estimated that over two-thirds of women in the US would be classified as plus size.
Where did the term plus size come from?
The first plus size brand is thought to be Lane Bryant, which, in the 1920s, launched a collection catering "for the stout women" who measured between a 38-58 inch bust. Over in the UK, plus-size first came to the high street in the 1930s via Evans Outsize. Founded by manufacturer Jack Green it was the first mass retailer that made clothes purposefully for the plus size woman.
Carol Westwood, founder of plus size lingerie company Bloomin' Sexy explains that when she was first looking for clothes in the 1960s, outsize ranges tended to be "limited in choice, and frumpy and boring designs aimed at older women". Though things have certainly improved, there are still holes in the current offering. "[My customer say] that if they're a dress size 24 and under there is plenty of clothing choice now, but on the higher end of plus size there are very slim pickings." says Carol.
The rise of mid size
However, there is a new label on the scene. Mid-sized fashion is a recent phenomenon that was created by fashion pioneer Anushka Moore, who launched the Instagram page @midsizecollective back in 2018. The term mid-size refers to the dress sizes between a US8/ UK10 and US16/ UK18.
Not everyone is a fan. Finding the extra label "unhelpful and unnecessary", Brie Read, CEO and founder of fashion brand Snag, thinks that both mid-size and plus size terms have been devised by brands to hide the fact that they have traditionally only catered to a very small proportion of the population.
Content creator and author, Stephanie Yeboah (opens in new tab), sees things differently and believes the rise of mid size is a good thing. In May this year a thread of her tweets outlined why: "I'm really glad that the midsize community is taking off, because maybe now, straight sized brands will pay attention + provide visibility to the STRAIGHT SIZED people that fall outside a size 10."
I'm really glad that the midsize community is taking off, because maybe now, straight sized brands will pay attention + provide visibility to the STRAIGHT SIZED people that fall outside a size 10.May 24, 2021
See more
But in the same thread, she railed against the use of mid size models to promote plus size collections—a common practice in the fashion industry. She tweeted: "Here's a thought: seeing as all the 'plus-size models' used by fashion brands are actually mid-size models, maybe use them in straight-size fashion campaigns alongside the [size 0, 2, and 4 models]. And use fat models to promote fat fashions."
Here's a thought: seeing as all the 'plus size models' used by fashion brands are actually mid-sized models, maybe use them in straight sized fashion campaigns alongside the size 4-8's. And use fat models to promote fat fashions instead.May 24, 2021
See more
Is the term plus size positive then?
As the plus size market has grown, so has the debate around the topic. And unsurprisingly, opinion on whether the term has negative connations is divided.
Traditionally, the phrase was regularly paired with phrases like 'slimming' and 'tummy control', and was often avoided by full-figured women as a result.
Brie, believes that plus size is a term made up by the mainstream fashion industry, "[plus size means] people we don't make clothes for". By separating larger dress sizes from smaller ones, and labeling them as plus size, Brie believes it suggests they are something to be ashamed of. "Thankfully, society is gradually coming to realize how damaging this style of marketing is, and understand the internalized fatphobia that comes with it", says Brie.
But there's a new school of thought that wants to own this phrase, and I am one of them. For years I didn't want to categorize myself as plus size because it made me feel 'other'. However, I think it's important that women embrace the term as a descriptor and reclaim it as something positive, giving strength to the plus size community.
What's the future of plus size?
Although plus size fashion has come a long way since Lane Bryant's 'stout' collections, the fashion industry needs to do so much more to become truly inclusive. With several brands only catering up to a US 20, there is a whole category of women who are still struggling to find fashionable garments that fit.
A concrete, universal definition of what size is plus size would help women know what to look for when shopping, as would standardized clothing sizes across global stores. If we can achieve that, the plus size movement would have plus points for all.
Mollie Quirk is a freelance journalist and features writer from London, England. With a First-class degree in Journalism and over eight years of online writing experience, Mollie is an expert in her field. At a UK size 16–18, she specialises in writing about plus size fashion and issues surrounding body image – knowing firsthand what it's like to style a fuller figure, Mollie knows what plus size women want and need.