Best designer bags for work: 11 styles to keep your daily commute stylish
Dress for success: The best designer bags for work will help you look and feel great everyday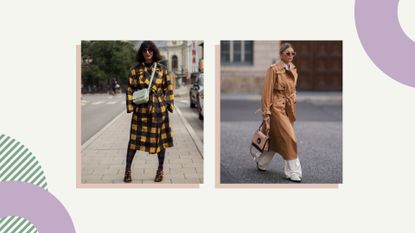 (Image credit: Getty Images)
As we head in to Fall 2022 the best designer bags for work will help you embrace the new season in style. While it's easy to get lost in trends, look for a bag that can hold everything you need and invest in designs that won't date for maximum cost-per-wear.
The finishing touch to any work outfit, finding the best designer bag for work will largely depend on your capacity needs. If you're someone who needs to carry documents and a laptop to and from the office, you'll want to invest in a larger, more structured style that will have great storage and keep items safe. Want to be hands-free? Then the best designer crossbody bags or a directional backpack with zipped compartments and plenty of internal or external pockets should help to see you through the week with ease.
To render a bag one of the best designer bags for work, we selected buttery soft leather designs that looked chic and sophisticated and most importantly felt amazing. Your designer bag for work should give you a little confident boost every time you slip it on and not leave you in a fluster, desperately rummaging for your work pass. We have largely opted for timeless colors, as these will usually be the most office-appropriate styles, but use your judgement on your own office to pick the hue that's right for you.
Best designer bags for work
Why you can trust Woman & Home Our expert reviewers spend hours testing and comparing products and services so you can choose the best for you. Find out more about how we test.
When it comes to the best designer bags for work, look for pieces that will work with your 9-5 wardrobe, as this is the carry-all that you'll take with you nearly everyday. Make sure the strap sits comfortably as you don't want it digging in on your morning commute - thicker straps will distribute weight better across your shoulder or back. Reinforced stitching where the bag attaches to the strap will help with longevity of your purchase, while for tote bags, studs on the base will stop the bag from scuffing when it's on the ground.
1. Mulberry Bayswater Tote
Reasons to buy
+
Smart design, professional
+
Removable inner pouch
Reasons to avoid
-
Not big enough for a large laptop
One of the best tote bags, this leather Mulberry Bayswater is the small size, meaning it's roomy enough for essentials, although you may struggle if you're looking to slip a 14inch Macbook inside. Spacious enough for an iPad and a spare pair of shoes, this simple, clean-lined tote bag is one that you can wear throughout the year.
With the British designer brand's signature postman's lock fastening, the tote bag also features an internal, removable pouch, ideal for storing items you need easy access to, such as work passes, keys and credit cards.
Available in 12 colorways, from bright, dopamine dressing-inspired tones of green, pink and blue, to classic burgundy, black and navy, there is a Bayswater for every taste.
---
2. Chloé Woody Leather Tote
Reasons to buy
+
Leather version of popular summer raffia style
+
Super sleek and clean
Reasons to avoid
-
Heavily monogrammed - not to everyone's taste
The Woody bag by French clothing brand Chloé, was a huge hit this summer, taking the raffia handbag trend 2022 to new heights, with its woven body, leather straps and striking monogrammed details. For the Fall 2022 fashion trends, the brand has reworked the Woody into leather to create one of the best designer bags for work.
In entirely jet black leather, the monogrammed Chloé lettering is both statement and subtle, while the angular and simplistic shape makes it ideal for carrying a small laptop and documents to and from work in style.
Although the bag has no formal closing and fastening and has just a simple internal slip pocket, the bag, when carried under the arm does sit close to the body, although this may not be suitable if you're looking for a more secured finish.
The bag is also available in a beautiful rich tan for those looking for a designer tote bag that will work through the whole year.
---
3. Marni Trunk medium color-block leather shoulder bag
Reasons to buy
+
Hands-free wear
+
Lots of storage compartments for easy organisation
Reasons to avoid
-
Bright color, might not be smart enough for some environments
When it comes to the best designer bags for work, Marni might not be one of the biggest labels in the accessories mix, but the Italian clothing brand manage to inject personality and fun into even the chicest of handbags.
If you're looking for a work bag that allows you to carry your essentials hands-free, then you'll want to check out this crossbody bag from Marni that delivers on excellent space saving solutions as well as tones of style.
Featuring three internal compartments, as well as two zipped internal compartments, alongside a push lock flap and a concealed pocket, this bag puts functionality and organization at the heart of the product.
With a ladylike silhouette, this bag has a retro '50s feel that will soften tailored pieces. The beige and navy base is accented by a bright orange, dressing up the dreariest of days.
---
4. Gucci Blondie Medium Shoulder Bag
Reasons to buy
+
Classic silhouette that won't date
+
Hands-free style
Reasons to avoid
-
Not the right size for files
One of the best Gucci bags, the Blondie has a saddle bag silhouette and a boho feel. The soft, caramel leather ensures this bag will work across all seasons, while the standout gold hardware and red and green striped strap make it easily identifiable as a Gucci masterpiece.
Ideal for the everyday, this bag can be worn crossbody, for a comfortable fit and a handsfree finish, meaning you can commute with ease. Inside the bag has two main compartments and a zipped compartment, allowing you to easily organize items internally, so there is no more stressful scrambling for bank card or office passes.
The leather gives this bag a smart and polished finish, while the Web green and red strap adds a playful pop of color and a more relaxed feel.
---
5. Loewe Flamenco Large Leather Bag
Reasons to buy
+
Sleek bag for a polished look
+
Trend-look
Reasons to avoid
-
Not an ideal shape for carrying laptops or documents
Spanish clothing brand Loewe has really upped its game on the handbag front. Making some of the best designer bags, the brand's styles are regularly spotted on the arm's of fashion editors and celebrities. A large design - ideal for fitting in day-to-day items, we love the Flamenco bag for its soft and feminine structure, that is juxtaposed by the weighty leather fabrication.
Buttery soft, this slouchy design is ideal for those having to commute everyday, and are looking for something a little more pliable - after all those subway carriages can get a little tight.
Featuring both a magnetic popper and a drawcord closure, this tote offers a little extra security than some of the other best designer bags for work that we found. The bag also features an internal zipped pocket, ideal for valuables.
Available in three colors, this caramel hue is one that can be worn all year round, pairing effortlessly with fall work outfits or summer outfits for work.
---
6. Khaite Black Iris leather Backpack
Reasons to buy
+
Easy to carry, balances weight distribution
+
Subtle labelling
Reasons to avoid
-
Backpacks can be hard to wear with suiting
The best backpacks for working women allow those that commute to carry the essentials with ease. A backpack is ideal as one of the best designer bags for work, as the straps allow for weight distribution across both shoulders, and if you find you're lugging a heavy tote bag, lopsidedly, then you need to be thinking about switching to a backpack.
This sleek design features subtle branding, making it a great option for those that want a high quality bag, but want the designer label to remain discreet. A lengthy design (it is 16inches long) you can fit a slim, lightweight laptop inside, making it a good choice for work journeys or heading to see clients.
The straps are adjustable, so you can get the best fit for your frame, and of course, it can be worn out of office hours too. Remember however, if you're wearing this backpack over a tailored blazer, you'll want to loosen the straps to fit, to ensure your blazer doesn't get too creased.
---
7. Tory Burch Lee Radziwill Small Bag
Reasons to buy
+
Ladylike design
+
Ideal for smart outfits
This bag might be too small for some, but if you're simply after a bag that will hold your phones, keys and cash (and perhaps some minimal make-up for touch ups), then this is a beautifully crafted bag that will add instant polish to any look.
With a vintage-inspired silhouette, the frame bag has one main internal compartment and two slip compartments to help with internal organization. The bag, crafted in black leather features gold hardware, for a striking and contrasting finish. The bag to slip onto the crook of your arm, this is a great option if you're looking for what to wear to a job interview, as this discreet but stylish bag really is the business.
The bag uses the brand's signature lock and key closure and fits the latest iPhone 11 Pro and Galaxy Note 10.
---
8. Coach Willow Tote in Color Block
Reasons to buy
+
Long straps to go over coats
+
Simple, timeless design.
Reasons to avoid
-
Slim straps might not be as comfortable as thicker strap designs
Fitting up to a 13inch laptop, this Coach design is one of the best designer bags for work. Available in three block colorways and one monogram print iteration, this roomy tote bag is one that will carry you through all seasons.
In polished pebble leather, the bag has a lovely, tactile finish and has two open sections and one zipped center compartment. With the brands signature turn C lock, the branding here is beautifully subtle, it's a case of, if you know, you know.
With longer shoulder straps, this bag is ideal as we head into fall and winter, as it has been made to sit comfortable over the top of bulkier clothes.
---
9. Saint Laurent Shopper large textured-leather tote
Reasons to buy
+
Spacious, classic design
Reasons to avoid
-
Only a snap clasp closure at the top, might not be secure enough for some
With a large, unstructured shape, this Saint Laurent tote is a classic bag that will never date, as a black leather tote will never go out of fashion. Spacious enough for a laptop, essentials and even make up and a spare pair of comfortable flats, this is the grab-and-go bag that will make your daily commute a little easier.
With a snap top fastening, it's not as secure as some bags in this feature, but it does have a top closure to give you added peace of mind. The branding is clear, yet subtle, ideal for those who don't want a super showy bag.
Available in five classic colorways, this bag is a great choice for work or play as it would also be ideal for what to wear on a plane as a roomy carry-on bag.
---
10. Giuliva Heritage Secchiello mini textured-leather bucket bag
Specifications
RRP: $1,200.90 / £1,0002.49
Reasons to buy
+
Quirky but fashion-forward shape
+
Classic color combination
Bucket bags were the silhouette to be seen in this past season and the trend is set to continue as we carry on embracing spacious bags. Bucket bags tend to be deeper than they are wide, offering plenty of storage.
This super chic iteration pairs black and brown leather together effortless, for a discreet bag with some stand out features. Wearable crossbody or by the top grab handle, the bag features a smart buckle fastening mechanism, alongside one main compartment and a zipped inner section for the important bits.
A great designer bag for work, this piece of arm candy is smart and sophisticated, with gorgeously playful details to finish the look.
---
11. Mulberry Heritage backpack scotchgrain
Reasons to buy
+
Super practical for everyday
+
Great pocket and storage solutions
Reasons to avoid
-
Not quite as stylish as a handbag
While we see Mulberry as a luxury bag retailer, this backpack plays homage to the early days of Mulberry, where the bags were inspired by countryside pursuits. In a beautifully textured leather, this bag features lots of fastened pockets for easy storage and organization of items, so you always know where everything is.
Technically in the menswear category, this black and brown leather bag can easily be worn by anyone who is after a practical storage solution and the best designer bags for work (or play).
With fairly spacious measurements, 14inches high and 11 inches wide, you could get day to day essentials into this bag with ease.
What type of bag is best for work
When selecting the best bag for work you need to consider your individual needs. If you're carrying a lot of things to and from work, including a laptop and heavy files, you may find a backpack the best and easiest choice for your commute. While in previous years a backpack may not have been considered a glamorous option, there are plenty of stylish designer brands tapping into the look - with even some of the best Chanel bags and the more affordable best Kate Spade bags taking on the form of a backpack, as they realize that women want fashionable items that are practical too.
If you're carrying a lighter laptop and a few essentials, then a large leather tote bag is a smart and stylish option that can be used on the weekend too - giving you double the wear. Opt for classic colors for a timeless buy that you can wear year on year. Tan leather pieces will work just as well in summer as they do winter.
If you're simply looking to carry the bare-minimum, eg. phone, keys, lipstick and credit cards, then a designer crossbody bag is a wonderful choice for an everyday commute. Keeping items right by your side, you can still travel handsfree, but you get the added security and comfort of having necessities in reach.
"I prefer to have a crossbody bag, like my trustee Gucci Marmont as my main designer bag for work and then I take extras for the day in a canvas tote bag", says fashion editor and stylist, Antonia Kraskowski. "When it comes to the best designer bags for work, I like something that can take me from AM to PM and look smart both for the office or for a dinner with friends. It means I can travel relatively hands-free and always have my essentials close-by. It's just a stylish and practical solution for those, who are like me, always on the go."
Can I wear a designer bag to work
This is entirely dependent on your comfort level but if you're looking to add polish to your outfit, particularly in a corporate environment, then a designer bag can help you feel more put together. If you're concerned about wearing the best designer bags to work, you could also opt for designer handbags with more subtle or discreet monogramming, so that you know you have a great bag, but not everyone needs to know where it's from. Designer bags are crafted from top quality fabrications and will naturally look more expensive. The high quality fabrications and stitching should also mean they can easily withstand daily use.