What to wear with wide leg pants: Here's how to style this figure flattering shape
Can't work out what to wear with wide leg pants? This is all the inspiration you need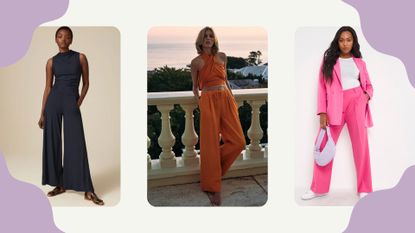 (Image credit: Future : Me+Em / Zara / Simply Be)
Love to make a style statement but can't work out what to wear with wide leg pants? Don't panic we're here to help. This leg lengthening and figure-flattering style is surprisingly easy to wear with just a few simple tricks.
A revival in '70s style on the runway has seen wide leg pants march their way back into fashion. Distinguishable by their A-line leg silhouette, when it comes to what to wear with wide leg pants, it's all about balancing proportions to make them work for every age group and shape. When working out what to wear with wide leg pants, you're largely looking to balance out the wider hemline by keeping your top half more form fitted and tailored. This will ensure you're adding less bulk to your frame, as well as creating a longer and leaner silhouette, the eye is drawn down your body to the widest part of your outfit, instantly lengthening and narrowing the rest of your silhouette.
Working equally well for all body types. A high-waisted wide leg pant is flattering on apple body shapes, sculpting a midriff and taking the eye away from your middle. For pear shapes, the statement hem length will help to balance fuller hips, while for hourglass body types the full hem width helps to highlight and narrow your middle and balance a fuller bust. Although wide leg pants might seem daunting for petites, a pair created by a brand for that category will take proportions into account so that the wide leg is balanced with your smaller stature - as with all body types in this guide, as a general rule, keep your top half form-fitted to balance the look.
What to wear with wide leg pants
Proportion is key to making wide leg pants outfits a success and works in a similar way to how to style flared jeans. While the bottom half of your outfit should feel relaxed - even when tailored, the top half of a wide leg trouser outfit should aim to balance the expanse of pants fabric.
Here are 7 outfit ideas showing you what to wear with wide leg pants.
1. What to wear with wide leg pants for casual
Throughout this feature we will look at different ideas for what to wear with wide leg pants, but the one key rule that will remain, no matter the occasion or style, is that proportion and balancing your shape is key to making this trend work. To that end, literally anyone can wear wide leg pants - but thinking about how you will highlight your frame, rather than just overwhelming it with fabric is what will make your outfit shine.
For casual occasions look to your humble best t-shirts to seal the deal. A fitted design, such as a cotton jersey will help to balance out a wide leg pant and tucking your tee in at the waist will help to reclaim your curves. For a more relaxed feel, try a French or half-tuck, this gives a glimpse of your waist, creating an hourglass silhouette, but will also help to loosely skim a midriff.
If you want to add a jacket or cardigan to your ensemble, tuck in your top underneath and utilize the narrow center created by the jacket to skim your frame. Creating an illusion panel at the front of your body, you'll be instantly elongated.
Simply Be Pink Wide Leg Tailored Pants
H&M Pastel Slogan Los Angeles T-Shirt
RRP: $12.99 / £9.99 | Pink and mint make an excellent color combo and this pastel, slogan tee feels fresh and directional. Dress down tailored pants and give them a relaxed feel by teaming with summer-ready styles such a tees and lightweight tops.
Levi's Original Denim Trucker Jacket
RRP: $98 / £110 | Creators of some of the best denim jackets, the classic trucker silhouette is one you can reach for time and time again and is a great layering piece for casual looks. Thanks to the more fitted silhouette it helps to balance wide leg pants.
2. What to wear with wide leg pants for work
While the same rules about proportions apply, for the office you can get slightly more adventurous with layering. Thanks to the width of the pants hem, you'll want to bring an element of tailoring to your upper torso. This helps to balance the volume of fabric, flattering your frame in the process. A fitted cotton shirt will do the trick, but if you're looking at how to style an oversized shirt, you'll be pleased to know they can still work with wide leg pants. Tall, rectangular body shapes can easily wear their shirt untucked, covering the waistband of the pants. Otherwise, we'd recommend tucking your shirt in, or half-tucking into high-waisted, wide leg pants to reclaim your shape. Team with on-trend loafers or a pair of slim-heeled courts for a polished look.
Adding your best blazer to wide leg pants would also work, tailoring and contouring your upper torso. Make sure to ignore the current oversized trend here and opt for a slim-fit design, as this will give you an elongated torso and a more streamlined finish.
Massimo Dutti Checked Culottes
RRP: $129 / £89.95 | If you're looking for new ways for how to style knee-high boots, try a pair of cropped, culotte style, wide leg pants. In a wool, or Prince of Wales check print, this silhouette is a smart but fashion-forward option for fall work outfits.
Hawes & Curtis White Button Down
RRP: $79 / £39 | Keep your top half simple and fitted with a white tailored poplin shirt. Great for warmer months, you can wear it now as part of your summer outfits for work, before layering it under or over knitwear when the weather cools down.
Next Stone Linen Blend Premium Blazer
RRP: $103 / £68 | Wondering how to style a blazer with this outfit? Keep your jacket fitted to help balance out the wide hem width of your trousers and show off your waist. Opt for a light colored blazer for contrast and to let the pants do the talking.
3. What to wear with wide leg pants for a wedding or occasion
If you're not a fan of dresses and prefer a two piece outfit over a flattering jumpsuit, then wide leg pants could be your occasionwear go to look. A strong replacement for long skirt outfit ideas. A wide leg pants ensemble still offers a floaty, relaxed and feminine feel, but for dedicated pants wearers, they're often more comfortable too. Dressy wide leg pants are ideal for what to wear on a cruise, particularly for evening events and in the summer the breezy silhouette will keep you cool.
For evening wear wide leg pants, look for softer and silkier fabrics that offer a beautiful drape and a little bit of luster to seal the deal. Or go bold in brights for an statement outfit. If you do want to go for a top with more volume, make sure to either choose a sheer fabric - such as a chiffon blouse or look for off-the-shoulder detailing to still highlight a narrower part of your frame.
New Look Petite Green Wide Leg Pants
RRP: £23.99 (UK only) | Cut with a smaller stature in mind, these chic wide leg trousers feature a tailored high waist band and an ankle grazing finish to help elongate your pins. In a mood boosting bright, they tap into the dopamine dressing trend.
Karen Millen Petite Crinkle Sheer Blouse
RRP: $232 / £135 | This full sleeve blouse offers plenty of romance and is ideal as a wedding guest outfit. While this blouse has volume to the sleeves and through the bodice, the sheer fabric and cami underneath ensures your frame isn't lost, giving a good balance.
Steve Madden White Leather Mules
RRP: $109.95 / £100 | One of the big shoe trends 2022, mules made a return to the runway and straight back into our closets. A great occasionwear shoe - as you don't have to worry about heel rub, these have a sturdy block heel design for added comfort.
4. What to wear with wide leg pants for smart-casual
Ah smart casual outfits, the dress code that leaves many scratching their heads, and one that is one easily solved by wide leg pants. Although often tailored, a wide leg trouser also has a relaxed leg silhouette, making them feel instantly more casual than a staunchly pressed, straight leg design. However, because wide leg pants often have higher waists (balancing those proportions we keep talking about) they also feel a smart too - allowing them to straddle both categories and be dressed up or down, depending on life's demands.
To keep in the relaxed lane, look for soft-handle, wide leg pants and a tonal fitted top, or chic Breton stripe to create a stylish base layer. This means you can then dress up your pants with a blazer, or keep it more casual in a cardigan or sweater - the choice is yours.
Me+Em Wide Leg Navy Palazzo Pants
RRP: $145 / £95 | In a soft modal fabric, these palazzo pants offer instant elegance. The softly draped fabric will flatter all body types, and can be effortlessly paired with a matching cami or fitted top. Ideal for long, sunny, holiday days, from AM to PM.
River Island Navy Contrast Polo Top
RRP: $60 / £32 | Add a touch of sparkle to your look with this gold buttoned polo top. Pairing easily with the navy palazzo pants, this top will also look great with denim and white jeans outfits. The sporty silhouette adds a more casual element to the look.
Office Skala Jewel Slides White Leather
RRP: $47 / £34.99 | Give your outfit a dressy feel with amped up comfortable flats. These slip on sandals with jewel detailing toe the line perfectly for a smart casual outfit. Great for alfresco dinners or if you're wondering what to pack for a beach vacation.
5. What to wear with wide leg pants on holiday
Wide leg pants are great for when it comes to holiday outfit ideas. Some of the best beach cover-ups you should look for versatile, lightweight, chiffon and cheesecloth iterations that can be slipped on over your best swimsuit, or worn with a dressier top for evenings of alfresco dining.
As these are for vacation, you're looking for a more laidback feel, so opt for comfy drawstring and elasticated waist designs. A really easy-on look, you might want to consider them for what to wear on the plane too.
Zara Linen Drawcord Palazzo Pants
RRP: $69.90 / £49.99 | Linen trousers are ideal when looking for what to wear in the heat. In a wide leg silhouette, these pants will be cool and breezy, while the comfortable draw string waist and sharp leg shape will keep your look smart and directional.
RRP: $98 / £80 | Similarly to linen, cotton tops are ideal for the summer, making excellent vacation styles. This white and orange combo pairs perfectly with the linen wide leg pants, and the flutter sleeve offers breezy upper arm coverage in the sun.
Chloé Woody Large Raffia Tote
RRP: $725 / £525 | Chloé has really delivered on some of the best designer tote bags this season, with an edit packed with gorgeous canvas designs and raffia styles that will make you feel vacation ready in an instant. All featuring the brand's striking logo detail too.
6. What to wear with black wide leg pants
A versatile buy, black pants of any cut are always a wardrobe essential. An ideal building block in your capsule wardrobe, when it comes to what to wear with wide leg black pants, the answer is... everything. Whether you opt to investigate what to wear with black jeans further and opt for wide leg denim, or go for a more relaxed jersey fabric, black wide leg pants can be easily teamed with pops of color or everyday neutrals.
To welcome in the fall 2022 fashion trends, why not try a new season shacket. The oversized, slightly weightier shirt design is a great layering piece and while at first glance you might think it contravenes our proportion rule, if you opt for a more fitted t-shirt underneath, then you can layer up with a shacket, no problem.
M&S Crepe Drawstring Wide Leg Pants
RRP: $51.99 / £29.50 | Utterly classic, a black wide leg pant with a drawstring waist, offers plenty of comfort. To nail an oversized shirt or shacket with this look, opt for a tucked in tee and a shacket (shirt/jacket) as a layer to create a central, elongating panel.
& Other Stories Wool Front Pocket Shacket
RRP: $49 / £120 | Get ready for next season's trends with a neutral 'wear with everything' jacket. This cozy oatmeal hued style works with all categories, from casual tees to your best dresses. A practical item that won't date making it a great investment.
Dune London Green Leather Loafers
RRP: $120 / £85 | Add a splash of color to your wardrobe this season. One of the biggest fashion color trends 2022, green is set to remain a key hue as we move into fall. Lean into the androgyny of wide leg pants with a comfortable but chic loafer.
7. What to wear with printed wide leg pants
Printed wide leg pants can be a fun way to wear the trend, offering brightness and adding interest to your outfit. While we still use the guidelines of proportion balancing, when it comes to what to wear with printed wide leg pants, you also need to think about color and pattern balance.
As a general rule of thumb, stick to one print per look. That means if you've gone for printed trousers, keep your top half a block or neutral color to allow the pants to shine and avoid a look that feels overwhelming. There is leniency with this rule if you're talking about a printed wide leg pant as part of a patterned coord, as together, they would offer a maxi dress like appearance.
Zara Floral Printed Wide Leg Pants
Zara Floral Print Crossover Blouse
RRP: $49.90 / £32.99 | Pair with the matching blouse to create the illusion of a flattering jumpsuit. Coords are a great choice, particularly if you're a different size on the top and bottom, making finding the best summer dresses a sartorial challenge.
What are the best tops to wear with wide leg pants
The best tops to wear with wide leg pants will address the hem of the pants. That means that your chosen top will balance out the fullness of the fabric and as a general rule of thumb, you'll want a fitted silhouette on your top half. This is because if you have two items of clothing that are very full in terms of fabric, you could easily looked swamped and add bulk to your frame.
While wide leg pants come in a number of iterations, a high waisted pair will always be most flattering on all body types, sculpting your midriff and highlighting curves. To lean into this look, you should wear tops that can be fully or at least partially tucked in to the waistband.
Prefer a relaxed, slouchy fit top? Why not try an off-the-shoulder style that you can French tuck into your pants. The reason this works is because the shoulders and collarbones tend to be a slender part of the torso and this again balances out the fullness of a loose fit top or the width of the pants hem.
What are the best shoes to wear with wide leg pants
There are no hard and fast rules when it comes to what shoes work best with wide leg pants, regardless of your height. While fashion rules of the past dictated the wide leg pants must be worn with high heels, in 2022 that is no longer the case.
To make your wide leg pants suitable for work you will want to opt either for a smart and polished loafer, or a simple, pointed toe, slim-heeled court. To give wide leg pants a casual, 'dressed down' spin, try a pair of sneakers - anything from plimsolls to Vans or a directional Grandad trainer can work here.
Finally for glammed up evenings, while you're welcome to opt for your best designer heels - they do offer instant leg lengthening capabilities, if you want a more laidback approach, try a jewelled pump or metallic sandal to lean into the dressed up feel without the achy feet.
Rivkie is a fashion editor, writer and stylist with over fifteen years' experience in the industry. Having studied design and pattern cutting at the London College of Fashion, Rivkie fell in love with styling and journalism, covering fashion weeks in London, Paris and New York.
Specialising in plus size fashion, Rivkie has long championed that style is for everyBODY and has been a regular talking head on a host of radio stations and television shows, pushing for greater representation for plus size women and fashion throughout her career.