How many Hollington Drive episodes are there and who's in the cast of this sinister drama?
Hollington Drive has us hooked as two sisters question their children's innocence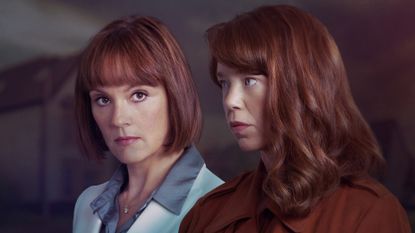 (Image credit: ITV)
Hollington Drive's star-studded cast and gripping episodes have had us hooked throughout this dark domestic thriller and now the answer to the show's ultimate mystery is soon to be revealed.
Hollington Drive premiered on ITV at the end of last month and as each week goes on, the tension mounts as sisters Theresa and Helen come to terms with the idea that their children could have had something to do with a devastating disappearance. Fans of the twists and turns of hit crime dramas Silent Witness and Code of a Killer will soon find themselves drawn in by stars Anna Maxwell Martin and Rachael Stirling's performances as their suspicions grow. Whilst the domestic setting and close-to-home nature of the intense events are sure to keep you coming back for more. And there's still time yet for some more seriously shocking moments as the finale looms ever closer.
But how many Hollington Drive episodes are there, who is in the cast and how can you catch up on all you might have missed in this domestic thriller?
*warning: spoilers ahead*
---
What is Hollington Drive about?
For those who have yet to immerse themselves in Hollington Drive, the new ITV series has all the drama of recent BBC hit Vigil's finale, with the chilling domestic setting of Angela Black. Following Theresa and her older sister Helen, everything initially seems perfect, with both women apparently close and their families keen to spend time together. That's when it all changes and a sense of foreboding descends upon the drama, as Theresa's son Ben begs to be allowed to play in the local park with his cousin Eva one warm evening.
Whilst her partner sees no harm in it, Theresa can't help but feel unsettled and when they don't return on time, her concern quickly turns to panic. Finding them arguing on the edge of the woodland, maternal instinct is telling Theresa that something is very, very wrong.
She's proven right later that evening when her distraught neighbour Jean arrives at her house with the terrible news that her own son, Alex, has mysteriously gone missing. Now Theresa's mind is spinning—the children couldn't know anything about this, could they?
How many Hollington Drive episodes are there?
Hollington Drive's dramatic twists and turns unfold over four episodes, each an hour long. In the first three episodes which have now been broadcast on ITV, viewers have seen Theresa's world unraveling as she attempts to get to the bottom of what happened the day 10-year-old Alex went missing.
Her relationship with her sister Helen is also shown to be far less close than it first appeared, especially as they start to suspect their respective children of knowing more than they're letting on. Theresa has already lied to the police to protect her son as they investigate Alex's disappearance while Helen has tried to push more of the blame towards Ben and away from her daughter Eva.
Then in the penultimate episode, viewers saw both sisters attempting to resume a level of normality in their day-to-day lives, whilst also attending a vigil for Alex. Meanwhile, viewers are aware that Helen was having an affair with Alex's father Gareth, which she called off in episode 3. Once the dominant one between them, Helen seems to have grown more dependent on her younger sister than she had previously.
What exactly this means for the siblings, their children and the mystery about what really happened to Alex remains to be seen and we'll just have to tune into the highly-anticipated final episode to find out.
Who is in the Hollington Drive cast?
Hollington Drive cast:
Theresa—Anna Maxwell Martin
Helen—Rachael Stirling
Fraser—Rhashan Stone
David—Peter McDonald
Jean—Jodie McNee
Gareth—Jonas Armstrong
Ben—Fraser Holmes
Eva—Amelie Bea Smith
DS Robin Parks—Jim Howick
The Hollington Drive cast is led by two outstanding actors who will no doubt already be familiar to fans. Anna Maxwell Martin, who has recently starred in Motherland and Code 404, and who returned in Line of Duty season 6 as Patricia Carmichael, plays Theresa. She is joined by Rachael Stirling (Love in the Lockdown, Grantchester) as Helen.
Discussing her role as part of the Hollington Drive cast, Anna told Express.co.uk (opens in new tab) and other media about the "toxic" underside to the characters' apparently idyllic lives and how Theresa has a somewhat unhealthy relationship with Helen.
"She's not the life and soul of the party, Theresa. Like lots of people, there's some stuff going on for her," Anna explained. "And that is exposed by the pressure of what is happening on this road and this brilliantly written horrible co-dependent relationship with her sister."
The star described Theresa's bond with Helen as something that not only defines her, but defines all her relationships with the people around her.
"It's more about the relationship you have with another person and what is interesting about the story is how we develop and understand what's behind that," she added.
Meanwhile, as reported by Birmingham Live (opens in new tab), Rachael believes that "practical" Helen is very much used to their long-established dynamic.
She declared, "Helen is a woman who has always been the grown-up in her family, the sensible, pragmatic, practical one. You come to learn that her sister, Theresa, has had a chaotic time and she has always been the one who has been a bit out of control. Helen has never been out of control in her life, so she has always looked after Theresa and it suits her".
Theresa and Helen's respective partners in Hollington Drive, Fraser and David, are played by Rhashan Stone (Finding Alice) and Peter McDonald (Dublin Murders). Whilst Jodie McNee (Britannia) and Jonas Armstrong (The Drowning) play neighbours Jean and Gareth and child actors Fraser Holmes and Amelie Bea Smith play Ben and Eva.
They are also joined by Jim Howick (Sex Education) as DS Robin Parks who is investigating Alex's disappearance.
Where is Hollington Drive filmed?
Anyone wondering if the locations featured in Hollington Drive are a little familiar to them might well be right if they live in Wales. The ITV show was filmed there, with the Radio Times (opens in new tab) reporting that the crew chose The Mill housing estate in Cardiff as well as a nearby green area, Sanatorium Park. However, the location was definitely key for the drama and the executive producer, Jonathan Fisher, opened up to the publication about just how many filming locations were rejected before they settled on their final Hollington Drive location.
He explained, "It was right in the height of the pandemic when it was just one man in his car going around taking photographs of possible cul-de-sacs. And we reviewed, I would say, over 100 possible cul-de-sacs, honestly, and it was one of those where we just knew when we saw it, we'd know that was the one and this was certainly the case here."
"You can tell just from [the first 10 minutes] alone that it's such a fundamental part of that series and almost a character in itself. It was integral that we got it right and I think we did. We're really happy with it," Jonathan added.
And those days of scouting possible locations totally paid off as viewers are quickly drawn into the all-too-believable world of the residents of Hollington Drive.
How and when to watch Hollington Drive
Both established Hollington Drive fans and newcomers to the hit series can enjoy watching the next and final episode on 20th October 2021. Hollington Drive will air at 9pm on ITV and, just like with all the episodes so far, viewers can also catch up on everything they might have missed over on the ITV Hub. We can't wait for the Hollington Drive finale next week as we wait to see if we'll ever know what really happened to Alex.
Emma is a Senior Lifestyle Writer with six years of experience working in digital publishing. Her specialist areas including literature, the British Royal Family and knowing all there is to know about the latest TV shows on the BBC, ITV, Channel 4 and every streaming service out there. When she's not writing about the next unmissable show to add to your to-watch list or delving into royal protocol, you can find Emma cooking and watching yet more crime dramas.