The 34 best personalized jewelry gifts to surprise your loved ones with in 2023
We've rounded up all the best personalized jewelry gifts both for her and him, from affordable and luxury brands this year. Browse engraved bracelets, signet rings, zodiac earrings and more...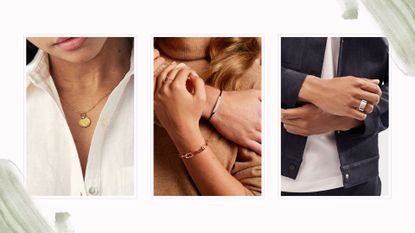 (Image credit: Future)
Looking for a sweet, sentimental gift? Well, the best personalized jewelry gifts are the perfect way to make your loved ones feel like they're truly one-of-a-kind.
Whether it's an initial, birthstone, meaningful charm or engraved message, personalized jewelry makes for a keepsake that will be loved and treasured for years to come. Customized gifts are the perfect way to show your recipient you've gone the extra mile for their present and didn't wait until the last minute to organize their gift.
With more and more jewelry brands offering bespoke services, there's a whole host of beautiful designs that can be personalized to your specifications. We've scoured the internet to find the best personalized jewelry gifts of all kinds - from chic signet rings to dainty engraved bracelets. There's something to suit every style and every budget in our list, whether you're looking for the best 60th birthday gifts for mom or unique gifts for men, you'll find a present they'll love and wear for many years below.
Best personalized jewelry gifts to buy in 2023
Where to buy personalized jewelry gifts
Personalized jewelry gifts for her
1. Missoma Engraved Birthstone Star Ridge Pendant
Specifications
RRP: £105 / $136
Refund policy: 30-day refund policy
Region: US and UK
It doesn't get any more personal than a necklace that representing their birth month, and this Missoma necklace proves that. We love the unique ridge design that borders the gorgeous birthstone star. It's a piece that would make for one of the best 18th birthday gifts if you're looking to treat your daughter, granddaughter or niece to something special.
And to make this custom necklace even more one-of-a-kind, you can add a sweet message on the back for free.
2. PDPAOLA Initial pendant necklace
Specifications
RRP: £45.50 / $50.40
Refund policy: 30-day return policy
Region: US and UK
If simple gold or silver jewelry isn't quite their bag, PDPAOLA have a colorful solution. Their initial necklaces are glistening with a combination of different stones that catch the light beautifully.
The chain is adjustable, meaning you can switch up the length depending on the neckline you're wearing or even layer it with other necklaces. If you're looking for impressive 30th birthday gifts that don't cost the world, then this could be a great option.
3. Edge of Ember Rainbow Initial Pendant in Gold
Specifications
RRP: £45 / $65
Refund policy: 30-day return policy
Region: US and UK
Another way to make the classic initial pendant more exciting is with this rainbow-studded option from Edge of Ember. Made from recycled sterling silver and plated with 18-carat gold, this unique pendant features small semi-precious gemstones dotted around whichever letter you choose, including garnet, peridot, amethyst and Swiss blue topaz. Pair it with a simple gold chain or a charm bracelet and you've got a perfect sustainable gift. All Edge of Ember products come with a one-year warranty - another bonus.
4. Edge of Ember Double Initial Necklace
Specifications
RRP: £125 / $195
Refund policy: 30-day return policy
Region: US and UK
Keep it simple and cute with this double initial pendant necklace. Whether it's their initial or yours, they'll love wearing those special letters close to their heart. This custom necklace comes in recycled sterling silver and 18k gold. And with the initials hanging at two different lengths, this subtle yet unique necklace will definitely draw eyes. It's the perfect personalized gift for the minimal giftee who likes to keep things classy and simple.
5. Astrid & Miyu Birthstone Huggie Earring
Specifications
RRP: £55 / $80
Refund policy: 28-day return policy
Region: US and UK
These 18 carat gold-plated hoops are a subtle way to incorporate a birthstone personalization - though some months are out of stock, they'll likely be restocked. The hoops are available in silver and gold, and the thick but small shape means that they're perfect both for stacking alongside other earrings, and for wearing on their own.
There are gift wrapping options available, including a recyclable gift box free of charge, and the hoops are made from recycled sterling silver, so you won't be harming the planet, either.
6. PDPAOLA Zodiac Earrings
Specifications
RRP: £39.20 / $69
Refund policy: 30 days
Region: US and UK
If you're looking for zodiac gifts to give a loved one, look no further than these unique earrings. They're hand-finished for an even more personalized touch; just choose the desired star sign, and there's a three-year warranty to give you peace of mind. Not only do the 18 carat gold-plated studs reflect the constellations of certain zodiac signs, they're decorated with gemstones such as rose quartz, malachite, mother of pearl and tiger eye.
7. Say My Name Necklace
Specifications
RRP: From £295 / $425
Refund policy: Cannot be exchanged or returned
Region: US and UK
Why not go all out with a personalized necklace including their entire name or yours? Edge of Ember allows you to tap into your creative side and customize this 18K gold necklace with up to eight letters. And if their name is over eight letters, you can still personalize the necklace with a name that's meaningful to them.
8. Personalized Date Figaro Necklace
Specifications
RRP: £75 / $98
Refund policy: Cannot be exchanged or returned
Region: UK and US
If you'd rather personalize a jewelry gift with a memorable date than with a zodiac sign or name, this simple silver necklace features a medium size chain made from 100% recycled sterling silver, but is also available in gold, if you know your loved one favors gold jewelry. Personalize this necklace with a special date, for example an anniversary, and you've got the perfect gift that's unique but still affordable.
9. Zodiac Silver Ring
Specifications
RRP: £45 (UK only)
Refund policy: Non-returnable
Region: UK (international shipping available)
Each elegant ring is made to order using silversmithing techniques making this a truly one-of-a-kind gift as no two of these rings will be exactly the same. A variety of ring sizes are available, including half sizes on request. We love the organic shape of these rings and the fact that each piece is completely bespoke and unique to them.
10. PDPAOLA L'Absolu Silver Earrings
Specifications
RRP: £50 / $69
Refund policy: 30 days
Region: UK and US
If you prefer your personalization to be more subtle - even indiscernible to others - these silver earrings can be personalized with just one letter, number or symbol. Choose from a variety of fonts and engrave your loved ones' initial, or a number that holds value for you both. Made from sterling silver, one of these minimal hoops features a small heart, and they're also available in an 18 carat gold-plated version.
11. Astrid & Miyu Zodiac Gift Set
Specifications
RRP: £120 / $180
Refund policy: 28-day return policy
Region: UK and US
Gift your loved one a personalized necklace and earrings in one fell swoop with this set from Astrid & Miyu. Presented in a gorgeous gift box, the set includes the brand's Zodiac Pendant Necklace, personalized with your desired star sign, and Cosmic Star Stud Earrings, and is available in either a silver or gold finish.
Also included in the set is a card with a description of your loved ones' zodiac sign and its qualities, and you can choose to add gift wrapping, including a personalized message, for an extra special touch.