Best Nespresso machines for a tasty and convenient daily dose of caffeine
We're here to help determine the best Nespresso machines for your personal tastes and needs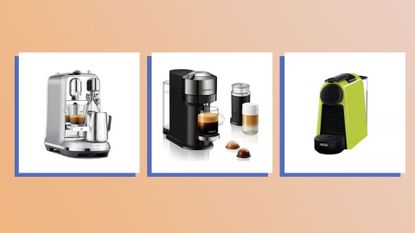 (Image credit: Future)
Ah, Nespresso—there's nothing quite like it. The best Nespresso machines expertly chosen in this guide make espresso at home approachable and easy. Nespresso makes some of the most popular single-serve home brewers in the world, with a presence in over 80 countries. What started as a passion to help people replicate an Italian espresso at home has turned into a global phenomenon. Each machine is truly held to the same performance in standards.
Over the years, Nespresso has launched various machines, many with subtle differences. That's where we come in. We know a thing or two about the best coffee machines. We've researched, tasted, and asked friends and family with Nespresso machines to identify the best Nespresso machines of 2021 for various populations and uses. From those looking to splurge and unleash their inner barista to those curious about where to begin their Nespresso journey, or need something slim and compact to match their small space living, there is something for you.
What are the key Nespresso machines types?
Why you can trust Woman & Home Our expert reviewers spend hours testing and comparing products and services so you can choose the best for you. Find out more about how we test.
Nespresso separates its home brewers across two lines—Original and Vertuo, which use different capsules sizes.
The Original machines—focus solely on espresso beverages and use a pressured based system that is 19 bars, which is far above industry standard (nine) for an espresso machine. Water is forced through three punctures that eventually cause a foil wrapper to burst and for espresso to flow out.
Vertuo machines—offer the most variety with the ability to brew both larger-sized coffee and espresso. What's unique about these machines is that they use centrifusion technology, where the capsule spins up to 7,000 rotations per minute to infuse the capsule thoroughly. It actually results in a thicker crema than the Original. Upping the technology, each Vertuo capsule has a barcode on the rim with brewing parameters that are adjusted by the machine, with no need to change settings yourself. The most obvious is coffee size and brewing time (if you're watching the clock), but the machine also adjusts temperature and pressure to unlock the best flavors for optimal results for EACH blend. Your job? Just insert the capsule and press a single button.
How we chose and evaluated the best Nespresso Machines
We selected the following Nespresso machines in order to share products that encompasses the range of Nespresso machines.
To determine the best Nespresso Machines we looked at:
Price tag— from the entry-level to the barista-quality
Ease of use— it's true, some are easier than others
Special functions—does it come with a milk frother?
Design—compact? Oversized? Color options? How many used used capsules can it hold?
The best Nespresso machines as chosen by our expert
1. Nespresso Vertuo Plus
Best Nespresso machine overall
Specifications
RRP: $149-$179, $199-$229 with frother/£99
Cup capacity: 1.35oz-14oz
Water tank: 40 oz.
Size: 9.8" x 13.3" x 12.7"
Pod type: Vertuo Line
Reasons to buy
+
Makes both espresso and coffee
+
Automatic open and close
+
Adjustable water tank
+
Heats up in 15 seconds
+
Fits 13 capsules
Reasons to avoid
-
No built-in frother
-
Reports of leaks after a year or two of ownership
Whether you're new to Nespresso or a seasoned fan looking for her next machine, you can't go wrong with the Vertuo Plus. It's currently one of the most affordable Vertuo models, yet offers the ability to brew the best of both worlds: coffee and espresso. Use is as simple as popping in your desired capsule, pressing brew, and watching the delicious crema form as it brews.
The Vertuo Plus is compatible with Vertuo pods and brews 5 cup sizes, according to the selected pod: espresso (1.35 oz.), double espresso (2.7 oz.), gran lungo (5 oz.), coffee (7.7 oz.), and alto (14 oz.) The machine has a swift heat up time, just 15 seconds, and space for up to 13 used pods at a time if you're looking to brew many coffees at a time. We also like that the machine has an adjustable water tank that can be positioned to what's most convenient for you and your counter. You'll often find the Vertuo Plus bundled with the Nespresso Aeroccinno3 milk frother to add an even creamier touch to your coffee.
Long-term users have noted that the machine is prone to leaking over time, which is not something we've noticed in our use, but a potential issue down the road to consider.
2. Nespresso Essenza Mini
Best original Nespresso machine
Specifications
RRP: $149-$169/£89-£139
Cup capacity: 0.84oz-1.35oz
Water tank: 20 oz.
Size: 3.3" in x 12" x 8.03'
Pod type: Original Line
Reasons to buy
+
Available in two shapes and several colors
+
An affordable option
+
Compact
+
Makes same quality espresso as more expensive models
+
Removable water tank
Reasons to avoid
-
Smaller water capacity
-
Plastic body
The Essenza Mini is what we call small and mighty. It's really so incredibly easy to use. It's a must-have for small spaces or those looking to dip their toe into the world of Nespresso from an economical standpoint. Using the Essenza Mini makes you feel really close to the espresso experience, as noted by the beautiful layer of crema that each cup produces. It offers two cup sizes: espresso and lungo, which are designated by selecting one of two buttons at the top of the machine. You can also pre-program the cup sizes to your desired volume by pressing on either button until you're happy with the new cup size.
Due to the smaller size, the water tank is smaller than other machines (20 oz.) and holds fewer used capsules (six), but it performs the exact same with the same high-pressure 19 bar pump, one-touch operation, 30-second heat-up, and auto shut-off as with pricier machines. And that's what really matters.
The Essenza Mini seems to have the largest range of colors (hey lime green) and two body styles that function the same, but all about preference. The curvier design pictured, or a more rectangular design. However, the body style is made of plastic, while counterparts use more stainless steel.
3. Nespresso Lattissima Pro
Best Nespresso machine for lattes
Specifications
RRP: $599/£449.99
Cup capacity: 40ml-110ml (adjustable)
Water Tank: 44 oz.
Size: 7.6" x 13" x 10.8"
Pod type: Original Line
Automatic capsule detection: No
Centrifusion brewing: No
Reasons to buy
+
Adjust volumes and temperatures of coffee, water, and milk
+
Touchscreen control panel
+
Makes nine different specialty drinks in one touch
+
25-second heat-up
+
Milk frother included
Reasons to avoid
-
Expensive
-
Only one color option
Lattes in one touch, that's the spirit of Nespresso Lattissima Pro. Rather than fumbling to time your Aerocinno just right, the Lattissima Pro gets it done simultaneously in one compact footprint. You'll soon be on your way to enjoying Ristretto, Espresso, Lungo, one-touch Cappuccino, and Latte Macchiatos with this top-notch machine.
The control touch screen panel is located at the top of the machine, so you will want to be sure to place it in an area where you will be able to see the screen to select your beverage. The 16.9 oz. milk frother can be placed back in forth between the fridge and the machine, where it hooks right on. It utilizes a stainless steel nozzle that looks very similar to what you'll actually find on high-end espresso machines. The machine is quite intelligent and easy to use and clean, with a semi-automatic self-cleaning cycle that will run twice a day. Ristretto, Espresso, Lungo, one-touch Cappuccino and Latte Macchiato
4. Nespresso Vertuo Next
Best compact Nespresso machine
Specifications
RRP: $159+/£99+
Cup capacity: 1.35oz., 2.7oz., 5oz; 8oz; 14oz; 18 oz. carafe
Water capacity: 37 oz.
Size: 5.5" x 16.9" x 12.4" inches
Pod type: Vertuo Line
Reasons to buy
+
Space-saving
+
Affordable
+
Partially recycled materials
+
The only machine that can make an 18 oz. carafe
+
Available in many colors and editions
Reasons to avoid
-
The lock and unlock mechanism takes effort to open
-
Carafe sold separately
The Vertuo Next is Nespresso's newest and slimmest Vertuo, just 5.5 inches wide. It's also made with 54% recycled plastic, showcasing Nespresso's commitment to sustainability, and introduces the ability to also brew an 18 oz. carafe, making it one of the most versatile Vertuo models. For this, the Vertuo Next makes it easy to brew consecutively, or one large 18 oz. capsule at a time. The 18 oz. capsules are usually sold independently of any coffee variation packs, and at this time, only one varietal is available. We hope that Nespresso will continue to expand that range.
Vertuo Next has the smallest footprint of the Vertuo line. Its design is marked by a round-colored crown that has a lock and an unlock mechanism to insert the pod. It takes a little force to lock and unlock, but it really springs up so you can slip the pod in. Heat up was fast (under 30 seconds) as was brewing, and its noise level was comparable to being in a coffee shop, minus the grinding. The water tank is more than enough to brew up several drinks in a row, but the water tank is not adjustable. We also have often seen the Vertuo Next bundled with an Aeroccinno milk frother, which is an option if you hope to make specialty beverages.
5. Nespresso Creatista Plus
Best Nespresso for budding baristas
Specifications
RRP: $599/£479
Cup sizes: 0.84 oz., 1.35, 3.72 oz.
Water tank: 1.5L/ 50.7 oz.
Size: 15.4" x 12" x 6.7"
Pod type: Original Line
Reasons to buy
+
Pro-level steam wand
+
Superfast three-second heat up
+
Descaling alarm
+
Includes a stainless steel jug to froth milk in
Reasons to avoid
-
Expensive
-
Can't froth milk and brew espresso at the same time
The Creatista Plus is another Original line machine with all the bells and whistles. It varies from the Lattissimo Plus that instead of the automatic milk frother that dispenses straight into your beverage, you get a barista-style steam wand. And it has eight different settings to adjust milk textures and 11 for temperatures to meet your precise demands. This gives you the most control over your lattes and lets you decide whether you want to steam the milk than the espresso or the other way around. Plus, plenty of opportunity for experimentation and latte art!
In addition to its high-quality steam wand, another highlight is its ultra-fast three-second heat up. Seriously, before you've even decided which capsule to use, it's ready to go. The machine can also fit up to 12 capsules at a time.
The Creatista Plus is one step down from the Creatista Pro. The main difference is that the Pro is slightly larger, with a touch-screen, water dispenser, and 'Double Thermojet,' which lets you both steam and brew at the same time. However, the Pro is several hundred dollars more expensive and has limited availability. For this reason, we think you'll be very happy getting to know the Creatista Plus.
Vertuo vs Original Line—what's the difference?
Nespresso machines are divided into two categories which use two different shapes of capsules—Vertuo and Original. To put it simply, Original is for espresso enthusiasts, while the Vertuo is suited for those who want both coffee and espresso as well as a deeper range of beverage sizes.
Launched alongside the Vertuo coffee makers in 2014, Vertuo pods are usually wider with a domed cap with the capacity to make larger cup sizes and traditional espressos. Vertuo machines can brew coffees up to 18 oz., while Original can only brew drinks up to 5 oz. Original pods debuted back with the company's origin, and are smaller with a shape reminiscent of a top hat. Both come in over 30 blends. Vertuo pods tend to cost more than Original pods.
In addition to the different pods, the brewing process is different. The Vertuo machines use Centrifusion brewing and each capsule has a barcode that is read by the machine when inserted and automatically adjusting to the perfect settings. In contrast, the Original uses a 19 bar extraction system to brew the best tasting espresso.
How to choose the best Nespresso Machine for you
The first step to choosing a Nespresso machine is deciding whether you want an Original or a Vertuo style machine. This list (opens in new tab) on Nespresso's site is very helpful in seeing the full range overview at once, and each machine's respective features.
Then, you'll consider special features like if it comes bundled with a milk frother or one is built-in, digital displays, descaling notices, and the cost of pods. The costlier machines usually have larger water tanks and a larger used capsule capacity. We think it also comes down to the shape that you like, or if it's an appropriate size for your space. A large family or a small office will benefit from machines with larger capacities as to to not refill so often, while others might be content with one that is smaller.
The Vertuo lines feature any machine with the name Vertuo in it—Vertuo, Vertuo Plus, or Vertuo Next. The Original line is a little more robust and features the specialty machines with the built-in milk frothers, the Lattissima, and the Creatista. The Lattissima edition froths the milk for you right into your cup. The Creatista features a cafe-style steam wand that gives you more control over how your beverages turn out, but if you're new to using a steam wand, it may take getting used to.
Compatible Vertuo machines—Vertuo, Vertuo Plus Vertuo Next
Compatible Original machine lines—Inissia, Essenza, CitiZ, Pixie, Latissima, Creatista, Atelier (EU only)
Is it worth buying a Nespresso machine?
The easy answer here, is, of course, we think it's worth it. These are nifty machines that create really good coffee in a few simple steps, perfect for coffee lovers and trying out the latest coffee trends. But, when it comes down to it, it really is about personal preference whether the Nespresso brand specifically is right for you.
For those deciding between a semi or automatic espresso machine or a Nespresso, consider how often you will be using the machine and how particular you are about having control over your coffee. If you're drinking multiple cups a day of espresso, a machine that uses traditional coffee would most likely make the most economical sense. Still, even Nespresso's deluxe machines are typically less expensive than the automatic machines that will similarly froth milk and brew for you. A Nespresso machine requires far less maintenance, measuring and grinding, distributes the perfect portion for each, and uses a one-touch operation. The beauty of the pods is that it uses a pre-portioned amount of coffee, the optimum amount for your beverage, without any extra waste. A single pod typically costs between $0.70 (50p) and $1.30 (94p), which could bring up the cost per drink.
For the sustainability-minded, a Nespresso machine actually has a 30% smaller carbon than automatic espresso machines, making it right on par with drip coffee makers.
Nespresso vs Keurig single-serve machines
If you're comparing between a Nespresso machine and a Keurig single-serve coffee maker, we think Nespresso makes a better brew. Who can resist the frothy layer of crema that makes it feel like we're sipping straight from a café, rather than home or the office. The Vertuo makers can also make both espresso and coffee, making it an extremely versatile machine.
Now, the Nespresso machines are generally more expensive as are the pods, which are typically exclusively by Nespresso. Meanwhile Keurig is typically more affordable with their readily available K-cups found in most grocery stores, retailers, and convenience stores. Keurig also typically let you choose your cup volume from a weakened 12 oz. to a bold 4 oz, while Vertuo pods are a pre-determined amount that will give the best roast every time.
Are Nespresso machines better than other coffee machines?
There is truly premium craftsmanship that comes to mind when using a Nespresso machine. Is it superior to other coffee maker brands? Again, we think that comes down to bias. Rather, we'd like to spotlight the positive attributes that we've seen from Nespresso.
Nespresso is very forward and transparent in its ethos of stewardship to the earth as well as working with farmers who practice fair working conditions. Acknowledging the environmental impact of their business, they try to make recycling capsules as easily as possible, with a bag that can be mailed back.