Best milk frothers—six gadgets that will elevate your morning coffee
Lattes at home have never been easier with one of the best milk frothers to hand, as assessed by our expert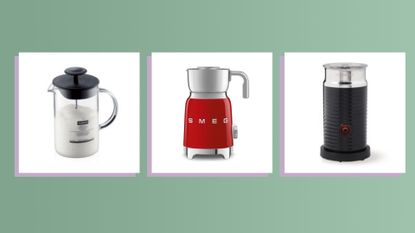 (Image credit: Future)
The best milk frothers transform cups of coffee into decadent lattes, cappuccinos, and more. Our expert homes tester researched and tried milk frothers from a range of popular brands, to assess which ones would be the best for your morning (or afternoon) brew.
A milk frother is an ideal companion for your best coffee machine. They are typically sorted into three categories—electric, handheld, and manual. Milk frothers are available at a range of price points, from $10/£10 (handheld and manual are the most affordable) to pushing $200/£200, depending on its capacity and all the features you want it to have. The compact handheld whisks usually require batteries or charge with a USB. Manual designs involve manually pumping air into the milk. Electric milk frothers, on the other hand, will heat and froth your milk, and usually have the most features.
Well-known coffee brands like Bodum, Breville, Nespresso, and Smeg have made their mark on the world of milk frothers, with features like automatic frothing, temperature control, and even the ability to make hot chocolate. We researched the best milk frothers from these brands and more, to help you decide on the best option for your needs.
How we chose and evaluated the best milk frothers
Why you can trust Woman & Home Our expert reviewers spend hours testing and comparing products and services so you can choose the best for you. Find out more about how we test.
We selected the following milk frothers in order to share products within a range of different prices—from budget options to more investment, luxury options.
To assess the best milk frothers we looked at:
Price tag—and subsequent value-for-the-money.
Ease of use—like the best blenders, milk frothers can feel confusing to get started with. So we looked at whether the instructions were simple to work out, and whether it would be easy and quick to use in the morning for a coffee
Performance—perhaps most important, we assessed how well it frothed milk, and things like whether it could help us make a few cups at a time?
Special functions—can it froth milk alternatives? Hot chocolate? Some are built to do more than you'd imagine.
Design—would the milk frother look good in a kitchen. Is it compact, or oversized—an important thing to be aware of for storage.
The best milk frothers as tested by our expert
1. Breville BMF600XL Milk Cafe Milk Frother
Best milk frother overall
Specifications
RRP: $149.99/£168.87
Capacity: 3 cups
Warranty: 2 Years
Reasons to buy
+
Uses various "disks" for preferred froth style, with onboard storage when not in use
+
Dishwasher safe jug
+
Can make hot chocolate directly in the unit
+
Adjustable temperature and induction heating
Reasons to avoid
-
Takes a few minutes to froth
Look like a real latte-making pro with the Milk Cafe Milk Frother on hand. This small but mighty appliance will help you unleash your inner barista. Whether you desire hot or cold foam, the Breville can handle it all—and it can even dole up creamy hot chocolate when you add cocoa powder.
It may seem like it's all in the technique, but Breville utilizes induction heating and spinning whisks to create small bubbles, which leads to perfect froth. Switch between two interchangeable discs according to your desired results: for silky and smooth, you'll want the latte disc. And for thick and creamy, pop in the cappuccino disc. From here, the next big thing is that you're able to adjust the temperature according to your preference. Depending on your temperature setting, it can take anywhere from two to seven minutes to heat.
The Breville BMF600XL also utilizes thoughtful touches like magnetized disc storage, cord storage, and interior fill lines, that help you pour the exact amount you want. A slight concern was the fact that it took a few minutes to froth (which might be longer than you'd expect), but overall this is a great milk frother that will help you to whip up some of the tastiest beverages you've ever sipped.
2. Zulay Original Milk Frother Handheld Foam Maker
Best handheld milk frother
Specifications
RRP: $19.99/£14.99
Capacity: N/A
Warranty: Lifetime
Reasons to buy
+
Available in tons of colors
+
Battery operated
+
Easily portable
+
Easy to clean
+
Includes stand to store on counter
Reasons to avoid
-
Will need to heat milk separately
-
Batteries not included
For a quick foam fix, you can do no wrong with the Amazon-famous Zulay Original Milk Frother. It gives silky texture to lattes, body to matcha, and a boost to your hot cocoa. You can even use it to whisk eggs, just be sure to thoroughly clean it in between! Available in more colors than on the rainbow, it's incredibly handy, compact, and most importantly very affordable, and easy to use. Simply click the power button and the whisk-style frother will zoom to life to give some froth to your milk.
The only pain point—besides having to heat the milk separately—is that you have to remember to keep a stash of batteries on hand to be able to use this milk frother, as it's cordless. However, being able to take this when you travel or are on the go is a big plus, so we can almost accept that small issue. While it'd be perfect for your kitchen it's also a good option to keep deskside in the office, or in your suitcase for when you're away—it may just make you the most popular co-worker around.
3. Bodum Bistro Electric Milk Frother
Best budget milk frother
Specifications
RRP: $29.99/£30
Capacity: 10 oz.
Warranty: 2 years
Reasons to buy
+
Interior Min and Max fill lines to keep from overfilling
+
Clear, see-through Tritan lid
+
Heats and froths 1 cup or 300ml of milk at a time
+
Works well with almond milk too
Reasons to avoid
-
Too small for some
-
No cold froth setting
-
Not dishwasher safe
As a brand, Bodum generally makes achieving your favorite coffee shop beverages at home affordable and easy with their travel mugs and coffee machines—and this 10 oz. electric milk frother is no exception to that rule. Warming a cup of milk to 158°F (70°C) in just a minute, it's perfect for mornings when you're rushed, as you'll soon have creamy milk ready to elevate your coffee. The Bistro milk frother also knows to shut off automatically once it has reached its final temperature—but if you want, you can peek through the see-through Tritan lid to monitor progress too.
Its compact design takes up minimal space on your counter or in your cabinets and is ideal for whipping up single cups of milk. If you're making milk for more mugs, however, it might not be so helpful as it's a little on the small side. The interior is made with a non-stick coating to make cleaning easier, and it also has notated markings to monitor fill lines so you don't overpour. However, it is not dishwasher safe, and you will need to be careful when pouring to not spill as it does not have a pour spout. Overall this is a great budget pick even if it is missing some of the perks of the other machines.
4. Smeg milk frother
Best luxury milk frother
Specifications
RRP: $209.99/£149
Capacity: 20 oz.
Warranty: 1 year
Reasons to buy
+
Looks stylish on display
+
Dishwasher safe
+
Large capacity
+
6 automatic programs and a manual function
+
Spout to make latte art
Reasons to avoid
-
Pricey
-
Can take up to five minutes to froth
The luxurious Smeg milk frother definitely looks the part—but not only is it beautiful to look at, it also functions well according to our very high standards. The extra-large stainless steel cup can froth up to 8.5 oz or heat up to 20 oz. of milk at once. It also features an easy pour spout with a handle to make it easier to try your hand at latte art!
To operate, toggle with the back-lit control knob between the six automatic settings, or try your hand at froth manually for both hot or cold. It includes two interchangeable discs: a notched whisk for hot and cold froth or chocolate functions and a flat whisk for hot milk. The Smeg milk frother can make hot chocolate, hot milk, light hot froth, thick hot froth, light cold froth, or thick cold froth—there are so many options. Depending on the setting used, it can take up to five minutes for the container to fully heat froth, which is slightly disappointing. But keep in mind that it does have a larger capacity, so needs more time to froth.
The Smeg milk frother uses induction heating to achieve its temperatures. The lid also multi-functions as a measuring cup for when making hot chocolate. And if you're a Smeg lover, rest assured that this would match perfectly with your existing Smeg appliances too. It's pricey, but just like the best coffee machine deals you can often find money off milk frothers if you look for discounts.
5. Bodum Latteo Manual Milk Frother
Best manual milk frother
Specifications
RRP: $16.99/£29
Capacity: 8 oz.
Warranty: N/A
Reasons to buy
+
Glass carafe can be used in a microwave for heating milk
+
Protective rubber ring on bottom
+
Dishwasher safe
Reasons to avoid
-
Not stovetop safe
-
More work than other milk frothers
Forget relying on a battery-operated handheld or pricey electric models—go old school with a manual pump design in the form of this Bodum manual milk frother. As sometimes, it's true that more effort does bring more reward. The borosilicate glass carafe in this machine can froth up to 8 ounces of milk at a time. Unlike stainless steel versions, you can see everything happening as you froth and heat milk in the microwave. Once you secure the plastic lid, you'll pump the knob about 60-90 times, or when you feel the milk thicken. And once it's done, the stainless-steel plunger creates a smooth milk foam. This whole process sounds lengthy, but it actually should only take around 30 seconds.
Contrary to what you may think, the best results come from frothing cold milk first, followed by a zap in the microwave. Just be sure to remove the plunger. And for another tick in the box, clean-up is easy too—Bodum's design is dishwasher safe, so you can use it and forget about it. Be warned though that it isn't stovetop safe though.
6. Nespresso Aeroccino3
Best milk frother for milk alternatives
Specifications
RRP: $99.99/£65
Capacity: 8.1 oz
Warranty: 1 Year
Reasons to buy
+
Froths hot and cold
+
One-touch operation
+
Very quiet
+
Works well with milk alternatives
Reasons to avoid
-
Can't be submerged in water/not dishwasher safe
-
Recommended to not use metal utensils with it
You don't need to own one of the best Nespresso machines to enjoy the magic of Nespresso drink if you have the Aeroccino 3 milk frother. It seems to give the best frothy texture when used with fresh skim milk and oat milk, but you can be confident using it with all milk and milk alternatives to achieve beautiful fluffy foam.
With a simple one-touch operation, it automatically froths milk to an ideal temperature of 160 to 170 degrees Fahrenheit before automatically shutting off (which is helpful if you're busy). Use the long press for two seconds to activate the cold froth setting, as signified when the power button turns blue. And if you want just hot milk for lattes, simply remove the frothing spring from the whisk, and it can be attached to the lid to prevent losing it. The whole process is nearly silent.
The milk frother uses induction heating, so the heating plate doesn't get hot to the touch, nor does the black body, which is great. Inside, it can froth up to 4 oz and steam up to 8 oz. at a time, with designated max lines to guide you. The non-stick coating makes for an easier clean-up and keeps milk from sticking, too. However, due to the electrical components on the base of the frothing container, it can not be submerged in water or go in the dishwasher, so it's a little trickier to clean.
How to choose the right milk frother for you
The very first step to deciding which milk frother is best for you is to decide the type you want. We suggest considering the elements that are most important to your needs, because, at the end of the day, all of these excellent options will make great foam.
The size you want—if you're after something small and portable, perhaps a handheld or a manual is best. If you want to keep it on display in your home, you can take your pick of the above models.
Your budget—if you're looking to make an investment, splurge on a full-feature electric milk frother. For a smaller price tag, the manual or handheld models are best.
How you want to use it—it can help to decide on how much milk you'd like to froth at a time, and how often. Some can heat milk in a minute, others take a little longer, but have a larger capacity. Some can create both hot and cold froth, while others can simply make hot steamed milk and froth.
Extra features—do you care if it heats the milk too? Do you need your frother to be compatible with plant-based milk? Not all milk frothers work alongside these considerations, so decide which are important to you
Ease of cleaning—while learning how to clean a coffee maker is generally straightforward, milk frothers can be a little trickier. Some milk frothers offer dishwasher-safe parts, but others need to be gently hand-washed. Decide which you prefer.
What is the best milk to use with milk frothers?
The general consensus is that real fresh milk is what will froth the best—with whole and reduced-fat options creating the best foam. However, we got on just well with skim milk too, which creates a bit of a drier foam.
Non-dairy drinkers though, there's no need to worry—many of these milk frothers are capable of handling milk alternatives like almond, oat, coconut, or soy milk. However, you may have a harder time yielding consistent results every time. But if you're keen on soy milk lattes at home, we definitely think it's worth a try.
The different coffees you can make with milk frothers
Milk frothers can help you make various cafe-quality beverages (both hot or iced) at home including:
Cappuccino—half foam-half steamed milk
Caffe Mocha—equal parts coffee, steamed milk, and chocolate
Cafe Latte—coffee, followed by steamed milk and topped with milk foam
Latte Macchiato—coffee is poured over frothed milk and then a layer of foam is added
Flat White—coffee topped with a thin layer of steamed milk
Essentially, milk frothers will help you to make whichever kind of coffee you prefer—whether you love following the latest coffee trends, or are perfectly content with a classic milky blend.