The best Father's Day Gifts for every type of dad out there
With our best Father's Day gifts guide, you're bound to find him something he'll love and actually use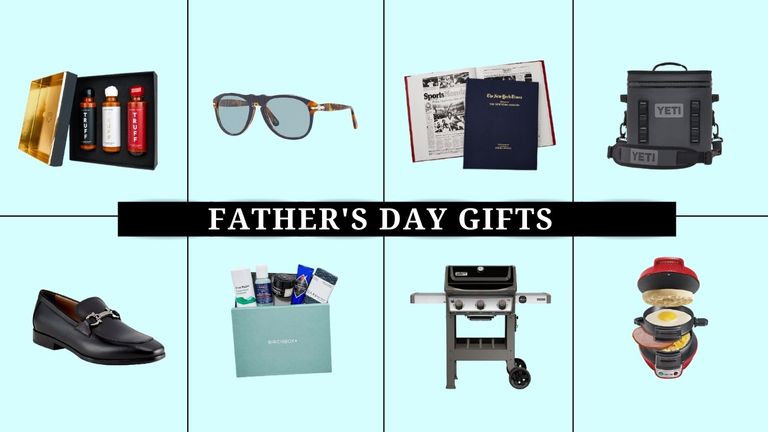 (Image credit: Future and Respective Brands)
By Dominique McIntee published
If you want to be the apple of his eye, look no further. We've rounded up the best Father's Day gifts across categories, factoring in his interests, needs, and hatred for impractical knickknacks.
The best Father's Day gifts are hard to come by. Though he'll probably say "I don't want anything", we all know he's expecting a present come June 20th. Luckily, you've found us—the ultimate experts at gift-giving.
From budget-friendly options to high-end splurges, our curation of gifts highlights both useful and meaningful keepsakes for every kind of father figure out there—be it grand-dad, step-dad, brother-now-dad, and husband-now-dad. And if this selection isn't for you, we have plenty of other guides, like the best induction pans for enthusiastic cooks, or the best eReaders for avid readers. Plus, there's no need to stress over the ETA. Many of our finds will arrive within the next week if you order now, of course.
QUICK LINKS: BEST FATHER'S DAY GIFTS
With your love for convenience in mind, we've outlined the best destinations to shop for this Father's Day. Whether he's on the hunt for outdoor furniture or a connoisseur of ties, you'll find a thoughtful gift that he won't banish in the attic.
And don't forget to check out the woman&home vouchers site for big savings at these retailers:
The best Father's Day gifts 2021
If you're unsure of what to buy, trust the data. The National Retail Federation released its annual Father's Day survey, which highlights purchasing trends, consumer behavior, and popular categories. The survey was conducted in May 2021, and participants were U.S. adults 18 and older.
The top gift categories span personal care, home, gardening, and kitchen. Most shoppers plan to purchase greeting cards, clothing, and special outings in response to waning coronavirus restrictions. This year, findings also signal that shoppers want to splurge more than ever on dad. Current data reveals they plan to spend a record high of $174 on Father's Day gifts, or $26 more than last year.
Best Father's Day home and kitchen gifts
Instant Pot Duo 7-in-1 Electric Pressure Cooker
Don't know how how to organize a kitchen? Opt for the Amazon best-seller, which streamlines seven appliances in one. It makes meal prep and cooking all the easier, featuring one-touch operation, large eight-quart capacity, durable stainless steel sides, and a smart-design interior pot. Mix these elements, and what you get is a game-changer that guarantees less fuss and mess.
• Instant Pop Duo 7-in-1 Electric Pressure Cooker available at Amazon for $89
The Iconics Set
The Iconics is a fundamental set of kitchen essentials, whether dad wants to soft-skin veggies or whip up baked bread. Though pricey, it's multi-purpose and designed to endure with age, including 8'', 6'', and 4'' knives, tongs, an array of spoons, and an air whisk, spatula, and base. (If he needs help cleaning the kitchen, we got him covered.)
• The Iconics available at Material Kitchen for $245
Larq self-cleaning water bottle
All great workouts are accompanied by a high-quality, leakproof water bottle, such as the LARQ. A redefined, more advanced spin on traditional bottles, the LARQ is self-cleaning with a purifying UV light that activates every two hours. Upon closer examination, it neutralizes harmful odors and bacteria; and lasts up to one month on a single charge. Thanks to its double-insulated design, your beverage will stay cold for longer. Now all he needs is one of the best fitness trackers.
• LARQ Water Bottle available at Nordstrom for $95
Best Father's Day clothing gifts
Shinola Men's Leather Belt Gift Set
For elevating drab dad fits, the Shinola Leather Belt set is peak sophistication, with two timeless options in black and brown. Made of authentic leather, the duo is built to last without sacrificing comfort and adjustable fit. Available from sizes 32IN/80CM - 42IN/105CM.
• Shinola Men's Leather Belt Gift Set available at Neiman Marcus for $295
Persol Sunglasses
Revamp his eyewear game with the ever so chic Persol Sunglasses, lauded by bespectacled folk and high society alike. Crafted in Italy, these stylish sunglasses provide near-flawless clarity, distortion-free vision, and protection from harmful UV rays. Long gone are the days of loose glasses sliding down, this pair offers a secure fit.
• Persol Sunglasses available at Persol for $261
Washed Duck Bartlett Jacket
Though temperatures are toasty, it's always smart to invest in durable outerwear and the best winter coats, such as the Duck Bartlett Jacket. Hefty without being unwieldy, this garment features heavy-duty cotton duck material, soft Sherpa fleece throughout the body and hood, and quilted nylon. The question we're all asking is, what doesn't this jacket include?
• Washed Duck Bartlett Jacket available at Carhartt from $129.99
Best Father's Day grooming gifts
Foreo Luna 3 for Men
The Foreo Luna 3 is one of the best skincare devices on the market. It scrubs away dirt, oil, and dead skin, leveraging concentric ridges for a deeper clean. Dad, in turn, will enjoy reduced breakouts, fewer ingrown hairs, and far less razor burn. He'll also appreciate its waterproof design and ability to last up to 650 uses on a single charge.
• Foreo Luna 3 for Men available at Nordstrom for $199
Birchbox Subscription Service
If your dad's skincare routine consists of soap and water, treat him to a Birchbox subscription. The process is straightforward: When you sign up, the experts at Birchbox select five samples based on your unique profile. From beard care to other hair styling products, each box is a treasure trove of the latest and greatest in beauty. In short, he'll never have to darken the doorway of a Sephora again.
• Birchbox for Men Subscription available at Birchbox starting at $10/month
Oral B Electric Smart 4500 Toothbrush
Sparkly white teeth are the gift that keeps on giving, made possible by the Oral B Smart 4500 Toothbrush. Intuitive and innovative, this electric toothbrush features a modern, sleek profile with skills to match. It eliminates plaque and buildup far better than manual options and cleans up surface stains for better gum health.
• Oral B Electric Smart 4500 Toothbrush available at Boots for $60/£60
Best Father's Day personalized gifts
Custom Portrait
For those lucky enough to have two dads, this illustration is a sentimental display of your love and appreciation. The entire process is hands-on from start to finish. Once you place your order, simply send over photos and wait 3-5 business days to receive your first proof. From there, you can make adjustments however you best see fit. It's that simple.
• Custom Portrait available at Etsy from $49
New York Custom Baseball Book
The New York Times baseball book is a forever keepsake, one that's carefully crafted and curated with your dad in mind. Bundling reprinted coverage, this body of work serves as a tangible time machine, enabling him to relive glorious moments in sports history.
• New York Times Custom Baseball Book available at UncommonGoods for $72
Wood Engraved Set
From gadgets and stationery items to keys, this customizable docking station organizes and keeps the essentials in one place—rather than sprawled throughout the house (also known as dad's default arrangement method). Shoppers can choose from four colors and multiple design options, making this gift truly one-of-a-kind.
• Wood Engraved Box available at Etsy from $39.75
Best Father's Day tech gifts
Apple Airpods
Give the gift of escapism with Apple Airpods, now heavily discounted with Prime Day looming. Compared to wire-infested, dinosaur headphones, these tiny pods are easy to set up and use on all devices, be it iPhone or iPad. Plus, they come with a wireless charging case.
• Apple Airpods available at Amazon for $149.99
Insignia Flat Screen TV
Every man cave needs a colossal flat screen; and right now, you can treat him to the top-rated Insignia Fire for a steal. This larger-than-life TV offers an endless stream of entertainment, with thousands of channels, apps, and Alexa-automated functions; plus, 500,000 movies and episodes to stream. The greatest challenge you'll face? Persuading dad to leave his bunker.
• Insignia Fire TV available Amazon for $219.99
Nintendo Switch
New and all-the-rage, this at-home system will transport dad into the best gaming worlds worth getting lost in. It's Wi-Fi compatible, Bluetooth enabled, and packed with accessories, including an AC adapter, HDMI cable, switch dock, and straps. With this gift, dad, and his mancave comrades, will thank you now and always.
• Nintendo Switch available at Game Stop for $299.99
Best Father's Day food gifts
Truff's Hot Sauce Variety Pack
Spice up your culinary creations with Truff's Hot Sauce Variety Pack, a flavorful assortment of the brand's best-sellers. The delectable triad includes the TRUFF Signature Hot Sauce, a savory blend of ripe red chili peppers, real black truffle, organic agave nectar, and spices; the TRUFF Hotter Sauce, a hotter iteration of the signature hot sauce; and the TRUFF White Truffle Sauce, featuring ripe red chili peppers infused with white truffle oil and organic agave nectar. Non-GMO, Vegan, Gluten-Free, and Oprah-approved.
• Truff Hot Sauce Variety Pack available at Truff for $69.99
Omaha Steaks Deluxe Assortment
This mouth-watering curation is ideal for the dad whose only acceptable version of "well done" is a baseball grand slam. Hand-carved and double-trimmed, these butcher's cut filet mignons bring a steak house-worthy dinner at home—meaning you can chow down and watch an episode of The Crown season 5 at the same time. In other words, the perfect union of quality craftmanship, decadence, and convenience.
• Omaha Steaks Deluxe Assortment available at Omaha Steaks for $119.99
Monthly Bacon Subscription
There are a select few important credos worth following: 1) enjoy the finer things in life, 2) life is too short to be anything but happy, and lastly 3) always have a healthy supply of bacon on hand. Obviously, the former two are easier said than done; however, you can give the gift of bacon galore with Goldbelly's monthly subscription service.
With this coveted membership, you can choose one of two subscription plans: 3 or 6 months. Subscribers will then receive approximately nearly three pounds of bacon per month, enough to serve six people. And it's not ordinary, store-bought bacon we're discussing here: You'll enjoy unique bacon curations like double-smoked, sugar rubbed or chocolate dipped, among others. Subscriptions cannot be shipped to Alaska nor Hawaii.
• Monthly Bacon Subscription available at Goldbelly for $59
Best Father's Day drinks gifts
GrowlerWerks Carbonated Growler
Bring the brewery to his man cave with this Carbonated Growler, made of durable, double-wall, and vacuum-insulated stainless steel. Available in three colors and two sizes, the GrowlerWerks growler keeps beer fresh and flavorful for the long haul. Additionally, it self-regulates carbonation pressure, features an interchangeable tap handle and a dispenser tap that allows for an easy pour. Drink up!
• GrowlerWerks Carbonated Growler available at Amazon for $209
YETI Hopper Portable Cooler
Backyard season is upon us, an especially paramount time for dad. Enter: YETI's Hopper Portable Cooler, which will help him enjoy a cold one all year long—and/or embark on treks and kayak adventures with ease.
When it comes to design, the Hopper Flip 12 features what's coined by the brand as ColdCell Insulation, a closed-cell foam that keeps beverages cool and fresh for longer. What's more, it's made of high-density fabric that's waterproof, and resistant against punctures, debris, and outdoor aggressors. It also includes a leakproof zipper, wide-mouth opening, 12-can capacity.
• YETI Hopper Portable Cooler available at Amazon for $159
Winc Subscription Digital Gift Card
For the dad who enjoys a sparkling glass of vino, Winc is a direct-to-consumer winery that delivers tailored wines (starting at $13 per bottle) right to your doorstep. So, before buying him yet another tchotchke he won't ever use, consider giving him the gift of a nice buzz. And don't forget to accompany this treat with The Wand, an accessory designed to alleviate hangovers. Cheers!
• Winc Wine Gift Card (Email Delivery) available at Target for $60-$200
Very special Father's Day gifts
Salvatore Ferragamo Men's Gancini-Bit Leather Loafers
Indulge him in luxury footwear with these leather loafers by Salvatore Ferragamo, a leader in luxury fashion. Crafted in the heart of Italy, these shoes reconcile comfort and practicality with chic-factor, ideal for dad's casual and fancy events. Each pair is slip-on and features a stacked heel, round apron toe, notched vamp, and rubber sole.
• Salvatore Ferragamo Men's Gancini-Bit Leather Loafers available at Neiman Marcus for $750
Weber Grill
Nothing in life is flawless, but the top-rated Weber Grill makes a compelling case. The natural-gas appliance is a culinary game-changer, backed by durable porcelain-enameled cast-iron cooking grates, an app-connected thermometer, and a long-lasting engine. The result: tastier, more flavorful creations made in half the time.
• Weber Spirit II E-310 LP Gas Grill available at Home Depot for $519
Mirror Interactive Fitness Experience
As part of the do-at-home fitness crave, this interactive mirror offers a curated, highly personalized workout experience—whether you're a gym rat or couch potato. Leveraging top-notch technology, it offers a vast library of classes across levels and 50+ genres. What's more, the device offers personal trainers at your disposal and unlimited access for up to six household members. Workout motivation has never been easier (and more fun).
• Mirror Interactive Fitness Experience available at Mirror for $1,345
Best Father's Day last minute gifts
Breakfast Electric Sandwich Maker
Part-gadget, part-sorcery, this mighty sandwich maker eliminates the stress and anxiety resulting from the "oh-my-gosh-Father's-Day-is-already-next-week" epiphany (courtesy of Amazon Prime). Simply put, you can create any type of sandwich—be it low-carb or protein-packed—in under five minutes. It's easy-to-use, portable, convenient, and practical; plus, every part is removable and dishwasher safe. We'd say it's one of the most useful kitchen essentials worth owning.
• Hamilton Breakfast Electric Sandwich Maker available at Amazon for $25
Amazon Kindle Paperwhite
Among the best eReaders, the Amazon Kindle Paperwhite is a fan-favorite, and a device any voracious-reader or bibliophile dad will love. Compared to its heftier brethren, the Paperwhite features a lightweight design, waterproof packaging, intuitive software, and weeks of battery life; not to mention, a vast library that keeps growing. The device is comfortable and easy to hold, allowing dad to dive into digital literature from his reclining chair (sans muscle strain). Thanks to Amazon Prime, it'll arrive quickly and safely to your doorstep.
Dominique (Dom) is a very online shopping writer at Woman & Home, where she covers products, sales/deals, and market news across categories. Before joining the team, she penned stories as an editorial fellow at Insider Reviews, the affiliate commerce team at Insider Inc./Business Insider. The bespectacled NJ transplant specializes in commerce journalism, women's lifestyle content, and hoarding makeup—much to her mother's dismay.
Her foray into storytelling began in the early aughts, the era in which she developed a passion for fiction writing and an aversion to math. This passion, along with many failed math exams, led her to Marist College, where she studied public relations, creative advertising, and English.
Aside from writing, she doodles in notebooks, crafts memes, and sleuths for homes out of her tax bracket on Zillow. Follow her adventures via the web:
Instagram: @domimcintee / @drugstoredomi
LinkedIn: https://www.linkedin.com/in/dominique-mcintee-3a32ab9a/
To connect: dominique.mcintee@futurenet.com