There are so many benefits of CBD oil for menopause - here's what I learned after trying it
Lesley Hirniak discovered the benefits of CBD oil for menopause after suffering with symptoms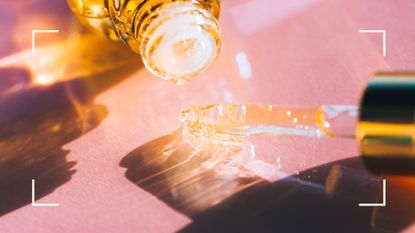 (Image credit: Getty Images)
The benefits of CBD oil for menopause are often undervalued - or entirely unheard of. As a hairdresser for the last 30 years and mum of 2, Lesley Hirniak, 54, always relied on her high energy and bubbly personality to keep up with life's demands. But the onset of menopause left her feeling out of touch with her identity and struggling to get through the day.
Menopause is a natural transition where estrogen and progesterone plummet to usher the body into a new phase of life. It's when your body reaches the end of its fertile potential (no more periods!) and, so many say, going through menopause can give you a sense of freedom and a fresh perspective on life. Although there is light at the end of the tunnel, the journey can feel long and arduous with 90% of women experiencing symptoms – some of which can be debilitating.
From the more common hot flushes and hormonal mood fluctuations to lesser-known menopause symptoms such as 'burning tongue syndrome' and loss of bone density, there is a bounty of side effects that need managing. While hormone replacement therapy (HRT) and selective serotonin reuptake inhibitors (SSRIs) are the go-to treatment options on the NHS, women all over the world have always relied upon traditional folk medicines like plants including black cohosh, sage, and red clover. And, as it turns out, cannabis.
CBD oil for menopause
In the US, where cannabis is now legal across 38 states, a huge number of women use cannabis as their medicine for menopause, which has been documented for hundreds of years. A brand new study affiliated with Harvard Medical School and published in the Journal of The North American Menopause Society surveyed 250 menopausal participants. Researchers discovered that a staggering 86.1% use cannabis, with 78.7% saying they endorse cannabis use to treat menopause symptoms. The most common modes of use were smoking (84.3%) and edibles (78.3%), and the top menopause-related symptoms for cannabis use were sleep disturbance (67.4%) and mood, with menopause and anxiety frequently reported (46.1%).
In the UK, although cannabis prescriptions are legally available in the UK too, women like Lesley Herniak are more likely to reach for cannabis-derived supplement CBD oil. While it is an active ingredient, unlike tetrahydrocannabinol (THC), it's not psychoactive. But does it really work? And if so, how?
What I learned about the benefits of CBD oil for menopause
1. CBD oil helps keep the menopausal body in balance
"My first menopause symptoms started really out of the blue when I was 48," recalls Lesley. "I was out for a friend's birthday and couldn't stop sweating. I was excruciatingly hot and dripping wet. It was downhill from there. I started getting terrible aches in my knees, hips, and shoulders, which made my work as a hairdresser really difficult. I wasn't able to sleep through the pain, it was so bad."
Lesley's friend had just launched her CBD company, Hapi Hemp, at the time and offered her some oil to try. Although skeptical, Lesley decided to give it a go.
"I'd tried CBD oil I bought from a shop on the high street before that, but found it did nothing for me. So I didn't really believe it would have any effect this time. But, thankfully, I was wrong. Within a few days, the aches had gone completely."
A preclinical study by The State University of New Jersey, published in Frontiers in Pharmacology, has shed some light on why CBD might have had this remarkable impact on Lesley's joint and muscle pain. The research shows that when estrogen-deficient mice were fed CBD, their bloodstreams more readily disposed of glucose. They burned more energy, their bone density improved, they had less inflammation in their gut and bone tissues, and they possessed higher levels of beneficial gut bacteria. These findings have led scientists to believe that CBD could be used as a possible treatment for postmenopausal women, whose ovaries no longer make estrogen.
Further to this, there are also studies to indicate that with menopause and diminishing estrogen levels comes endocannabinoid deficiencies – a lack of neurotransmitters produced by our full-body regulator, the endocannabinoid system. This system, according to research by Warsaw University Medical School, plays an essential role in the secretion of hormones relating to the reproductive system and our stress response.
There are also thousands of studies that show CBD supports the endocannabinoid system, encouraging synthesis and the release of these vital neurotransmitters, therefore contributing to keeping the body in balance, or bringing it back into balance when necessary.
2. You may need more than CBD in your oil to experience all the benefits
Lesley managed on CBD oil alone for a year, but while it kept her aches and pains at bay entirely and helped to keep her mood stable, it didn't help to calm hot flushes. Eventually, she decided to try HRT instead but found that it brought on new problems on its own.
"When I started taking HRT, my periods came back," she tells woman&home. "They were so heavy they left me low on iron. My breasts were incredibly painful, my skin broke out, and I'd just spend days crying. I was like having awful PMT."
After 8 months, Lesley decided to stop HRT and try CBD again, but this time a higher strength 'full spectrum' CBD, which contains a range of cannabinoids including a very low, legal limit of THC – the main psychoactive substance in cannabis.
Although the THC in shop-bought CBD oil is incredibly low, it is possible to get a prescription for higher doses, which may be very helpful for women suffering from hot flashes and pain. With the right dose, Semmelweis University research shows, THC can help regulate body temperature and it's frequently prescribed for chronic pain conditions.
Dr Dani Gordon is a world-leading expert in CBD, cannabis medicine, and integrative medicine, as well as the vice chair of the Medical Cannabis Clinicians Society. She believes THC-rich cannabis, otherwise known as full-spectrum CBD oil, could be hugely beneficial for some menopausal women.
"CBD and sometimes medical cannabis with small amounts of THC can help with many menopausal symptoms including anxiety and irritability, low-stress tolerance, fatigue, and disrupted sleep," explains Dr Gordon. "Cannabis, including THC, can be prescribed to treat difficult symptoms where other first-line drugs have failed, whether that's for depression, anxiety, insomnia or other related conditions that are often also symptoms of perimenopause."
3. CBD can be used with HRT
In the end, Lesley found the best results using 1500mg, full spectrum CBD oil and HRT together.
"Although CBD helped with my pain, sleep, and mood, it didn't control my hot flushes as HRT did. The profuse sweating at work made me anxious that my co-workers would laugh at me behind my back, and it was incredibly uncomfortable. I really found it upsetting and it made me feel like I was losing my identity. Fortunately, the combination of CBD and HRT is working well for me now. All of my symptoms are under control, the only thing I have to deal with now is itchy skin whenever I get hot. I don't love the heavy periods I get on HRT, but CBD helps me manage those too."
Dr Gordon describes the combination of HRT and CBD, also known as medical cannabis, as "immensely helpful" for treating menopause symptoms, particularly those that have been difficult to shift or for which there are no good drug treatment options.
What other types of cannabinoids are useful during menopause?
There are so many benefits of CBD for women's health in general, outside of menopause. But cannabinoids come into their own during this time, with several studies detailing the full impact of full-spectrum CBD oils on our hormone receptors.
These include cannabichromene (CBC), cannabigerol (CBG), and tetrahydrocannabivarin, which together have been found to "stimulate bone growth and they may be able to prevent osteoporosis after menopause", leading neurologist Michele Ross PhD, says.
While cannabidiolic acid (CBDA), which is found in hemp tea and 'whole plant' CBD oils, is 1000 times more potent on the serotonin receptors than CBD, according to research by the University of Guelph. This is huge news for those experiencing menopause symptoms, as many of these are caused by a drop in serotonin.
If you're struggling with perimenopause symptoms and want to try CBD oil but don't know where to start, you can get advice on the best products to try from the independent CBD consultancy or book an integrative medicine consultation and assessment with Dr Dani Gordon.
As always, if you're unsure about how to handle the more difficult symptoms of menopause, want more information about the different stages or what to expect, or you want more general support, talk to your doctor.
Ruby Deevoy is one of the UK's only dedicated cannabis and CBD journalists, contributing regularly on the subject to international newspapers and magazines for the past 4 years and author of the only national CBD column. She is founder of The CBD Consultancy, member of The Cannabis Industry Council and Women In Cannabis Leadership.