Our round-up of the best CBD oils on offer - to help with stress and anxiety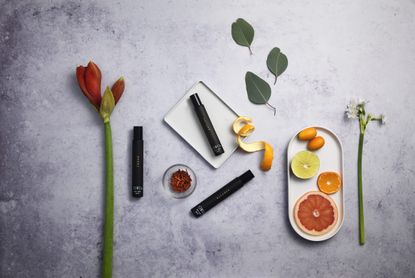 (Image credit: OTO)
CBD oil has somewhat of a tricky reputation, with some people still feeling unsure of its effects on the body and the safety - and legality - of using it.
But in fact, there have been proven scientific benefits to using the oil, and it's widely thought to be safe, if the quantities are balanced.
What is CBD oil - and is CBD oil safe?
CBD - short for cannabidiol - is one of the chemicals found in marijuana, and in hemp plants. It's non psychoactive, and is actually a naturally occuring substance.
It doesn't have the same effects of cannabis, because CBD is just one part of the cannabis plant, and isn't the bit that gets you 'high'.
In fact, so far, CBD oil has, in various studies and trials, shown to provide many positive benefits for our health. It's been proven to reduce stress and anxiety, and many people across the world have spoken out about it having helped them with pain relief during cancer or with other health conditions.
However, it's important to still be cautious, and seek advice from a medical professional if you're considering trying it for any of the above.
CBD oil (ingested orally) is one way of taking the product, and already many mainstream shops and boutiques have begun selling it - including Holland and Barrett.
To ensure it is safe, the amount of THC - tetrahydrocannabinol - the part of the cannabis that causes the pyschoactive side effects, is tested regularly, and reduced to the requirement of less than 0.05% in UK products.
There are also a range of CBD inspired beauty products available, claiming to calm redness and irritation on your skin and calm your complexion, in the same way the oral version does for you in general.
So which CBD oil products do you need to try?
OTO CBD oil (opens in new tab)
High-end brand Oto have infused quality essential oils, scents and flavours with cannabidiol to create three different CBD oils, each for three particular issues.
If you need help concentrating, their focus oil is on sale for £109. There's also an 'amplify' oil, created with the aim of helping you be more mindful and present in the moment.
Finally, the balance oil will help to bring calm to your life - meaning it may be a particularly helpful oil for those dealing with high levels of stress and anxiety.
Each of the oils contain 20% CBD, a high concentration which'll ensure you feel the positive effects.
Kiehl's Cannabis Sativa oil, £38 (opens in new tab)
Popular skincare brand Kiehls have been one of the first to release a CBD facial oil, created to help target problem skin such as acne and blotchiness.
Claiming to help calm stressed, blemish-prone complexions, the oil contains hemp-derived cannabis seed oil, and green oregano oil, each of which purport to help.
In fact, the product has received rave reviews online, with many customer saying it has lessened redness and irritation, as well as soothing dry, itchy patches.
One wrote, 'I noticed visible difference in the problematic skin area. Everything calmed down, redness and irritation were lessened. Great product and would recommend to anyone to give it a whirl.'
Holland & Barrett Jacob Hooy CBD Oil, £29.99 (opens in new tab)
The percentage of CBD oil in this Holland & Barrett product is low, but some customers have reported a positive impact on their stress levels since using it.
The oil, which sells for £29.99, contains 5% CBD, as well as hemp pasta and sunflower lecithin. The shop recommend you use it two or three times a day, putting a few drops under the tongue.
They warn that the taste isn't totally pleasant, but that a small drink of water should clear it up.
Many customers have claimed that it has helped them with stress, with one saying, 'Am finding this product very helpful in helping me sleep tried lots of different product but this one is the best so far', with another agreeing, 'I purchased this oil, thought it was worth a try and I am so happy I did, feeling so much better. All the family are on it now!'
However, others disagreed, saying that the CBD content was too low to make a difference - especially for the slightly more expensive price.
But we reckon that if you want to try CBD oil at a low percentage to see how you go, this is a good option.
LDN CBD CBD oil (opens in new tab)
Created by the UK's first CBD boutique, LDN CBD sell a 3% oil, which included coconut oil and cannabidiol,
It costs £25, and is one of a few CBD oils available at the shop. LDN CBD also sells 5% CBD oil and 10 % CBD oil, for people who want a higher percentage of the stuff.
There are also a range of skincare products on offer here, such as a massage oil, a facial oil, body oil and a face cream. So if you want to try CBD, this is the place to do it!
The M Blend CBD oil (opens in new tab)
Meg Matthews has been one famous convert to the powers of CBD, admitting that it helped ease her anxiety during the menopause like nothing else.
And she's been so convinced, that she partnered with the Online CBD Shop, to create her own oil - The M Blend.
This oil has a higher CBD percentage than most of the others, and is blended with a range of natural essential oils too to guarantee the best for your body.
To make the oil more palatable, it also comes in a range of different flavours: from natural, chocolate mint, soft mint, wild orange, and olive oil.
Amy Hunt is an experienced digital journalist specialising in homes, interiors and hobbies. She began her career working as the features assistant at woman&home magazine, before moving over to the digital side of the brand where she eventually became the Lifestyle Editor up until January 2022. Amy won the Digital Journalist of the Year award at the AOP Awards in 2019 for her work on womanandhome.com.