The best stocking fillers – fun, fancy and ingenious picks to stuff your stockings with
Thoughtful mini stocking fillers for all budgets – and there's not a satsuma in sight...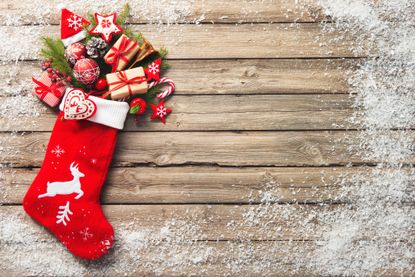 (Image credit: Getty)
Who doesn't love Christmas stockings and the stocking fillers that stuff them? Whether they're hung at the end of your bed for the morning or shared out after Christmas dinner for a few laughs and treats, there's nothing like pulling lots of little presents out of an oversized sock. All the best things come in small packages, right?
And, while it's only right to fill those stockings with many affordable gifts, that doesn't mean you shouldn't think carefully about the recipient.
How much should you spend on stocking fillers?
Why you can trust Woman & Home Our expert reviewers spend hours testing and comparing products and services so you can choose the best for you. Find out more about how we test.
There's no right or wrong answer when it comes to budget for stocking fillers, it's all relative to your income and lifestyle. For some families stocking fillers will all be under a tenner, whereas for others they'll go north of £50. If you're looking for a general rule for how much to spend on a stocking filler, take the value of the main present you are buying for that person and divide the price by ten.
Even on a small budget you can buy something that's sure to put a smile on their face, whether it's a great gift book for the avid reader, a folding beard comb for Dad, an indulgent luxury bubble bath for Mum, or a fun game for the little ones.
How many stocking fillers do you need?
Again, there are no hard rules on number of stocking fillers. Between 7-10 is common.
We've loved tracking down the best stocking fillers for you. Nothing in this fantastic selection of special hand-picked gifts will look like an after-thought this Christmas. They might even please your impossible-to-buy for family member. Plus, they're ideal Secret Santa gifts too!
Best stocking fillers for all the family
(opens in new tab)
Folding beard comb
RRP £10/$14
For grooming on the go, a folding beard comb small enough to fit in jeans pockets is the ideal stocking filler for the men in your life. The timeless tortoiseshell design makes it ideal for all ages – from teens to grandpas.
Buy it in the US (opens in new tab)
(opens in new tab)
Accessorize all areas this Christmas and start from top-to-toe. This gorgeous silver metallic headband (available on 11th November) is one that will go with all outfits across every season, year after year. Hair accessories and jewellery are the fail-safe gift to rely on for a Secret Santa gift.
Buy it in the US (opens in new tab)
(opens in new tab)
Fantastic women top trump cards
RRP £12.99/$13.45
Fun for the entire family (especially the women) this unique card game featuring 32 feminist icons – from Malala Yousafzai and Rosa Parks to Marie Curie and Amelia Earhart is a win-win. It's the informative game that will also get everyone together for a night talking about some of the most amazing women of all time.
Buy it in the US (opens in new tab)
(opens in new tab)
Tonal hair tie set
RRP £10/$10
How many times do you lose hair bands and kirby grips each week, or even day? It's usually a lot. Christmas is the time to stock up on items you don't necessarily want to buy yourself making these snag-free bands the ideal stocking filler. They come in sets of 10 so hopefully you'll have enough to last until the following Christmas!
(opens in new tab)
Supermini block strips umbrella
RRP £12
Another item you never want to buy for yourself but will appreciate how handy it is when you live in Britain: the umbrella. This tote-ally cute style from Totes is a must-have as a little stocking filler. The punchy stripes and brighten colours are guaranteed to lighten up the drieriest of winter days.
(opens in new tab)
AIM Studio Co notebooks (pack of three)
RRP £19
Whether it's for to-do lists, notes, work essentials or just to look pretty in the new at-home office, these gold foiled marble notebooks are a great addition. Choose them in pink, blue, teal or a mix of all three – either way everyone will appreciate these beauties.
(opens in new tab)
Give someone a gift that just keeps on growing, The little seed packs from the Victoria and Albert museum are the thoughtful present for anyone with a garden (or without, if they're house plants) and they're just £2 each. From marigolds to butterfly-attracting seeds, we love the idea of letting loved ones grow their own flowers throughout the year.
(opens in new tab)
Animal cable tidy earphone case
RRP £12
You know when you leave your earphone in your bag or out of the side and you then have to spend an hour untangling them? This problem will never happen again with this adorable bird cable tidier – simply wrap them around and they'll stay neat and ready to use at all times. The genius invention we didn't know we needed...
(opens in new tab)
Snowy scenes socks (pack of 3)
RRP £18.50
Festive socks have to be high up on everyone's Christmas lists each and every year. Whether you're a novelty fan or you prefer a subtle style, there's bound to be a pair that will give you happy feet. This set from Seasalt comes in a stylish book box to reveal the amazing snowy designs everyone would love to wear.
(opens in new tab)
Give everyone the gift of a great night's sleep with one of Cyberjammies' gorgeous printed eyemasks. Run a bath, dim the lights and once you're relaxed pop on some silky pyjamas with this eyemask and be prepared for the best sleep of your life. Note: a few drops of lavender oil on the pillow will be an extra treat.
(opens in new tab)
The Wisdom of Old Dogs by Elli H.Radinger
RRP £14.99/$18.80
Written with great warmth and insight, and accompanied by wonderful photos, this touching book is one for all animal lovers. Full of practical advice and uplifting stories about our faithful companions, it reveals how dogs are a constant source of wisdom, comfort and love as they age.
Buy it in the US (opens in new tab)
(opens in new tab)
Stuff You Should Know by Josh Clark and Chuck Bryant
RRP £12.99/$23.99
Do carrots help you see better in the dark? That's just one of the questions Josh and Chuck have looked into in their famous podcasts. Now, the inquisitive pair have brought out a book in which they take a fascinating and often funny look at how the world around us works.
Buy it in the US (opens in new tab)
(opens in new tab)
Mindfulness Pocketbook: Little Exercises for a Calmer Life by Gill Hasson
RRP £8.99/$11.99
We all get stressed or anxious at times, and this handy little book is here to help. It's packed with over 100 quick exercises to help you restore balance to your life. You can also discover how mindfulness opens you up to fresh ways of doing things.
Buy it in the US (opens in new tab)
(opens in new tab)
Guinness Book of Records 2021
RRP £10/$14.97
Who doesn't love losing hours flicking through the pages of this iconic volume of record-breaking facts to find the most obscure and bizarre amongst them? Have you heard about the man who drank 416g of mustard from a tube in 30 seconds or the stunt rider who suffered 433 bone fractures in his life? Just a couple of the most recent entries - this much-loved entertaining book should be a staple on the family Christmas wish list every year.
Buy it in the US (opens in new tab)
(opens in new tab)
Diptyque Pomander Scented Candle
RRP $68
This blend of oranges, cinnamon, and cloves will make any room smell festive and cosy. Plus who wouldn't LOVE to find a Diptyque candle in their stocking come Christmas morning?
(opens in new tab)
Cowshed Indulge Body Lotion Shot
RRP $15
Keep dry winter skin nourished and hydrated with this miniature body lotion. Ylang-ylang, rose and palmarosa essential oils blend together for a festive fragrance, perfect as a stocking filler (or to keep yourself).
(opens in new tab)
Tweezerman Winter Wonderland Micro Mini Tweezer Set
RRP $15
With all the gusto of their full-size tweezers, this miniature set is great for grabbing the shortest of hairs and tidying up brows on the go. A must-have tool for all beauty DIY-ers.
(opens in new tab)
Kevyn Aucoin Kaleidochrome Holiday Collection All-Over Highlight Palette
RRP $48
A make-up bag must-have for glowing skin, this suits-all highlighter can be applied to cheekbones, the cupid bow and even as eye shadow. Perfect for low key festive make-up or something a bit more special. Every make-up fan would be happy to find this in their stocking come Christmas morning.
(opens in new tab)
Soap & Glory Pinkly The Best
RRP £20
Filled with all the Original Pink classic scented products including shower gel, scrub and a radiance-boosting mask, this limited edition set is perfect for every bathing beauty this Christmas.
(opens in new tab)
Botanics Roll & Nourish Kit
RRP £12.50
Glowing skin is always in, and this gift set comes with a full-size Organic Nourishing Facial Oil and Facial Massage Tool to give complexions a festive pick-me-up.
(opens in new tab)
Sanctuary Spa Hand & Feet Mini Treat
RRP £6
The festive period can be incredibly busy, so we suggest a little indulgence with this miniature set. The duo comes with a nourishing hand balm and heel balm for soft skin all over.
(opens in new tab)
Nails INC It's Always Happy Hour Trio Tin
RRP £22
Keep things festive by creating stunning nails with this polish collection. Containing three classic shades: Festive Feels, Flaunt It Fitzrovia and Wear's The Party? to keep your mani merry all month long.
(opens in new tab)
Baylis & Harding Fuzzy Duck Sloe Gin Luxury Bubble Bath Decanter
RRP £6
For an impressive gift that won't break the bank, try this beautiful glass decanter that would take pride of place in any bathroom. The skin-nourishing bubbles inside help to unwind body and mind, too.
(opens in new tab)
Liz Earle Seasonal Serenity Miniature Limited Edition Set
RRP £12
Fans of this cult skincare brand will love this mini Cleanse and Polish Hot Cloth Cleanser and muslin. Perfect for the gym, a night away or save it for special occasion.
(opens in new tab)
Dr. Bronner's Peppermint Hand Hygiene Spray
RRP £5.25
For on-the-go hygiene, Dr. Bronner's Peppermint Hand Hygiene Spray kills up to 99.9% of germs within seconds. The fairtrade spritz uses only certified organic ingredients and is paraben-free. Simply spritz the spray on hands, fitness equipment and surfaces to get rid of germs and prevent colds and other illnesses in their tracks. With a refreshing Peppermint scent, it is a uplifting alternative to alcohol-laden scented alternatives.
(opens in new tab)
P for pizza game
RRP £12.99/ $15
This fun family game will have you in stitches as you battle it out to win the next pizza slice. Be the first to connect the category and the letter by shouting out a word and winning the card. Build up your pizza slices into one massive slice for victory over your opponents. This game provides hours of fun.
(opens in new tab)
L.O.L Suprise eau de toilette
RRP £5
Little ones will love this grown-up spray from their favourite characters. Made with a water-based, child-friendly formula, this floral eau de toilette makes the perfect first fragrance for kids.
(opens in new tab)
Rifle Paper Co. AirPods case
RRP $26
Store your AirPods safely away with this handy keyring holder. It's a must-have for any handbag, attach to an internal pocket or hang from your keys for easy access. The iconic Rifle Paper Co. floral print makes this the most pretty and practical of presents.
(opens in new tab)
LEGO DOTS bracelet mega pack
RRP £19.99
This crafty kit comes with five customisable bracelets to be decorated with different coloured and shaped tiles. Kids can mix and match to create their favourite looks and then share their designs with their BFFs. This is a modern-day friendship bracelet for Generation Alpha.
(opens in new tab)
5 Surprise mystery mini brands two-pack
RRP £27.99/ $14.99
Fans of collectibles will want to get their hands on these miniatures, with over 100 brands to collect. Enjoy the thrill of unboxing and unwrapping to reveal mini favourites like Aunt Bessies, Dove, Spam, BabyBel and Birds Eye.
(opens in new tab)
Marbled wooden letters
RRP from £12.50
Looking for a personalised present that won't break the bank? These hand-marbled letters are the perfect mix of a thoughtful gift and an easy win. Pick out a friend's initials or favourite phrase, so they can create a stylish display in their home.
Books Editor - Woman&Home
It's safe to say, woman&home's Books Editor, Zoe West has read a LOT of books.
As an avid young bookworm obsessed with the adventures of The Magic Faraway Tree and the misadventures of red-haired orphan, Anne Shirley, Zoe never lost her love of reading - and the fact she now gets to do it as her job is a constant source of wonderment for her.
When Zoe isn't reading she is interviewing authors, hosting live events where she gets all the gossip, and seeking out exciting new writers she can't wait to tell her readers about.