We asked an expert how to properly care for your cashmere items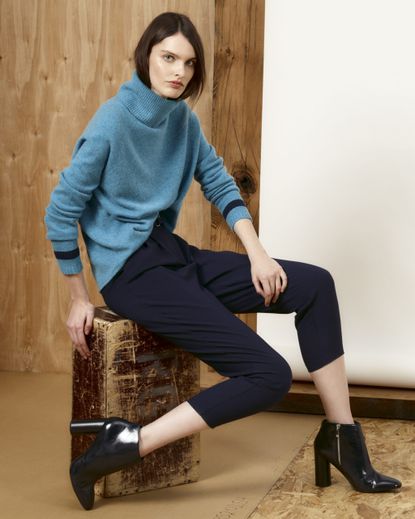 Fashion trends come and go, but there are few wardrobe heroes as timeless as a cashmere sweater.
Coveted thanks to its long, fine and soft fibres, cashmere creates warmth without the bulk by keeping you up to eight times warmer than wool – making it perfect for sensitive skin.
And whether you spend £50 or £500, a cashmere sweater is an investment that requires special treatment. So how should cashmere be cared for?
Our Fashion Editor approved trick is to use Soak Wash liquid (its rinse free formula is designed for dedicates) whilst Ray Barron, Duffy's Sales & Marketing Manager recommends baby shampoo!
We spoke to Ray, who revealed his top tips for cashmere care, "Always hand wash cashmere. Never use a washing machine and never use detergent, as it's too harsh on the delicate fibres.
"Instead use lukewarm water and turn your sweat inside out - baby shampoo is perfect for washing knitwear in! Keep it light and quick when washing - 30 minutes maximum – then avoid ringing it out. Just lay on a large towel and let it dry naturally."
But how do we prolong the life of cashmere during the summer months, when we pack our winter wardrobe away?
Ray said, "Lavender acts as a deterrent to moths. Add a few drops of lavender essential oil when hand rinsing- it's not only make your cashmere smell wonderful but it will deter the moths from damaging your knitwear."
Our top picks of the best cashmere sweaters in the high street
With the average sweater taking the hair of two goats to produce, cashmere sweaters have long been reserved as an investment buy, with a price to match.
Until now, that is - whilst brands such as Chinti & Parker, Pringle Of Scotland and (our personal favourite) Duffy are our go-tos for a knitwear splurge, the high street has come up trumps with some seriously stylish – and affordable – cashmere alternatives this season.
Uniqlo cashmere crew neck, £79.90
Available in a whopping 20 colour ways, Uniqlo's style is made of 100% cashmere giving you designer style without the price tag.
SHOP NOW: Cashmere jumper, £79.90, Uniqlo
M&S cashmere turtleneck, £119
With its cosy roll neck, M&S' lilac jumper features flattering rib detailing and is made of pure cashmere. Don't forget to check out M&S' classic crew which is available in 16 colours for £79.
SHOP NOW: Cashmere turtle neck, £119, Marks & Spencer
Zara wool and cashmere jumper, £59.99
Zara's knitted sweater is made of a wool and cashmere mix, and includes super soft tencel which is grown in sustainably managed forests which guarantee reforestation.
SHOP NOW: Wool and cashmere jumper, £59.99, Zara
Duffy turtleneck jumper, £305
With its contrast stripes and flattering curve hems, Duffy's turtleneck is the ultimate investment. Made from premium yarn blends you can shop happy with the knowledge that Duffy's manufacturing process supports sustainable farming practices.
SHOP NOW: Classic turtleneck jumper, £305, Duffy
Now bring on the cold...
What's your favourite cashmere sweater out of our top picks? Head over to our Facebook page and let us know!
Fashion writer and editor
Hannah Eichler is a fashion stylist, writer, and currently deputy editor at MailOnline's Fashion Finder. She has extensive fashion styling and writing experience across multiple editorial platforms.
Hannah has also lent her extensive editorial expertise as an associate lecturer of Fashion Media, Beauty Promotion, Fashion Promotion, and Fashion Graphics at Solent University. This is as well as being an associate fellow of the Higher Education Academy, where she leads units specializing in content strategy, marketing, PR, and event management.