How to build a French capsule wardrobe for timeless quiet luxury
These are the six key items you need to build a French capsule wardrobe, according to a Parisian style expert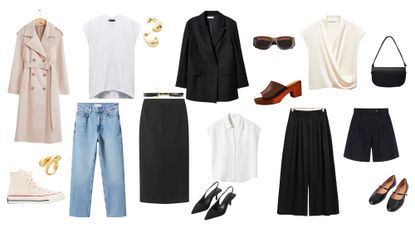 (Image credit: & Other Stories, Converse, Missoma, Mango, Zara, Cos, ARKET, ME + EM, H&M, Bobbies Paris, Aligne, Been London)
woman&home newsletter
Sign up to our free daily email for the latest royal and entertainment news, interesting opinion, expert advice on styling and beauty trends, and no-nonsense guides to the health and wellness questions you want answered.
Thank you for signing up to Woman & Home. You will receive a verification email shortly.
There was a problem. Please refresh the page and try again.
A French capsule wardrobe epitomizes subtle and elegant style. Evocative of this season's popular Quiet Luxury look, French women exude timelessness and it is this effortless chic that underpins their aesthetic. Inspired by some of the great fashion icons - Coco Chanel and Jane Birkin, we've pulled together a guide to how to get French girl style in a grown-up way, every day.
The French's influence on fashion is undeniable. Paris fashion week is the culmination of a month's worth of runway shows, with brands like Chanel, Céline, and Dior at the forefront of formulating the latest fashion trends every six months. Loved by celebrities and royals, the allure of French fashion houses comes from their distinctive yet subtle style, that never seems to date. A French capsule wardrobe is all about nailing those crucial investment pieces, as these will underpin every outfit, delivering a certain je ne sais quoi to every ensemble.
Done right, a capsule wardrobe can save you space and time. Because French girl style brings effortless elegance to smart casual outfits and formal occasions alike. Regardless of season, there are certain key items that simply belong in a French capsule wardrobe, with layering the key to switching between a spring/summer and winter capsule wardrobe. A tight edit of essentials, the French capsule wardrobe is also an excellent choice for those looking to create an edit of investment pieces for a minimalist capsule wardrobe.
How to curate a French capsule wardrobe?
In order to build your French capsule wardrobe, you don't need to throw out your entire existing closet, but you do need to highlight key classic items that you can mix and match. Getting the basics right, is the most important part of the task, so you may want to start with organising your closet so you can assess what you have and what you're missing.
"The French girl's style is a state of mind," says Chrysoline de Gastines, CEO of Parisian-born brand Balzac Paris, AKA an expert in all things French style. "It's this deceptively relaxed attitude that gives it its distinctive style. This is why it's inimitable because the French girl maintains this myth that everything is perfectly natural to her! Allure and refinement are the keywords with this unspeakable "little thing" that seduces the whole world," de Gastines tells woman&home.com, and we couldn't agree more.
A "trench coat, white t-shirt, shirt, raw jeans, and moccasins" are must-have items in a French capsule wardrobe, Balzac Paris's de Gastines explains. A trench coat is a key player that makes the look and will be a staple in your wardrobe for years to come. Just as important is a trusty pair of jeans that piece together the glamour of French chic in pairing pieces that create a classic silhouette.
"French fashion is all about subtle, classic silhouettes and styles, and versions of this aesthetic pop up on runways and red carpets year after year,' says Head Stylist at online fashion destination SilkFred, Megan Watkins.
When it comes to deciding on the colour scheme for your new French capsule wardrobe, the selection is guided by classic neutrals, befitting of the subtly elegant look.
"French fashion normally consists of monochrome shades, like black, navy, white, denim, and beige, which means it's extremely wearable and versatile. The best thing about building a French capsule wardrobe is that, if you invest in good quality items, it will last you for years and years," says Watkins.
What does a French capsule wardrobe consist of?
"The perfect French dressing room is composed of an ideal trench coat that you wear with an immaculate white T-shirt and your favourite jeans that shape your silhouette. The Moccasins and Converse are essentials of the French dressing room, just like the subtly unbuttoned white shirt," says De Gastines. "Vintage blouses are worn under a pretty slightly oversized wool jacket that is matched with its raw straight jeans and a pair of high heels. And let's not forget the French bag that embodies elegance and aesthetics with its sophisticated and refined look. French women have the knack of mixing the feminine and the masculine and going out in a falsely casual outfit that they will enhance with a touch of red lipstick," she continues.
SilkFred head stylist Watkins agrees and tells us all you need is to "start with the easily recognisable basics." You'll need a "pair of ballet pumps and straight-leg jeans. French fashion has a focus on functionality, so I would add in a simple crossbody bag and bucket tote to your bag rotation," Watkins explains.
So with that in mind, keep scrolling to find everything you need to build a French capsule wardrobe.
1. Tops needed for French capsule wardrobe
When asked what makes up the timeless classic pieces we love in French women's style, de Gastines tells us "without hesitation the white shirt cleverly unbuttoned or worn with a T-shirt underneath."
But it is all in how you style it, "they voluntarily choose it too big for them or even borrow it from the men's locker room", says de Gastines, and she knows best.
When building your French capsule wardrobe, you want to "avoid going overly feminine with details such as ruffles or beading and opt for one of the best t-shirts instead. "French fashion favours modest necklines and simple silhouettes that don't show too much skin. I would also steer clear of block, bright colours and bold prints. If you're intent on adding colour and print to your overall look I would suggest a light blue button-down shirt," Watkins reveals.
Balzac Paris Bree White T-shirt
RRP: £48 / $71 | A high-quality investment piece made from 100% organic cotton, this is one of the best white t-shirts for a French capsule wardrobe. The great part about having a longer sleeve is that there is always the option of rolling them up in the summer months. Size up for a slightly oversized, French Girl style.
Zara Heavy Cotton V-Neck T-Shirt
RRP: £17.99 / $27.90 | A V-neck short sleeve t-shirt is a must for those sunnier days, and this heavy cotton blend looks chic and more expensive than its price tag, making it a great affordable Quiet Luxury brand buy. It's available in black and khaki, too for a solid basic that you can rely on in your summer capsule wardrobe too.
Mango Sleeveless Crossover Blouse
RRP: £22.99 / $39.99 | This crossover blouse exudes French style and will go with your best jeans or style well with wide-leg trousers. The flowy fabric and wrap design makes it a super versatile piece that will work from AM to PM, with graceful ease. Plus, it has an inclusive size, available in sizes XXS to a 4XL.
RRP: £25.99 / $45.99 | We love the sleeveless over-the-shoulder design and the front button fastening. Make this the perfect shirt for that oversized button-down look; just remember to size up to stick to that relaxed French girl feel. Try tucking it in fully, or half tucking into waistbands for a waist defining look.
RRP: £95 / $125 | The best shirts to add to the ultimate French capsule wardrobe have an almost androgynous feel to their aesthetic. Made from 100% silk from French clothing brand Sezane, this white shirt has all the luxe fabric of soft silk, with the tailored twist of a classic menswear design, giving a polished finish.
RRP: £45 (UK only) | For that pop of blue Megan Watkins described, opt for this French Connection organic cotton shirt for a smart staple piece. The naturally oversized fit gives it a laidback fee, but the classic button-fronted design and front patch pocket give it that borrowed-from-the-boys-aesthetic.
2. Trousers needed for a French capsule wardrobe
As the style experts explain, a pair of straight-leg jeans are a staple. For a contoured fit, opt for high-waisted jeans to sculpt your shape and balance out the slightly looser leg shape for that French chic feel. And for a summer or spring capsule wardrobe? "Denim shorts in summer, black jeans in winter," says de Gastines. Simplicity is best.
3. Shorts and skirts needed for a French capsule wardrobe
When it comes to shorts and skirts for a French capsule wardrobe the same effortless simplicity applies. As recommended by our French style experts, denim shorts, are a timeless classic, making them front of the queue for a French aesthetic, but the same applies to other staples such as linen, or tailored designs. The best skirts for a French capsule wardrobe take it back to basics and generally speaking are fairly streamlined - no crossover with a boho capsule wardrobe here. Stick to neutral colours and contoured shapes such as pencil skirts for that true Parisian feel.
& Other Stories Relaxed Linen Shorts
RRP: £65 / $99 | As our expert tells us, a French capsule wardrobe is all about mixing the masculine and the feminine. This is easily done by switching out a skirt for shorts and pairing with a pretty blouse. These shorts are a great example and feature two pockets, as well as a belt detail to highlight a waist.
ME + EM Ponte Split Front Column Midi Skirt
RRP: £135 /$225 | Pair with a white silk blouse or a button-down shirt for true French girl style. A small heel for the evening or pair with dressy flats, such as ballerina flats for daytime wear. We love this elongated pencil skirt as the high waist band helps to emphasise your natural curves, and the slit lengthens legs.
Aligne Fidel Linen City Tailored Short
RRP: £75 / £115 | Our style expert suggests denim shorts instead of jeans for summer days, but these linen city shorts will keep you cool and will become a staple in your wardrobe for summer seasons to come. A great switch out for the best linen trousers, the longer line makes them 9-5 ready too.
Jackets needed for a French capsule wardrobe
Shoes needed for a French capsule wardrobe
Shoes can make or break your outfit, so nailing the shoe part of your French capsule wardrobe is certainly the icing on the cake. The key as with the rest of this look is to lean into the inherent Quiet Luxury of the aesthetic, shunning over the top silhouettes, opting for classic shoes that will finish off your look without stealing the show. Classic high top converse, loafers and the best designer heels in neutral colourways are a strong starting point.
Bags needed for a French capsule wardrobe
A combination of minimalism and practicality, we've said it all the way through, but classic hues, high quality leathers - or the best vegan leathers, a subtle hardware delivers a French aesthetic every time.
"French fashion has a focus on functionality, so I would add in a simple crossbody bag and a bucket tote to your bag rotation," says SilkFred's head stylist, Watkins.
RRP: £150 / $250 | A structured leather bag is another essential when compiling a French capsule wardrobe, as we all know French women excel when it comes to the best designer bags. This 100% leather crescent bag will go with every look and features expensive-looking piping and a slim strap with gold details to fit perfectly on the shoulder.
RRP: £35 / $60.99 | A great addition to your French capsule wardrobe is this faux leather bag. The adjustable crossbody strap ensures means you can wear it over your trench coat with ease, while the striking gold hardware compliments any oversized gold jewellery that is also a key part of this aesthetic. Not a designer bag, it certainly looks the part.
RRP: £310 / $407 | Now this is an investment piece that will stand the test of time. Handcrafted from recycled leather to create a smooth grain, it will become a staple in your Quiet Luxury handbag collection for years to come. Featuring an adjustable shoulder strap, this versatile bag is exactly the kind of French luxury look we're after.
Accessories needed for a French capsule wardrobe
Less is more for the accessories section of the French capsule wardrobe. "When building a French capsule wardrobe and in doubt, just remember the words of Coco Chanel - 'Before you leave the house, look in the mirror and take at least one thing off.' French style is all about simplicity and elegance, so it's important to not go overboard with accessories and styling," explains SilkFred's Watkins.
How many items should be in a French capsule wardrobe?
You'll need at least one item from every section above, so by our calculation, that makes it at least ten key pieces, going up to twenty if you get two of everything to make the French capsule wardrobe work for every occasion.
"This is only 10 pieces, so nailing that French look doesn't have to break the bank - you also might have some of these pieces already in your wardrobe," says Megan Watkins.
As with any capsule wardrobe however there is no set amount, and if you want to fully convert to the French Girl aesthetic, we recommend getting a few key looks from every section so you can chop and change.
Sign up to our free daily email for the latest royal and entertainment news, interesting opinion, expert advice on styling and beauty trends, and no-nonsense guides to the health and wellness questions you want answered.
Dionne Brighton is a London-based journalist specializing in fashion, beauty, and shopping. She studied English Literature at the University of East Anglia before pursuing her dream career in journalism and has written for various titles, including Marie Claire and Glamour UK.
During her career, Dionne has covered everything from the best red carpet looks to testing out new wellness hacks. These days you can find her scouring the internet for the latest trends and will not rest until she has seen all the best buys.