How to build a boho capsule wardrobe for laidback summer style
A style expert explains how to create a boho capsule wardrobe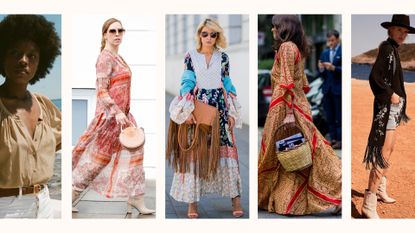 (Image credit: Doen, 1316239893 / 957631788 / 541183044 / mint velvet)
woman&home newsletter
Sign up to our free daily email for the latest royal and entertainment news, interesting opinion, expert advice on styling and beauty trends, and no-nonsense guides to the health and wellness questions you want answered.
Thank you for signing up to Woman & Home. You will receive a verification email shortly.
There was a problem. Please refresh the page and try again.
Building a boho capsule wardrobe will deliver instant summer style, although this is a timeless look that can be carried through all seasons. Categorized by its bohemian roots, it is full of colour, texture and floaty fabrics, working well from AM to PM.
A boho capsule wardrobe will never go out of style and is perfect for helping you develop summer outfit ideas. While the pieces in your boho closet will change with the seasons there are a few underlying principles to look for that will help to determine whether an item fits the boho theme. Generally speaking, hemlines of boho pieces tend to be longer, with maxi dresses and skirts most popular, although midi and the occasional knee-length silhouette certainly work too. Colour palettes are wide ranging, encompassing a rainbow of hues.The bohemian movement in which this look is in homage dates back hundreds of years, although it is the '60s and '70s hippy movements, alongside Woodstock and flower power that encouraged its revival.
With a love of artisanal design, embroidery, embellishment and fringing is heavily associated with the boho look and a boho capsule wardrobe will certainly have these elements adorning core pieces. With a mix of block colour and playful paisley prints, there is a real richness to this look, with layering helping to create an undone, but careful stage managed look. When it comes to building a boho capsule wardrobe, you will want a good spread of all the core silhouettes, with plenty of softer hues that will mix easily with prints. Being unafraid to colour and texture clash is key, so this is definitely a look for those who like to dress up.
How to build a boho capsule wardrobe
Unlike a summer capsule wardrobe which has a huge variety of items, a boho capsule wardrobe is a lot more prescriptive in terms of style, which for many makes it easier to pull together. You may want to create an inspirational moodboard of boho style imagery to use as a reference when shopping, to help ensure that every item you purchase sits within the style guide.
As with all of our capsule wardrobe features, this is intended to help you formulate the building blocks of your closet, which can then be mixed and matched with one another, as well as adding new and trending pieces when appropriate.
With a naturally carefree aesthetic, boho is always considered a strong summer fashion trend, but it is one that can be taken into the winter months, with edition of boots, heavier embroidered jackets, and slim fit knitwear under dresses, making it pretty versatile and one you can really get your cost per wear out of.
How many items should be in a boho capsule wardrobe
There is no definitive number of items that should be in your boho capsule wardrobe, as this will come down to personal preference, your lifestyle needs and for many the space they have to store clothing and accessories appropriately. What you do want from your boho capsule wardrobe is wearability and versatility, so as long as you select items that can be partnered together and find yourself wearing all the items in your edit, you can consider it the correct number of garments. If you find you have lots of items you don't wear, you may want to learn how to declutter your clothes and how to organise your closet to make it a more workable set up.
What should be in a boho capsule wardrobe
As with the number of items, there is no definitive list of what should be in your boho capsule wardrobe, but from our experience, these are the types of items that you should be looking to invest in to create a solid basis for embracing the boho aesthetic.
Dresses: Boho dresses make for some of the best summer dresses, thanks to their floaty and airy silhouettes. Categorised by their carefree shape, they are widely associated with summer ensembles, but layering light weather pieces over or under knitwear come fall will help breathe new life into summer looks. While there is no one prescriptive shape, maxi, midi and midaxi hemlines are the most popular for a boho capsule wardrobe, with bib shaped yokes highly associated with this aesthetic. Fuller sleeves, A-line skirts and embellishment and embroidery details also play a key role in evoking a boho style.
Skirts: Maxi and midi skirts are generally the most commonly accepted styles for a boho capsule wardrobe, in A-line, tiered A-line and asymmetrical hemlines. As with most of a boho capsule wardrobe there is no set colour parameters but generally speaking fabrics are a little lighter and floatier, and prints range between paisley and some floral designs.
Tops: Falling in line with the rest of this aesthetic, tops are light and feminine with Broderie Anglais, lace and eyelet blouses particularly popular. Fuller floatier sleeves, bib yokes and sweet tie details add a soft and ethereal feel to all ensembles. Opting for more neutral tops will help them to pair with the maximum number of separates too.
Trousers: Slightly less popular for this look, boho capsule wardrobes can certainly include trousers. Referencing the '60s and '70s revival of the look, the best wide leg jeans are a staple, paired with more embellished tops and blouses to really hit home on the bohemian feel. Neutral tan, brown and navy hues can also help to underpin boho style tops and jackets, with relaxed straight cuts, and looser floatier styles preferable over skinny designs.
Jackets: Embroidered trophy jackets, fringed suede, leather or denim designs are the backbone to the boho aesthetic. Adding an arty and artisanal feel, the added texture and movement plays into the free spirit of the look. For cooler months look to add shearling and suede outerwear or gilets for warmth and texture.
Shoes: When it comes to shoes for a boho capsule wardrobe, this look really has two main modes: boots or sandals. Encompassing a wide range of styles, from embellished dressy flats, to ankle wrap designs, as well as slouchy suede boots, to the best western boots, there is a huge range of options within this two silhouettes. Shoes with added detail is encourage, so you can really put in some fancy footwork here.
Bags: Due to its more relaxed and carefree nature, handsfree, crossbody bags are pretty crucial to this aesthetic, although solid shoulder bags also tap into the look. Saddle bags in luxe leathers with strong stitch detailing, as well as slouchy suede iterations certainly have a home in a boho capsule wardrobe, although if you want to take this look through to the evening, try a highly embroidered clutch bag for the artisan feel.
Accessories: As part of the '90s fashion trend revival, wide, hip slung, circular belts have made a comeback (thanks Michael Kors) and these embellished and studded belts are perfect for highlighting your shape in maxi skirts and dresses. If that feels too daunting - as you may have done this trend the first time around, try layered fine chain necklaces, stacked rings, and drop, craft-inspired earrings to add a boho feel to every look.
Shop our boho capsule wardrobe
To help you pull together a boho capsule wardrobe, we've pulled together some key building block pieces to help get you started. The neutral tops, footwear and accessories can easily be worn with other separates and dresses in this list for maximum versatility.
Sign up to our free daily email for the latest royal and entertainment news, interesting opinion, expert advice on styling and beauty trends, and no-nonsense guides to the health and wellness questions you want answered.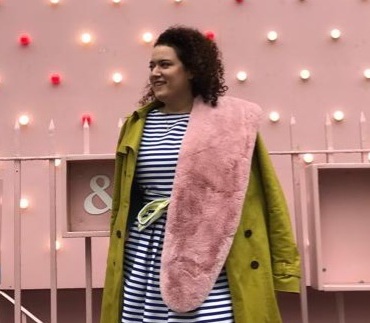 Rivkie is a fashion editor, writer and stylist with over fifteen years' experience in the industry. Having studied design and pattern cutting at the London College of Fashion, Rivkie fell in love with styling and journalism, covering fashion weeks in London, Paris and New York.
Specialising in plus size fashion, Rivkie has long championed that style is for everyBODY and has been a regular talking head on a host of radio stations and television shows, pushing for greater representation for plus size women and fashion throughout her career.