How to build a capsule wardrobe for women over 60
A style expert explains what you need to create a capsule wardrobe for women over 60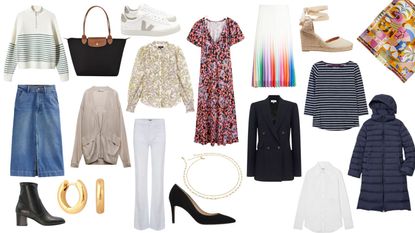 (Image credit: see credits in article)
woman&home newsletter
Sign up to our free daily email for the latest royal and entertainment news, interesting opinion, expert advice on styling and beauty trends, and no-nonsense guides to the health and wellness questions you want answered.
Thank you for signing up to Woman & Home. You will receive a verification email shortly.
There was a problem. Please refresh the page and try again.
A capsule wardrobe for women over 60 is a brilliant time saver and will always ensure your style is seamless. Whether you consider yourself well-versed in the language of fashion or simply want a solution to feeling sartorially overwhelmed, the answer lies in compiling a well-mapped-out closet.
Our style tastes are fluid and as we age, what we wear and how we present ourselves shifts depending on where we're currently at. Lifestyle and physical changes in later years can impact your wardrobe, so reassessing your existing closet, to create an over-60s capsule wardrobe is a great way to readdress how you want to present yourself to the world.
Creating a capsule wardrobe for women over 60 will help hone the items in your closet, allowing you to declutter your clothes and organize your closet to create a well-functioning edit of styles you currently love and wear. It will also help you identify any key areas in your wardrobe where you feel you're lacking items so that you can bolster with new items to create added versatility.
How to build a capsule wardrobe for women over 60
Not hugely dissimilar to an over 50s capsule wardrobe, you first need to take stock of your lifestyle and wardrobe needs and use this as a basis. You will want to create your over 60s capsule wardrobe according to season, and we recommend only tackling six months worth of wardrobe in one go. That means you may want to start with an autumn and winter capsule wardrobe, tackling spring and summer capsule wardrobes before the start of the season in 2024.
Consider your individual wardrobe needs. Not every closet is the same, as although a capsule wardrobe forms the building blocks and basis of most outfits, you need to think about what your day-to-day activities look like. Do you need a capsule wardrobe for work? A travel capsule wardrobe? Or, if you're considering retiring in the near future, are you looking for largely smart casual outfit ideas, with additional items for evenings out?
What should a capsule wardrobe for women over 60 consist of
There is no set number of items for a capsule wardrobe, even a minimalist capsule wardrobe is more about keeping a tight edit, rather than dictating a limited number of clothes and you should set your limits based on needs and space. Ideally, you want to ensure that everything you keep in your over-60s capsule wardrobe gets a regular outing. If you find certain items languishing at the back, either make a concerted effort to wear them or consider selling clothes online to make space for more useful pieces.
We have compiled a list below of the types of items that should be in your edit, however, these are merely a guide. If you are a dedicated denim follower, you may find you want more of the best jeans for women over 60, and fewer skirts, or vice versa, if you aren't a trouser wearer, you may need more dresses in your arsenal, so how you build your over-60s capsule wardrobe will need a personal slant.
T-shirts and sweatshirts: The style you choose will largely depend on your body type and the silhouettes you are most comfortable with, but round neck, v-neck, boat neck and both short and long-sleeved styles should be considered.
Shirts: A classic white shirt is a pretty solid foundation piece for a capsule wardrobe, but also look at silky or short-sleeved blouses for varying occasions. Learning how to style linen shirts are ideal for when putting together a summer capsule wardrobe for women over 60.
Jackets: A trio of classic styles will work both in early autumn and during spring when the weather is too warm for a coat, but you'll need a light layer. Look for a denim, leather jacket and a tailored blazer to cover you for all occasions.
Spring/autumn coat: The best trench coats, or even a light parka are the perfect choices for this time of year. When a layer is needed, but heavy wools or puffers are too much.
Winter coat: Two winter coats are ideal for this category, a smarter, tailored design such as the best wool coat, and a more casual one such as a directional puffer coat, or quilted style. Having at least two types of coats for the season can help you dress your look up or down.
Jeans: The best jeans are considered a wardrobe essential and we would second that if denim is central to your look. There are no jean styles that are off-limits when you hit your 60s but you may want to prioritise comfort and support - high-waisted jeans are great for this. The best straight-leg jeans offer instant polish and are easily styled for smart or casual occasions and are probably the most important cut to have in your closet. Feel free to experiment with trending styles, but these might come and go, rather than forming a lynchpin style moment. Consider white, black and blue jeans as a base, before adding colourful designs if and when you choose.
Trousers: If you're a big jeans wearer, then trousers are likely to be another key building block in your wardrobe. Tailored trousers are great for smart or casual occasions and can make your look feel a little more put together. Select your silhouettes based on what you're most comfortable with. Simple-to-style wide-leg trousers deliver a floaty and elegant aesthetic, whereas straight-cut or crease-front trousers feel a little sharper.
Skirts: There is lots to consider for skirts for a capsule wardrobe for women over 60s. Firstly think about the silhouettes that you feel most comfortable in. The most popular skirt shape is often an A-line, as it creates a defined waist before flaring over hips, bums and thighs. However, slim-fit pencil skirts aren't just for a 9-5 and similarly, long skirt outfits can help you create a more boho capsule wardrobe. When it comes to fabrications, think about when and where you'll most likely where your skirts. A denim skirt is always a winner for casual occasions, while a leather skirt adds polish and sleekness to any ensemble. For summer months concentrate on lightweight cotton and linen, while winter might require heavier wool iterations.
Dresses: If a dress is your go-to, one-and-done look, then you might find you need a large selection, as it's harder to mix and match when it comes to frocks. There are a number of key silhouettes to consider and once again, what you choose will be based on your body type. A little black dress is an obvious choice, but there are no boundaries in terms of colours or prints. Look out for wrap, sweater, shift, shirt and A-line dress cuts. And always make sure you have one evening dress to hand for special occasions.
Knitwear: Cashmere and wool are the best fabrications when it comes to winter knitwear, keeping you cosy, whilst remaining breathable. For summer knits, look to cotton and linen, for light layers that won't overheat you. In terms of shape, this category covers everything from sweaters to cardigans, consider turtle necks, round neck and oversized designs too.
Shoes/boots: You'll need a solid selection to go with every outfit. A good list to start with is: trainers, ankle boots, courts, loafers, knee-high boots, evening shoes and sandals.
Bags: As with shoes, while you might have your best tote for every day, you'll also want a crossbody bag for when you need to go hands-free, a clutch for evenings out, as well as possibly a smart shoulder bag.
Accessories: This is quite a big topic and again the volume of accessories you own will depend on your personal style. If you're big on accessorizing, lean into those key pieces that can up-style basics and classic pieces, giving them a seasonal refresh. Consider a selection of necklaces, cocktail rings, hoop, drop and stud earrings, belts or different widths, versatile scarves and a pair of chic sunglasses.
Swimwear: The best bathing suits for women over 50 should pretty much cover you for an over-60s capsule wardrobe. Look for great support and fit that still gives a gentle nod to trending styles, so you're always ready for your next adventure. The best black swimsuits are the most timeless, but don't be afraid to embrace bolder designs.
Items you need in a capsule wardrobe for women over 60
We've compiled an edit of items we think are a great basis to any over 60s capsule wardrobe. This is by no means a finite list, and within this collection of shoppable pieces, you can tweak to your own tastes. The most important thing is to select a variety of items that can be interchanged and worn together, maximizing cost per wear and the number of outfit possibilities.
Sign up to our free daily email for the latest royal and entertainment news, interesting opinion, expert advice on styling and beauty trends, and no-nonsense guides to the health and wellness questions you want answered.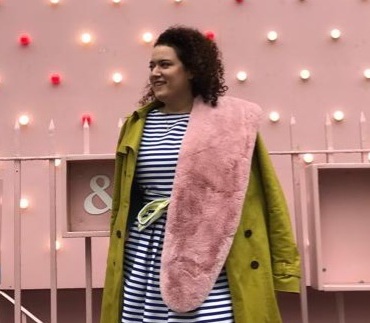 Rivkie is a fashion editor, writer and stylist with over fifteen years' experience in the industry. Having studied design and pattern cutting at the London College of Fashion, Rivkie fell in love with styling and journalism, covering fashion weeks in London, Paris and New York.
Specialising in plus size fashion, Rivkie has long championed that style is for everyBODY and has been a regular talking head on a host of radio stations and television shows, pushing for greater representation for plus size women and fashion throughout her career.