How to wear a wrap dress: This universally flattering dress shape to invest in right now
A classic style that will never date, our fashion expert shows you how to wear a wrap dress for every occasion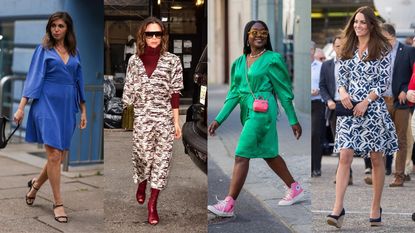 (Image credit: Getty Images)
The most versatile dress ever and one that suits every body shape - learning how to wear a wrap dress will help avoid a fashion meltdown.
As wardrobe essentials go, the wrap dress is up there with a white shirt and a good fitting pair of jeans. This ubiquitous design, which made its first fashion appearance in the 1930s, got a whole new breath of life in the early '70s when Diana von Furstenberg sent her new take on the style down the runway.
The style is still as popular as it was 50 years ago - unsurprising when it ticks all the boxes of a style classic - easy to wear, versatile, and timeless. A size-inclusive dress it's not only suitable for every body type, but also pretty much every fashion situation. From weddings to work, a wrap dress is guaranteed to be the hardest working piece in your wardrobe - and with the royal seal of appeal from Kate Middleton, who adores the style - it's a must-have for any capsule wardrobe.
How to wear a wrap dress - Inspirational outfits from a fashion editor
Invest in a wrap dress, and you've got one of the best dresses ever - fact! Celebrity Fashion expert and Feel Good Fashion Coach Miranda Holder believes its popularity lies in the fact that it suits everyone.
"There's nothing quite like a good wrap dress to flatter all body shapes with effortless style, it cinches you in in all the right places and can guide the eye to skim over any areas you want to hide without being too revealing. They can be dressed up or down in a flash with a clever switch of accessories and are utterly ageless," she says.
1. How to wear a wrap dress for a wedding
When considering what to wear to a wedding, a wrap dress is always a great choice. A longer length is super chic - especially for more formal weddings – and embellishments like sequins or ruffles will add wow factor. All that's needed is a pair of heels (wedges are great for summer weddings) and a hat. Not sure how to wear a hat? Choose a statement fascinator or headband instead, which will definitely add to the sense of occasion.
Styling tip: "For a dramatic look, choose a dress in solid color and match the rest of the outfit to it, creating a monochromatic look - a style tactic often employed by the Royals for very good reason as it just looks so elegant," suggests Miranda.
Monsoon Embellished Wrap Dress
RRP: $112 / £90 | One of the best midi dresses to wear to a wedding, the sequins help to elevate this style. An easy dress to mix and match the color of your accessories with, thanks to the pastel base shade and various colored sequins. Making it one you can reinvent again and again.
Dune Pink Peep Toe High-Heeled Sandals
RRP: $120 / £85 | Did someone say party shoes? These bubblegum pink sandals were made for an occasion - though perhaps one where you can sit down. The jolt of bright pink is a great way to add a touch of color to any simple outfit and gives a nod to the dopmaine dressing trend.
Phase Eight Pillbox Fascinator
RRP: $67 / £55 | For more formal weddings, a fascinator can add a sense of occasion to your dress, whilst keeping the look youthful. If you're just finding your way with how to wear headbands, opt for a fascinator on a band for easy styling. The retro design gives this iteration a vintage edge.
2. How to wear a wrap dress for work
Wondering how to wear a wrap dress for work or a job interview? A midi wrap dress in a neutral color such as navy or black will always make a great first impression. While solid colors undoubtedly look more professional, that doesn't mean you need to shy away from a printed wrap dress in the office. In fact, paired with a simple court and blazer, it's a look that can take you from the boardroom to the bar in no time. For summer outfits for work, ditch the blazer and choose a short-sleeved wrap dress paired with a simple wedge.
Styling tip: Miranda suggests going oversized with a blazer to keep things looking fresh. She says: "If you need an extra layer, an oversized blazer will keep things looking modern, besides helping to pull the whole outfit together. Ruching the sleeves at the elbow, or even just turning up the cuff will complete the look."
Myleene Klass Animal Print Wrap Dress
RRP: $74 / £45 | This wrap dress ticks all the boxes for a great all-rounder. Team with courts for work, a strappy heel and statement jewelry for a night out and your best white trainers for the weekend.
H&M Double Breasted Black Blazer
RRP: $42.44 / £34.99 | Oh hello, wardrobe staple. If you struggle with how to style a blazer, treat this jacket style like a cardigan to instantly smarten up any outfit. It also looks super cool worn with jeans and a tee.
3. How to wear a wrap dress for a date
If you're struggling to decide what to wear on a first date, nailing how to wear a wrap dress could be your secret style weapon. With their peekaboo thigh slit and curve-enhancing properties, they were made for date night. Consider tactile and textured fabrics such as silk or faux leather to make your look stand out. Choosing a camisole style wrap dress also makes it less business and more evening out.
Styling tip: Miranda suggests finishing off your date night look with a chic bag.
"A simple clutch looks stylish, alternatively, try an on-trend miniature top handle bag to add interest," she suggests.
Nanushka Vegan Leather Wrap Dress
RRP: $363 / £297 | There's nothing boring about this little black dress. The subtle ruched effect makes this a stylish dress to hide a tummy, while the leather-look gives it a little bit of rock and roll appeal. Team with strappy sandals or ankle boots.
Office Strappy Tie-Up Heeled Sandals
RRP: $36 / £30 | One of the popular shoe trends 2022 has delivered is tie-up sandals. Taking their lead from the gladiator sandal trend, the laced-up effect gives them an edge over regular summer shoes, while the mid-heel height ensures relative comfort.
4. How to wear a wrap dress for a bridal shower
When it comes to what to wear to a bridal shower, the most important thing to consider is the venue and activity. Less formal than an actual wedding, they often happen in the daytime, so smart-casual is often the way to go - making a wrap dress your best bet. Pick a classic print such as polka dots or florals and dress it up - or down - depending on the venue. Team it with a pretty ballet flat or wedge for a lovely lunch - or add a pair of flatforms for a more casual brunch.
Styling tip: Miranda says the beauty of a wrap dress is you can play around with accessories, but she advises never to go too OTT for a bridal shower (unless you're the bride).
"Pay attention to your accessories, choose either a pair of statement earrings or a bold necklace - going with one or the other option rather than both will keep things chic," she says.
Joanna Hope Polka Dot Wrap Dress
RRP: $80.70 / £66.50 | You can't get more versatile than a polka dot dress. More interesting than an LBD, it can still be styled up with myriad of accessories in varying colors. This one is great for pear body shapes as the chiffon skims the bottom half of the body while accentuating curves up top.
Iris and Ink Espadrille Wedge
RRP: $125 / £95 | This shoe was made to wear with a wrap dress. The mid-height wedge heel ensures they're comfortable to wear all day, plus they go with everything in a summer wardrobe, making them ideal for holiday outfit ideas. A neutral espadrille can be worn year after year making them a true staple.
Monica Vinader Large Hoop Earrings
RRP: $125 / £95 | Carrying on with the theme of classics, it's worth splashing out on gold hoops as they never go out of fashion. If you want to make more of a statement, this pair can be customized by adding on little charms, so you can personalize them and give them a different twist for each occasion.
5. How to wear a wrap dress casually
While wrap dresses suit a more formal occasion, there's nothing to stop you wearing them on the weekend either. Even super smart wrap dresses get a casual makeover with a pair of white trainers or sandals and a denim jacket, meaning you get more value per wear. Just add your best tote bag to carry everything you need for your weekend fun - and you're ready to go for coffee with your pals.
Styling tip: Casual dressing means you can get playful with you wrap dress. Miranda recommends opting for "jersey fabrics, perfect for casual dressing, and choosing a bold geometric or floral pattern for a contemporary twist".
Monki Supersoft Wrap Dress
RRP: $40 / £35 | A dress that feels as good as it looks gets the double thumbs up. The beauty of this pretty purple number is that it will look as good with flat sandals or trainers as it will with tights and knee-high boots come the cooler months.
Veja White Esplair Trainers
RRP: $130 / £100 | Ever since Meghan Markle stepped out in these eco-conscious shoes, they've been spotted on many a fashionista's feet. These ones have a summery touch thanks to the lilac accents, seeing you through the season.
& Other Stories Denim Jacket
RRP: $119 / £85 | With double denim being one of the big denim trends 2022, the best denim jackets are a no brainer. Team with your jeans or throw on over a floral frock to give it a more casual vibe. Perfect for what to pack for vacation.
6. How to wear a wrap dress for Fall
Wrap dresses aren't just for summer - they're for life! And it just takes a few tweaks to work out how to wear a wrap dress for Fall. In fact, if you're wondering how to style knee high boots, try a wrap dress with a polo neck underneath, it's '70s chic at its most stylish - think Ali MacGraw in Love Story. Alternatively throw on your best sweater over the top and you've got a whole new cozy outfit.
Styling tip: For a leg lengthening finish, Miranda recommends paying attention to where your hemline finishes.
"Just above or below the knee are usually great options" she explains. As this helps to elongate your silhouette.
Karen Millen Floral Wrap Dress
RRP: $118 / £69 | While this midi-wrap dress will work perfectly for summer weddings, throw on some tights, add some boots - both ankle and knee high work well with this length - and a cozy coat and you've got Fall stylishly sewn up.
Whistles Black Roll Neck Jumper
RRP: $96 / £79 | A black roll neck jumper is a Fall staple. While it's a stylish item in its own right, worn as a layering piece it brings added versatility to your wardrobe, helping to extend summer clothes into the next season.
7. How to wear a wrap dress with jeans
Want to get more mileage out of your wrap dress? Then here's how to wear a wrap dress with your best skinny jeans for an edgy look that will get the seal of approval from the fashion crowd. Think of the wrap dress as a long top. Unlike when you wear them with bare legs, the aim here is to show off the jeans, so tie the wrap dress tightly and make sure the underside is moved as far over as you can to create a wider split. Team with a heel and a cute tote bag for a look that's perfect for a night out with the girls.
Reformation Petite Wrap Dress
RRP: $278 / £285 | Choose a black floral wrap dress and you'll be able to wear it all through the year. While this one was definitely made for the umpteenth wedding invite, it will look just as great with ankle boots and a biker jacket come autumn.
Abercrombie & Fitch Skinny Jeans
RRP: $87.52 / £72 | Skinny jeans are not dead. Givenchy featured them in its 2022 show and while they're not as omnipresent as they were in the mid-Noughties, they're a useful staple, especially when you want to use them as a layering piece.
How to tie a wrap dress
Think of your wrap dress as a really stylish dressing gown. Slip into it as you would a robe and then wrap the left side of the dress across your body.
Find the small hole on the right-hand side of the dress seam, thread the belt through the hole.
As the dress cinches up, adjust the neckline so it's not exposing your bra. Then pull the tie around until it means the other end.
Tie them, usually on the left side of the dress, in either a knot or bow. Make sure it's tied tightly, as you don't want any embarrassing fashion hiccups - such as it coming undone or revealing too much cleavage.
How do you keep a wrap dress from gaping
Talking of which, one of the tricky things when learning how to wear a wrap dress is avoiding that gape, however, it can be done, according to stylist Miranda.
"If you are large busted, you may need to go up a size or two to get enough coverage, this will also have the added benefit of giving you more material on your bottom half which will help to create an hourglass silhouette," she advises.
She continues: "You could also take it to a seamstress, as a few strategic darts here and there can also work wonders in saving your modesty. Finally, use the stylist's favorite trick of adding some double-sided fashion tape to stick the dress to your bra which will keep it in place all day long."
The best bra to wear with a wrap dress are probably those that plunge at the front so that they don't reveal themselves during the day. Alternatively, you can try a stick-on bra - perfect for a special occasion.
How to wear a wrap dress without flashing
If you've ever worn a wrap dress, chances are you've displayed more of your thigh than you intended, but don't worry, Miranda's here with another top tip.
"Choosing a natural material will help prevent any static which may cause the dress to ride up," she recommends.
"If for any reason you feel this may be a possibility, think carefully about your underwear. You do get some very attractive 'shorts' style briefs these days which will bring a bit of extra peace of mind. Another trick would be to purchase some clothing weights and have them sewn into the hemline."
If you're looking for great shorts to wear under your dress, try the best anti-chafing shorts for a smooth and modest finish.
With over 22 years' experience in journalism, Jayne has written about a variety of subjects. She spent the start of her career within the world of film, interviewing Hollywood stars, attending premieres and lusting after red carpet outfits, and then moved into fashion, launching websites for big magazines such as Look, Woman's Own and Wedding and working with top fashion brands such as Westfield, LK Bennett and Hunter.
Career highlights include dressing up as Kylie (in gold hot pants!) for a national newspaper and working on big fashion events alongside Giles Deacon, Henry Holland and Naomi Campbell.