Best jeans for women over 60 - and there's no need to compromise on style
Looking for the best jeans for women over 60? These 11 styles are great for every occasion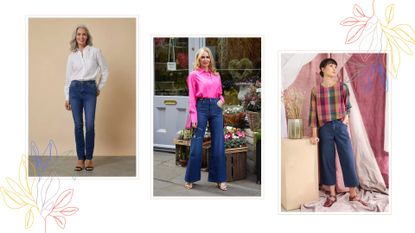 (Image credit: Wallis | Donna Ida | Seasalt)
A classic wardrobe staple, the best jeans for women over 60 fit well, look stylish and are comfortable to wear. With so many different styles available, there's something for all body types and every occasion.
Maybe you've been wearing the same style of jeans for the last few years? Or perhaps you've thought that jeans aren't for you? Just like any fashion item, when it comes to finding the best jeans it's all about getting the look and fit that works for your shape and lifestyle - whatever your age. So, what makes the best jeans for women over 60? Well, according to Jeans Queen Donna Ida Thornton, whose self-named brand Donna Ida (opens in new tab) has been dressing jean lovers of all ages, body shape is the most important thing.
"Women should look for jeans which suit their body shape and style - it should not be about your age," says Donna. "Instead think of which jeans will be best with your individual shape. Jeans are really specialist so a style, which may look amazing on your friend, may not suit you."
While we totally get that you may want to avoid denim trends or styles you wore the first time around, the good news is that denim is evolving constantly. Fabrics are softer, cuts are more flattering, and denim now comes in all washes, ensuring you can look chic in jeans, whatever your age. Discovering the best jeans for women over 60 isn't about avoiding certain styles, but finding those jeans that make you feel great.
11 best jeans for women over 60
1. Gap Mid Rise Bootcut Jeans
Best for hourglass and pear shapes
Specifications
RRP: $79.95 / £39
Sizes: 26-33 in short, regular and long leg length
Reasons to buy
+
Made with recycled cotton
+
Available in 3 leg lengths
+
Contain stretch for a better fit
Reasons to avoid
-
Limited size range
-
Available only in two washes
"The most universally flattering jean cuts tend to be flared and bootleg," says Josephine Lalwan, creator of fashion blog Chic At Any Age (opens in new tab). "These streamline the silhouette, balance curves and make the choice of footwear easier. As my figure is pear-shaped, I look good in bootcut jeans."
These bootcut jeans from Gap come in two darker washes of denim, and also contain 2% elastane to add a bit of all-important stretch. The mid-rise waist means they sit mid-way between your hips and belly button, so add some structure around the midsection and are one of the best jeans for women over 60.
The back pockets are also not positioned too low, which Josephine explains can create "the optical illusion of a lower and wider bottom area."
The price is good too, ensuring this capsule wardrobe essential won't break the bank, but will help you look your best, whatever the occasion.
2. LEVI's 501 ORIGINAL JEANS
Best for creating versatile outfits
Specifications
RRP: $108 / £100
Sizes: 23-34 in two leg lengths
Reasons to buy
+
Iconic design
+
Flattering high waist
+
Available in two leg lengths
Reasons to avoid
-
Made from cotton with no added stretch
The best straight leg jeans have to be the original 501s from Levi, which were first produced back in 1873. The straight leg, especially when teamed with a high-rise waist like these, is super flattering. They're not as tight on the legs as skinny jeans, but still have structure, meaning they work well for most occasions, from casual weekend walks to drinks with friends in the evening. The darker the color of your jean, the smarter they'll feel.
While these don't contain any stretch, the rigid original denim does mean they feel secure and contouring around midriffs and bums, offering extra lift and shaping. Although as they have no stretch they have slightly less give (although like most denim will give over time) so if you want something a little more 'relaxed' you may prefer a pair of jeans with additional elastane.
Not sure how to style straight leg jeans like these? These versatile jeans can be dressed up or dressed down and look especially smart teamed with a simple t-shirt and fitted blazer.
3. Abercrombie High Rise 90s Slim Jean
Best for range of sizes
Specifications
RRP: $90 / £75
Sizes: US: 23-37 inches / UK 4-26, in four leg lengths
Reasons to buy
+
Available in a wide variety of sizes and leg lengths
+
Flattering high waist
+
10 different washes
Reasons to avoid
-
Quite thigh fitting - not for everyone
If you've been debating skinny vs straight jeans, then this pair is a great compromise. They still hug your top half, but are slimmer around the calf, creating a much smarter feel, perfect for those smart casual outfit ideas. While they come in a huge variety of different washes, the darker options make for a better choice for a more polished feel. They also come in a brilliant range of inclusive sizes and varied leg lengths.
Donna Ida suggests a slim or skinny jean is a must because it's a style the suits the majority of women and can be worn in a multitude of ways, all year round.
"Team with knee-high boots in winter and swap for cute ballet pumps or loafers in summer," she suggests.
If you're not sure how to style jeans like this or are conscious of your bottom half, the key is to choose longer-line tops. Team them with a slim sweater or t-shirt with a trench coat or longer blazer for a chic look. For more casual looks an oversized shirt with loafers will work brilliantly with this style.
Want to show off your curves? Opt for fitted tops, or a relaxed knit that you can half tuck in at the waist, and try adding one of the best designer belts to create a focal point.
4. Donna Ida Minnie Flare
Best for creating a modern look
Specifications
RRP: $247.09 / £205
Sizes: Sizes: 23-34
Reasons to buy
+
Creates a waist
+
Modern look
+
Contains some elastane for stretch and comfort
Reasons to avoid
-
Can't be worn with all shoe types
While we don't always advocate wearing items you wore the first time around, flares are the exception! We're not talking huge bell bottoms, however, but instead a chic wide-leg jean that has seen increasing popularity for the fashion trends 2023. One of the big denim trends 2023 they're an easy way if you want to inject something contemporary into your wardrobe.
These ones are fabulous thanks to the high waist, which will contour curves, making them one of Donna Ida's most popular styles right now.
"We call our Minnie the Flare a 'magic' jean because everyone from Vogue Williams to Trinny Woodhall adores this super soft style," says Donna. "It is very comfortable and has waist cinches to accentuate the waist." And makes for one of the best jeans for women over 60.
Not sure how to style flared jeans for 2023? When you have volume below, the key is to keep everything on top slimmer, so tuck in a pretty blouse or t-shirt for a streamlined look. You can then throw on a tailored blazer or gilet to add polish and extra warmth. The perfect style for a night out, these flares would look great with a block heel and something sequined on top.
5. Beaufort and Blake Ecru Mom Jeans
Best for summer
Specifications
RRP: $95.15 / £79
Sizes: 6-16
Reasons to buy
+
Great color for spring/summer
+
Made from 100% cotton
If white jeans outfits aren't quite your thing but you want something lighter for the warmer months, go for cream or ecru jeans, which are just as versatile as white jeans. These ones don't have any stretch, but the rigid denim means they will keep their shape well. The high waist is super flattering for all body shapes.
Not sure how to style mom jeans? The looser leg and tapered ankle skim over thighs for a casual, comfy fit and they look great paired with a tucked-in white shirt or a classic Breton t-shirt. As with all the best mom jeans, these finish at the ankle, so pair them with ballet pumps or flat sandals for a simple summery look.
6. M&S Magic Shaping Straight Leg Jeans
Best for a slimming effect
Specifications
RRP: $68.99 / £45
Sizes: 6-24, in short, regular and long
Reasons to buy
+
Great range of sizes and leg lengths
+
Special sculpting denim
+
Made from responsibly sourced cotton
Reasons to avoid
-
High waisted, which isn't for everyone
Josephine says not to dismiss straight-to-market brands when it comes to finding the best jeans for women over 60.
"Marks & Spencer in particular have a good range of jeans as you can choose different leg lengths short, regular and long," she says.
The British clothing brand has an edit of 'Magic Shaping' jeans that use clever technology to contour midriffs and perk up bums for a streamlined finish. They also come with a gap-proof waistband, which is great if you are an hourglass figure with a small waist and bigger bottom.
The black jeans from its Magic Shaping range are perfect for a minimalist capsule wardrobe as they will literally go with everything. The dark color and simple straight shape mean that they will work for dressier occasions, teamed with a pretty blouse and a low heel. Not sure what to wear with black jeans for day? A bright knit adds a pop of color or perhaps keep it simple with a white shirt and your best leather jacket. They're also available in white, grey, light and dark denim, providing you with lots of options.
7. Wallis Harper Straight Leg Jeans
Best petite jeans
Specifications
RRP: $55 / £49
Sizes: 8-18
Reasons to buy
+
Contains elastane for comfort
+
Classic style
Reasons to avoid
-
Not the widest range of sizes
The best petite jeans are ideal for those under 5'4 and can even make you look taller if cut well.
"Slimmer or straighter cut, high waisted jeans work well on petites," says Josephine.
These straight cut petite jeans fit the bill perfectly. They skim the thigh, rather than cling and finish just below the ankle to give the illusion of legs that go on forever. Available in 5 shades, the darker indigo or black washes also help to add the illusion of height, particularly if teamed with a coordinating, pointed-toe shoe or boot.
When you're looking for stylish tops to wear with jeans like this, Josephine suggests that something with volume will not only look stylish but also help to lengthen your frame.
"Adding a little more volume on the top in a matching or toning color will help elongate the body," she advises, as it draws the eye up.
8. Seasalt Wide Leg Cropped Jeans
Best plus size jeans
Specifications
RRP: $84 / £69.95
Sizes: 8-22
Reasons to buy
+
Wide range of sizes and leg lengths
+
Made from soft, organic cotton
Reasons to avoid
-
Cropped style can be tricky to wear
The best jeans for curvy women are ones that enhance your curves, however, cropped wide leg jeans like these are great for all shapes. The wider leg skims over thighs, stopping at the ankle for a slimming effect.
To create an hourglass silhouette, tuck or half-tuck in a top to highlight your waist. This will also help to balance out the wider hem at the bottom of the jeans. While the cropped nature of this pair of jeans lends itself to wearing with sandals and ballet pumps, an ankle boot will also work come the colder months - but make sure it's just long enough to tuck under the jean leg. It's all about proportions, don't be afraid to try looks on and have a play with existing items in your wardrobe.
Regardless of your shape or size, Josephine suggests trying on jeans at home is often easier than in the store.
"Try on your jeans with the shoes or boots that you intend to wear them with to make sure the length is correct," she says. "Make sure you also have a good full-length mirror available to view all angles. Check the waist fits well not too loose or too tight and that the pockets are well placed."
You can also try sitting down in the jeans to ensure comfort and even take snaps of how you've styled them to remind you of your favorite looks on busy mornings.
9. H&M High Waisted Wide Leg Jeans
Best budget jeans
Specifications
RRP: $29.99 / £24.99
Sizes: 4-22
Reasons to buy
+
Good price point
+
Wide range of sizes
+
Flattering high waist
Reasons to avoid
-
Flares aren't as versatile as some styles
If you're looking for the most flattering style of jeans, Josephine says that high waisted are the way to go.
"High rise or styles that sit on the waist are more suitable as we age. They help elongate the leg and contour your waist," she says.
A high waist mixed with a leg-lengthening flare, as in these H&M jeans, means you've got the best high waisted jeans around, regardless of your age. Available in a variety of washes, the pink pair taps into the fashion color trends 2023 and are perfect for adding a pop of color to your wardrobe.
Not sure how to style high waisted jeans like these? The key is to tuck in your top half or choose a slimmer-fitting top to counteract the volume on the bottom. A simple t-shirt worn with a blazer or shacket is a good choice. Finish off with a stylish loafer or a block heel.
10. Good American Always Fits Good Classic Boot Jeans
Best designer jeans
Specifications
RRP: $155 / £170
Sizes: 0-32
Reasons to buy
+
Size inclusive range
+
Guaranteed to always fit, regardless of if you put on weight
If we told you there was a pair of jeans that would always fit you regardless of your changing body shape, would you believe us? Well, that's exactly what the Always Fit range from Good American does. This pair of jeans features a clever design that ensures they fit up to 4 sizes, adapting to your body's changes, and guaranteeing the perfect fit every time. That's what makes these the best designer jeans for sure.
Bootcut is just one of the different types of jeans for women over 60 that will work with most things in your wardrobe. How to style bootcut jeans depends on the look you're going for, but generally, keep the top half more fitted to balance out the gently flared hem.
Dressed up with a fitted, shorter-length blazer and heels they are perfect for a meal out, however, team with ankle boots and a sweater and you've got the perfect weekend look.
11. Next Super Stretch Soft Pull-On Denim Leggings
Best for comfort
Specifications
RRP: $39 / £26
Sizes: 10-22
Reasons to buy
+
Wide range of sizes and leg lengths
+
Available in slim and skinny fit
+
Made with elements of recycled polyester and no rivets for sustainability
Reasons to avoid
-
Leggings, rather than jeans
If you find traditional denim jeans uncomfortable to wear, these pull-on denim leggings are a great alternative to the best jeans for women over 60. Made from a soft cotton blend, there are no buttons, so you get a smooth front and the stretch offers plenty of comfort.
A longer-line top, jumper or blazer will work best with these jeans. Although as the fabric used is thicker than generic leggings, you can wear shorter tops with ease, especially as they have a faux waistband, rather than just elastic showing.
Working out what shoes to wear with leggings like these can be tricky as well, however, ballet pumps, trainers, ankle boots and even the best knee-high boots all look great with this style, proving that they're super versatile.
Should a woman over 60 wear skinny jeans?
"Yes, absolutely!" says Donna. "If you feel comfortable in skinny jeans, they can look very chic. A pair of dark blue, black or dark grey jeans are the most flattering and versatile in your wardrobe."
She says that the best skinny jeans will be made with a good weight of denim so that they're not too thick or too thin. Added stretch is also essential, so you can feel comfortable.
Josephine says the key to choosing any jean shape is to try them on and move around in them.
"Always be mindful of your lifestyle when shopping for jeans," she says. "Think about sitting, leaning over and bending down when trying them on."
How should jeans be worn after 60?
"Jeans are such a wardrobe staple they can be worn in so many different ways and they always look effortlessly cool and modern," says Donna.
"A classic way would be with a classic white tee, blazer or trench coat and fresh white trainers."
As well as finding the best jeans for your body type, Donna suggests just trying different styles to help create various looks.
"A flare or a cropped style can work really well for a relaxed everyday look," she says. "For evening, think about switching up your look with a heel and add a blouse with plenty of detail finished off with statement accessories."
With over 22 years' experience in journalism, Jayne has written about a variety of subjects. She spent the start of her career within the world of film, interviewing Hollywood stars, attending premieres and lusting after red carpet outfits, and then moved into fashion, launching websites for big magazines such as Look, Woman's Own and Wedding and working with top fashion brands such as Westfield, LK Bennett and Hunter.
Career highlights include dressing up as Kylie (in gold hot pants!) for a national newspaper and working on big fashion events alongside Giles Deacon, Henry Holland and Naomi Campbell.