These are the best jeans on Amazon to shop right now
Looking for the best denim to add to your basket? Here are 19 of the best jeans on Amazon for 2023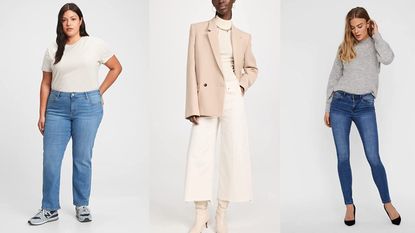 (Image credit: Gap, Paige, Vera Moda)
From iconic Levi's to designer denim, we've sourced 19 of the best jeans on Amazon in 2023. It may not be the first place you think of when it comes to finding that perfect pair, but once you see the extensive range available you'll wonder why you shopped anywhere else.
Whatever cut of denim you prefer, when it comes to the best jeans, there are a wealth of options just a click away on Amazon. A selection at all price points, whether you're looking for the best designer jeans, such as 7 For All Mankind, Calvin Klein and Frame, or more budget-friendly iterations, the best jeans on Amazon will make nailing your perfect fit a breeze. Of course, buying jeans inevitably results in quite a big try-on, so you may want to use Amazon as a shopping portal for great prices and selections, once you have worked out what type of jeans you need in real life.
Cat Farrell, Fashion Editor at Amazon Fashion Europe explains, "Denim is one of our strongest product categories, with a growing range of brands and styles from Levi's to Tommy Hilfiger, whatever your size, taste or budget Amazon Fashion is guaranteed to have the style you are looking for."
19 best jeans on Amazon for women to shop in 2023 for style, quality and fit
It might not be where you think you'll find the latest denim trends 2023, but when it comes to Amazon, there isn't much that you can't get delivered to your door at lightning speed. Upping its style game in recent years, Amazon has been working hard to carve itself out a place in the fashion landscape and with many of us already signed up to Amazon Prime, using this perk to buy the best jeans on Amazon, means speedy delivery, at no extra cost.
Finding the perfect jeans is never easy, especially with the range of options available, so we've searched through hundreds of pairs of jeans on Amazon and selected the best 19 pairs to shop now and even explained how to style the jeans.
1. Levi's Plus Size 315 Shaping Bootcut Jeans
Best plus size jeans
Specifications
RRP: from $33.54 / from £27.85
Sizes: US: 14-24 / UK: 16-26
Inseam: 28-38"
Reasons to buy
+
Machine wash
+
Try before you buy
+
Timeless style
It can be hard finding the best jeans for your body type, which is why a well-established jean brand like Levi's is a good place to start. Levi's knows everything there is to know about denim so you're guaranteed to get good quality and fit for your money. If you're looking for some of the best plus size jeans for everyday wear then this American clothing brand is a great choice.
The shaping bootcut is one of the best jeans for curvy women. Crafted from 50% cotton they have a nice amount of stretch, to contour your curves, whilst the rigidity of the denim still helps to shape your figure. The bootcut fit is ideal for balancing out a curvier top half, thanks to the wider hem, so opt for a more silhouette-hugging top to complement the wider hem.
---
2. Paige Frankie Jeans
Best cropped jeans
Specifications
RRP: from $121.37 / from £103.23
Sizes: US: 23-34 / UK: 23-34"
Inseam: 25.25"
Reasons to buy
+
Fashion forward
+
Different silhouette
With spring just around the corner, it's a good time to invest in the best white jeans. This cropped wide-leg pair from Paige is perfect as you can wear them now with boots or later in the year with sandals and loafers. The LA-based brand provides a sophisticated but casual aesthetic. The higher price point provides quality and durability, as Paige Adams-Geller, Co-Founder and Creative Director of PAIGE says, "We use only the finest fabrics and materials while each style is designed to deliver an unparalleled fit."
One of the best jeans for tall women, this high-waisted cropped style looks best with a slim-fitting top. We'll be wearing these in top-to-toe tones with creams, whites, and tan for a fresh new-season vibe.
---
3. Vero Moda Tall Jeans
Best Tall Jeans
Specifications
RRP: from $30.34 / from £25.24
Sizes: US: XS-XL / UK: XS-XL
Inseam: 36"
Reasons to buy
+
Try before you buy
+
Extra long leg length
It can be tough finding jeans long enough when you're tall, especially if you want a style you can add a fashionable hem roll-up to. This pair from Vera Moda comes in a super long 36" inseam providing plenty of length for those longer limbs. This classic skinny cut would be a versatile addition to any wardrobe, for ideas on how to style black jeans; why not try trainers and a sweatshirt during the day or heels and a lace camisole for the evening.
Vera Moda jeans have a super affordable price tag, leaving you more money to spend on some luxe accessories to elevate your look. Finish off with your best leather jacket for a laid-back, cool look.
---
4. Lee Legacy Relaxed All Cotton Straight Leg Jeans
Best straight cut jeans
Specifications
RRP: from $16.86 / from £31.39
Sizes: US: 27-38 / UK: 28-36"
inseam: 31-38"
Reasons to buy
+
3 choices of wash
+
Machine washable
Bored of bootcuts? Sick of your best skinny jeans? Update your denim wardrobe with a modern straight cut. The perfect wear-anywhere jeans, they can be dressed down for daywear with trainers just as easily as they can be styled up with heels for nighttime. We love this classic blue wash which has a true vintage feel.
Lee makes some of the most comfortable jeans, having been in business for well over a century you can trust its quality and craftsmanship. This style is made from 100% cotton, so they have a more rigid feel with very little stretch, which provides a more structured look and feel for greater sculpting. One of the key looks for next season, when it comes to how to style straight leg jeans, they pretty much go with everything.
---
5. Wrangler Flare Jeans
Best retro-inspired Jeans
Specifications
RRP: from $35.27 / from £29.29
Sizes: US: 24-38 / UK: 24-38"
Inseam: 32-34"
Reasons to buy
+
Try Before You Buy
+
Machine wash
+
Good size range
Reasons to avoid
-
No images of jeans on model
Everyone needs a pair of flares in their wardrobe and fans of retro-inspired denim will love this high-waisted pair from Wrangler. The flared cut is great for adding some curves to straight up-and-down silhouettes, as well as easily balancing out broader shoulders and larger busts. The front pocket detailing gives this pair a designer-led feel, paying homage to styles of the period. When it comes to how to style flared jeans, it's important to balance out the wider hem shape by teaming your jeans with a slim-fitting top. You can go for a '70s-inspired billowing blouse, just make sure to tuck or half-tuck your top in to highlight your waistline. Flares can be worn with any shoe, but they look fantastic with heels or heeled boots in order to lengthen legs. Or stay true to the brand's roots, and embrace Wrangler's Western influences pairing with the best cowboy boots.
---
6. Tommy Hilfiger Como Heritage Skinny Fit Jeans
Best skinny jeans
Specifications
RRP: from $53.05 / from £44.05
Sizes: US: 24-38 / UK: 24-38"
Inseam: 26-34"
Reasons to buy
+
Good size range
+
Try before you buy
+
6 washes to choose from
Tommy Hilfiger offers the ultimate in preppy, all-American lifestyle vibes in every piece of clothing. While many feel that skinny jeans is not currently at the height of fashion, when it comes to flattering jeans, they're hard to beat. Ticking all the boxes, with a high-rise waist and six washes, these are the kind of skinny jeans that will help underpin your capsule wardrobe, whatever the season.
---
7. Esprit Women's Jeans
Best grey jeans
Specifications
RRP: from $12.49 / from £10.37
Sizes: US: 25-34 / UK: 25-34"
Inseam: 30-34"
Reasons to buy
+
Affordable
+
Try Before You Buy
+
Machine Wash
These grey skinny jeans are giving us '90s fashion trends, Kate Moss nostalgia vibes. Remember her perfectly fitted grey skinnies that she wore endlessly with black ballet pumps? A classic pair of skinny jeans never really date (despite what the runway may say), they're a style staple that can easily be transformed into a knock-out evening look with a black blazer and metallic heels in a flash. A refreshing change to classic indigo hues, these grey-washed jeans are available with an inseam of 30-34, so you can get the right ankle-skimming finish for you.
---
8. G -Star Raw Deck Ultra-Wide High Leg Jeans
Best wide leg jeans
Specifications
RRP: from $34.61 / from £28.74
Sizes: US: 23-33 / UK: 23-33
Inseam: 28-34"
Reasons to buy
+
Try Before You Buy
+
Machine washable
+
14 washes to choose from
Hark back to the Seventies with these super wide leg flares with their pale wash adding to their retro feel. This style can be equally flattering on tall body shapes as it can on petite frames. The high-waisted style elongates your frame giving the illusion of more height. For a stylish top to wear with jeans, try teaming these with a pretty floral blouse or a white vintage top to lean into the aesthetic.
The best wide leg jeans are a key denim style for the fashion trends 2023. giving a nod to the Y2K trend revival. For maximum style points, wear long so they just cover toes of heels, but not so puddled that they drown out your shape.
---
9. Noisy May Mom Jeans
Best Mom jeans
Specifications
RRP: from $25.14 / from £20.88
Sizes: US: 25-32 / UK: 25-32"
Inseam: 30-32"
Reasons to buy
+
Affordable
+
100% cotton
+
Try before you buy
Mom jeans have quickly found their place as a denim favorite thanks to their versatility. The best mom jeans outfits can be compiled of jeans and a classic shirt tucked in, a knitted sweater, or a sleek and silky top, the list is endless.
If you're new to the mom jeans world then a slim-fitting pair like this is a great place to start. For those looking to make more of a statement, opt for wider cuts that'll give you more of an '80s silhouette. The tapered ankle means they're ideal for showing off any of the latest shoe trends.
---
10. Calvin Klein High Rise Skinny Jeans
Best versatile jeans
Specifications
RRP: from $39.99 / from £34.01
Sizes: US: 24-31 / UK: 24-31"
Inseam: 29"
Reasons to buy
+
Machine washable
+
Wear anywhere
+
Affordable designer price-tag
Finding a pair of jeans that crop perfectly with your boots and sit just right with your sandals can be hard - but these Calvin Klein's do just that. These slim crop jeans tick all the footwear boxes; from tucking into knee high boots, to falling over strappy sandals, this cut suits them all.
A designer jeans brand with an affordable price tag makes these jeans a great choice. Calvin Klein jeans are super durable and the indigo wash renders them ideal for every day wear.
---
11. Amazon Essentials Slim Straight Jean
Best affordable jeans
Specifications
RRP: $32.37 / £26.80
Sizes: US: 4-20 / UK: 8-22
Inseam: Short & Long
Reasons to buy
+
Reasonably priced
+
Machine wash
+
Plus size
A good pair of jeans can come with a hefty price tag, but you don't have to pay out big to get solid denim jeans. Amazon's Essentials range offers affordable jeans, that keep prices low, whilst listening to customer feedback to help fine-tune every detail, ensuring quality, fit, and comfort.
Amazon Prime members get the chance to test out the products they commit to purchase, with the brand's 7-day, 'Try before you buy' scheme, which when it comes to online jeans shopping could be incredibly useful.
---
12. Good American Good '90s Jeans
Best distressed Jeans
Specifications
RRP: from $154.99 / from £131.79
Sizes: US: 0-20 / UK: 6-20
Inseam: 31.5"
Reasons to buy
+
On-trend
+
Fashion-forward
Reasons to avoid
-
Distressed denim is not to everyone's taste
For a casual weekend look, distressed jeans can be a welcome addition to your wardrobe. The key to wearing them is to keep the rest of your outfit finely tuned, so you gain an 'off-duty' look without looking scruffy. Look for heavy-duty denim like these Good American jeans as they will hang nicely, sitting comfortably on the waist, falling into a more relaxed feel at the leg. Wear with a striped Breton top tucked into your jeans and a blazer slipped on over the top.
We like the '90s look to these jeans and the crossed belt loop adds for an interesting detail. Remember there's always the option to tailor the hem of your jeans so they sit at just the right length for you.
---
13. Joe Browns Vintage Flared Jeans
Best vintage style jeans
Specifications
RRP: from $40.86 / from £33.93
Sizes: US: 8-18 / UK: 8-18
Inseam: not specified
Reasons to buy
+
Try Before You Buy
+
Machine wash
It's important when buying flared styles like these to look at the elastane count, this tells you the amount of stretch that's in the denim. With a flared pair of jeans, you want them to hug at the thigh and fall nicely below the knee in a structured form, therefore they need a certain level of stretch in order to contour to your curves.
This Joe Brown pair is ideal for adding curves, while the exposed button fly and front pockets give a vintage feel. Pair with a fine-knit turtle neck tucked in, to embrace the look of the era, completing your smart casual outfit idea with some spring-ready cowboy boots.
---
14. Democracy Petite Straight Jean
Best petite jeans
Specifications
RRP: $68.45 / £58.20
Sizes: US: 2-16 / UK: 6-18
Inseam: 30"
Reasons to buy
+
Good for petites
+
Figure fixing solutions
+
7 different washes
These petite jeans from Democracy use an innovative design to allow for an adaptable, stretchy and flattering wear. A pair of slimming jeans, they feature shapewear panels and a hidden inner elastic waistband, to hold you in and contour your shape.
Democracy was founded on the principle of 'Curve Equality' according to its own brand website and these jeans account for that as they come in petite and plus making them an inclusive choice for all body shapes. Available in seven washes, the signature curved back yoke and strategically placed pockets will also give your bum a lift.
---
15. Gloria Vanderbilt Amanda High Rise Tapered Jean
Specifications
RRP: $72.86 / £60.60
Sizes: US: 2-18 / UK: 6-18
Inseam: 29-33"
Reasons to buy
+
Petite and short inseam options
+
Machine wash
With more than 60 million pairs sold, Gloria Vanderbilt is a brand that's firmly earnt its place on the denim map. Launched by a woman, for women, Gloria Vanderbilt is best known for the Amanda slimming jean. Available in short and petite sizes, these jeans offer a fresh look to any new season outfit and make them some of the best white jeans on Amazon.
There are many variations of white jeans outfits but in our opinion, you can never go wrong by wearing them with a classic blue denim shirt and chic tan loafers for a stylish and relaxed look.
---
16. 7 For All Mankind Dojo Wide Leg Jeans
Best designer jeans
Specifications
RRP: $87.20 / £74.15
Sizes: US: 24-32 / UK: 24-32
Inseam: 34.25"
Reasons to buy
+
Meticulous design
+
On trend
If you're investing in designer denim, you want to get it right. For a current look, these '90s-inspired wide-leg jeans are ticking all the 2023 style boxes. The pale wash is a nice alternative for the warmer months and will be a popular choice for many this year. As Francesca Toninato, CEO of 7 For All Mankind says, "In terms of washes; clean rinses, marbling and bleached denim are all very much on-trend for the coming seasons".
This paler shade of denim always works well styled with white, khaki, and pale grey. Finish off with tan-colored accessories and fine gold jewelry for a spring/summer-ready look.
---
17. GAP Classic Straight Fit Jeans
Best body inclusive jeans
Specifications
RRP: $35.99 / £30.60
Sizes: US: 24-35 / UK: 24-35"
Inseam: Short-Long
Reasons to buy
+
Sustainable
+
4 washes to choose from
Part of GAP's water-conserving Washwell program, the jeans have been crafted in a more responsible way to look after our planet. Available in four different washes, so if the cut is good for you, we suggest stocking up. While the inseam exact measurements are not revealed, the jeans are crafted in short, regular and long lengths, making them suitable for different heights, although waist-wise, the jeans stop at a size 18. Straight leg jeans have made a major comeback to the fashion sphere in recent months, to add a directional feel, team your jeans with a pointed ankle boot and a crisp, white shirt.
---
18. Soly Hux High-Waisted Straight Cargo Jeans
Best cargo jeans
Specifications
RRP: from $41.99 / from £35.70
Sizes: US: 26-31.5 / UK: 26–31.5
Inseam: not specified
Reasons to buy
+
Fashion Forward
+
New season style
Reasons to avoid
-
Unknown inseam measurement
Largely influenced by the Y2K resurgence, cargo pants are a big trend for 2023, so it was only a matter of time before this look infiltrated denim. These sleek dark wash jeans feature cargo-style pockets down the legs for a polished way to wear the look. When it comes to how to style cargo pants for a more elevated take on the look, wear with a pair of heels and a simple silk cami for added sophistication.
---
19. Paige Ultra High-Rise Cindy Jeans
Best high-rise jeans
Specifications
RRP: $87.81-219 / £74.66-186.22
Sizes: US: 23-34 / UK: 23-34
Inseam: 26.75"
Reasons to buy
+
Premium fabric
+
Longer lasting durability
+
Stretch for comfort
Uber trendy LA brand Paige is best known for its high-waisted jeans, and this ultra-high cut takes them (literally) to another level. The brand has a big celebrity following with the likes of Gwen Stefani, Kate Moss, and Jessica Biel all spotted in Paige jeans over the years.
One of the best jeans on Amazon, with a high-waisted cut, these. Effortlessly cool, they look great styled with pumps, trainers or sandals. Keep your top simple, lightweight, and tucked in, to show off your waist. What are you waiting for? Grab yourself a slice to LA cool and add some Paige jeans to your basket.
Anna Woodham is a well-established stylist with nearly 20 years of experience under her fashionably tied belt. She has styled numerous celebrities such as Amanda Holden, Holly Willoughby and Claudia Winkleman to name a few and has endured a very tense moment interviewing Kim Kardashian during which her dictaphone decided to cease working!
Anna has worked for titles such as Stella, Grazia Middle East, The Telegraph Magazine, YOU magazine and was formerly Fashion Editor at S magazine. Anna also writes a blog called The Mothershop; a curated edit of the best maternity wear on the market.