What to wear to a winter wedding to ensure you're the best dressed guest
Discover what to wear to a winter wedding with our comprehensive style guide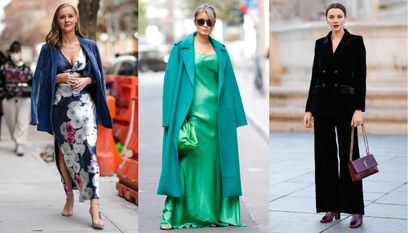 (Image credit: Getty)
Panicking about what to wear to a winter wedding? We get it. Dressing for nuptials in cooler months throws up significant sartorial challenges. While summer months naturally lend themselves to romantic floral frocks, winter weddings require greater outerwear and shoe consideration thanks to changeable weather.
When it comes to what to wear to a winter wedding, the brief can vary quite drastically, from cozy Christmas-themed celebrations to glamorous black-tie events, winter weddings usher in plenty of style conundrums. With a need for well-thought-through outerwear and potential more weather-hardy shoes, you'll also likely spend the majority of the day indoors, where you'll want to keep cool and comfortable too.
The first thing to consider is any dress code stated on the invitation, so that's everything from cocktail and black tie, to relaxed day attire. After that, the normal rules for what to wear to a wedding apply. These include, not wearing white unless requested to by the bridal party and, as a general rule, do not wear black - this can sometimes be flexible for black tie events, but it's best to ask the bridal party if you're considering a black outfit. Beyond this, it's really just about keeping your body temperature regulated. The key difference between winter and summer weddings is that a coat or jacket becomes essential. Shift from lightweight fabrics like chiffon, cotton, and lace to more substantial and luxurious fabrics such as silk, satin, and velvet, topped with a coat in faux fur, cashmere, or wool.
What to wear to a winter wedding for an appropriate and stylish outfit
Thanks to the impending holiday season, finding winter wedding outfits should be a breeze. With plenty of sparkles - hello sequin skirts, the best dresses, and party-ready co-ords aplenty hitting the shops, in fact, this is actually an ideal time of year to purchase occasionwear.
Unlike the summer season, that's all about pretty pastel hues and bold floral-inspired tones, the winter season relies on a richer and darker palette, with jewel tones and metallic being particularly popular. Seek out fabrics with sparkle, lustre and embellishment to not only add joy to the wedding but to give a nod to the festive period too.
"Dressing for a winter wedding is easier than you might think. The stores are full to bursting with outfits for the holiday season and many of these can be spun easily into winter wedding looks. Opt for sparkle and high-shine fabrics to embrace the mood of the season and occasion," says Rivkie Baum, woman&home fashion editor.
1. Printed midi dress
For winter weddings, you can't really go wrong with one of the best midi dresses in a new season print. Instead of big, bold blooms, look instead to smaller, and more intricate floral designs in slightly darker tones. Swap pastels for the winter fashion color trends 2022, such as deep purples, rich greens, and earthy reds. If florals aren't your thing full-stop, then animal print is always chic and is also one of the big fall 2022 fashion trends 2022, but try lesser-seen zebra over classic leopard. Or, dress to match the mood with a kitsch love-heart print. As for shape, a wrap dress will flatter all body shapes with ease and allows you the option of adjusting the waist tie based on your preferred fit.
A styling tip… If you're opting for a V-neckline, add a necklace for extra interest.
Our fashion editor recommends…
(opens in new tab)
Ghost Iris Crepe Midi Dress
RRP: $265 / £149 | Mixing two ditsy floral prints gives this midi a vintage feel. Extra points for the drop waist and soft puff sleeves too. The heavy crepe fabric is great for a wedding, as it won't crease throughout the day. Just add the best designer heels.
(opens in new tab)
RRP: $39.99 / £29.99 | The satin fabric elevates this zebra print dress from everyday wear to party-ready attire. Pair with a bright bag or shoes to add a splash of color to an otherwise monochrome look and slip on a faux fur jacket for added warmth.
(opens in new tab)
Aspiga Purple Hettie Dress
RRP: $255 / £180 | Generously sprinkled flecks of gold mean this deep purple dress catches the light beautifully. The tiered shape is a joy to dance in as the fabric will move beautifully. In a trend-worthy berry hue, the high neck and long sleeve is ideal for winter.
2. Co-ords
If you're struggling to justify the expense of investing in a new outfit for a winter wedding, a co-ord is a great way to max out your cost-per-wear after the event by wearing the ensemble on repeat as separates. While this summer's co-ords were patterned and crafted from natural fabrics like cotton and linen, winter's iterations come in a variety of block colors and seriously luxe fabrications. Think pleated lurex, head-to-toe sequins, and high-shine satins for a statement two-piece that will ensure you stand out from the crowd. A great alternative to the best wedding guest dresses. A set with sleeves will negate the need for a jacket, but if you're braving an asymmetric or camisole top then a blazer slung over your shoulders is the perfect finishing touch.
A styling tip… If you've opted for a blazer co-ord opt for a contrasting top or blouse underneath to break up the look.
Our fashion editor recommends…
(opens in new tab)
Zara Pleated Jacquard Top
RRP: $27.90 / £17.99 | The simple shell shape of this pleated top makes it really easy to wear alone or under a jacket, and it will look just as good with high-waisted jeans after the main event. Available in blue and khaki too for those that find pink too bold.
(opens in new tab)
Zara Pleated Jacquard Trousers
RRP: $39.90 / £25.99 | With an elasticated waist, these fancy pants make for a superbly comfortable winter wedding outfit. Wondering what to wear with wide-leg pants, remember to keep the top half of your outfit fitted to balance the leg shape.
(opens in new tab)
RRP: $99.99 / £59.99 | Weddings require you to be on your feet for a long time, and a block heel is far more comfortable than a spindly stiletto. The slightly square toe gives these a directional disco feel, especially in this zesty orange hue and patent finish.
3. Jumpsuit
For maximum impact for what to wear to a winter wedding but with minimum effort, a flattering jumpsuit is your one-and-done sartorial safety net. The beauty of a jumpsuit is it does the heavy lifting for your outfit in one swoop, so all you really need to worry about is accessories. If you're opting for a sleeveless design, square and high-necks remain popular for the season ahead. For styles with sleeves, look to wrap and sweetheart necklines for the ultimate flattering fit. Or, keep things interesting with an asymmetric jumpsuit. A block color is easier to style and less likely to date, but prints do have the advantage of not showing creases quite as clearly.
A styling tip… The length and the placement of the waist are trickier to get right if you're tall or petite. Belts can help to ensure your figure isn't lost and add proportion and shape to your outfit. Look to dedicated ranges for just the right fit.
Our fashion editor recommends…
(opens in new tab)
Whistles Maisy Shirred Velvet Jumpsuit
RRP: $339 / £179 | This gorgeous jumpsuit is worth every cent of its price tag. The shirred waist adds definition while the luxe velvet fabric hangs beautifully and feels seasonally appropriate. The midnight blue shade is more interesting than classic black.
(opens in new tab)
Reiss Lucinda Bridesmaid One Shoulder Jumpsuit
RRP: $548 / £298 | It might be part of Reiss' bridesmaid range, but there's no reason you can't wear this as a guest too. The asymmetric neckline is really elegant, with extra interest of the trailing tie detail. Define your waist with a statement buckle belt.
(opens in new tab)
Mango Geometric Diamond Print Jumpsuit
RRP: $119.99 / $69.99 | The geometric print, the nipped-in waist, coupled with the tuxedo neckline – we could go on about the myriad things we love about this jumpsuit. Keep the rest of the styling simple, with a pointed court and envelope clutch.
4. Skirt and blouse
A skirt and blouse combination might require slightly more thought than a throw-on-and-go dress when it comes to what to wear to a winter wedding, but it does give the opportunity to play a little more with texture and print. Balance out a luxurious satin, sequin, or chiffon skirt by teaming it with your best shirt in crisp cotton. This is one of the scenarios in which white is completely appropriate, as it will be offset by the color in the bottom half of your outfit. A midi that hits mid-calf is the ideal length to keep you warm, while a mini will give you the opportunity to show off your legs. Add a closed shoe with a pointed toe or strappy sandal to elongate your frame.
A styling tip… Take proportions into account. If your skirt is fit-and-flare, you'll need a form-fitting top, while a pencil skirt means you can take more volume on the top half.
Our fashion editor recommends…
(opens in new tab)
M&S Collection Shirred Longline Blouse
RRP: $32 / £29.50 | A great layering piece, the lightweight fabric means this blouse can be tucked in without adding too much bulk. In a directional purple hue, lilac tones have been a big part of the fashion trends 2022 and will remain a key fashion trend 2023.
(opens in new tab)
River Island Green Satin A-Line Midi Skirt
RRP: $91 / £49 | A statement skirt if ever we saw one. The circle cut has plenty of structure and holds its shape really nicely. Play it safe and pair the jade green shade with black or white, or mix it up with statement bright tones such as lilac or hot pink.
(opens in new tab)
Oliver Bonas Disco Ball Silver Box Crossbody Clutch
RRP: $80 / £55 | Nothing sparks conversation quite like an amazing handbag. This disco ball design is guaranteed to liven up any outfit, with enough space to store all your party essentials inside. Reuse it as part of your Christmas party outfits.
5. Colorful dress
Winter wedding styling stereotypically means a shift towards darker colors, so opting for a bright, color-pop dress will ensure you stand out. Wondering what color suits me? Use your own wardrobe as a starting point and see what hues you naturally gravitate towards. Pick out the shades that always make you feel good, the ones you can rely on to perk up your complexion when you're tired or to take the edge off a bad hair day. Alternatively, take your hair color into account, especially if you're prone to changing your hair color regularly. As a rough starting point, brunettes look great in reds, blondes suit pinks, redheads are beautiful in green and grey hair is striking with blue.
A styling tip… For a real matchy-matchy look, double down with accessories in the same color as your dress.
Our fashion editor recommends…
(opens in new tab)
Omnes Riviera Maxi Dress in Green Zebra Print
RRP: $73 / £65 | A slip dress with a twist, it's the extra details that make all the difference. The tie-back shows off a little extra skin, while the jacquard zebra stripes break up the block color adding interest. Slip on a tuxedo blazer for a smart cover-up.
(opens in new tab)
Nobody's Child Orange Niamh Midi Dress
RRP: $65 / £59 | You can always rely on Nobody's Child for a good dress. Embossed with tiny hearts, this orange number is ideal for what to wear to a winter wedding. As a bonus, the fabric uses more than 50% less water than conventional cotton.
(opens in new tab)
Never Fully Dressed Yellow Maxi Wrap Dress
RRP: $135 / £99 | A wrap dress is a smart and flattering style to invest in, as this timeless shape will never date. The V-neckline and side split balance out the long sleeves, while the belt can be tied differently depending on how fitted you want the dress.
6. Tuxedo
Don't feel your best in a dress? Borrow from the boys instead with a luxe tux. Starting from the shoulders, it's the cut that separates a good suit from the best tuxedos for women. Padded shoulders will make a real statement, and are an easy way to balance out your hips, narrowing a waistline in the process. Double-breasted styles are great for creating the look of a fuller bust, while single-breasted jackets are flattering on larger busts and also elongate your frame with ease. Aim for a jacket that hits just below your hips, any longer and you risk distorting your frame, especially if you're petite. Both wide-leg and tapered pants are popular at the moment, so you can choose the level of drama that works for you.
A styling tip… If you're planning on wearing your jacket done up for the entire event, you can potentially forgo wearing anything underneath, although we recommend filling the neckline with a statement necklace. If you think you might want to slip your jacket off or wear undone, then layer over a silky camisole for the perfect way for how to style a blazer at a winter wedding.
Our fashion editor recommends…
Kitri Tessa Navy Satin Blazer
RRP: $270 / £185 | The slouchy shape and satin fabric make this feel far cooler than your average blazer. The combination of navy and black creates a chic contrast. You can also wear this jacket with a pair of black skinny jeans for a smart casual outfit.
Kitri Apollo Feather Trousers
RRP: $230 / £145 | Bringing the right level of fun and frivolity for what to wear to a winter wedding, the addition of a feather trim gives these flare-leg satin trousers plenty of personality. Wider at the bottom, they're great for balancing out hips and shoulders.
(opens in new tab)
Kurt Geiger London Pierra
RRP: $145 / £149 | A true party shoe, these rainbow beauties were made for dancing. The diamante buckles are not only a pretty addition but mean these heels are fully adjustable for a spot-on fit. The coloring makes them ideal for lifting block color outfits.
7. Best cover-ups for a winter wedding
The best part of dressing for a winter wedding? The opportunity for a really gorgeous statement coat. If the dress code requires a floor-sweeping gown, then faux fur, one of the big coat trends for the season is our first choice to amp up the glamour. Keep it classic with browns and creams or inject a little color with a more striking shade. Cropped, waist-skimming styles are perfect for petites and will stop your coat from overwhelming your shape. For structured midi dresses, co-ords, and suits, a tailored wool coat will finish the look perfectly. If it's not too cold, or you're getting a cab or driving to and from the venue, a blazer should be enough to keep you warm. Opt for a classic black blazer or push the boat out with a sequin or velvet upgrade for the ultimate party-ready feel.
A styling tip… You don't actually have to wear your coat or jacket. Robing (wearing it slung over your shoulders) will keep you warm and has an effortless look.
Our fashion editor recommends…
(opens in new tab)
Ted Baker Liliam Faux Fur Coat
RRP: $425 / £250 | We wouldn't recommend wearing a white dress to a wedding, but an ivory coat with a colorful outfit is definitely acceptable, especially as you'll slip your jacket off on arrival. The cropped shape is great with more voluminous dress shapes.
(opens in new tab)
Massimo Dutti Long Straight Wool Coat
RRP: $399 / £299 | This mulberry hue feels more celebratory than classic black or a camel coat. The midi length on this design hits mid-calf length on most heights, elongating your frame with it's sharp and tailored seam detailing. It has pockets too.
(opens in new tab)
& Other Stories Sequin Party Blazer
RRP: $249 / £175 | Worried your dress is to simple, no problem. This glitzy sequin number will add sparkle to your outfit. The braided edges and shoulder pads give it a more structured, military feel that'll look just great with jeans after the wedding.
Is it ok to wear black to a winter wedding?
Traditionally, it's seen as inappropriate to wear black to a wedding. It's a dark color that can signify mourning and is more appropriate for what to wear to a funeral, so it feels like the wrong choice for a celebration that should be jam-packed with joy. However, this rule becomes slightly more relaxed in the case of winter weddings. A change in seasons sees a shift towards a darker palette - but it's not just about aesthetics. Black absorbs light and converts it into heat, which is why you feel warmer when you're wearing darker clothing compared to lighter colors. And, if you're attending a winter wedding, it's fair to assume the temperature will be far lower than a summer one.
To toe on the right side of appropriate, keep any accents of black to a minimum, try sequin iterations that have a clear party feel or balance black pieces out with brighter pops of color. Think a colorful dress topped with a black blazer, or a printed jumpsuit with black in the mix, but not the focal shade of the pattern. If you're unsure about the dress code, try to run your outfit past a member of the bridal party ahead of time, so you can head into the day feeling confident in your choices.
What should you wear to a cold wedding?
The key difference between what to wear to a winter wedding compared to summer wedding is how covered up you'll want to be. In the summer, you'll likely opt for something strappy or sleeveless, whereas in the winter you'll almost definitely be leaning toward some kind of sleeve. Keep in mind that although it might be chilly outside, the majority of the wedding will likely be inside. Wrap up too warm, and you run the risk of sweltering during the speeches and sweating on the dancefloor. Layers are your friend here. We'd recommend a light layer, like a blazer, and a second, warmer layer, like a faux fur or wool coat for enough flexibility to take you from photos to drinks. Alternatively, add a stole or wrap that can be draped across your shoulders. Black opaque tights can look quite blocky, opt for as low a denier as possible, the sheerer the better. If you're wearing a midi or maxi dress, you might not need them at all.
What color should you not wear to a winter wedding?
As with a wedding in any season, it's always smart to steer clear of wearing white - even if you know the bride has opted for a more colorful outfit. Firstly, you don't want to face any accusations of trying to upstage the bride on her special day, and secondly, there's nothing more awkward than actually being confused with the bride by a distant relative. So, to keep red faces to a minimum, play it safe and choose brighter, richer, and darker tones instead. Again, similarly to the question of whether you can wear white to a winter wedding, a little white is fine as part of a print or for a jacket or coat if the rest of your outfit is colorful. It's also a clever idea to ask in advance what color the bridesmaids will be wearing so you don't look like an add-on to the bridal party. If you don't feel comfortable asking, sometimes the color scheme of the wedding invitations will give hints about the color scheme of the day.