Best jeans brands to shop in 2023
Want to know the best jeans brands to shop this year? Our fashion expert shares her favorites for quality and style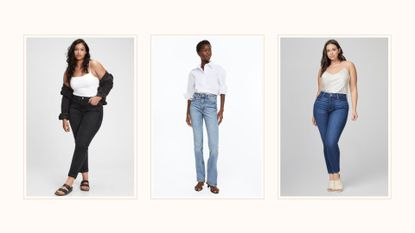 (Image credit: Gap, H&M, Paige)
A wardrobe staple, shopping for the best jeans brands can seem a daunting task. With so many options out there, we've asked the experts what makes the best quality jeans brands and what to look for when you're investing in new denim, whatever your budget.
Looking for the best jeans brands this season? With great denim available at all price points, it's hard to decipher just what to look for. As a general rule, the best jeans brands use top-quality denim and have great cuts and fits. Of course, the most flattering jeans for your body type will differ from person to person and shopping for jeans can be quite subjective but when it comes to online shopping for the best jeans brands, Danielle Hill, Buyer at luxury retailer TheHut.com (opens in new tab) has this advice: "know your own measurements inside out. Always measure your waist and length before buying denim. The Hut provides extensive buying size guides for each of our denim brands such as Wrangler, Lee and Good American to help advise the size that is perfect for you."
While this may seem like a no-brainer, each jeans brand's fit will have subtle differences and certain factors such as the wash of the fabric can also affect the fit - if you're opting for a darker finish such as indigo or black, the fibers will be stiffer from multiple treatments to achieve the color so don't be surprised if you need to size up slightly, particularly in styles with little or no elastane content.
9 BEST JEANS BRANDS TO SHOP IN 2023 FOR STYLE, QUALITY AND FIT
Shopping for jeans is considered by many to be a minefield at the best of times but knowledge is power and once you find your best jeans brand, it's the start of a beautiful friendship - true blue, if you will.
To help get you started, we've picked the nine best jeans brands and selected the styles that will have you looking and feeling your best when you don your denim. Whether you're looking to splash the cash on the best designer jeans brands or looking for a straight-to-market hero, we've got something stylish for every budget.
1. GAP
Gap accounts for one in five pairs of jeans sold every year in the UK and it's not hard to see why the brand is considered to be one of the best jeans brands around. Not only does it offer a broad range of cuts, colors, and sizing but Gap's affordable price tag has seen them become a style staple. If you're looking for the best jeans for you, you're likely to find them among Gap's on-trend denim offering.
Discussing the types of jeans we can expect to see this season, Sapna Brooks, Head of Buying for GAP UK says: "We introduce new denim styles, washes, and fits each year, refreshing our bestsellers in line with changing trends and lifestyles. This season more relaxed, looser fits are key, such as our wide leg high rise, the '70s Flare, or the '90s Loose. New for spring, we have refreshed our easy taper Girlfriend Jean and will launch our easy lower rise, looser legged Low Stride jean, for an ultra-relaxed look."
GAP High Rise '70s Flare Jeans
RRP: $89.95 / £38 | Sizes: Sizes 26-32w, three lengths | Made with stretch, these flares fit through the thigh before widening for the lower leg to create a leg-lengthening illusion. Add extra height and choose a style slightly longer than your regular fit pairing with one of the shoe trends 2023 - platform boots.
GAP High Rise Vintage Slim Jeans
RRP: $79.95 / £41 | Sizes: Sizes 26-32w, three lengths | With only 1% Elastane, be prepared to break these jeans in but after a few wears, you'll be rewarded with a dream fit as the fabric molds to your shape. One of the best high-waisted jeans, we can see why this is a bestseller for Gap with its flattering cut.
GAP Mid Rise Girlfriend Jeans
RRP: $79.95 / £45 | Sizes: 26-32w, three lengths | A feminine take on boyfriend jeans, the girlfriend has the same loose leg DNA but with a slimmer silhouette, making it a great alternative to boyfriend jeans, if you want a more roomy aesthetic than the best straight leg jeans, but not as baggy as a boyfriend cut.
2. Levi's
The true blue of the denim world, a pair of Levi's jeans can be found in most fashion insiders' wardrobes. Founded in 1853, the American clothing brand has become synonymous with the best jeans styles, launching iconic cuts from the classic 501s to more recent styles such as the Wedgie and the Ribcage. With over 25 key styles available in a variety of washes, lengths and even fabrics, there's a pair of jeans for everyone, making this one of the best jeans brands for style choice and size
Levi's jeans are made from rigid or low-stretch denim, meaning they have very little give initially but when worn over time they gradually mold to your body to create the perfect fitting pair of jeans. This season sees three new styles join the brand's range, based on cult classics - the 501 81 is an eighties-inspired reimagining of the iconic 501 with an added mom jean fit; The Baggy Boot, a bootcut jean with a slouchy top block and finally, The Middy. With a return to the mid-rise waist and stylish straight-leg shape, this is the ideal fit for those with a shorter torso who struggle with popular high-rise waistbands.
(opens in new tab)
Levi's 501 Original Jeans
RRP: $98 / £100 | Sizes: 23-34, two lengths | The OG of jeans, do you really love denim without a pair of 501s in your wardrobe? Made from rigid denim, this iconic straight leg design will need some breaking in but good things come to those who wait - this style runs small so don't be afraid to size up.
(opens in new tab)
Levi's Ribcage Straight Jeans
RRP: $98 / £110 | Sizes: 23-34, two lengths | If you have a longer torso or are looking for a pair of jeans to really hold in your stomach, Levi's rib cage jeans are for you. The super high-rise waist sits at over 12 inches, meaning the waistband will come in not far under your ribs for a super supportive fit.
(opens in new tab)
Levi's Wedgie Straight Jeans
RRP: $108 / £110 | Sizes: 23-32, two lengths | Looking for a pair of jeans to give you a pert posterior? Try this vintage-inspired cut that features a unique construction to lift and shape your bottom while hugging your curves to create a look you won't want to take off, for a pair of timeless, slimming jeans.
3. Everlane
American fashion label Everlane has become known as one of the best denim brands 2023, having brought out its first denim collection in 2017. The brand's Way High jean is considered by many fashion insiders to be one of the best high waisted jeans out there, selling over 130,000 pairs since its launch in 2021. If you're looking for a touch of old skool style, the '90s cheeky jean is another popular style – made from rigid denim and with a vintage-inspired style, this is definitely a contender for the best mom jeans.
Made from 100% organic cotton, Everlane also has great green credentials, with all of its denim being produced by denim partner Saitex, certified as the cleanest denim factory in the world, making it one of the best sustainable clothing brands too.
With all of this in mind, it's no surprise that Everlane has many celebrity fans of its denim, including Nicole Richie, Kate Bosworth and Jodie Turner-Smith, to name but a few. Looking for inspiration for what to wear with black jeans or for some new mom jeans outfits? These three stylish women can show you a thing or two.
(opens in new tab)
RRP: $98 / £95 | Sizes: 23-35w, three lengths | With an introduction that states 'say goodbye to your bellybutton', the Way High jeans from Everlane have a truly high-rise fit that's perfect for streamlining your waistline. Made from 98% organic cotton with 2% elastane, you'll still be sitting comfortably.
(opens in new tab)
Everlane Original Cheeky Jeans
RRP: $98 / £95 Sizes: 23-35, three lengths | With a newly updated fit featuring a higher rise and raised back hook-seam that lifts and tightens, these straight-leg jeans also come with the brand's signature Happy Pockets to make your bum look its best. Wondering how to style high waisted jeans? Make sure to tuck your top in.
(opens in new tab)
Everlane Low-Rise Shortie Jeans
RRP: $118 / £115 | Sizes: 23-33, one length | If you have a short body and struggle to find jeans that fit, low-rise waists are back in fashion and Everlane's Shortie jean fit the bill perfectly with their lower waistband. This cropped style looks great with boots now and worn with sandals or the best white trainers come the summer.
4. Paige
With a list of celebrity fans including Cindy Crawford, Priyanka Chopra and Beyonce, the Los Angeles-based brand has become a byword for Californian cool and subsequently one of the best jeans brands. Co-founded by Paige Adams-Geller (opens in new tab) and based on her own experiences as one of the top fit models in the denim industry, Paige jeans are designed to be a foundation piece in your wardrobe. Each design is fully wear-tested to ensure that they are the most comfortable jeans, that deliver on flattering fits that will stand the test of time.
As Adams-Geller herself says: "PAIGE is known for fit, fabrics and quality. You can take everything in this collection and wear it from morning to moonlight. The PAIGE customer is someone who appreciates fashion, comfort, craftsmanship, elevated details and effortless styling. Our quality is second to none and we make clothing that is so comfortable that you want to live in it!"
In 2021, the brand expanded its offering with Flaunt Denim, a collection that embraces curves. Updating the waist-to-hip ratio, Paige reimagined several of its bestselling styles to cater to customers with fuller hips and thighs but small waists utilizing its extensive fit expertise.
(opens in new tab)
RRP: $219 / £253.99 | Sizes: 23-34, one length | One of Paige's signature styles, the Hoxton is an ultra skinny jean that will hug your legs and waist for a smooth fit throughout, plus this cropped ankle version hits at the perfect flattering point to lengthen your legs. Pair with sneakers, sandals or boots.
(opens in new tab)
Paige Cindy Petite Fit Straight Jeans
RRP: $229 / £264.99 | Sizes: 23-34, one length | Perfectly tailored for those at 5'4" and under, Paige's Cindy is one of the best petite jeans. This grey wash is a stylish update to the bestselling straight-leg jeans, solving the skinny vs straight jeans dilemma and features flattering whiskering for that broken-in look.
(opens in new tab)
Paige Cheeky Ankle Flaunt Jeans
RRP: $219 / £253.99 | Sizes: 23-34w, one length | Based on the brand's best-selling Margot skinny, Paige's curve-loving Flaunt spin-off features an updated waist-to-hip ratio to flatter curves. No detail has been spared - even the rear pockets have had a placement update to ensure they're some of the best jeans for curvy women.
5. H&M
Working to a budget for your new jeans? Our top pick for wallet-friendly styles has to be H&M. The Scandinavian clothing brand's extensive denim collection includes both petite and plus styles, as well as excellent maternity denim offerings in classic cuts as well as updates every season to cover the latest denim trends.
Despite often being labeled as fast fashion, H&M's drive to become a sustainable brand has also meant a move towards recycled fabrics for many of its products - the company has set the goal that 100% of all clothing will be made at least in part using recycled materials by 2030 and its well on track to achieve this, given that 65% of its items are already made from recycled yarns, including denim.
(opens in new tab)
RRP: $34.99 / £24.99 | Sizes: 4-22 | With Y2K styles still big this year, take a trip back to '90s fashion trends with these low-rise flared jeans, complete with embroidered rear pockets. With a longer length cut, need help with how to style flared jeans, these are crying out to be worn with heels for extra leg lengthening.
(opens in new tab)
RRP: $24.99 / £24.99 | Sizes: US: 0-20 / UK: 4-22 | H&M's affordable prices mean that updates to your favorite style of jeans are within reach without feeling the pinch. Crafted from stretchy denim for a snug fit through the thigh but featuring a cool split at the hem, these skinnies are seriously on-trend.
(opens in new tab)
RRP: $49.99 / £34.99 | Sizes: XS-XXL | Expecting a baby shouldn't mean you lose your style and H&M's MAMA range is here to make sure you look and feel great thanks to the brand's maternity denim. The over-the-belly band ensures a snug fit for support and comfort, while the straight legs will keep you looking cool.
6. Good American
Launched in 2016 by Khloe Kardashian and Emma Grede, you might be tempted to write off the label as a vanity project, given its celebrity co-founder. But we have to give credit where it's due - Good American makes excellent jeans, becoming one of the best jeans brands to invest in right now. The brand champions body positivity, with size inclusion ranging from 00 to 24, which is reflected in the models used to showcase products on the website, with each product shown at least two different-sized models so that consumers have a realistic representation of how a pair might fit.
If you're looking for the best slimming jeans, Good American's Compression Denim is worth investing in. Offering an even broader range of sizes from 00 to 32, the collection is available in three levels of compression, from light to mega. Behaving like the best shapewear, the variety of styles offers tummy smoothing technology, a signature no-gap waistband, and adjustable buttons as well as internal corsetry for the perfect fit.
(opens in new tab)
Good American Good Legs Light Compression Skinny Jeans
RRP: $130 / £138 | Sizes: 00-26 | Looking for just a little help to smooth your shape? Good American's level 1 compression will do just that - the super stretchy denim will hug your legs while the gap-proof waistband fits like a second skin, avoiding awkward gaping at the back of your jeans, an absolute dream.
(opens in new tab)
Good American Good Classic Bootcut Super Compression Jeans
RRP: $149 / £158 | Sizes: 00-24 | With medium compression, these super compression bootcut jeans offer adjustable front buttons meaning you can take control of just how sculpted you want to look in your denim. Need some help with how to style bootcut jeans? Make sure to go for a more fitted top to balance the width.
(opens in new tab)
Good American Good Legs Flare Mega Compression Jeans
RRP: $145 / £154 | Sizes: 00-24 | At level 3 compression, the built in-corsetry of this pair of high-rise jeans features hook and eye detailing meaning you can achieve the ultimate in flat tummy tech for a super smooth silhouette that is further complemented by the curve-enhancing flared shaped leg.
7. Madewell
If you're looking for jeans with a great fit that do good for the planet, check out Madewell. Its 'Do Well' initiative has seen the brand make a push towards a cyclical fashion and sustainability model, setting up its own clothes recycling program via both resale and recycling. Madewell has collected over one million pairs of jeans in six years and aims to double that by the end of 2023.
Many of the brand's most popular styles draw from modern takes on vintage cuts as a nod to the original Madewell brand, founded in 1937. From rigid denim to extra comfort super stretchy styles, the brand also caters to a variety of sizes with petite, curve, tall and taller range of jeans, making some of the best jeans for tall women.
(opens in new tab)
Madewell Kick Out Crop Black Denim Jeans
RRP: $138 / £146 | Sizes: 23-33w, 3 lengths | If you're slightly bottom heavy, try switching your favorite skinny or straight-cut jeans for a cool kick flare. With just a slightly wider hem and a flattering cropped length, this tiny flare helps to balance hips and create a long and lean silhouette, a great stylist's hack.
(opens in new tab)
Madewell Low-Rise Perfect Vintage Straight Leg Jeans
RRP: $128 / £136 | Sizes: 23-33, three lengths | Need help styling black jeans? Treat them in the same way you would your favorite black straight-leg trousers. Look for over-dyed styles such as this pair to make the switch to daily denim a breeze. Low rise styles are back and best suit those with short torsos.
(opens in new tab)
Madewell Taller 9" Mid-Rise Skinny Jeans
RRP: $128 / £136 | Sizes: 23-37 | Got legs for days but find it hard to find jeans that accommodate them? Then check out Madewell's Taller range, designed for those over six feet in height. Not only do the in-seams cater for your extra height but the rise of the waist has also been adjusted, for perfect proportions.
8. Frame
Celebrating its ten year anniversary last year, Frame denim is considered by many to be one of the best quality jeans brands around. Despite being founded in Los Angeles, the denim capital of the world, the brand actually has its roots in Sweden, where founders Jens Grede and Erik Torstensson both hail from. Inspired by the French ethos of dressed-up casual, Frame's range features expertly crafted classic styles.
The duo decided that rather than taking on the wealth of cuts and styles in the denim world, they would focus primarily on creating the perfect skinny jean before slowly adding to its repertoire over the years. With such emphasis on fit, Frame denim has garnered a loyal league of fans, including celebrities such as Gigi Hadid, Kendall Jenner and Kaia Gerber to name but a few.
(opens in new tab)
Frame Le Garcon Boyfriend Jean
RRP: $199 / £180 | Sizes: 23-33 waist | A sophisticated take on what's usually a baggy fit, Frame's Le Garcon jean is the slim straight leg boyfriend jean that your wardrobe needs. Intended to be worn oversized to create a slightly loose leg shape, when it comes to how to style boyfriend jeans pair with your favorite blazer and tee.
(opens in new tab)
RRP: $238 / £225 | Sizes: 23-34 | The first shape that Frame ever worked on, Frame is known for the fit of its Le Skinny jean - the super stretch denim adapts to your curves for the perfect fit, time and again, making them a wardrobe classic. These are timeless design that promise to stand the test of time, and go with everything.
(opens in new tab)
RRP: $208 / £195 | Sizes: 0, 1, 2 (22-34 waist) | Designed without rivets, zippers or pockets this sleek take-on flares make them super comfortable for everyday wear and even long-haul travel. Rather than regular waist measurements, this extra-stretchy denim style comes in three sizes that adapt to your figure.
9. Abercrombie
While you might turn to TikTok for a variety of denim tips and hacks such as how to style straight leg jeans or inspiration when it comes to white jeans outfits, in 2021 the social media platform brought Abercrombie & Fitch's Curve Love denim range to the masses when its new designs went viral.
Once seen as a collegiate label, Abercrombie & Fitch has been staging a quiet style revolution in the last few years. Listening to customers' complaints about gaping waistbands, the design team added an additional two inches through the hip and thigh of popular styles, ensuring a perfect fit if you have a curvier lower body but a small waist
With inclusive sizing ranging from 23-37 waists plus short, regular, and tall lengths as well as extra short lengths, Abercrombie & Fitch's Curve Love is the denim brand to visit for jeans that fit like designer styles but come with a high street price tag. With all this in mind, Abercrombie's Curve Love gets our top pick when it comes to jeans for curves.
(opens in new tab)
Abercrombie Curve Love Relaxed '90s Jean
RRP: $100 / £75 | Sizes: 23-37w, 5 lengths | With an on-trend wide-leg silhouette, you might think that the waist on this '90s-inspired pair of jeans would be baggy but thanks to Abercrombie's Curve Love cut, the waist fits snuggly with no gaps - perfect if you have a peachy posterior but a tiny waist.
(opens in new tab)
Abercrombie Curve Love High Rise Super Skinny Ankle Jean
RRP: $79 / £65 | Sizes: 23-37w, 5 lengths | Skinny jeans are the timeless style that every minimalist capsule wardrobe needs and we love this casual take on the shape from Abercrombie, featuring distressed details and frayed hems for instant laid-back cool, this pair is great for weekend casual wear, teamed with sneakers.
(opens in new tab)
Abercrombie High Rise Vintage Flare Jeans
RRP: $90 / £75 | Sizes: 23-37w, 4 lengths | Looking for some serious leg lengthening? We love the pintuck detail on these flared jeans that helps create the illusion of long, lean legs. For a modern and flattering take on the Seventies trend. Opt for dark washes such as black and indigo for an added polish.
---
What jean styles are on trend right now
Overwhelmed by choice? Can't decide when it comes to boyfriend jeans vs mom jeans or straight vs skinny jeans? Hill has this advice about styles to start with on your odyssey for the best jeans for your shape:
"Skinny jeans instantly flatter every body type and are a classic. High-waisted jeans are another classic for any body type, but especially petite figures as it can help add height and elongate your figure. Flares and wide-leg jeans are always a go-to when you are tall as they help to sculpt and create an hourglass figure. "
Of course, just like any type of fashion, denim moves with trends and if you're wondering what the next denim trends will be, Farrah-May Archer Boadi, Styling Team Lead at Stitch Fix says you should take your inspiration from the Nineties:
"Baggy styles, low rise, and acid wash jeans aren't going anywhere, with Y2K trends still leading the way on the SS23 catwalks. Overall, the denim trends are fun, bold, and playful with an element of utility and grunge thrown into the mix. On the SS23 ready-to-wear catwalks of Givenchy and Isabel Marant, we're seeing Y2K classics such as cargo trousers and baggy jeans combined for a fresh, 2023 take on the year's hottest '90s and '00s trends."
Antonia Kraskowski is a freelance fashion editor with over 15 years of experience in the industry.
Having started her career at Conde Nast working for titles including Easy Living, Glamour and Vogue New Markets, Antonia went on to work in the fast-paced world of newspapers and weekly magazines, becoming Fashion Editor at Express Newspapers and Magazines in 2014, a role she held for five years before going freelance.
Her career has seen Antonia travel the world, shooting in 18 countries and styling campaigns for brands ranging from Ben Sherman and DKNY to Wallis.