Best petite jeans: These are the jeans designed to suit women 5'4 and under
Best petite jeans: 12 pairs of jeans to suit every occasion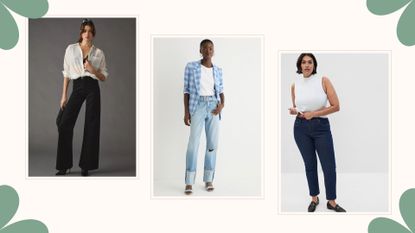 (Image credit: Anthropologie, J. Crew, Gap)
If you're 5'4 or under, chances are you need the best petite jeans for women. With a range of fashionable cuts and style staples, brands are finally producing great denim that considers a broader range of silhouettes.
If you've struggled to get the best jeans to fit your shorter stature, chances are you need the best petite jeans. With direction designs that give a nod to the denim trends 2023 as well as wardrobe essential silhouettes to underpin your capsule wardrobe, finding the best jeans is no easy feat at the best of times. But when your body type has made finding the right pair even harder, it can be a sartorial nightmare.
As with the best jeans for curvy women, when it comes to the best petite jeans, we're still after designs that lift, sculpt, and shape our bums, legs, and thighs. But for those 5'4 and under, jeans leg length can create a real challenge. While you might think it's a simple alterations job, true petite clothing is actually cut with height in mind, meaning that seam lines, hems, and pockets will all be adjusted according to petite proportions offering a far superior fit.
Whether you're after the best petite mom jeans, skinny jeans, or even wide leg jeans (yes, it's possible), we've pulled together a list of retailers who have thought about how best to serve the market.
---
Best petite jeans according to our fashion team
1. GAP Mid Rise Vintage Slim Jeans
Best Petite Slim Jeans
Specifications
RRP: $59.95 / £50
Size Range: W24-35
Length/Inseam: 25.5"
Reasons to buy
+
Responsibly made to save water
+
Fabric forms to your shape
+
Versatile hue
American clothing brand GAP knows its stuff when it comes to jeans. Producing some of the best denim jackets, the brand also offers a huge array of jeans cuts including petite, regular and some of the best jeans for tall women. At 25.5", GAP's petite jeans inseam measurements is one of the shortest on this list, ensuring that petite women can finally have skinny jeans that will fit their legs without that annoying ruching that comes from jean legs being too long. With an ankle-grazing design, there will be no need to turn these beauties up, offering a streamlined finish. A simple and unfussy design, they'll easily pair with everything from your best blazer to a cashmere sweater.
---
2. Banana Republic The Petite Straight Jean
Best Petite Straight Leg Jeans
Specifications
RRP: $110 / £79.50
Size Range: W24-32
Length/Inseam: 25.5"
Reasons to buy
+
Made from organically sourced cotton
+
Very versatile
+
Made with organic cotton
When it comes to skinny vs straight jeans, both can be tricky for petite women. The best straight-leg jeans often have to be turned up if not the right length, otherwise they end up sweeping the streets as you walk, turning your best white trainers an unsightly shade of grey. If that sounds like you, then check out Banana Republic's petite denim, stat. With a leg inseam length of 25.5", they will actually finish in the ankle-grazing position that they promise, making them one of the best petite jeans no matter your style. With some stretch and a high-waist, these organically sourced, cotton jeans make for a guilt-free purchase and are also some of the best jeans for women over 60, thanks to their classic and well cut shape.
---
3. Anthropologie Joe's Jeans Petite Mia High-Rise Wide-Leg Jeans
Best Petite Wide Boot Cut Jeans
Specifications
RRP: $198 (US Only)
Size Range: W23-34
Length: 31"
Reasons to buy
+
Made from premium denim
+
Refined look
+
Machine washable
Reasons to avoid
-
May need to be worn with heels to show off the boot cut shape
We love Anthropologie for its bohemian aesthetic that also delivers on quality. When it came to the best petite jeans on site, it was all about the Joe's Jean bootcut for us. Flared silhouettes are not often associated with petite frames, because a wider leg can be overwhelming. But this particular petite jean is ideal for women with fuller hips or bigger busts as the bootcut will help balance proportions. If you're wondering how to style bootcut jeans for petites, keep your top half fitted.
Best styled with best Chelsea boots or some tall platforms, these jeans are a real standout. A versatile design, they're most commonly appropriate for smart-casual occasions, particularly in an easy to style black wash. These are slightly longer than your average petite jean, so you may want to style them with some sort of heel to show off the full flare.
---
4. River Island Petite Blue High Waist Flared Jeans
Best Petite Flared Jeans
Specifications
RRP: $84 / £45
Size Range: US: 0-12 / UK: 4-16
Length: 76cm
Reasons to buy
+
Made from super stretch denim
+
Uses responsibly sourced cotton
+
Machine washable
British clothing brand River Island has an extensive petite clothing range for a host of products. With a pocket-friendly price tag, you can trial trends and new looks without breaking the bank. Universally flattering, when worn right flared jeans can actually elongate legs. Wondering what shoes to style with flared jeans, just pair this with a summer wedge or your best designer heels.
"As someone who is 4 ft 9, I can vouch for these jeans. A shining star amongst the petite options available on the market, they finish at the perfect length and elongate your legs. Well cut, they allow you to try a new trend-led style without worrying that it will look out of proportion," says writer and petite jean wearer Eve Edmunds (opens in new tab).
---
5. M&S Mom Embroidered Ankle Grazer Jeans
Best Petite Mom Jeans
Specifications
RRP: $77.99 / £45
Size Range: US: 2 - 20 / UK: 6-24
Length: 73.66cm
Reasons to buy
+
Made from sustainably sourced cotton
+
Added stretch
+
Affordable
Reasons to avoid
-
Embroidery not everyone's style
Mom jeans outfits offer instant style. With a high waist and a relaxed leg shape, this nostalgic '90s design is one of many types of jeans that can be a hard one to find in a petite cut. Luckily British clothing brand M&S has come to the rescue, with its hardwearing mom jeans in petite cuts. A great brand to shop for all your petite clothing needs, it regularly has short options for trousers, skirts and dresses. With a decent size range, they cater for numerous body types and tastes. With a fashion-forward design, these mom jeans feature subtle front embroidery that will set this pair apart from all other denim in your collection for all the right reasons.
---
6. Jag Jeans Sophia High Waist Wide Leg Jeans
Best Petite Wide-Leg Jeans
Specifications
RRP: $88 / £77.60
Size Range: US: 0-14
Length/Inseam: 27"
Reasons to buy
+
Cool, casual look
+
Ideal petite length
+
Comfortable wide fit
One of the biggest fashion trends 2023, '90s nostalgia is dominating both the runway and straight-to-market brands. Subsequently, a wide-leg jean is the silhouette to buy into right now, but finding a wide leg for a woman 5'4 or under can seem like an impossible task. Luckily, these Jag Jeans answer all our prayers. With a vintage style and cool wide leg cut, these are the perfect casual pant for any off-duty days. With an ideal inseam for petites, these can be worn with flats and heels alike. What's not to love?
7. 721 High Rise Skinny Women's Jeans (Plus size)
Best Petite Plus-Sized Jeans
Specifications
RRP: $98 / £100
Size Range: 14S-26S
Length: 76.2cm
Reasons to buy
+
Great size range
+
Has supportive stretch
+
Extremely soft
With one of the best plus size clothing ranges, Levi's is a brand that not only constantly innovates within the realm of denim, but also strives to cater for different bodies. The brand's plus size jeans also come in short, regular or long length so you can get denim that fits like a glove. With a high-rise - 12.5inches to be precise - these jeans offer great hold and sculpting abilities, in a way only the best plus size shapewear could. Made from Levi's own Sculpt fabric, which is soft and supportive, creating comfortable jeans. When it comes to how to wash jeans, the brand recommends wearing your jeans 10 times prior to each wash to help them maintain their quality and structure.
8. G-Star Kate Boyfriend Jeans
Best Petite Boyfriend Jeans
Specifications
RRP: $160 / £110
Size Range: W22-34
Length: 28-36"
Reasons to buy
+
Good size range
+
Can choose from five different lengths
+
18 different colors to choose from
These G-Star jeans are some of the best petite jeans out there. Offering five different lengths, you can get the ideal hem height for you. With a range of waist sizes too, it's like being your own virtual tailor. The boyfriend fit of these Kate jeans plays very much into the Y2K trends we're seeing a lot of right now. With a relaxed fit, the idea is that it mimics what it would look like if you 'borrowed' your boyfriend's denim. Due to its more slouchy nature, this style is more suited to casual and everyday wear. Plus, the back pockets are positioned at an angle to give the appearance of a higher and more rounded bottom. With an amazing 17 colors to choose from, there's one for every occasion.
---
9. Boden Girlfriend Jeans
Best Petite Girlfriend Jeans
Specifications
RRP: $90 / £70
Size Range: US: 2-12 / UK: 6-16
Length: 69.85cm
Reasons to buy
+
Five colors to choose from
+
Five pockets great for practicality
+
Machine washable
Reasons to avoid
-
Limited shades available
The Girlfriend Jean is a slimmer version of the above boyfriend jean. Probably closest to a straight-leg jean in terms of cut, but slightly looser, the girlfriend jean is great for pear-shaped bodies. Boden has a fantastic selection of petite clothing across a host of categories, including the best petite dresses, but they're particularly good for everyday basics such as the best petite jeans and petite pants. Designed as ankle grazers, you can pretty much guarantee these will be a hit for petites. Wear the leg full or slightly rolled with some new season loafers, or even some strappy sandals in the warmer weather.
---
10. J.Crew Petite cuffed slouchy boyfriend jean
Best Petite Cuffed Jeans
Specifications
RRP: $148 / £165
Size Range: W23-32
Length: 24.5"
Reasons to buy
+
Trendy and unique
+
Ideal for casual days
+
Perfect petite fit
American clothing brand J.Crew is well known for great basics, gorgeous tailoring and some stand-out evening pieces. If you've ever struggled with petite jeans or trousers, you'll know that it's even harder to find a pair of cuffed trousers that aren't still dragging along the ground. Luckily, this pair is here to save the day. In a summer-ready light blue wash, they have a cool ripped detail that adds some edge without being too youthful. Pair with your best sandals for a great evening vacation look.
---
11. Madewell Petite Denim Oversized Carpenter Overalls
Best Petite Dungarees
Specifications
RRP: $168 / £182
Size Range: XS-XXL
Length: 28"
Reasons to buy
+
Made from 100% cotton
+
Ideal for year-round wear
+
Will never go out of style
Reasons to avoid
-
Sizing may be tricky to navigate
Whilst these aren't jeans per se, they are part of the same family and are a great staple piece to add to your wardrobe. Dungarees used to very much be seen as something you wore for odd jobs or lazy Sundays, but fast-forward to now and they've been given a fashion-forward makeover. Madwell's petite dungarees are baggy and relaxed, making them perfect for layering over tees or sweaters. A comfortable, flattering jumpsuit with edge, this is bound to become a wardrobe staple for petites.
---
12. Kut from the Kloth Chrissie High Rise Straight Leg, Petite Jeans (Sustainable - Impactful Wash)
Best Sustainable Petite Jeans
Specifications
RRP: $98 (US only)
Size Range: US: 00P-18P
Lengh/Inseam: 68.58cm
Reasons to buy
+
Sustainable fabric
+
Stretchy denim for more comfortable fit
+
Good size range
Reasons to avoid
-
No international shipping
Denim has a pretty bad reputation for not being the most sustainable of fashion pieces, but Kut From The Kloth has a mission to champion and develop clean, premium denim. One of the best sustainable clothing brands, it makes many of its pieces, including these chic high-rise straight-leg jeans, from recycled materials like water bottles. It also uses eflow technology to wash the denim used, which the brand says has reduced its water use by 95%. Something we can certainly get behind. These stylish petite, straight-leg jeans are made from stretch denim and have a relaxed fit so they will mold to your body shape and feel luxuriously comfortable. Pair with your best shirt or blouse and a sleek pair of new season kitten heels for a smart-casual look.
Rivkie is a fashion editor, writer and stylist with over fifteen years' experience in the industry. Having studied design and pattern cutting at the London College of Fashion, Rivkie fell in love with styling and journalism, covering fashion weeks in London, Paris and New York.
Specialising in plus size fashion, Rivkie has long championed that style is for everyBODY and has been a regular talking head on a host of radio stations and television shows, pushing for greater representation for plus size women and fashion throughout her career.