Best jeans for tall women: 2023's top longer length styles
We've rounded up 11 pairs of the best jeans for tall women to invest in this season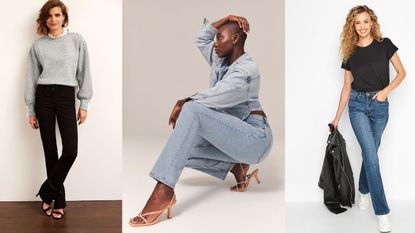 (Image credit: Next, Abercrombie & Fitch, Long Tall Sally)
Anyone over 5'8 knows, finding the best jeans for tall women is no easy task. Many people presume being tall makes buying jeans a simpler process, but for those wanting to wear high heels or looking for a baggy, looser fit, then finding a brand that caters for those extra inches is essential.
For many years, jeans were largely available in standardized leg lengths, making finding the best jeans for tall women and the best petite jeans a sartorial challenge. Luckily there are plenty of retailers on the market now offering the best jeans for women in a range of leg lengths and a variety of cuts and washes ensuring just because you're tall, you don't have to sacrifice on style.
Just like all women, those over 5'8 are looking for flattering jeans that will streamline their silhouette and most importantly finish at the correct point. A drop too short and the proportions of an outfit can be entirely skewed. As a general rule, full-length styles are the most flattering on tall figures. As Lucy Taggart, Senior Stylist at Monsoon, says: "For the taller woman, I'd choose full-length jeans, high-rise straight jeans, or bootcut, work nicely."
11 best jeans for tall women to shop in 2023 for style, quality and fit
Why you can trust Woman & Home Our expert reviewers spend hours testing and comparing products and services so you can choose the best for you. Find out more about how we test.
1. GAP Low Rise Stride Jeans
Specifications
RRP: $79.95 / £45
Sizing Range: US: 24-35 / UK: 26-33
Inseam: 33.5" - 35.5"
Reasons to buy
+
95% cotton, 5% recycled cotton
+
Machine washable
+
Regular and tall fit
Reasons to avoid
-
Low rise not to everyone's taste
It's impossible to discuss the best jeans brands without mentioning Gap. Famed for denim, Gap is great for different body shapes, offering a wide range of cuts to suit a range of silhouettes. One of the best jeans for tall women is the Low-Rise Stride which comes in short, regular, and tall cuts as well as two additional leg-length options (Long and Tall) with an inside seam of 33.5" and 35.5".
The Stride style has that desired worn-in look that's hard to find and sometimes only achievable after multiple washes. The loose fit reflects the latest denim trends, giving the much sought-after Y2K aesthetic, and goes great with relaxed tops such as t-shirts, knitwear and sweatshirts. What's more, this style is part of Gap's 'Washwell' program which has saved millions of liters of water since 2016 meaning you can do your bit for the planet too.
---
2. LONG TALL SALLY Ivy Stretch Straight Leg Jeans
Specifications
RRP: $85 / £49.99
Size Ranges: US: 4-24 / UK: 8-28
Inseam: 34-38"
Reasons to buy
+
Extra long inseam
+
Timeless style
+
Great size range
Reasons to avoid
-
No negatives that we can see!
The key is in the name; Long Tall Sally provides clothing for tall women and jeans are definitely one department they excel in. The Ivy jeans come in five different washes meaning when you find your perfect fit, you can create your very own denim capsule wardrobe. The inside leg measurement comes in 3 sizes; 34", 36" and 38" - easily the best range for tall people that we've found on the market and it's no surprise the jeans are a best seller
A classic pair of jeans like these are timeless and they're the perfect basis for any smart casual outfit idea. In terms of how to style straight jeans, just pair with a classic striped Breton top or a pretty floral blouse, for an easy, everyday look. A pair of flat pumps or alternatively a pair of heeled boots would look great with this straight-leg cut too.
---
3. NEXT Lift, Slim And Shape Jeans
Specifications
RRP: $76 / £50
Size Range: US: 4-20 / UK: 8-24
Inseam: 35"
Reasons to buy
+
A good smart jean option
+
Stretchy for comfort
+
Machine washable
Reasons to avoid
-
Can differ in sizing between washes
If you're looking for a pair of jeans to wear out in the evening then look no further. These slim black bootcut jeans are the perfect pair to dress up for a night out. In terms of how to style black jeans, a strappy heel immediately elevates them to night-out status and the bootcut falls neatly over the top of your heel. A silk camisole and blazer or a tucked-in satin blouse would complete your evening ensemble.
The 'Lift, Slim and Shape' style comes in petite, regular, long and even an XL Tall (35" inseam) offering, making them a great choice for those of high stature. Doing what they say on the team, these jeans also offer lift, slim and shape, what's not to love?
---
4. LANDS' END
Recover High Rise Straight Leg Ankle Jeans
Specifications
RRP: $89.95 / £78
Size Ranges: US: 6-26 / UK: 6-26
Inseam: 30"
Reasons to buy
+
Sustainable option
+
Machine washable
+
Often discounted
Lands' End is known for comfort and quality which are two imperative factors when it comes to jeans shopping. The majority of the brand's clothing comes in the size range of Petite 8 to Plus 30 making it an inclusive brand.
These are by no means the longest option of our edit, but they do offer a good sustainable choice if you're looking to shop in a planet-conscious manner. Lands' End claims that using 20% of recycled cotton fiber in one pair of jeans amounts to saving the same amount of water for 23 showers! Even the faux leather patch on the back is made from sustainable apple skin on these jeans.
The sizing comes in petite, regular, tall and plus with the rise proportions adjusted accordingly. Pair with a classic striped shirt and a pair of the best loafers for a laid-back weekend look.
---
5. Abercrombie & Fitch Ultra High Rise '90s Slim Straight Jean
Specifications
RRP: $90 / £75
Size Ranges: US: 23-37 / UK: 23-37
Reasons to buy
+
9 different washes
+
Plus sizes available
American retailer Abercrombie & Fitch is well known for its casual denim selection. With an affordable price tag and a vast array of sizing options, it's a no-brainer for anyone looking to supplement their denim collection. There are plenty of offerings of tall jeans in the main line collection, but if you're plus size, the choices can be limited here.
However, denim is where Abercrombie excels, with five different leg lengths available, and the longest inseam is ideal for anyone above 5'10. This particular style has built-in stretch for extra comfort and comes in nine washes so you're guaranteed to find your favorite shade.
This style features Abercrombie's highest rise with an extra 2' through the hip and thigh to help get rid of waist gap. The high rise is extra flattering for a streamlined silhouette and the split hem adds a current feel. The high positioned pockets on the bum give the illusion of a lift and shape too. When it comes to how to style jeans like these, team them with your favorite tee tucked in.
---
6. TOPSHOP Tall Mom Jeans
Specifications
RRP: $74 / £46
Size Ranges: US: 26-36 / UK: 26-36
Inseam: 36"
Reasons to buy
+
Good for high-waisted fans
+
Machine washable
+
Good price point
Reasons to avoid
-
White shows marks easily
Mom jeans have been around for a while now and whilst they've become many people's denim silhouette of choice, for tall people, they bring some issues. Some find they come up looking too short as the tapered ankle length can really vary, therefore hitting the lower leg at n unflattering part. With a 36" inseam measurement these mom jeans are different, making them ideal for tall people as they offer ample length in the leg. They're one of the best mom jeans as the high waist sits in a flattering place on your middle. The super long length gives the option of rolling up to the length of your choice for a more casual look.
When it comes to great mom jeans outfits, go for a top that's fitted or tucked in to balance your waist and hip proportions. The tapered ankle allows for most shoe types but as a general rule, avoid boots with this style.
---
7. ZARA Slim Split Jeans
Specifications
RRP: $45.90 / £29.99
Size Ranges: US: 0-14 / UK: 4-18
Reasons to buy
+
Super affordable
+
Fashion Forward
+
Machine washable
Reasons to avoid
-
One leg length
-
Black denim fades after time
-
Limited stock
Any seasoned Zara shopper knows the Spanish clothing brand is generous with the length of its pants. So, whilst the best Zara jeans don't specifically come in a tall fit, you can be sure to find a longer inseam amongst its vast denim selection. We love this fashion-forward split hem style for a take on the denim trends for 2023. The split style is ideal if you're looking for one pair of jeans that'll work with both heels and flats as the splits allow the jeans to fall over your shoes rather than bunch up with extra material. The high-rise fit supports your tummy and flatters your figure.
Showcase your best footwear with the peekaboo hem and pointed footwear looks great with the sharp lines of the splits, so look for court shoes or a slim fitted ankle boot. Finish off with a crisp, white shirt for effortless chic.
---
8. GOOD AMERICAN Good Classic Bootcut Jeans
Specifications
RRP: $145 / £156
Size Ranges: US: 00-28 / UK: 6-28
Reasons to buy
+
Plus size range available
+
Quick-step denim guide on website
+
Machine washable
The founders of Good American were determined to listen to its customer base, hence the brand is brilliant for style solutions. With jeans in standard and also plus sizes, you can expect a 33.5" inseam insuring they're inclusive of all body shapes. The longer length means you can alter them to your preferred length too. In sizes 00-25 the brand also features a number of models in different sizes per product so you can understand what the jeans might look like on.
An update to the brand's popular straight leg, these light blue jeans have a bootcut silhouette that is ideal for balancing out fuller hips or wider shoulders. To help highlight your waist and deliver on hourglass curves, make sure to tuck your top in, or add one of the best designer belts to draw attention to your middle.
---
9. VERONICA BEARD
Sheridan panelled high-rise flared jeans
Specifications
RRP: $330 / £310
Sizing Ranges: US: 23-32 / UK: 23-32
Inseam: 35"
Reasons to buy
+
Individual style
+
Looks premium
+
Machine washable
A contemporary American fashion brand, Veronica Beard covers a wide range of styles, from sharp tailoring to boho-style dresses and its denim collection comprises of both classic and trend-led silhouettes.
Tall boyish figures rejoice. These supersonic flares will add shape to even the most straight-up-and-down body types. Their unique paneled detailing creates instant shape to long legs and the 35" inseam provides ample length meaning there's no need to miss out on the flare trend that's penetrated the fashion trends 2023. The quality comes with the designer price tag, but this pair definitely look their value. We love the v detailed belt loop and perfectly placed back pockets.
If you're unsure how to style flared jeans, keep the rest of your outfit simple when it comes to a loud-talking pair of jeans like these; a simple white tee and black biker jacket or blazer would fit the bill perfectly. Go for more form-fitting shapes on top to balance the width of the flare. A selection of premium accessories would finish off the look.
---
10. J CREW High-rise '90s Classic Straight Jean
Specifications
RRP: $138 / £154
Size Ranges: :US: 25-32 / UK: 23-32
Inseam: 33"
Reasons to buy
+
Available in classic, petite and tall
+
Machine washable
+
30% Re-imagined fabric
With a rise in popularity of the straight leg cut, this J Crew style has a lot to offer. The '90s classic straight jean comes in classic, petite or tall fit offering solutions in sizes for all body types. The high waist cut is super flattering, giving a contoured finish, while the high waist also helps to create a lengthened silhouette, making your looks look endless.
Made from 100% cotton, these jeans have more of a classic rigid feel, as the lack of elastane means there is no stretch - great if you want a rigid fit. A universally flattering style, straight jeans can be really flattering on athletic body types who want to even out shapely legs. Give your wardrobe a nod to spring with this light, natural shade of denim; they're sure to freshen up any outfit. Try wearing with tonal colors such as white, creams and neutrals, and complete your look with tan and gold accessories.
---
11. 7 FOR ALL MANKIND Modern Dojo Flared High-Rise Jeans
Specifications
RRP: $220 / £210
Size Ranges: US: 23-32 / UK: 23-32
Inseam: 33"
Reasons to buy
+
Versatility
+
Durability
+
98% cotton, 2% elastane
If you're looking to make more of a long-term investment for your wardrobe, 7 For All Mankind is worth considering, as they offer some of the best designer jeans. The premium product offers longer durability with maximum comfort and also provides a longer inseam cut. Its Modern Dojo flared jeans have an inseam measurement of 33" which also makes them some of the best jeans for tall women. What's more, being tall doesn't have to mean you can't follow the latest trends, as CEO of 7 For All Mankind, Francesca Toninato told us, "Y2K and '90s influences continue to reign supreme for 2023" which this flared style emulates."
A modern boot-cut look like these look great with a sharp shirt (don't forget the tuck-in) and this in turn can be styled with simple white trainers for daytime or a heeled loafer for the evening. Complete the look with a chic crossbody bag.
---
What style of jeans is best for tall women?
There are many advantages to being tall, but like anyone else, finding the best jeans for tall women can be problematic. Style-wise there aren't many cuts that don't work on a tall frame but being able to find those styles is usually where the problems arise. Full length styles are generally the most flattering on tall women for that endless leggy look. Be sure to measure your inseam to the point you want your jeans to come to and shop online as it's much easier to type in your statistics than find them in a store. From Mom, Dad, Boyfriend and all the cuts in between, you're sure to find a style that suits your long legs.
Anna Woodham is a well-established stylist with nearly 20 years of experience under her fashionably tied belt. She has styled numerous celebrities such as Amanda Holden, Holly Willoughby and Claudia Winkleman to name a few and has endured a very tense moment interviewing Kim Kardashian during which her dictaphone decided to cease working!
Anna has worked for titles such as Stella, Grazia Middle East, The Telegraph Magazine, YOU magazine and was formerly Fashion Editor at S magazine. Anna also writes a blog called The Mothershop; a curated edit of the best maternity wear on the market.