Sunglasses trends 2023: the 8 styles to shop according to a fashion editor
8 sunglasses trends 2023 that will up your eyewear game this season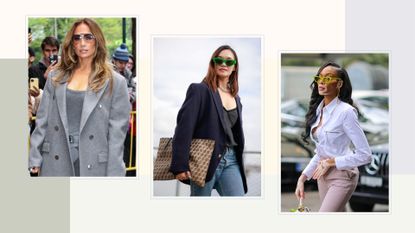 (Image credit: Getty Images)
Sunny days are here to stay, so use the sunglasses trends 2023 to update your look in a jiffy. With plenty of trend-worthy styles to choose from, the latest sunglasses trends will complement your face and outfits all year round, so you can shield your eyes fashionably.
Getting to grips with the latest sunglasses trends 2023 is the speediest way to this season's best sunglasses. In the same vein as eyeglasses trends, the latest trends are derived from designer brands and the runway, framing what's available on the market and covering everything from sunglasses shape to color.
You will notice a synergy between the latest sunglasses trends for 2023 and this season's fashion trends with similar style eras referenced and the latest fashion color trends all present. As always the sunglasses trends are a mix of standout pieces and a reinforcement of staple silhouettes that are totally timeless.
Sunglasses trends 2023
Whether you're looking for sunnies to wear everyday, or a vacation-ready pair to team with your best swimsuit. Deciphering what sunglasses suit me is the best place to start. Vina Lakhani, optometrist at David Clulow Opticians has this advice when it comes to picking your next pair:
"For people with round faces, it is generally good to go for bold angular lines. Sunglasses with angular frames will sharpen softer facial features. Clean lines and angles will help to give the appearance of a longer, thinner face while a darker frame can enhance angular features.
People with square faces already have angular facial lines so to soften this effect, look for curved round glasses with thinner frames - oval or rounder frames that are wider near the hinges are a good choice.
With oval faces, they are quite versatile so they could go for any frame shape. Personally, I prefer large and bold frames for oval-faced people. Heart-faced people have a wider forehead and angled chin, so to balance this choose a frame which is wider than your forehead so rounded or oval frames would be a good idea."
Once you've identified the best designer sunglasses shape for your face, it's time for the fun to begin! With our guide to the sunglasses trends 2023, you'll be looking stylish in no time.
1. Funglasses
If you're looking for a quick way to update your spring capsule wardrobe, a pair of fun frames will immediately bring your look up to date. Spanish clothing brand Loewe's inflated frames were one of the five New York Fashion Week street style trends and look set to stay a must-have for the rest of 2023. Pardon the fashion quote, but while florals for spring might not be 'groundbreaking', Swarovski's playful take on the motif in sunglasses form is another nod to the trend. If you're after sunglasses that are a little more subtle, look for other statement frames such as gem-encrusted starlet-inspired styles for a touch of Hollywood glamour.
Loewe Inflated Cateye Sunglasses
RRP: $360 / £310 | The definition of fun, these balloon-inspired frames come in a range of shapes but we love these universally flattering cat eye sunnies. Team with a bright dopamine-dressing-inspired inspired outfit for maximum impact.
Swarovski Pink Floral Sunglasses
RRP: $300 / £230 | Available in both pink and soft yellow, these statement sunglasses will bring more joy to your life than a bouquet of flowers ever could- and they'll last longer too. Super stylish, these will work with the best wedding guest dresses too.
2. Sleek & Sporty Sunglasses
With athleisure and activewear now firm favorites in our wardrobes, it was only a matter of time before our collective love of sporty styles was reflected in the sunglasses trends 2023, literally. Racer-style sunglasses featuring mirrored lenses are enjoying a resurgence, thanks to Y2K and '90s fashion trends. While you might be unsure of this style if you wore it the first time around, the wraparound styles are actually some of the most protective for your eyes as the extended lens blocks out light and harmful rays at the sides of your face too. When trying on styles, it's important to opt for a size that fits snugly without squeezing your face at the temples - many sports brands will offer different width frames in this silhouette for the perfect fit.
Oakley Corridor Running Sunglasses
RRP: $184 / £152 | Taking inspiration from runners and retro shapes found in Oakey's archives, these semi-rimless glasses have a cool nostalgic pink tinted lens that will look great whether you team it with lycra or high heels and leather leggings.
Bottega Veneta Cone Wraparound Sunglasses
RRP: $690 / £470 | These bold and bright frames tick every box for this trend with their contoured shape meaning they sit close to the face. Plus, the rubber-tipped arms ensure that they won't come flying off if wear them for sport rather than just style.
3. Mono Lens Sunglasses
If you're a fan of supersized sunnies, then the mono lens sunglasses trend is one for you. Seen on celebrities including Kim Kardashian and Jennifer Lopez, this supersized style borrows from ski goggles for the ultimate in cover-all-don't-look-at-me-please-look-at-me sunglasses. But these single-lens styles are not just for the slopes. Look for pairs with mirrored or logo lenses for added fashion points or why not go one step further and try Dior's visor style?
Christian Dior Pink Logo Lens Visor Sunglasses
RRP: $730 / £520 | If you're a fan of the sports luxe trend, then these visor styles are for you Logos one step too far? They're also available in single-lens colors as well as the brand's popular chinoiserie print for a more subtle, feminine take on the trend.
Quay Australia Polarised Mono Lens Sunglasses
RRP: $75 / £65 | With oversized frames, another one of the key sunglasses trends 2023, you'll be ticking two trends with this enormous style from Quay. With a cool ombre effect and polarized lenses, they'll shade your eyes on the brightest of days.
Blenders Mirrored Mono Lens Sunglasses
RRP: $59 / £60 | This style from Blenders borrows heavily from ski goggle chic with its curved shape and rainbow-hued lens. The clear frame means a lighter look, appearing to float on your face, making it a good option for those with smaller or narrow face shapes.
4. Tinted Lensed Sunglasses
Want to make the world seem a happier place with help of a pair of sunglasses? Then rose (and other colors) tinted lenses are for you. This trend fits right in with the Nineties style revival - if you're wondering how to style wide leg jeans, why not try finishing your outfit with a pair of tinted lenses. Nineties style icon Jennifer Aniston has been making a case for orange-tinted lenses but other popular hues include yellow, red, and blue. Just like with frames, it is worth considering what color suits your complexion before you invest in this sunglasses trend.
Hamish Tame, Creative Director of Le Specs, offers this advice when choosing tinted lenses: "The key with tinted lenses is to make sure they are not too light and have more of a chic darker tint. For summer, I'm loving the warm tan tinted lenses in our Hankering cat-eye or Hydrus Link silhouette, which is a favorite of Gigi Hadid."
RRP: $163 / £156 | Creators of the original aviator, these tinted lenses with metal frames are ideal for perking up those spring and summer outfits. The graduated tint in an almost ombre apricot and yellow is absolutely gorgeous with other light hues.
Monki Oversized Aviator Sunglasses
RRP: $18 / £15 | When shopping for sunglasses with tinted lenses, opt for a similar or neutral frame color to offset the lens. Metal and tortoiseshell are good options as they'll make colored lenses stand out - these oversized aviators also tick the '70s trend.
5. Bright Framed Sunglasses
If you think the trend for mood-boosting brights applies only to bright color clothes, think again. Hamish says: "After years of keeping it low-key, this is the summer for us to start getting expressive again with our eyewear!"
A quick way to perk up even the simplest outfit is with a pair of bright sunnies. Yeun Sum Cheung, Head of Frames Development at Specsavers is excited for this brighter look: "Dopamine brights are dominating the runway and are the perfect way to add a cool pop of color to any outfit. These are my favorite trend of the year as they combine bold colors with simple designs."
The key is to keep this look simple, so look for flattering, classic frame shapes such as rounded rectangular or cat eye styles. When it comes to selecting the best colors for your complexion, Vina Lakhani, has this advice: In terms of skin tone, if you have got a warm complexion then warmer tones like orange and red would go quite well and if you have got a cooler complexion go for blue, pink or green colored frames.
If you're looking for a timeless way to add bold bright sunglasses to your look, why not consider a pair in bright white? Marie Wilkinson, Style Director of Cutler & Gross says, "Although an advocate of bright colors, white should never be overlooked and it's a trend that sees a comeback each summer."
Black Eyewear Orange Carmen Sunglasses
RRP: $249 / £197 | If you have a warm skin tone, why not try n orange pair of sunglasses? This bright hue will instantly make it feel like summer, whether you're at the beach or in the city. The similar-toned lenses in this pair will create synergy across your face.
RRP: $210 (US only) | Digital Lavender was named the WGSN Color of the Year 2023 and this pair of cat eyed sunnies gives a nod to this colorway perfectly. Ideal for pairing with white jean outfits on bright days, these will work with pastel dresses too.
Celine Blue Acetate Cat-Eye Sunglasses
RRP: $380 / £270 | This updated retro-future take on the classic cat eye frame is chic and will elevate your best jeans and white tee outfit in the blink of an eye. The clear acetate also adds a summer-ready lightness to the appearance of the frame.
6. Tortoiseshell Sunglasses
If you're looking for a fail-safe flattering frame, then look to classic tortoiseshell-inspired sunglasses for a 2023 trend that is set to last. The abstract pattern made of neutral tones will work for everyone - the broken-up colosingle-toner means that frames are less blocky and lighter in appearance than single-tone frames. From beige to deeper orange tones and darker browns, there's a tortoiseshell to suit everyone. To keep your sunglasses looking light, opt for lenses in ombre or a lighter color such as green.
This classic frame color option is a hit with everyone from the Princess of Wales to Sarah Jessica Parker, so grab a little bit of star style with a pair of tortoiseshell frame sunglasses and team with a Burberry trench coat for a stylish spring look.
Ace & Tate Hudson Tortoiseshell Sunglasses
RRP: $125 / £110 | The caramel tones of this lighter tortoiseshell style from Ace & Tate is a great way to add warmth to your complexion. Available in three fits, you'll be sure to find the perfect-sized frame to suit your face.
Ray-Ban Classic Wayfarer Sunglasses
RRP: $163 / £137 | Ready to invest in a pair of sunglasses? You can't go wrong with a pair of Ray-Ban Wayfarers. This dark tortoiseshell is flattering while the deep green lenses are just dark enough to hide behind.
7. Y2K RECTANGULAR Sunglasses
With '90s fashion trends making a comeback, rectangular and oblong frames are another key sunglasses trend for 2023 and there's a face-flattering shape for everyone.
Yeun Sum Cheung, says: "Rectangular frames are a must-have for everyone this year, as there is something for everyone. You can't go wrong with classic black or tortoiseshell colors, whilst brighter, bolder shades will add a pop of color to all skin tones. Bold, angular frames will suit those with softer facial features, whereas square and angular faces are offset by frames that are slightly more curved"
Robert Roope, founder of Black Eyewear, agrees: "a large bold square or oblong chunky frame in a playful jolly bright color is a key trend for sunglasses this year"
& Other Stories Rectagular Sunglasses
RRP: $39 / £27 | Timeless tortoiseshell is always a good investment and these frames comes with the added bonus of a trend-worthy silhouette. These oversized square frames will work on virtually every face shape and pair with every outfit.
Saint Laurent Pink Rectangular Sunglasses
RRP: $405 / £275 | A cross between oblong and cat eye frames, this style will have you thinking pink in no time. This Y2K style is giving us serious Elle Wood vibes in a totally fashion-forward way - the uptick corners give a quirky twist to a classic shape.
Specsavers Yellow Oblong Wineglass Sunglasses
RRP: £69 | Add a sunny disposition to your style with these yellow rectangular frames. Deeper mustard hues are a sophisticated take on this color trend and will add a grown-up twist to the trend, making them ideal for summer outfits for work.
8. OVERSIZED/SEVENTIES Sunglasses
With the seventies trend returning for summer, it's time to nail how to style flared jeans, and clogs - and don't forget a pair of oversized sunglasses!
While in recent seasons sunglasses trends have veered towards Matrix-style tiny sunglasses, if you like to hide behind your frames, it's time to breathe a sigh of relief and embrace oversized sunglasses once more. Seventies-inspired round and aviator shapes are key to this trend, with the latter working well with every face shape. If you're looking for a lighter option, swap acetate frames for lightweight metallics in silver or gold.
Chloe Joni Oversized Sunglasses
RRP: $225.37 / £198.75 | Chloe's round oversized sunglasses have an ethereal hippy vibe perfect for the summer. Look for ombre lenses to complete your laidback luxe look. The scalloped edges make this pair a must-have style for the new season.
Cutler & Gross Oversized Round Sunglasses
RRP: $525 / £340 | With a gorgeous round shape that wouldn't look out of place on Jackie O herself, the 1327 style from Cutler & Gross embodies an oversized and chic silhouette that commands all the attention while also saying 'no pictures, please!'
Antonia Kraskowski is a freelance fashion editor with over 15 years of experience in the industry.
Having started her career at Conde Nast working for titles including Easy Living, Glamour and Vogue New Markets, Antonia went on to work in the fast-paced world of newspapers and weekly magazines, becoming Fashion Editor at Express Newspapers and Magazines in 2014, a role she held for five years before going freelance.
Her career has seen Antonia travel the world, shooting in 18 countries and styling campaigns for brands ranging from Ben Sherman and DKNY to Wallis.