These are the five New York Fashion Week 2023 street style trends everyone is wearing
There has been no shortage of NYFW 2023 street style trends to take inspiration from, and these are the looks we spotted on repeat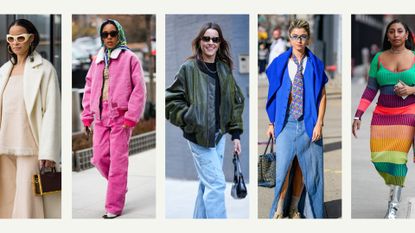 (Image credit: Getty)
New York Fashion Week 2023 street style is undoubtedly one of the most anticipated aspects of the season. For all manner of fashion lovers, the ensembles of runway attendees is almost as intriguing as the clothing gracing the runways, and this year has been no different.
With fashion month now in full swing, there has never been a better time to source new season wardrobe inspiration. Whenever our style essentials begin to feel stagnant and we need to inject some creativity into our looks, New York fashion week 2023 street style is always the place we begin. Whether you want to keep up-to-date with the latest trends or are looking for the newest must-have item to add to your collection, you won't want to miss these striking ensembles.
The fashion trends 2023 have given us a pretty good idea of what we can expect to see growing in popularity this year, but our favorite way to measure which trends will actually stick is to check out what is taking over on the street style circuit. We have looked at the ensembles of the many glamorous fashion week guests to suss out which emerging trends are truly worth your attention.
5 trends we spotted in NYFW 2023 street style snaps
We came across thousands of incredible street-style ensembles at NYFW 2023, but there were a few trends that popped up again and again. From statement accessories to funky prints, there was no shortage of style inspo to get us ready for the spring. Whether you want to revamp your wardrobe by injecting some of the fashion color trends 2023 or tap into the latest shoe trends 2023, you can get ahead of the curve by channeling these looks.
1. Statement Stripes
Now this is a trend we didn't see coming, but one we can absolutely get on board with. Taking dopamine dressing to the extreme, bold and beautiful rainbows cropped up everywhere during New York Fashion Week, bringing bright and summery palettes into focus. If you've ever found yourself wondering what color suits me, this trend gives you a chance to try them all. However, if this print is slightly out of your comfort zone, opt for something a little more toned-down or more monochromatic to ease yourself in. You can also start off with rainbow accessories, like this gorgeous scarf, to add some flare to any outfit.
(opens in new tab)
RRP: $30 / £25 | Statement accessories are the best way to create a stand-out outfit with minimal effort, and this affordable scarf will do just that. Throw on with your best jeans and a plain tee to let your accessories do the talking.
RRP: $69.95 / £33 | One of the best sweaters to have in your rotation, a crewneck will never fail you. Divert from neutrals with this thick striped number that will instantly elevate even the comfiest of outfits with minimal effort.
(opens in new tab)
River Island Knit Trousers
RRP: $47 / £25 | With the vibe of Italian clothing brand Missoni but for a fraction of the price, these trousers are a must-have. Bright color clothes can be slightly intimidating, so this toned-down alternative is ideal for something more understated.
2. Preppy Pieces
The preppy aesthetic has been growing in popularity in recent months and the NYFW 2023 street style shots prove that it is here to stay. A modern and youthful take on business attire, this look takes staple pieces like a tie and a pleated skirt integrating them into the rest of your wardrobe. A light take on Dark Academia style take your best blazer to the next level by layering over a floaty blouse and ditch comfortable flats for a pair of chic trainers or ballet pumps to finish off the look. Easy to recreate with items you probably already have in your capsule wardrobe, this style looks best when unusual pieces are mixed and matched - don't be afraid to try something new. Pleated and tailoring were key looks during Milan Fashion Week 2023, with the likes of Fendi leaning on pleated skirts over pants for a fresh take on the style.
(opens in new tab)
RRP: $55 / £40 | A modern take on a classic look, this grey skirt can be teamed with absolutely anything thanks to its neutral hue. Dress up with some knee high boots or opt for black trainers and a tee on weekends.
(opens in new tab)
RRP: $38 / £32 | Our favorite thing about this style is that it only really takes a tie to recreate. That being said, it is worth investing in a good one. We love this velvet texture that works perfectly with the black color, ideal for formal dressing.
(opens in new tab)
Cos Oversized Cotton Shirt
RRP: $99 / £59 | An item that absolutely everyone should have, this oversized white shirt is the ultimate staple piece. For everything from what to wear on a first date or a foolproof office outfit, you can't go wrong.
3. Striking Sunnies
The eyeglasses trends 2023 are all about big and exaggerated shapes, which we saw echoed throughout New York Fashion Week 2023 street style pictures. The best sunglasses, as well as being extremely practical, also provide an opportunity to show off your aesthetic in a subtle yet tangible way that will catch anyone's eye. There are really no rules when it comes to glasses, and we love having a range of different pairs in our collection that can be teamed with different ensembles for any occasion. These weird and wacky silhouettes were the cherry on top of every NYFW street style outfit and are band to eventually influence the latest sunglasses trends, so if you want to invest in one small item that will have the power to make any look a trendy one, a pair of statement sunnies is it.
Hot Futures Sonic Sunglasses
RRP: £105 (US shipping available) | Indie London-based brand Hot Futures makes some of our all-time favorite sunglasses, and we're obsessed with this futuristic shape. A rival to the best designer sunglasses, these are perfect for summer.
(opens in new tab)
Loewe Inflated Sunglasses
RRP: $360 / £310 | If you have a little bit of extra cash to spend, Loewe eyewear is the place to go for a real stand-out piece. These balloon-esque frames are cool and colorful, and could even be used as a miniature art piece to display at home.
(opens in new tab)
RRP: $22 / £15 | There is a huge range of affordable and trendy sunglasses available on the high street, and these frames are a great example of that. Match the silver hue to the latest jewelry trends 2023 for a dazzling look.
4. Big Bombers
A trendy outerwear piece is one thing we always turn to when we're stuck for what to wear, and the jacket of the moment is certainly the bomber. In various colors, textures and fits, this is a piece that cropped up again and again in New York Fashion Week 2023 street style images, imagined in numerous different ways. The great thing about this trend is that it really allows you to let your creativity run wild and interpret the look in a way that suits you - go for fluffy textures and vivid neon hues, or keep things classic with black leather. One of our favorite types of coats, everyone looks brilliant in a bomber.
RRP: $255 / £195 | Baggy and oversized, this jacket is bang on trend for this season. Khaki is a great neutral that can be mixed and matched with anything, so consider swapping out your best trench coat for something a little more current.
(opens in new tab)
RRP: $102 / £60 | The best leather jackets are timeless pieces that you will always reach for, but why not update the moto silhouette? Comfortable and classic, this affordable Topshop bomber is one of our favorites.
5. Top Handle Handbags
The handbag trends 2023 saw this one coming: top handle bags are the new it accessory. An updated take on shoulder mini bags and baguettes, New York Fashion Week attendees ditched the ever-popular crossbody bags in favor of petite purses to cart the essentials. From the iconic Lady Dior to popular Bottega-esque silhouettes, there was no shortage of incredible top-handle bags to dig your teeth into. One of the easiest trends to re-create yourself, we can bet you already have something similar at home. But if not, now is the time to invest - this trend is about to be huge.
(opens in new tab)
Eastpak x Telfar Small Shopper
RRP: $110 / £105 | Telfar bags have been sported by the likes of Beyoncé and Zoe Kravitz, and the label is only growing in popularity. An affordable alternative to the best designer bags, invest in Telfar when you can, because they're not easy to get your hands on.
(opens in new tab)
Anthropologie Green Satchel
RRP: $128 / £115 | The Bottega Veneta Jodie bag has absolutely exploded on the fashion scene, and this Anthropologie alternative is a great designer dupe. Go for statement green to add a pop of color, or keep it classic with black.
(opens in new tab)
Mango Knots Silver Shopper
RRP: $45.99 / £25.99 | Spanish clothing brand Mango is one of the best places to shop for affordable and trendy accessories, and this bag proves it. Metallic and mini, this shopper is the statement piece every wardrobe needs.
Amelia joined woman&home after graduating with an MA in Magazine Journalism from City University in 2022. She specialises in lifestyle journalism and throughout her undergraduate degree she wrote for a variety of student publications, where she developed a love for all things style, beauty and sustainable fashion. She has previously written for titles including OK! Magazine, New! Magazine and Notion before she started her career as a lifestyle journalist with woman&home after completing an internship with the brand.