Milan Fashion Week 2023 highlights so far, including Gucci, Prada, Diesel, MaxMara and Fendi
Keep up-to-date with Milan Fashion Week 2023 with our highlights guides to the best shows and trends emerging for next season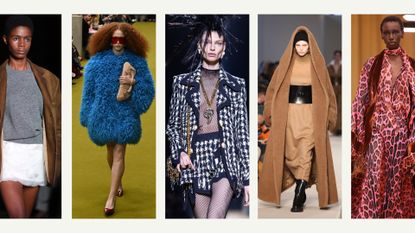 (Image credit: Getty Images)
Third on the circuit, Milan Fashion Week 2023 has begun and as home to some of the biggest designer brands on the planet, this is one of the most anticipated events on the fashion calendar.
Milan Fashion Week 2023 follows hot on the heels of London Fashion Week and is packed full of some of the best Italian clothing brands on the market. Running from the 21st to the 27th of February 2023, now that we're about half way through, we've seen shows from many big names including, Gucci, Moschino, Diesel, MaxMara, Fendi and Prada (amongst others), but there is plenty still to come.
Attended by fashion editors, influencers and celebrities if you're eager to see what clothes and accessories will be hitting stores in the fall, you've come to the right place. With a reputation for beautiful cuts and exquisite fabric, Milan is also home to some of the best designer bags. We'll be watching all the shows, so you don't have to and reporting back on the Milan Fashion Week 2023 highlights here, and what it might mean for your wardrobe in the coming months.
Milan Fashion Week 2023
These are some of our favorite Milan Fashion Week 2023 shows. We'll be updating our MFW 2023 highlights report throughout the week and explaining how they will effect the fashion trends 2023.
1. Gucci
When someone leaves a job, regardless of the industry - even if you're Gucci, one of the most famous fashion brands on the planet, there is always a handover period. With Alessandro Michele having departed the Italian fashion brand in November, and replacement Sabato De Sarno not set to show his first line for the brand until September, the fall/winter Milan Fashion Week 2023 collection was designed by the in-house creative team at Gucci, who previously worked with Michele.
One of the most desired show tickets of the week, not just because the front row was always going to be teaming with celebrities - this season's guests included Dakota Johnson. There was the undeniable question as to whether or not the former creative director's signature would still be evident.
As the saying goes, the devil is all in the detail and as the Gucci show invites were seen being readied to be sent out on the brand's Instagram page, they were delivered alongside polaroid shots of the new collection. Although full looks were not revealed, just tiny details of Gucci's recognizable GG logo and the brand's iconic horsebit clasp decorating the best Gucci bags. It was obvious that while this collection would always be new, it would not be one that ignored the importance of heritage.
A runway set that resembled a '70s lounge, models entered and exited from lift doors, while guests were seated on semi circular leather couches sunken into the floor, or discreetly slipped around the edges of the room.
Weaving together multiple aesthetics into one succinct story, the F/W Gucci collection delivered everything you might need for the season ahead. Offering a nod to grunge, the overall '70s-inspired collection felt like the end of a particularly good party, having of course, headed out straight from the office.
From double-breasted jackets and relaxed tuxedo fits, to split hem fronted pants, office attire was once again spun on its head. With a plethora of pencil and long straight skirts on offer, long, wool tailored coats were treated to oversized silhouettes, before being cinched in at the waist with skinny horsebit belts.
Brightly colored outerwear in faux fur and fluffy teddy textures, including yellow, azure blue and hot pink helped to bring more of a post-work party feel to proceedings and were joined by a host of dresses with cut away, strappy backs, crafted with lace trims, and circular paillette sequins, as well as diamante encrusted designs.
As one might expect, as the makers of the best designer belts, accessories were key to the show and a selection of new GG monogrammed belt buckles and slender, wrap around horsebit iterations were key to the styling. While the ideology of the collection was rooted in the '70s, angular sunglasses helped to enthuse a modern edge throughout and these silhouettes will undoubtedly influence the eyeglasses trends 2023 in the coming months. Courts were pointed, while perhaps the most interesting footwear of choice was the return of the yeti boot, a style we suspect you might see a lot more of in the later part of the year.
Naturally Jackie bags had to enter the fray, a popular seventies saddle-style bag, but this was joined by a host of newer clutch designs, elongated in frame and featuring a large horsebit front clasps, ideal for tucking under the arm for work or play. But have no fear, if you've already invested this year, top handle mini bags, as well as simple shoulder bags are set to continue influencing bag trends for the foreseeable.
The show ended with rapturous applause and a moment for the creative team at Gucci who put this collection together without Alessandro Michele. And as the team streamed out into the show space it is a stark reminder that while often there is a director at the helm, it takes a village to build a global fashion brand.
2. Moschino
While Y2K and Noughties styles have been overwhelmingly popular so far during Milan Fashion Week 2023, Scott, who is now into his 10th year at Moschino bucked the trend by opting for a rebellious, '80s, punk-inspired look.
Models stomped down the runway with distorted mohawk hairstyles that immediately set the tone for what was to come. While the overall aesthetic could fool you into the belief this was a 'prim and proper' collection thanks to the boucle skirt suits, monochromatic dresses, and neatly checked two-pieces, the asymmetric, thigh-high skirt hems, heavy gold jewelry and penchant for bra tops said anything but.
While black and white was the mainstay of the collection, accents were added via a vivid and very much retro color palette. Vivid violet moved on the fashion color trends obsession for lilac to a much deeper purple, which was joined by accents of deep hot pink and flashes of red. For a selection of hues that felt truly of the time.
The vintage inspiration for the collection was evident throughout and it felt true to the period, championing the best parts of the look. '80s partywear looked all the better for its brush with Moschino and bow-fronted silk dresses with lace under tops and puffy taffeta ballgowns will be styles straight-to-market brands can emulate with ease, ensuring you'll be able to stay on trend regardless of budget.
Lashings of gold, costume-jewelry brooch embellished and chain belts, alongside multi-bucked boots and leather opera gloves were the continued accessory themes and of course there were plenty of signature Moschino bag styles that will help to frame the trends as we head towards the end of the year.
Known for creating some of the best leather jackets too, these classic pieces got a punk-worthy upgrade for F/W 2023, and we particularly liked the cropped biker and the biker jacket waistband that actually fell into a chic long skirt.
The '80s receives a lot of flack for its style choices, but if Moschino is directing the style revival, we're on-board.
3. Prada
One of the most anticipated shows of Milan Fashion Week 2023, Prada gave fashion fans plenty to talk about, with Emma Roberts and Claire Foy just some of the stars taking a spot on the front row to watch an A-list parade of models which included Kendall Jenner and Gigi Hadid in signature Prada styles. Co-creative directors Miuccia Prada and Raf Simons shared their vision for this season on Instagram, stating that the collection "reconceptualizes, reconsiders and ultimately rediscovers ideas of beauty," that is "determined not by aesthetic, but by action."
Beginning with a sci-fi-esque soundtrack on a somewhat brutalist concrete runway, softness immediately cut through in the form of a white mid-length applique skirt and slouchy grey knit. This contrast is a theme that was carried throughout the show via the music, styling, silhouettes and accessories - a signifier of the multi-faceted modern woman that can approach beauty in numerous ways. Soft, tough, serious, feminine, edgy, emotional, youthful, and mature, Prada gave us hints of all of this simultaneously.
Military and aviation styles defined the first third of the show, with brown suede structured jackets, sculpturally twisted ties and epaulettes juxtaposed form-fitting dresses, that felt almost uniform-like. Blazers and top-handle briefcase-style handbags carried over themes and shapes from FW22, signalling that structure remains key when it comes to the best designer tote bags next season.
Giving yet another nod to the reimagination of modern workwear that has been an overriding theme across international runways this year, skinny tailored pants were balanced with oversized blazers and sharply pointed collared shirts.
But while there was plenty of newness from the Italian fashion house, Prada's key ingredients were ever present. A refined color palette neutral hues, peppered with pastel and punchy pops of red and yellow, married beautifully with detailed floral appliques and the brand's statement logo.
Pillowed skirts and tops offered a switch up in silhouette, but one that felt truly dreamy amongst the heady mix of beauty interpretations. Ethereal white nurse dresses and classic pointed heels felt prim and proper alongside practical parka coats aplenty that continued to challenge the concept of beauty. Other standout outerwear pieces included a range of capes, announcing the styles return to the mainstream.
The pairing of Prada and Simons has proven to be both harmonious and one that creates a thrilling energy that moves the brand forward without losing its undeniable signature style.
4. MaxMara
Ever the master of neutrals, MaxMara brought timeless elegance back to the Milan runway. The brand's signature camel coats introduced the collection, updated with a hooded silhouette and boxy, floor-skimming finish, successfully whetting our appetites for what was to come.
Labeled as 'a touch of romance' on the MaxMara social channels, this season propelled regency styling into the 21st century. The idyllic soundtrack perfectly complimented leather waist-nipping belts sitting under the bust for an almost corset-like feel, while scoop-cut necklines, hair bows, and empire dresses strengthened the nod to the era. These highly feminine details were well-balanced via masculine suit fabrics, with tailored wide-leg pants and deep shirt cuffs. This is a style that has been spotted on numerous runways this show season, suggesting this is an aesthetic to keep an eye on in the coming months.
In a continuation from FW22, oversized popped collars and ribbed knits stood out against the neutral tonal palette that dominated the show. Although pops of grey-tinted purple and pink added a calming and refreshing femininity, that deviated the collection just the right amount from traditional camel hues. Opera gloves made a consistent appearance, both color-coordinated pairs with one-shoulder knits, as well as jet-black iterations with evening looks - a look sported by Kate Middleton at this year's BAFTAs, balancing youthful figure-hugging dresses with refined and ageless details.
One-shoulder robing was a refreshing stylistic choice that reimagined many of the label's classic designs, giving three-piece co-ords and mid-length dresses, a new feel. While Max Mara is undoubtedly loved for its use of luxurious fabrications in a wearable way, the brand gave a nod to sportier elements through beanies and wrap-around sunglasses that kept within the tonal looks for a touch of modernity that did not feel out of place.
While there are certain expectations that come with a MaxMara collection, Ian Griffiths managed to seamlessly blend the brand's 70+ year heritage with a directional feel.
5. Alberta Ferretti
Bringing sultry glamour to the runway, a color palette of grey, black, merlot, silver and red, provided a richness that married perfectly with the fabrications on offer. Made up largely of block color and tonal looks, 'after-dark blooms' was the one print to find its way onto the runway, adding a feminine feel to a collection that heavily featured masculine tailoring in the form of relaxed silver suits, sharp leather blazers, and wool coats.
A play on texture, corduroy suits were layered with leather and shearling coats, silk blouses tucked elegantly into leather pants, while slinky silk maxi skirts and column dresses were topped off with faux fur coats and wide-brimmed, felt fedora hats for an uber glamourous approach.
Outerwear provided perhaps some of the strongest looks in the line-up, giving us a window into some of the coat trends 2023 for later in the year; With a perfectly cut leather trench that we will certainly be thinking about for some time, alongside tightly belted blanket coats, and plush faux fur designs.
With a feeling of high-octane glamour, the later part of the show was reserved for partywear and cocktail hour ensured a line-up of sheer and lacey dresses, glittering cami dresses, intricately beaded jackets and velvet paneled frocks that gave just a touch of gothic romance. Playful yet grown-up, this is a collection full of pieces that will easily become future classics.
6. Fendi
With a blacked-out runway and streaming light tunnel, the show space and the clothing were unified in their elegance. Sophisticated and timeless, yet totally modern, Artistic Director Kim Jones introduced a collection that effortlessly mixed androgynous tailoring - menswear fabrics made up a key part of the collection, worn with uber-feminine lace, velvet, chiffon and silk.
Workwear updated, pleated skirts over pants, double-collared tailored coats and relaxed fit blazers gave way to a new dawn of office attire. High neck knitted dresses and deconstructed halterneck cardigans sat along side sportier elements, including collared, zip-fronted sheer dresses that gave even more relaxed looks a polished feel.
Continuing on the '90s fashion trends that have dominated global runway collections, slinky long skirt outfits added a softness to tailored elements, with low-slung waists a trending silhouette we've spotted elsewhere over the last few weeks.
Featuring a gradient of color ranging from black to hot pink, stand-out combinations included pastel blue with chocolate brown, a palette that delivered razor-sharp sophistication. While red and hot pink tapped into a continued love of dopamine dressing that emerged as a New York Fashion Week 2023 trend and during London Fashion Week.
While the quality of the fabric practically pulsated off the runway, some notable details included macs lined in pale sequins that are surely the height of discreet sparkle.
Of course, when it comes to Fendi, it's all about the bags and the runway show did not disappoint, giving way to a host of new top-handle bags, suggesting this handbag trend is here to stay.
If you've ever wondered what to wear in Rome or Milan, the Fendi show delivered the blueprint for chic Italian dressing. Pared-back, simple silhouettes with a twist, Fendi kicked off Milan Fashion Week with a collection that is hard to beat.
7. Roberto Cavalli
Roberto Cavalli is known for its '70s, glam-rock aesthetic and at Milan Fashion Week 2023, the brand did not disappoint. A thigh flashing collection of dresses and oversized outerwear for an extra level of luxe, animal print remained at the heart of the collection. Lashings of leopard print, blown up and repeated in all formats, covering dresses, tops and bottoms, fashion's favorite graphic played a pivotal role in the Cavalli line up, with a statement hot pink iteration tapping into the latest fashion color trends.
Unwavering in its bohemian house style, there were nods to western styles, that have been popular over the last 6-12 months, patchwork leather jackets were styled nonchalantly with tiered velvet skirts, while silk velvet devoré leopard print made the Cavalli label just one of many big design houses backing this fabric for a return this fall/winter season.
8. Diesel
Greeted by a pile of 200,000 branded condoms in the middle of the runway, the tone of this season's Diesel collection was set early on. Thumpy and hypnotic club music faded into focus as the opening look was revealed: a pair of staple Diesel denim jeans and a biker jacket, a look that we have seen crop up in New York Fashion Week street style.
Hinting at running threads of blues and exaggerated textures, soon devoré, shiny vinyl and plastics, and glitter descended on the runway.
Encapsulating '90s fashion trends, the various co-ord sets, slinky, chain belted midi skirts and oversized outerwear felt simultaneously familiar yet innovative, thanks to updated shapes and fabrics. Glenn Martens' vision for the brand has always been cutting-edge and risky, and this collection did not stray from that aesthetic.
What stood out most about this show, among the dizzying spherical formation that the models had to troop, was the subversive Diesel elegance. Flowing floor-skimming dresses, silk textures and hooded separates added unexpected touches of glamour to the heavily streetwear-inspired collection, made more prominent when contrasted with the NSFW sound effects and trend-led mini accessories.
Continuing to channel the '90s party feel, looks felt like you could very easily wear them from day to night - and have a great time whilst doing so. The bold mouth print, that adorned everything including jackets, mini skirts and handbags was one of the most striking elements of the collection reflecting the playful and bold era that the '90s was. With this look very much back in fashion, this was certainly a show with its finger on the pulse.
Rivkie is a fashion editor, writer and stylist with over fifteen years' experience in the industry. Having studied design and pattern cutting at the London College of Fashion, Rivkie fell in love with styling and journalism, covering fashion weeks in London, Paris and New York.
Specialising in plus size fashion, Rivkie has long championed that style is for everyBODY and has been a regular talking head on a host of radio stations and television shows, pushing for greater representation for plus size women and fashion throughout her career.