Eyeglasses trends 2023: These are the styles experts recommend investing in this season
These are the top eyeglasses trends 2023 has to offer. Our guide to the latest spectacles to ensure your prescription style is on point this season.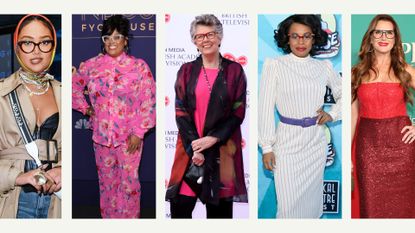 (Image credit: Getty Images)
woman&home newsletter
Sign up to our free daily email for the latest royal and entertainment news, interesting opinion, expert advice on styling and beauty trends, and no-nonsense guides to the health and wellness questions you want answered.
Thank you for signing up to . You will receive a verification email shortly.
There was a problem. Please refresh the page and try again.
The best eyeglasses trends 2023 offer styles for every face shape and taste, in a range of budgets. Just like sunglasses and clothing, optical frames go through cycles of popular styles and trends, and with more of us than ever donning spectacles, make sure your face furniture ticks the boxes of the best eyeglasses trends 2023.
While you might be focused on the latest fashion trends 2023, it's important not to lose sight (literally) of what's happening on your face. Just like the latest jewelry trends 2023, eyeglasses can be worn to complement your outfit and become an extension of your own style, reflecting your personal taste.
Pick the right pair of eyeglasses and not only will you see better but your facial features will also be enhanced. When it comes to finding the perfect pair, there are several factors to consider, as different shapes, colors and even fits can make a huge difference to your face and, indeed, your mood. Don't be afraid to experiment with more directional silhouettes and create a wardrobe of eyeglasses to suit different occasions too. We spoke to industry experts to glean all of the best tips and tricks to help you pick your ideal pair of eyeglasses for 2023.
EYEGLASSES TRENDS 2023 - EXPERT PREDICTIONS
Just like shopping for the best designer sunglasses, when it comes to finding a new pair of eyeglasses, it pays to take some time to think about your face shape and lifestyle. If you're an avid collector of the best sunglasses, think about what styles you are drawn to in order to help you find the best eyeglasses trend 2023 for your face. You can also check out our guide on 'what sunglasses suits me' as this will help you to work out what silhouettes are best for your face shape if you're struggling, as the basic principles are the same.
Jake Lawrence, Frames Buyer for Boots Opticians (opens in new tab), has this advice when it comes to finding the right eyeglasses frames for your face shape this season:
"Knowing your face shape will help you find the right pair of glasses for you as certain styles are better suited to different face shapes. Most styles will suit an oval face shape as this is typically the most common, however, we recommend going for styles that are a little wider than the widest part of your face. Square or rectangular frames tend to complement round faces because they can make your face appear longer.
Round and oval frames suit square faces, creating balance by softening sharp angles. A cat-eye or wayfarer frame style will flatter a heart-shaped face, making your forehead appear narrower and your cheekbones more defined. Wide frames, such as an aviator style, will flatter a longer rectangular oblong face by making it appear shorter and more balanced.
You should remember that it is totally up to you and your personal style. I suggest you start by trying on the frames which you're naturally drawn to and go from there."
Eyeglasses trends 2023
These are the seven eyeglasses trends 2023 that are set to be big in the coming months and luckily there is something to suit every occasion, taste, face shape and budget. So whether you're after a simple update or want to look runway-ready, here's all you need to know.
1. HARLEQUIN / CATSEYE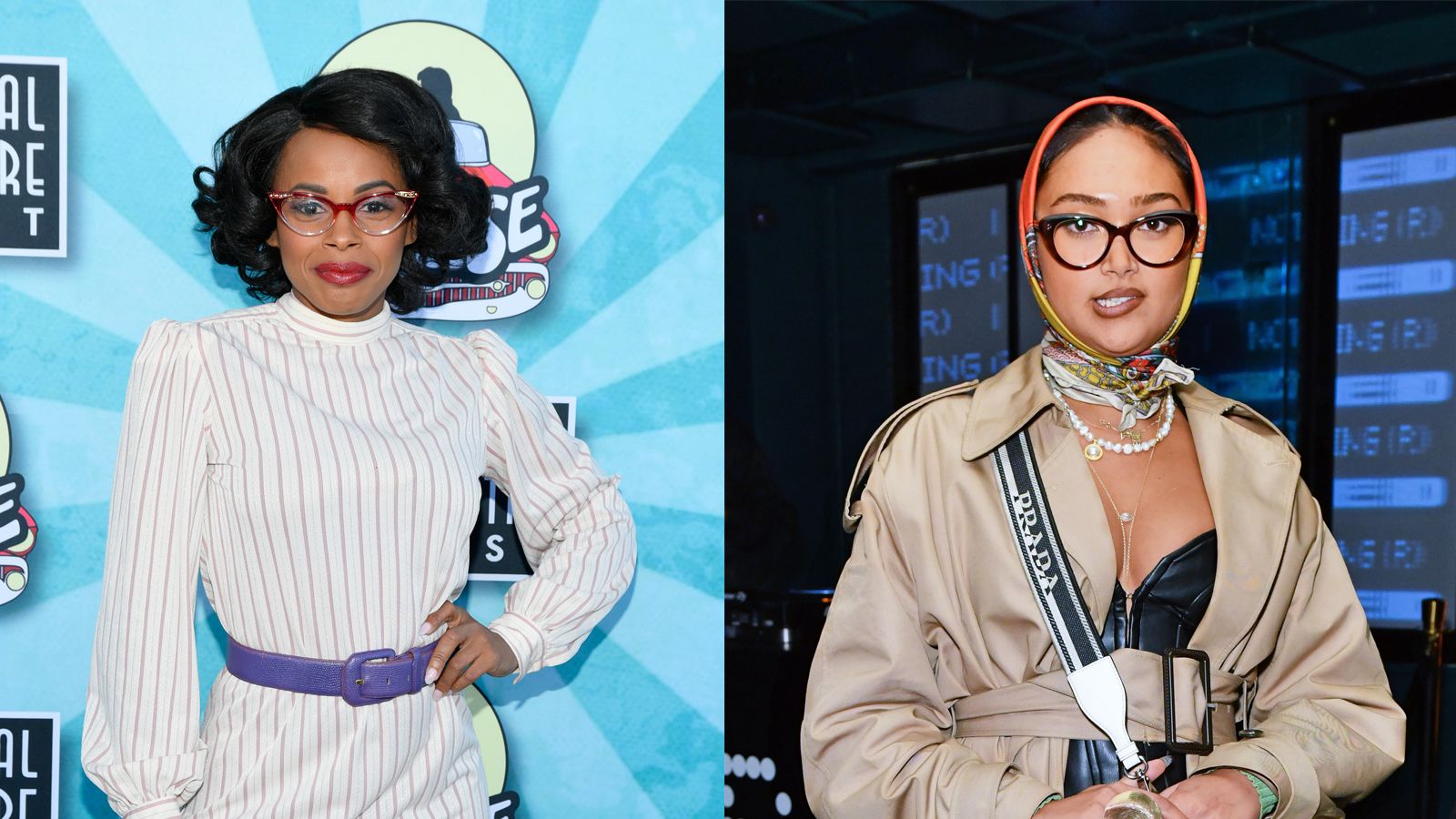 If you're looking for a timeless classic with a twist for your next pair of spectacles, try a pair of Harlequin frames - a sassy update on everyone's favorite eyeglasses trends 2022, the cat-eye. Inspired by the upturned corners of a jester's mask, the triangular tips of the frames compliment virtually every face shape as they highlight brow arches, drawing the eye to the highest points of your face.
Bianca Swan, Specsavers (opens in new tab) frames stylist, suggests looking for modern takes on a classic frame: "Cat eye frames are picking up pace as consumers look to reworked classics. We're making them feel new via scale, finish or contrasting metallic accents for 2023."
Style tip...
Why not try a style with exaggerated points or sparkly corner details to further add interest to your look? This shape of frames has a hint of vintage-inspired style, making them the perfect partner to your best midi dresses or for adding interest to a simple best t-shirt and jeans ensemble.
Clare Kimeze (opens in new tab), co-founder of Kimeze eyewear adds: "This year, angular and sharp cat eye shapes are everywhere in optical styles. Look for frames with lens shapes that follow the cheekbone sharply."
Kasbah Kween Optical Harlequin Frames
RRP: $159 (international shipping available) | Rocking a unique scalloped edge, this pair offers a more directional take on the popular shape. The black hue ensures they'll go with anything.
Specsavers Sassandra Eyeglasses
RRP: £89 (UK only) | This pair features a delicate metal frame and has a playful update thanks to the purple satin detail, while the base gold metal will bring a warming effect to your face.
2. Oval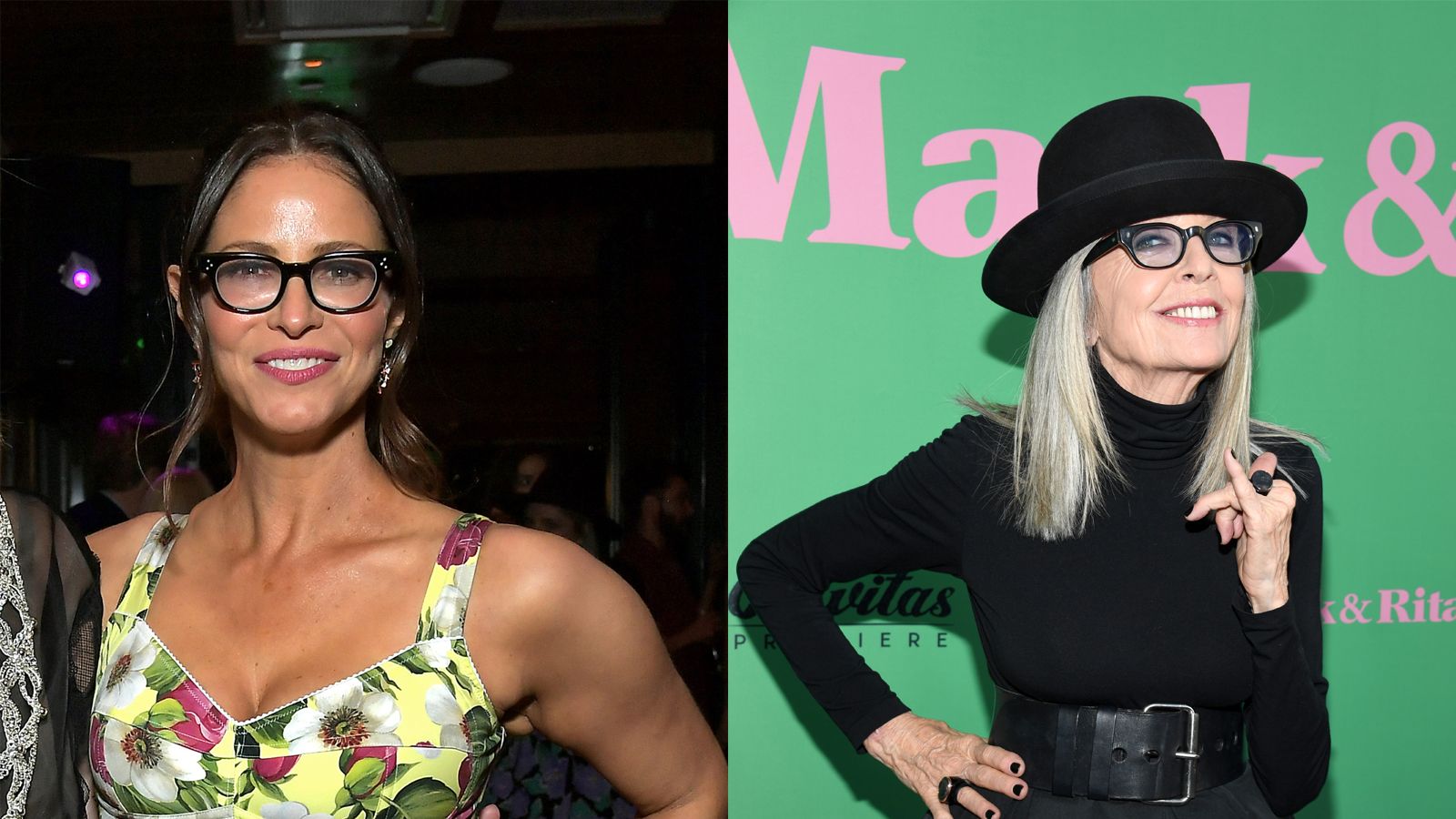 After many years in limbo, Oval opticals are making a surprise return as one of the big eyeglasses trends 2023 with a key update - color. When it comes to the fashion color trends 2023, bright hues, and dopamine dressing are still on the agenda, so we're not surprised that this look has crept into the eyeglasses trends 2023 too. This style is particularly suited to those with diamond-shaped faces, characterized by full cheeks and a narrow forehead and jawline. The narrower framed style is also one to consider if you have a long face as it will help to balance your facial proportions.
If you're in the market for a pair of oval eyeglasses, Robert Roope (opens in new tab) Founder and Creative Director of Black Eyewear explains what to look for in your new frames: "Bolder and more colorful, proudly showing off curves in a fun and confident way. Think the Jackie-O look, re-modeled!"
Style tip...
Carissa Dunphy (opens in new tab), founder of OpticianNow.com (opens in new tab), has this sage advice when shopping for oval frames: "Pay special attention to how the frame looks with your brow-line and jaw-line. Smaller oval frames are a great solution for those with high prescriptions, yet troublesome to those who wear a multifocal or progressive lens design."
Black Eyewear Carla Green Oval Frames
RRP: $244 / £197 | When it comes to the oval eyeglasses trends 2023, don't be scared to experiment with bright colors such as green and red to give your eyeglasses extra trend-worthy details.
(opens in new tab)
Persol Tortoiseshell Acetate Oval Glasses
RRP: $351 / £223 | This narrow-fitting style from Persol is the perfect face-framing style if your face is long or slim. The classic coloring ensures that these frames will work with a range of looks.
3. NEW ROUNDED SQUARE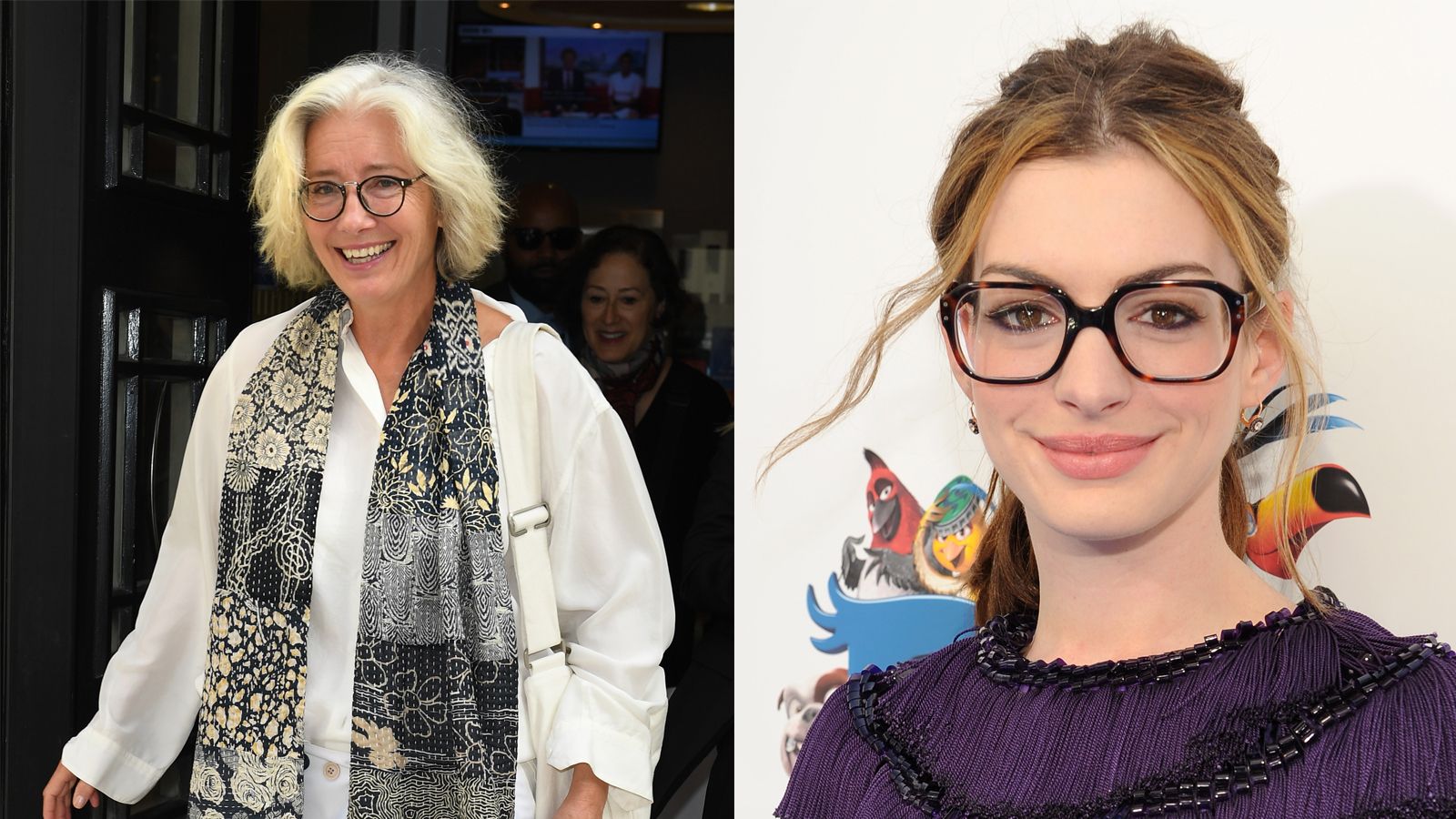 While 2022 saw the return of geek chic via trends such as Dark Academia, ushering in heavy square and rectangular frames, 2023 sees the popular shapes softened with rounded corners. Angular-edged frames help to add definition to round faces but this style update is gentler and works on a variety of facial features while adding a distinct, modern look to the wearer's face.
Robert Roope, Founder and Creative Director at Black Eyewear (opens in new tab) says: "Alternative bridge and hinge designs combined with introducing unusual angles create a very individual look. It creates character eyewear through which the wearers can express their personalities in a completely new way"
Style tip...
If you're worried that this angular update might still be too overwhelming for your face, try swapping classic black frames for a pair in warming tortoiseshell or a dark jewel tone such as navy or forest green, or even a wire frame style, such as Kimeze's Akin style.
Kimeze Gold Tone Frame Akin Glasses
RRP: $240 / £185 | Designed to fit a wider range of facial features, this British brand brings modern craftsmanship and high quality materials to life in its stunning array of eyeglasses.
(opens in new tab)
Quay Australia Tortoiseshell Glasses
RRP: $55 / £39 | A perennial style staple, Wayfarers are a universally flattering take on the rounded square trend. In tortoiseshell, these cost-effective frames will always be in.
4. GEOMETRIC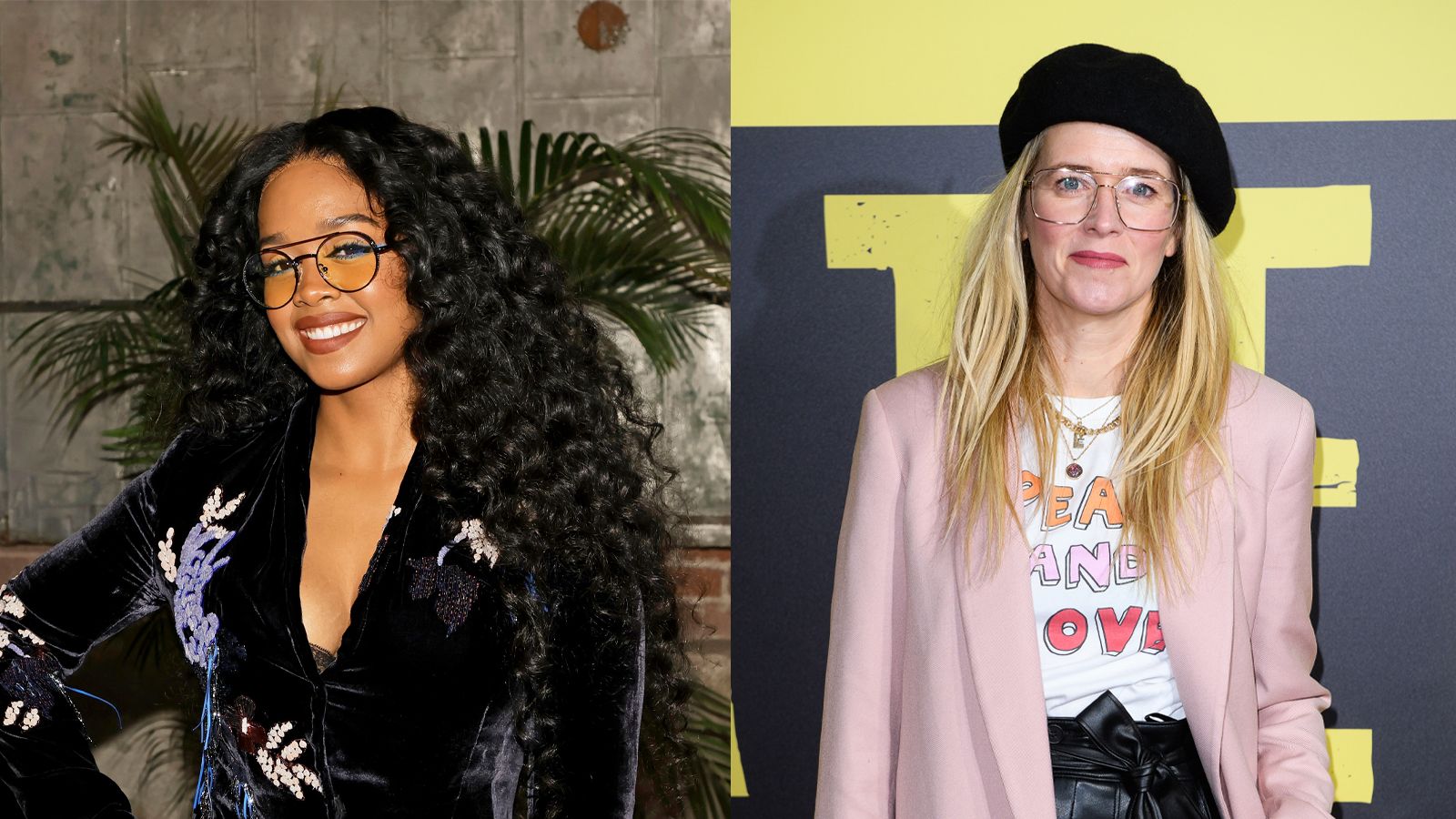 This eyeglasses trend 2023 is one for the daring optical wearers, as Geometric eyeglasses are a style statement - particularly when it comes to more outrageous shaped frames. Specsavers Frame Stylist Bianca Swan says: "Geometric shapes are an evolution of the oversized angular takes on a playful silhouette, you will see this coming through in collections in wider rims and bold colors."
Style tip...
If you're looking for a geometric style for everyday wear, look for shapes in wire frames for a lighter take on the look - oversized octagonal frames are a modern take on what was once described as granny chic, and slot perfectly into the Coastal Grandmother trend or a minimalist capsule wardrobe. Team them with a simple outfit such as your best cashmere sweater and let your eyes do the talking
Jake Lawrence, Frames Buyer at Boots Opticians says: "Geometric styles work well with a lot of face shapes - adding angles to a round or oval face shape and soften a squarer face. This trend works especially well in metal frames, colorful chunky acetates or tortoiseshells."
(opens in new tab)
Gucci Hexagonal Gold Tone Metal Frame Glasses
RRP: $535 / £350 | This delicate wire frame is an ultra-feminine take on the geometric trend with the gold hue adding warmth to all skin tones. With a seventies feel they nail two trends in one.
Cubitts Green Acetate Belvedere Frames
RRP: $200 / £125 | Green is a universally flattering color for every skin tone and will soften the look of these statement frames. A bold design, these are ideal for pairing with workwear.
Chloe Oversized Octagonal Ombre Glasses
RRP: $415 / £310 | With a cool ombré colorway, these octagonal frames from boho style brand Chloe tick two major trend boxes for 2023. Ideal for adding a bit of flare to your best jeans looks.
5. SEVENTIES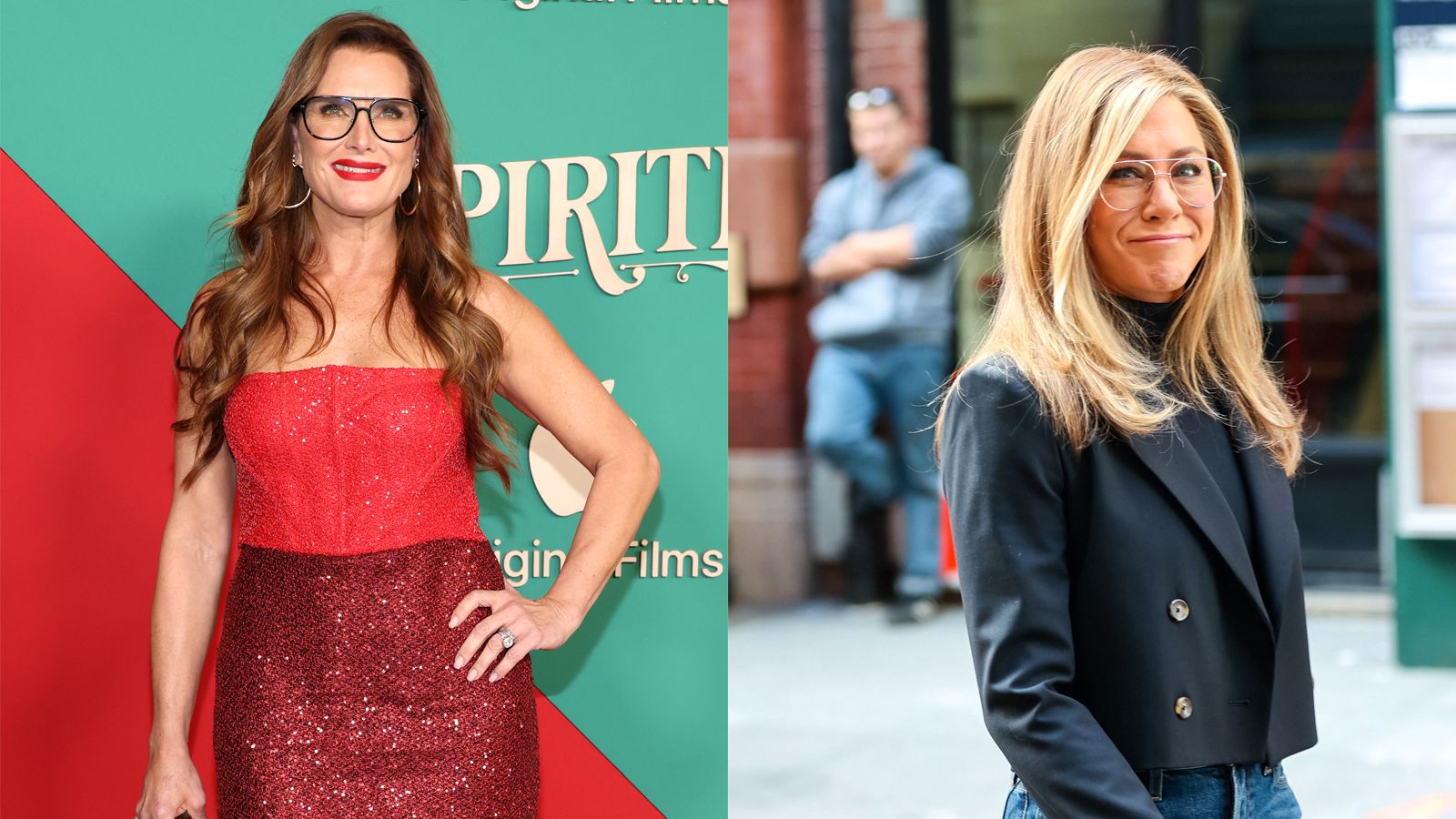 The Seventies is the decade that continues to inspire the eyewear trends 2023 and beyond - from popular frame shapes such as aviators and oversized round frames to the return of tinted lenses, there is a Seventies-inspired style for everyone.
As well as looking cool, another perk of going for an oversized frame is the uninterrupted line of vision that a larger shape offers, and if you've ever wondered how to style flared jeans, these glasses will up the ante on your outfit in no time.
When it comes to embracing the Seventies vibe with tinted lenses, Marie Wilkinson (opens in new tab), Style Director at Cutler and Gross (opens in new tab) is a big fan - not just for aesthetic reasons: "Wearing SPF year-round has been accepted when it comes to skincare, it should be no different for eyecare. Whilst black-out sunglasses might not always be necessary, you can still protect your eyes from low-angle sunlight with mid-toned tinted lenses."
Style tip...
Aviators are a celebrity favorite with Jennifer Aniston, Brooke Shields and Sarah Jessica-Parker all fans of the frame shape - if you've ever wanted to master how to dress like Carrie Bradshaw, why not start with her eyeglasses? Particularly as aviators suit most face shapes, and never fail to add a little A-lister style to your look.
Cutler & Gross 1394 Optical Aviator Glasses
RRP: £380 (international shipping available) | With a double bridge, two-tone frame and squared take on a typical aviator, these glasses make a strong and androgynous style statement.
Jimmy Fairly Pink Lila Round Eyeglasses
RRP: £129 (international shipping) | The pink acetate of this pair adds a playful, bohemian vibe to the oversized round frame. The lighter hue makes them ideal for spring outfit ideas.
6. Brights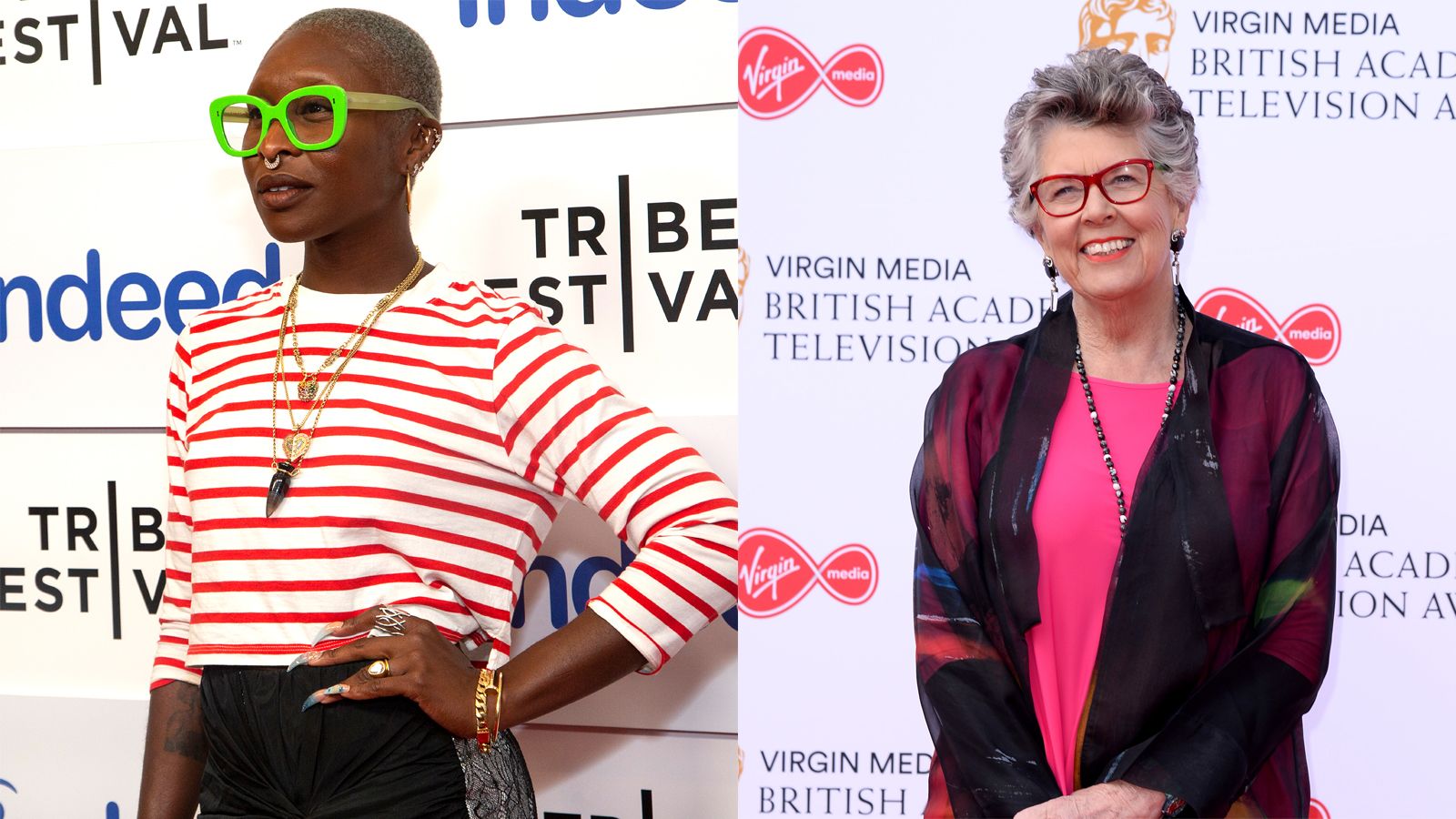 It's not just bright color clothes that are a big fashion trend for next season, bold and colorful frames are set to be one of the key eyewear trends 2023 too. While it may seem daunting, swapping your regular black, tortoiseshell, or wire frames for n eye-catching pair, it's a super quick and easy way to update your look, adding an element of interest to an over '50s capsule wardrobe.
If you're not sure if you can pull off Barbiecore pink just yet, try easing yourself in with a jewel-inspired hue such as sapphire blue or emerald green frame. With Viva Magenta named as the Pantone color of the year 2023, the flattering deep ruby hue is another key color to look out for when selecting a pair of frames. These colors work well with every skin tone, making them a go-to choice for anyone who is keen to experiment with color.
Style tip...
Carissa Dunphy, of Opticiannow.com, believes in the power of a bright frame: "Having a bright and bold pair of glasses is a style staple that is more versatile than you think. Embrace the frame as your prominent stand-out accessory, and pair with any casual or formal attire. You can't help but feel great while wearing a bright frame!"
(opens in new tab)
Karl Lagerfeld Cobalt Blue Cat Eye Frames
RRP: $119 / £119 | With a trend-led cat-eye shape, that will elongate rounder faces, the striking, bright cobalt shade is uplifting and warming when combined with stylish gold hardware.
Ace & Tate Nicky Large Golden Frames
RRP: $125 / £110 | The golden hue of this frame will flatter every complexion, while the neat rounded shape feels chic and modern, offering a step away from exaggerated silhouettes.
7. Pastels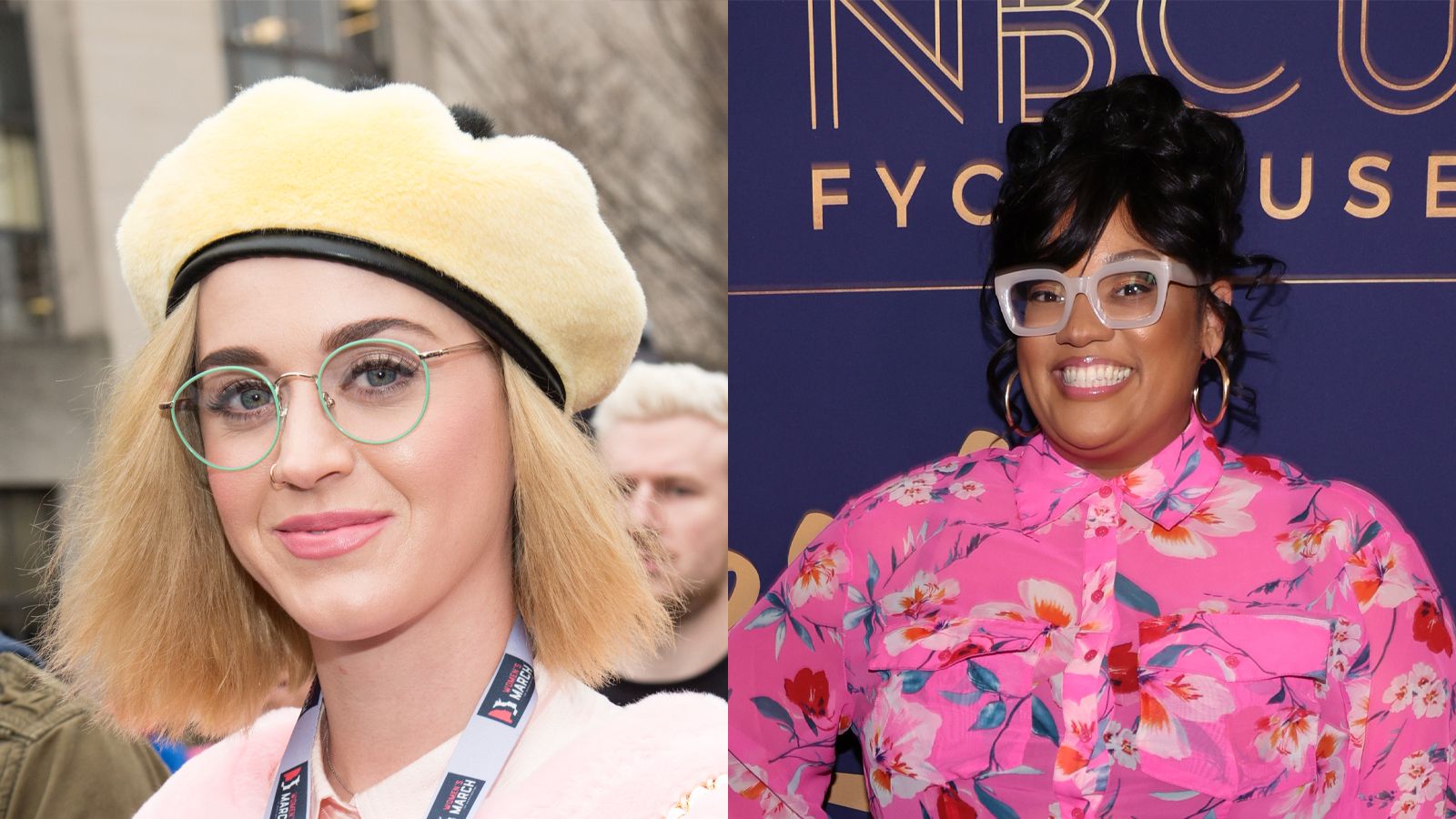 If you're looking for a pair of frames that will blend softly with your features, why not look for opticals in a soft pastel hue, particularly if you have a fair complexion. Jake Lawrence, Frames Buyer at Boots Opticians says: "Soft pastel colors with warm undertones are likely to continue to grow in popularity, as they work especially well with fairer hair and paler skin tones, helping to add warmth."
Style tip...
While icy blues and clear frames were big in 2022, Robert Roope, Founder and Creative Director at Black Eyewear has this tip on how to update ice cream colors with a pair of Crystal Tri Color frames:
"At Black Eyewear we have been introducing crystal frames with three shades of color in one frame including blue, brown, pinks, and slight yellows. This is a great way to introduce color to the face in a subtle, non-shouting way. There are three colors - to go with the facial element of the brow at the top, the eye socket in the middle and the cheek at the bottom. They have been very popular with Black Eyewear customers who love the warmth and hint of color it brings to the face."
You can also get a similar effect with ombre frames, where the color gradually fades through the frame to give a subtle nod to this eyeglasses trend.
Polette Aline Pastel Honey-Color Acetate Eyeglasses
RRP: $20 / £20 | In a honey hue, these frames are a softer take on the 2023 eyeglasses trend. The warm color is ideal for spring/summer season, while the shape feels classic and wearable.
Moscot Green Translucent Acetate Frames
RRP: $310 / £285 | Handcrafted from Italian acetate, this translucent sage green frame offers a subtle nod to the pastel trend, without the sometimes sickly sweet feel of ice cream hues.
Antonia Kraskowski is a freelance fashion editor with over 15 years of experience in the industry.
Having started her career at Conde Nast working for titles including Easy Living, Glamour and Vogue New Markets, Antonia went on to work in the fast-paced world of newspapers and weekly magazines, becoming Fashion Editor at Express Newspapers and Magazines in 2014, a role she held for five years before going freelance.
Her career has seen Antonia travel the world, shooting in 18 countries and styling campaigns for brands ranging from Ben Sherman and DKNY to Wallis.