Here's what happened at the Milan Fashion Week spring/summer 2024 shows and what you need to know according to fashion editor
The Milan Fashion Week spring/summer 2024 shows that got this fashion editor excited for next year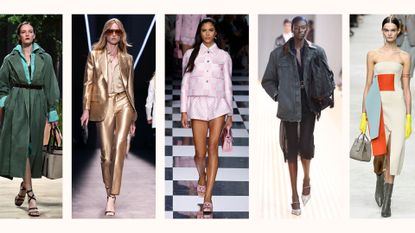 (Image credit: Getty Images)
As Milan Fashion Week spring/summer 2024 shows have now drawn to a close, we ask a fashion editor to round-up their favourite runway looks and give a glimpse into what you might be wearing next spring.
If you've ever wanted to get to know Italian clothing brands, or work out what to wear in Rome, the Milan Fashion Week spring/summer 2024 shows are a masterclass in how to fit into Italian life. While there is no skimping on design elements, there is a certain level of elegance that Italian fashion and MFW in general delivers, that is not matched by any other city.
A showcase of some of the most well-known designer brands, these historic fashion houses, such as Gucci, Prada and MaxMara, to name just a few, understand the intrinsic value that their customers put on their clothes and for many of these labels, Quiet Luxury with a twist is at the heart of what they do. We asked fashion editor Antonia Kraskowski to give her verdict on some of Milan Fashion Week spring/summer 2024 top catwalk shows and what we need to look out for next year.
Milan Fashion Week spring/summer 2024 shows
If you've already caught up on New York Fashion S/S 2024 and the London Fashion Week S/S 2024 shows, then keeping tabs on Milan should be next on your list. This stylish city is known for its great fashion choices both on and off the runway, with Milan street style being just as trend setting as the shows themselves. Antonia rounds up the shows key styles and designers that will influence your wardrobe choices next year.
1. Prada
One of the most anticipated shows of Milan Fashion Week, fashionable attendees expect a lot from Prada's catwalk but perhaps they weren't expecting to be greeted with a ceiling that dripped slime onto the catwalk and the haunting Prelude to Hitchcock's Vertigo which filled the space at Fondazione Prada, creating a sense of drama as the first looks appeared on the runway.
The first look, a dark grey tailored shorts suit featuring elongated sleeves and exaggerated shoulders that tapered to a cinched waist was teamed a swirling silk scarf tied at the shoulders, evoking a modern Hitchcock heroine silhouette. Following closely behind came two silk unstructured shift dresses in nude and pale pink respectively, each overlaid with delicate trailing organza that fluttered in a way to mimic flames, as if the model herself was on fire, but set the seen for exquisite cocktail dresses for the summer months. The delicate dresses were contrasted with tight swim cap-like headwraps that allowed only wisps of models hair to escape and sculptural silk triangular kitten heels in highlighter hues at odds with the flyaway away frocks, yet the perfect match.
Since Raf Simons joined Miuccia Prada in 2020, there has been a focus on the evolution of signature Prada designs. The off-beat, eccentric take on traditionally feminine silhouettes abounded with sheer pencil skirts, heavily embellished glittering cardigans and skirts made of swirling fringing, worn over giant knickers or layered over sheer shirt dresses - the creation of these was described by Simons as them being 'built like jewellery', particularly a silver metallic version. Straight cut knee length dresses were simple in shape yet covered in tiny dazzling embellishments, offering delicate foil to more severe structured tailoring in the collection. Ideal for what to wear to a wedding or evening event come the summer months.
Elsewhere, perfectly worn-in workwear jackets appeared in oversized cuts, featuring leather collars and contrasting with gauzy fabrics and glittering pointed Mary-Jane shoes - meaning those shoes you're buying now as part of the autumn/winter shoe trends 2023 will carry on into 2024 with ease. Eyelet piercings on knits and skirts echoed the heavy duty workwear pieces, mingling with delicate swirling crystal embellishment.
Both metal rivets and crystal swirls carried over onto bags, appearing on reimagined nylon totes while reintroduction of a bag designed in 1913 by Miuccia Prada's grandfather Mario has been reinterpreted for SS24. Originally produced in silk moiré, the new rendition appears in nappa leather and re-nylon, complete with reproduction of the original hand-carved men's head as the unusual clasp.
Design evolution is indeed very much on the cards – and bags – at Prada.
2. Fendi
In the pure white Milan showroom of Fendi HQ, surrounded by oversized snow white sculptures of Fendi's signature bags, Kim Jones presented another stellar show for the fashion powerhouse.
Inspired by his early morning walks around Rome en route to work, the city's graceful architecture and ruins were echoed in carefully crafted looks that appeared breathtaking in their simplicity. Highlights included knitted dresses with a single cut out shoulder, strapless fitted midi dresses and gently oversized tailoring in a muted palette of soft grey, cream and icy blue, shot through with warming tones of tomato red, orange and toffee brown.
Structure came in the form of tailored leather – a pair of perfect caramel hued soft thigh skimming shorts, coats in sky blue and cream with slightly rounded shoulders to soften the silhouette and colourful graphic patch work separates integrated seamlessly into the collection.
Echoing Jones' July couture offering, wide knitted cinchers appeared at the waist of several strapless outfits in contrasting colour blocks, artfully draped and referencing the newest designer bag on the Fendi roster. Entitled the Flip bag, it is a shopper that folds into a clutch.
Bags were displayed prominently, with models wearing colourful fine knitted gloves in contrasting hues to serve as a background for their precious cargo. Of course, this being Fendi, they were no ordinary gloves but made of the finest technical materials, designed to be used with your smart phone's touch screen and sure to be a sell out next season.
3. Max Mara
Inspired by the Lands Girls of the 1940s and a passion for urban gardening in modern cities, Max Mara will be taking us all outside next spring with its uniquely chic take on utilitarian practicality.
Dungarees and overalls worn by the Land Army translated directly into tailored boilersuits and playsuits, undone almost to the waist where they are drawn in sharply by a simple brown utilitarian belt and finished with popped collars for a touch of city slicker chic.
Heavy cotton drill jackets covered in useful pockets and oversized trench coats worn by those who plowed the fields are reimagined for girls about town, fitted at the waist before flowing outwards once more over hips. When teamed with capacious leather trimmed canvas totes and tiny crossbody bags and towering strappy heeled sandals, it becomes clear that these are looks for an urban landscape rather than rolling hills. Mannish oversized shirts tucked into form fitting pencil skirts and slim utilitarian trousers bridge the gap between tilling the earth and stalking sidewalks for the modern girl about town.
The simple silhouettes are echoed time and again in a range of rich pastoral colours, with outfits kept in strict head to toe tonal hues, from soft navy and a washed cerise to bottle green, khaki and signature camel. Backless sundresses evoke gardening aprons while full skirted maxi dresses feature dungaree-like apron tops that are part evening wear, part farm girl.
Amongst the reinforced stitching, heavy cottons and tightly belted silhouettes came a smattering of bold floral prints found across triple layered chiffon maxi dresses, as the dramatic lining on an evening coat teamed with matching hot pants and a trouser co-ord that featured intriguing draped braces and reinforced knee details, an ode to the collection's roots in earthy pursuits reimagined in a timeless elegance.
4. Versace
It was a trip back in time for Versace's latest collection, with a mix of '60s and '90s fashion trend references. Opened by Kendall Jenner in a virginal white shift dress styled with a half up hair do and logo bow hair barrette, it felt like we'd taken a trip to the Swinging Sixties as model after model emerged onto a checkerboard catwalk in thigh-skimming looks, from the aforementioned shifts and car coats to hot pants teamed with box cut jackets evoking the era, with chunky bead detailing appearing at the necks of several dresses.
The array of sugary sweet pastels moved into checked tweed skirt suits and twinsets that wouldn't have looked out of place on Jackie O but playful accessories such as bow-adorned shoes in shiny metallics, Perspex platforms and oversized hair accessories brought the collection a new twist, more akin to Clueless heroine Cher Horowitz with sharp lines and high hemlines.
Dipping into the brand's archives served as inspiration for Donatella - a checkerboard motif appeared throughout the collection, referencing Gianni Versace's 1982 spring/summer – from tiny squares on fitted dresses to oversized forms that graced silky shorts co-ords that would slot right in along Miami's South Beach while glittering beaded chain-link dresses and tops are a nod to the 1995 collection and bang on the Nineties/Y2K zeitgeist. Teamed with low slung rhinestone embellished jeans and logoed knickers peaking out, this fashion editor couldn't help but feel nostalgic for her teen wardrobe.
As if (sorry) that wasn't enough to sate even the most staunch thirst for Y2K style, semi-sheer mesh shirts and corsets worn over skin-tight skirts, pastel-hued chainmail cowl neck dresses and finally Nineties supermodel Claudia Schiffer closing the show in a form-fitting iridescent green checkered slip dress with lace detailing confirmed that the decade is still very much a blueprint for future styles for the house of Versace.
5. Gucci
On Saturday, all eyes were firmly focused on the Gucci catwalk for designer Sabato De Sarno's debut show for the fashion behemoth. Following fashion darling Alessandro Michele's departure, the FROW was curious to see what direction the s/s24 collection would take after season after season of often bonkers but brilliant offerings by Michele.
De Sarno's first show was a swift 180 spin away. Titled Ancora (meaning still and again, in Italian), it was a return to basics, a reductive move to reset the look associated with Gucci, with a focus on classic accessories. Hero Gucci bags, The Jackie and Bamboo bags plus the much loved loafer all receiving a makeover and returning to centre stage, the latter on an inches-high platform adding to the '90s aesthetic.
With a minimalist silhouette lacking in the heavy embellishment and decoration but also a hitching of hems with focus on thigh skimming looks throughout, the show began with simple yet sexed up tailoring - barely there shorts with sharp shouldered blazers worn with nothing underneath, strapless mini dresses with structured busts and tops with necklines cut down to the breastbone appeared in muted monochrome looks, a stark contrast to the colourful collections of the past.
A touch of glamour came in the form of chunky oversized chain jewellery – necklaces worn high, almost choker-like and teamed with huge individual link earrings, statement in style but not overwhelming, allowing the focus to remain on the bags toted by models.
Tailoring gave way to athleisure - gone is the eccentric Seventies style, replaced by sleek grey sweatshirts embossed with logos and worn with patent hotpants covered in interlocking Gs while a black version is trimmed with shiny patent details for a touch of luxe detailing.
A key revitalisation for De Sarno's debut has been the reintroduction of Rosso Ancora, a rich cherry red which is part of the brand's heritage. De Sarno used it liberally throughout the collection – micro dresses, a long-line leather jacket (worn, of course, with nothing underneath) and patent skirts all took on the rich hue. It also appeared in lizard skin vertical striped co-ords that echo the classic stripe of the fashion house that often appears as bag straps and as detailing on the sell-out trainers of past seasons.
Of course, it wouldn't be Gucci without SOME sparkle – the finest delicate fringing glittered on midi skirts and an acid green evening coat while a chainmail-like rhinestones adorned barely there bikini tops worn with low slung shorts and matching shoulder bags and brightly coloured voluminous micro dresses.
While De Sarno may be taking the House of Gucci in a new direction with his debut, where it will land with die-hard fans remains to be seen.
6. Tom Ford
S/S24 sees a raft of debuts and departures at a series of fashion houses and another highly anticipated first collection appears at Tom Ford, courtesy of newly installed creative director Peter Hawkings. The British designer was Ford's right hand man at the eponymous label for over 20 years, so his was a natural appointment to take over following the sale of the brand late last year.
Backstage, Hawkings said it was his intent to bring together womenswear and menswear, creating a single aesthetic. Given that Hawkings had previously been in charge of the menswear aesthetic, it was a seamless progression with menswear peppered throughout the catwalk, creating a single sartorial story, a yin and yang of looks.
Famously luxurious and louche, sexy yet sophisticated, the DNA of the brand remained but with a fresh take. Big sunglasses, towering spindly stilettoes, gold bling and perfectly groomed hair added to the slick aesthetic as slinky ankle length knitted jersey dresses with high necks turned to reveal entirely open backs, open from nape of the neck right down to the buttocks, occasionally revealing cleavage, some slung with low-waisted belts reminiscent of the Ford-era at Gucci.
Seventies-tinged sharp cut suiting was teamed with silk blouses worn open to the navel and coupled with statement gold necklaces decorating the exposed skin underneath while micro shorts appeared in a variety of fabrics from classic tailored satin to gold fringing and decadent fringing. More covered up midi dresses and co-ord sets were created in chain-like fringing that undulated and rippled as models strode down the catwalk.
Hawkings debut as Ford's successor not only stayed true to his former master's vision but executed it with aplomb, adding a fresh feel to some of the label's greatest style hits.
7. Dolce Gabbana
Masters of understanding the female form, Dolce & Gabbana's SS24 offering was titled WOMEN, an ode to the fairer sex of all ages and sizes. Taking inspiration from their Alto Moda (made-to-measure) clients, the design duo said they chose to "celebrate femininity and sensuality, and everything that belongs to women".
Continuing their previous exploration of the brand's '90s archives the focus remaining on a monochrome palette for tailoring and a series of lingerie and shapewear-inspired dresses designed to highlight and celebrate the female form, taking underwear-as-outerwear to the next level. Dresses, shirts and jackets appeared in asymmetrical iterations cut on a diagonal across the chest in order to further expose the delicate items underneath and celebrate the female form.
Counteracting the negligee-inspired looks came a series of bib front details, part prairie, part Seventies tuxedo shirt. Taking several guises, from ladylike ruffles to crisp and tailored via sheer and sexy versions that allowed flashes of the delicate constructed underwear.
It wouldn't be a Dolce & Gabbana show without a dash of leopard print, of course, and the only hint of colour within an otherwise totally monochromatic collection. A featherlight silk-chiffon halterneck dress was split to the knickers, allowing a flash of underwear, while elsewhere the pattern appeared on a tightly belted faux fur coat and a rubberised trench coat, one of a handful of items that weren't semi-sheer or see-through.
Call it the season of the Nineties Supermodel – closing the show, Naomi Campbell appeared in a sheer skin-tight dress, once again designed to flaunt the female form underneath it, her oversized rose corsage choker a nod to the floral lace appeared on many of the revealing looks throughout.
8. Bottega Veneta
One of the most dramatic and creative of all the collections showed during Milan Fashion Week, Matthieu Blazy took his audience on a whistle-stop adventure for Bottega Veneta's SS24 collection.
Models strode across a floor emblazoned with a fantastical map in a collection that travelled the world, both literally and metaphorically, gathering influences from four corners. The collection evolving from a knitted swimsuit that opened the show to sharply tailored suiting before veering to a simple white tee, adorned with crystals at the neck and teamed with bikini bottoms and an oversized beach bag, a physical manifestation of out of office.
From here the collection moves to an eclectic global nomadic journey, gathering archetypes from around the world. Notions of national dress appear in the form of colour and fringing remade in leather, evoking traditional tribal uniforms before the journey continues, delving into the natural world. Wiggly seams conjure the lines of coral in far flung locations while bright patterns mimic rock formations as well as the colourful bodies of snakes, fish and frogs found in the tropics, appearing across bold maxi dresses. Fringed dresses and skirts with bubble hems in oceanic hues undulate, creating visions of jellyfish bobbing gently in warm seas.
The traveller themselves is also explored, appearing throughout the otherwise colourful collection in a series of oversized leather trench coats with dramatic overlaid cape bibs, structured business-like wool suiting and coats, a brief return to reality amongst the dream-like adventurous looks showcased otherwise.
The forms of nature once more appear in the closing looks of the show – two rope net-like dresses covered in oversized pom-pom embellishment ripple and swell mesmerizingly, like huge sea anemones caught in a fishermen's net.
As the show's notes summarise, "travelling in the imagination as much as in the world through clothing, is what is sought and won" and we can't wait for the next leg of Blazy's journey at Bottega Veneta.
Sign up to our free daily email for the latest royal and entertainment news, interesting opinion, expert advice on styling and beauty trends, and no-nonsense guides to the health and wellness questions you want answered.
Antonia Kraskowski is a freelance fashion editor with over 15 years of experience in the industry.
Having started her career at Conde Nast working for titles including Easy Living, Glamour and Vogue New Markets, Antonia went on to work in the fast-paced world of newspapers and weekly magazines, becoming Fashion Editor at Express Newspapers and Magazines in 2014, a role she held for five years before going freelance.
Her career has seen Antonia travel the world, shooting in 18 countries and styling campaigns for brands ranging from Ben Sherman and DKNY to Wallis.