The best London Fashion Week spring/summer 2024 shows according to a fashion editor
As a fashion editor, these are the LFW s/s 24 shows that I'm most excited about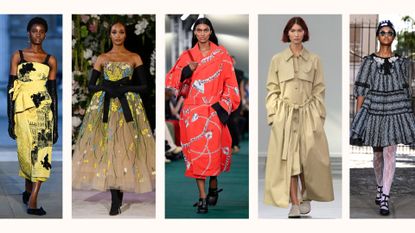 (Image credit: Getty Images)
woman&home newsletter
Sign up to our free daily email for the latest royal and entertainment news, interesting opinion, expert advice on styling and beauty trends, and no-nonsense guides to the health and wellness questions you want answered.
Thank you for signing up to Woman & Home. You will receive a verification email shortly.
There was a problem. Please refresh the page and try again.
As London Fashion Week spring/summer 2024 draws to a close, we've rounded up our top seven shows that we can't stop thinking about. With big name designers such as Burberry, Erdem and Roksanda staple names on the calendar, major fashion editors and buyers have enjoyed five days of fabulous fashion, before moving onto the next fashionable destination.
The second of our style pit stops of fashion month, London Fashion Week spring/summer 2024 shows follow directly after New York Fashion Week s/s 2024, with many of the same fashion insiders flying from one city to the next to keep up to date with next season's trends. As this week's shows draw to a close, and the fashion pack get ready to head to Milan Fashion Week spring/summer 2024, there is just enough time to catch up on what has happened this week.
We asked fashion editor Antonia Kraskowski to share her favourite London Fashion Week spring/summer 2024 shows and give us an insight into what she thinks what trends will be most influential next year.
London Fashion Week spring/summer 2024 show
While we might all just be getting into the swing of autumn/winter fashion trends 2023, fashion is already looking six months ahead, and the latest LFW s/s 2024 catwalks has got us dreaming of clear blue skirts once more. These are the shows we think are worth knowing about (and we'll keep this page up to date as more runway-worthy moments happen).
1. Bora Aksu
Aksu's LFW S/S24 collection is a nostalgic ode to childhood memories and fresh views on cultural inspiration, stirred by a recent research trip to the designer's motherland, Turkey. Vintage painted florals, Inzik tile patterns and Ottoman palaces inform the palette of the collection with shades of soft blue, white, pale pink and peach hues are contrasted throughout with deep black.
Ethereal silk tulle and organza, layered with rich brocades and textured cotton create intricate, romantic dresses with a dream-like feel. Full voluminous skirts are complemented with cropped tailored jackets, creating a tale of contrasts. Throughout, tiny details further elevate each look – miniature retro crocheted flowers jostle with sequins and tiny star embroidery across delicate tulle overlays, from bodices and skirts to sheer billowing sleeves, creating a wonderfully romantic tableau.
Meanwhile tailored two pieces are, on closer inspection, in fact made from knitted pointelle and finished with fine gauze-like embellished collars for a look that is a more girlish than grown up take on structured suiting.
In contrast, full skirted cotton frocks that finish above the knee are rich in patterns from bold floral embroidery to a rich pale blue brocade and a striking black and blue print mixing florals and stripes for a contemporary take on traditional folk silhouettes, a nostalgic ode to the land where he grew up. And of course, it has to be noted, a further nod to Aksu's Ottoman heritage emerging in a range of handmade Fez hats that sit atop each model's head, a finishing touch for a collection encapsulating nostalgic memories reimagined for the modern day.
2. J.W. Anderson
Self-described as a collection with a sense of plainness that is not so plain and of function with the oomph of play, JW Anderson's SS24 drop is a playful take on proportions of wardrobe essentials reimagined for a new season.
The theme of play took on a new meaning with the opening look of a shrunken cropped hoodie and low slung shorts cartoonish in appearance until it became clear that these were not clothes in the traditional sense but molded clay iterations of the popular items.
Playfulness quickly gave way to the pragmatic with mismatched oversized tailoring creating an air of the undone and thrown on, a louche and relaxed take on structure contrasting with the unyielding clay leisurewear seen before, colour injected in the form of brightly hued structured leather handbags that will have the style set snapping them up shortly, after all JW Anderson is known for some of the best designer handbags.
Another set of wardrobe staples – a leather biker and loose combat trousers – are also given a playful twist on typical proportions, the snug cropped jacket contrasting with the oversized pockets creating exaggerated trousers that appeared to have a curved, ballooning hem.
Drama steps up a notch with an oversized sleeveless bomber that appears to be bursting at the seams with feathers artfully spraying out, contrasting with the muted tones of the jacket and creating a further voluminous silhouette.
Meanwhile, bright colour pops appear elsewhere in the form of loosely woven crochet drop waisted dresses in cobalt blue and coral red, youthful and refreshing in their intricate simplicity, mirroring the simple beige crochet shoes that stride down the catwalk with a variety of ensembles.
Delicate draping on evening dresses is toyed with, artful knotting at the waist and knee interrupting the flow of featherweight fabrics for a subversive take on gowns while elegant fitted silhouettes are interrupted with playful hoop detailing, creating an unconventional curved hem in muted block tones. A silhouette already seen several times on the catwalks of NYFW, could it be that we're heading for a Jetsons inspired hemline trend next season?
Following the success of the designer's puffy sunglasses and eyewear that became a street style staple comes a series of literally overinflated separates – balloon-like tops in plasticised fabric are teamed with equally high shine low slung trousers, a tongue in cheek subversive take on such simple items and sure to be a firm favourite with the fash pack next season.
But the hero piece of this collection and no doubt already coveted by the FROW has to be the elegant longline trench coat, its proportions magnified with a flowing overlaid skirt and gathered drop waist, a contemporary take on a timeless classic.
3. Roksanda
This season's Roksanda collection was inspired by founder Roksanda Illincic's Serbian heritage, drawing ideals from the land's Monastries and Orthodox churches, models heads adorned with oversized hats inspired by the church's ministers.
A mistress of colour, the designer gave a nod to AW23's collection, her first look S/S24 collection at London Fashion Week appearing in the same vivid blue as that which closed her previous show before unleashing a rainbow collection against the brutalist architecture of The Barbican.
A series of voluminous colourful silk dresses (welcome back dopamine dressing) were adorned with sculptural, integrated jewellery for a regal, modern take on evening dressing while a statement structured lavender micro pleat dress appeared to float on the breeze, its train undulating hypnotically in the breeze, appearing feather-light against the surrounding brick and concrete enclosure.
Jewel tones mingled with acid bright abstract prints on both silk ballet length full skirted dresses and separates, finished with frayed fringing that mimicked the feathered shoes worn by models in an assortment of hues.
Pops of colours also appeared as colour flashes on oversized suiting, breaking up the genteel palette of soft grey, beige and muted pink with neon yellow appearing within the carefully constructed fabric folds of an oversized trench, while a vivid coral pink appeared as both a subtle rear belt detail on another oversized sleeveless coat and appeared painted onto the structured grey suiting of a sleeveless blazer dress completed with a dramatic train/belt hybrid. The same painterly technique also appeared in a eyepopping green, adding a highlighter-like to a blazer and matching pencil skirt.
4. Emilia Wickstead
Teasing a series of vintage '30s and '40s black and white photos of beaches, Emilia Wickstead transported the FROW to an endless summer vacation with her S/S24 collection.
A designer that has often been worn by The Princess of Wales, this season saw a more relaxed feel from Wickstead. Colour abounded through the collection, from stripes in bold blue and white and tropical citrus tones, to painterly florals and bright, bold hues. Appearing in a wide variety of silhouettes from micro mini dresses, to structured co-ords and floaty beach-ready maxi dresses.
Detail came in the form of texture to elevate otherwise simple silhouettes – long bugle beading appeared on a micro mini dress in punchy lime and pale pink created a mesmerising shimmering effect, while elsewhere cream bugles were finished with florescent ends, creating an hypnotising undulation on a strapless column. A coral hued gown is updated with tab-like squares and shiny silver frocks are tempered with mottled texture.
The holiday mood continued with vintage beachwear inspired pieces - a canary yellow knitted short set evoked retro swimwear, while oversized white breezy linen teamed with shell-like jewellery brought to mind scorching hot days in eternal sunshine.
In a further move towards a more casual approach to future collections, denim made its first appearance. While no actual jeans strutted down the steps of The Royal Academy of Arts, languid silhouettes in the shape of oversized jackets, casual skirts and an off-the-shoulder shirt were a sea change for Emilia Wickstead.
5. Erdem
In his latest collection, Erdem Moralioglu paid tribute to the late iconic Mitford sister, Deborah 'Debo' Cavendish. Rarely is a designer granted the kind of access Erdem was allowed, delving into the archives and actual textiles of Chatsworth House, the home Cavendish lovingly restored and documented after marrying the Duke of Devonshire.
In keeping with Cavendish's love of reuse and recycling (curtains were often made into cushions once they had served their purpose), Erdem's latest collection opened with a series of coats made from actual textiles taken from Chatsworth House. With a 1940s Opera Coat silhouette, the voluminous coats were made up of a variety of floral quilted antique fabrics, completed with elements of waxed jackets in a collaboration with Barbour, echoing the very jackets that Cavendish wore in the gardens of her home.
Cavendish served as an off-beat muse for the collection in more ways than one – her known love of Elvis is found in starburst embroidery, glimmering silver brocades and rhinestone embellishment across stunning sequin slip dresses and leather jackets finished with fringing and yet more twinkling embellishment and teamed with skinny pencil skirts in sheer lace.
The regal theme of Cavendish's family seat continued in colourful dresses screen printed with images of the house itself styled with opera length gloves, full skirted dresses and separates in dazzling bright botanical prints that mingled with sharply tailored blazers in muted tones and subdued checks.
Coming full circle back to the textiles of Chatsworth House, Erdem's closing looks literally brought the curtains down – dresses constructed with former fabric drapes plucked from the Duchess' home - floral chintz mixed with ochre damask silks for a finale that was worthy of a royal.
6. Richard Quinn
Richard Quinn's SS24 catwalk show was one of ethereal beauty, tinged with sadness. The designer had recently suffered the loss of his father Patrick James Quinn and dedicated the 44 piece collection in his loving memory.
Under the glass dome of the Grade II-listed ballroom at the Andaz Hotel with walls covered in white roses and with the English Chamber Orchestra playing, the show commenced with an Irish dance performance in a tribute to Quinn's Irish heritage. Dancers wore black tulle dresses strewn with green and white florals, giving a hint of what was to come when they gave ways to models emerging in stunningly intricate eveningwear.
Full skirted ballet-length gowns adorned with crystals and intricate floral embellishment were styled with opera length gloves for a classic debutant look, creating the best cocktail dresses. A series of structured caged midi dresses offered a contemporary take on another timeless and feminine silhouette with semi-sheer skirts decorated with oversized floral appliques.
Florals continued throughout the collection, appearing in a range of iterations – a full length evening coat's diamond pattern was made up of tiny daisies, only visible as the coat drew nearer, echoing the daisy strewn matching gown underneath while monochrome silk dresses were covered in dramatic oversized blooms for a bold evening look.
In a further nod to ultra-femininity, glittering rhinestones, pearls and feathers also featured heavily within the collection from sparkling shift dresses to ornate plume trims on gowns and dramatic entirely feathered white mini dresses teamed with billowing taffeta capes complete with oversized puff sleeves and trailing trains, finished with contrasting oversized velvet bows.
Closing the show, Jessica Stam appeared in a glittering golden bridal bodysuit constructed of delicate chainmail like fringing, teamed once again with a dramatic cape with an oversized bow at the neck, making for a heavenly finish to a beautiful, emotional collection.
7. Burberry
It was a case of Cool Britannia revisited at Daniel Lee's sophomore collection for British fashion powerhouse Burberry. Having taken over North London greasy spoon Norman's and rebranded Bond St to Burberry Street for the duration of London Fashion Week s/s 2024, it was time for the style set to head to Highbury Fields for the highlight of LFW. Taking place under a giant green tent (decorated, naturally in Burberry check) onlookers walking dogs and parents on the school run watched as celebrities including Mo Farrah, Kano and Kylie as well as Nineties icons Damon Albarn and Patsy Kensit strode in to take their place on fashion's most prized front row.
Lee's second collection opened with fresh take on a customer favourite, the iconic Burberry trench coat. Reimagined for SS24 in a more relaxed cut, styled with the collar popped and a dropped belted waist creating a louche, relaxed silhouette.
In a move that will no doubt take many older fashion editors back to the Noughties, zippered details appeared across both slip dresses and trenches, allowing the latter to convert from full coat to hip length jacket in one easy move.
The designer had previously spoken about taking Burberry back to its heritage roots and this was once again seen with the reintroduction of the classic house check as a subtle detail, appearing as a layered collar on trenches and as an oversized version in cobalt blue and white across knitwear in an echo to AW23's collection.
New prints for the coming season featured oversized chains and locks, as well as interlocking horse bits, both making an appearance on coats, dresses and silk separates. In a ode to the Great British Summer bold, colourful daisies and poppies, strawberries and cherries also appeared on flowing dresses, co-ords and suiting.
Sign up to our free daily email for the latest royal and entertainment news, interesting opinion, expert advice on styling and beauty trends, and no-nonsense guides to the health and wellness questions you want answered.
Antonia Kraskowski is a freelance fashion editor with over 15 years of experience in the industry.
Having started her career at Conde Nast working for titles including Easy Living, Glamour and Vogue New Markets, Antonia went on to work in the fast-paced world of newspapers and weekly magazines, becoming Fashion Editor at Express Newspapers and Magazines in 2014, a role she held for five years before going freelance.
Her career has seen Antonia travel the world, shooting in 18 countries and styling campaigns for brands ranging from Ben Sherman and DKNY to Wallis.