As a fashion editor these are the New York Fashion Week spring/summer 2024 collections that I'm excited about
We've watched the latest NYFW spring/summer 2024 shows, here's what we've loved so far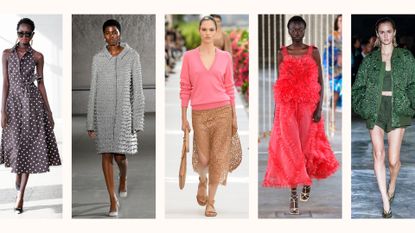 (Image credit: Getty Images (and Michael Kors))
woman&home newsletter
Sign up to our free daily email for the latest royal and entertainment news, interesting opinion, expert advice on styling and beauty trends, and no-nonsense guides to the health and wellness questions you want answered.
Thank you for signing up to Woman & Home. You will receive a verification email shortly.
There was a problem. Please refresh the page and try again.
Autumn might just be beginning but the New York Fashion Week spring/summer 2024 shows are in full swing, looking ahead into spring summer of next year. Fashion works on six-month cycles, and while stores stock what we need for the here and now, designers, fashion editors, stylists and influencers are engrossed in the trends that are to come.
If you're just about getting to grips with the autumn/winter fashion trends for 2023, there's no need to panic. Looking into our style crystal ball, fashion is always working six months ahead and September sees the start of a month of fashion shows across the globe. Although officially spring/summer 2024 shows began at Copenhagen Fashion Week back in August, New York is seen as one of the four main fashion capitals and is thought of as the first city in the fashion calendar.
Showcasing some of the best American clothing brands, alongside other household fashion names, NYFW offers us the first glimpse at what's to come next spring and summer, exploring the latest fashion and accessory trends through a series of runway shows and presentations. While many of these are shown online, the exclusive front row is held for editors, stylists and celebrities who will be key in ensuring consumers see designer's ideas on red carpets and in magazines.
New York Fashion Week: Spring/Summer 2024 show reviews
We asked fashion editor and stylist, Antonia Kraskowski to watch the latest New York Fashion Week spring/summer 2024 shows and give us her lowdown, so you can get ahead of the style game.
1. Carolina Herrera
Wes Gordon's vision for Carolina Herrera NYFW SS24 was an ode to '90s New York City chic. Think Gwyneth Paltrow and Carolyn Bessette-Kennedy and an easy, timeless elegance that still informs much of what we wear today springs to mind. The show both opened and closed with looks consisting of wiggly fitted pencil skirts teamed with kitten heels and crisp cotton shirts with billowing sleeves, creating a new take on a classic silhouette with clever contrasts of proportion.
Longline slim-fitting blazers were teamed with other wardrobe staples – worn belted over cropped cigarette trousers, tulle skirts and satin slip dresses were emboldened by oversized floral brooches, while fitted cardigans - another '90s fashion trend essential – reappeared in several incarnations including an outfit complete with matching knitted floral hotpants.
Gordon's nostalgic love letter to Nineties NYC continued apace with a brown polka dot dress that could have walked straight off the polo field in Pretty Woman, while monochrome window pane checks adorned tailored workwear-ready looks including coats, separates and a classic boardroom-ready pencil dress, ready to smash some glass ceilings.
Party dresses and eveningwear lie within the DNA of the Carolina Herrera brand and Gordon did not disappoint with a series of stunning looks. Silhouettes rather than embellishment were the focus of this collection - a micro pleated tulle ballgown in black and lavender vertical stripes was a showstopper of a piece, the dramatic tulle element echoed across simpler pieces in the form of shoulder sculpture on a billowing black gown, a frothy mini skirt and dramatic sleeves on a slimline silk jumpsuit.
The structured A-line shape was seen in a variety of different guises in the collection including ballet-length pastel-hued pared-back ballgowns decorated only with a simple oversized sash, while sculptural, semi-sheer hooped dresses in both a canary yellow thigh-skimming mini and classic black midi were also FROW pleasers. A subtly shimmering white tulle skirt with matching structured bandeau corset top was stunning in its balletic simplicity, ready to be worn by a young Carrie Bradshaw atop her Brownstone's stoop.
It wasn't to say that embellishment was totally eschewed – sparkle came in the form of oversized paillette sequins adorning slinky fitted column gowns, a delicate pale pink shift and a final look of stunning wiggly silver pencil skirt that Bessette-Kennedy herself would've coveted, teamed with an oversized black cotton blouse. Hail me a yellow taxi and pass me a slip skirt, I want to be a Nineties NY girl.
2. Michael Kors
Self-described as ready to wear for the global jet-setter, Michael Kors transformed the banks of the Hudson River into a glamorous European summer holiday destination complete with trailing bougainvillaea for its NYFW SS24 show.
Pared-back elegance reigned supreme for a show that saw modern updates on classic summer staples, from wafting kaftan dresses to lace separates, perfect for strolling on the Riviera next summer. A simple palette of black, white, beige and chocolate interspersed with the occasional dash of pastels created a cohesive collection that whispered a story of quiet luxury summer staples.
However, there was still a nod to bling - an oversized gold link motif ran through the collection in the form of belts, bag buckles and also held together racy cut-outs on swimwear and dresses.
When it came to hemlines, Kors opted for a tale of two extremes with thigh-skimming shift dresses mingling with billowing maxi dresses, many of which featured a flattering empire line finished with leather belted details highlighting the area. Just a handful of midi-length skirts emerged and were not for the faint of heart, with thigh-high splits, sequins and sheer fabrics offering a sexed-up take on a wardrobe staple.
Prints, while bold, were used sparingly - florals appeared in a gargantuan tropical garden print in keeping with the globe-hopping theme of the collection across blousy kaftans, maxi dresses and bikini tops. An oversized giraffe motif breathed fresh life into animal-inspired themes, appearing on more structured pieces across the collection in the form of chic sleeveless shifts with matching tailored spring coats.
While tailoring remained structured with cropped trousers, double-breasted blazers and chic belted trenches, the distinctly Sixties silhouette helped to create youthful joie de vivre in a collection designed with a destiny to be seen in the South of France next summer.
3. Tory Burch
The undulating curvature of the newly opened Gilder Centre for Science, Education and Innovation at New York's American Museum of Natural History proved to be the perfect backdrop for Tory Burch to showcase its NYFW SS24 collection.
Echoing its magnificent surroundings, from the off the collection had an air of retro-futurism that would not have been out of place on the Jetsons with high hemlines, curved lines and aerodynamic accessories taking centre stage.
Highlights included orbital hemmed dresses that rippled like Saturn's rings as the models including Emily Ratajkowski strode down the Space Age runway, proving that curves are no barrier to looking good in Burch's collection, while structured shift dresses were reimagined in lightweight materials perfect for summer months.
Cape detailing was another key shape for Burch's SS24 collection, appearing with deep curved decolletage cutouts secured across the chest cut-away sleeves, worn over carefully draped silk dresses with soft bubbled hems and as a statement maxi dress for the evening.
Lady-like structured coats in the brand's signature monogram, pale grey and a high-shine silver featured dramatic shawl collars that highlighted the natural curve from neck to shoulder.
The collection was music to the assembled crowd's ears, quite literally with a mesh tunic and coat each embellished with tiny bells that created an aural and visual delight as they made their way down the catwalk.
Straight lines were further tempered throughout with curved detailing in many different forms, from panelled stitching and hems on blazers to subtle detailing such as an elasticated finish on shirt sleeves to create a lightly bubbled hem, softening tailored lines.
Accessories also carried a theme of curvature – aerodynamic wrap-around glasses with coloured lenses adorned models' faces, earrings and bangles worn high on the arm had a unique distended globular shape while curvy clutches appeared to meld to the hip.
4. Ulla Johnson
We didn't think it would be possible for Ulla Johnson's bohemian aesthetic to become even more beautiful but a collaboration between the designer and Brooklyn-based artist Shara Hughes has brought a stunning new element to the brand's SS24 collection, shown at the fittingly chosen Powerhouse Arts – a newly opened exhibition space and art studio, formerly an abandoned Brooklyn powerhouse.
Based on three landscape pieces by Hughes, the artworks feature across various looks throughout the collection, with the psychedelic patterns further enhanced by the movement of the models as they strolled around the show space.
With a request for more eveningwear from customers, SS24 sees Johnson up the out-out element of her designs. From an eye-catching gowns in bright coral organza and deep chartreuse zebra to slinky silk slip dresses in lime, buttermilk and soft pink (giving us a glimpse into potential fashion colour trends for next year) finished with oversized floral embroidered lace that scream summer nights in the city, Johnson gives us a reason to make plans. Tulle rosettes with trailing ribbon finishes worn as belts with colourful tailored separates or at the neck with gowns echo the romantic playfulness and frothy designs elsewhere in the collection.
More casual offerings include soft tailoring and denim, while knitwear comes in the form of seventies-inspired crochet across maxi dresses and separates; a sequin embellished tank top complements a swishy silk midi skirt imbued with another of Hughes' vibrant artworks.
Alongside the more psychedelic styles, Johnson's typically bohemian prints reigned supreme – chinoiserie-inspired florals, chevron stripes, plaids and abstract sunset-like undulating prints helped to further create an artfully eclectic collection worthy of their own gallery space.
5. Jason Wu
Wu once again tips what we're expecting on its head with a switch to structured silk concoctions featuring vintage inspired botanical line drawing prints. Akin to sketches from the archives at Kew Gardens, the delicate drawings appear on oversized shirts, fitted dresses, slimline dress coats and a stunning cream silk gown adorned with monochrome motifs is a showstopper of a piece - worthy of being worn by another future First Lady.
Playing on notions of deconstructed beauty, Jason Wu's latest collection literally picked apart modern fashion. Opening the show with a cream sleeveless midi dress riddled with holes and finished with ragged edging, despite the moth-eaten appearance it was hard to deny the beauty of the garment's gently flared, flattering careful construction.
Wu is known for his artful creation of simple yet beautiful clothes and in subverting expectations with fabrics that appear to have been attacked by pests, he only highlights his mastery and craftsmanship at creating stunning silhouettes. After all, lest we forget that this was the designer handpicked by Michelle Obama for not one but both Inaugural Balls at The White House.
Entitled 'Solstice', the collection explores growth and decay as part of nature's cycle. As the apparent decomposing cream constructions segue into sheer fabrics sprinkled with sequinned motifs, an ethereal spring-like hopefulness of youth is breathed into the collection. It is echoed again later in a series of louche, relaxed diaphanous gowns embellished with iridescent silver foliage with a polished-yet-punkish feel with their raw, sheer edges – and yes, these gowns have pockets!
The designer's play on texture and construction continues throughout the collection – from sleek leather dresses and sheer shimmering organza slips to pink tweed separates teamed with luxuriously frayed knitwear, carefully considered lines are evident in each look.
An oversized glimmering green jacquard bomber worn over a shorts co-ord set with fraying hems is a stylish, nonchalant spring-in-the-city look.
The same fabric takes on a new lease of life in the form of an asymmetric-hemmed fit and flare midi dress – Wu's construction creates a vision of effortlessness, the kind of dress that his customers could wear from breakfast meetings to dinner and feel fabulous throughout.
6. Ralph Lauren
A stalwart of New York Fashion Week, Ralph Lauren's spring/summer 2024 collection was one that told a story of personal, eclectic style. With a romantic bohemian undercurrent, the collection showed a wealth of mix-and-match styles designed to appeal to a broad spectrum of the designer's customers. From classic preppy tailoring and country club-worthy shirt dresses to gorgeous golden eveningwear through to bohemian fringing and jewel-hued silky separates teamed with Eastern-inspired tile prints and washed-out rainbow plaids, the onus of the collection was on individual style, a refreshing idea, amongst the sometimes rigidity of fashion trends.
The opening look of a preppy striped cotton shirt teamed with jeans and finished with pared-back leather accessories was a riff on Ralph's signature WASP weekend wardrobe – the shirt updated with a twinkly applique while the jeans featured a blue and white floral pattern that would run through several pieces of the collection, including tailored pieces such as blazers, fitted dresses and a semi-sheer bustier worn with cuffed wide leg pinstripes and long necklaces of chunky beads nodding to the bohemian style, off-beat vibe - suggesting that getting your boho capsule wardrobe is in order for next summer.
Of course, it wouldn't be spring without florals and for Ralph, this translated into a delicate photo print, a modern take on classic chinoiserie in creams and blues that ran across everything from denim and maxi dresses to tailoring including chic fit and flare shirt dresses and silk shirts that paired beautifully with elegant wide leg trousers.
But classic Ralph Lauren was still at the heart of this collection, with a plethora of classic Ralph Lauren preppy styles on offer – highlights included striped suiting with pocket insignia, an elegant navy two-piece with a smattering of subtle black sequin floral embellishment and cream wide leg palazzo pants teamed with a matching pinstripe blazer as well as sophisticated cotton midi dresses perfect for a day at the Polo ticked the chic boxes.
With a front row of A-list celebrities including Jennifer Lopez, Julianne Moore and Diane Keaton, there was plenty of emphasis on red carpet-worthy evening looks and Ralph Lauren didn't disappoint with a theme of black and gold taking on timeless classic cuts. Alongside stunning fitted column dresses, sequin minis and military-inspired evening jackets, several liquid gold lamé and twinkling burnished semi-sheer pieces created a selection of gowns that oozed sophistication and appeared molten as models shimmied down the catwalk under a ceiling of glittering chandeliers. And for those who prefer a sporty take for their black tie party, there was even a special golden version of the classic Ralph Lauren polo shirt, teamed with a twinkling frothy chiffon skirt worthy of the most glamorous of balls.
From silky evening gowns, the collection segued to the silk road with a distinctly bohemian collection of brightly coloured louche separates teamed with tile prints, silk scarves interspersed with a blown-out rainbow plaid, looks were once more topped with chunky long beaded necklaces, shoulder-grazing earrings and leather belts featuring oversized belt buckles.
However, it was the final outfit that stole the show when current Vogue cover girl and original supermodel Christy Turlington closed the show in a glamorous asymmetric liquid gold evening gown complete with a dramatic draped train that ran from one shoulder.
Step aside Y2K fashion, the noughties are back with a bang.
7. Christian Siriano
Pastel pink merged into a micro collection featuring a stunning shimmering rainbow of metallics across structured ball-worthy gowns and tailoring before once more entering a dream-like dressing-up box of ribbons, chiffon and frothy tulle, all before a final hurrah of soft, sheer tulle eveningwear embellished with iridescent vine-like detailing worth of a fairytale princess.
Celebrating his 15th anniversary at NYFW, it's hard to remember that Christian Siriano's design career was born on an early fashion reality show. The designer went all out for the occasion, taking over the magnificent ballroom of The Pierre hotel, decking it in a fairytale floral vision as a dramatic backdrop for his SS24 collection.
In front of a diverse FROW featuring Janet Jackson, Avril Lavigne, Laverne Cox and Alicia Silverstone, Siriano's ballet-inspired collection slowly unfolded to tell a story of drama and dress up. The designers's catwalks are known for their diverse use of models and this season once again saw Siriano use an inclusive cast of models to showcase his latest looks, with some of the best plus size models in the business hitting the runway too.
The opening section featured largely monochrome outfits of tailoring, sheer panelling and corsets, and although they were more demure in terms of colour they certainly were not in terms design, with highlights including sheer-yet-shimmering maxi column dresses, a floor length glittering gold statement trench coat and satin double-breasted trouser suit in virginal white.
Gradually black and white gave way to an explosion of pastel-hued tulle and ribbon with a ballet shoe pink theme running throughout the dream-like latter half of the collection.
The drama continued with a soundtrack courtesy of singer Sia, who performed live in a pink and lilac hued tulle ballgown straight out of every child's fantasy wardrobe. A truly magical moment.
8. Proenza Schouler
Long a byword for cool girl style, Jack McCollough and Lazaro Hernandez's latest offering for Proenza Schouler conjured yet another effortlessly chic collection that will have women queuing to dress themselves in their designs. With a palette of black, white, softest yellow and sky blue interspersed with a punchy tomato red, the collection had a lightweight and undone feel, perfect for the metropolitan girl about town.
Sheer gauzy layered dresses in soft shades of blue, cream and concrete grey offered the ideal city-chic solution for hot days while swishing oversized fishnet dresses presented a breezier option, worn over lightweight loose-cut trousers. For the evening, oversized rectangular pailettes adorned a relaxed sheer two-piece, creating a mesmerising, swimming pool-like shimmer.
For those who prefer a tailored look, Proenza Schouler's nod to the Quiet Luxury trend continued with crisp cotton blazers, shirting worn buttoned to the neck and coats cut from butter-soft leather, while wide-leg trousers and jeans were both loose cut, creating an effortless, fluid silhouette.
The brand's latest show was also the unveiling of its first monogram, which according to the designers, has been in the works for three years and through thousands of tweaks, settling on a sleek infinity-like design that is comprised of two Ps that also form an S, it appears on knitwear and handbags in the collection for the first time.
Much like the clothing, bags were also mostly minimalist (once again championing Quiet Luxury bags) – from small structured styles worn slung on a belt at hip height to shoulder bags and the satchels that Proenza is known for, clean lines in monochrome leather were the order of the day, designed to work with every outfit and minimal fuss.
We'll be updating this piece throughout the week, and we can't wait to see what trends spring/summer 2024 has in store.
Sign up to our free daily email for the latest royal and entertainment news, interesting opinion, expert advice on styling and beauty trends, and no-nonsense guides to the health and wellness questions you want answered.
Antonia Kraskowski is a freelance fashion editor with over 15 years of experience in the industry.
Having started her career at Conde Nast working for titles including Easy Living, Glamour and Vogue New Markets, Antonia went on to work in the fast-paced world of newspapers and weekly magazines, becoming Fashion Editor at Express Newspapers and Magazines in 2014, a role she held for five years before going freelance.
Her career has seen Antonia travel the world, shooting in 18 countries and styling campaigns for brands ranging from Ben Sherman and DKNY to Wallis.