9 New York Fashion Week 2023 trends you can shop now
I'm a fashion editor and these are the 9 New York Fashion Week 2023 fall/winter trends I think you can wear right now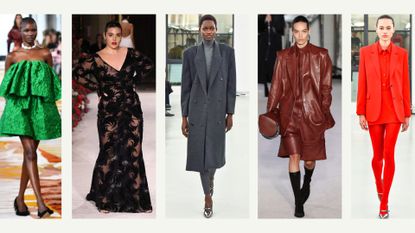 (Image credit: Getty Images)
New York Fashion Week 2023 marks the first of a series of runway shows across the four major fashion capitals - New York, London, Milan and Paris. A look ahead to what we'll be in stores come September. As a fashion editor it is my job to watch and decipher the common threads between all the presentations marking out the looks I think will be key in six months time.
New York Fashion Week 2023 kicked off a month long run of designer shows and even though spring hasn't officially begun, the fashion industry is already looking ahead to September 2023, deciding which new looks will be making their way to a shop floor near you. Even if you don't tend to wear designer items, show season creates the blueprint for the entire industry, with straight-to-market brands keeping a close eye on styles that are making their runway debut. These looks and common ideas will then be interpreted across the fashion landscape, available for everyone, at all different price points.
Always six months ahead - giving time for production, the current shows are all about fall/winter 2023 style, so expect to see outerwear and party dresses, alongside layering, and texture. Keeping abreast of New York Fashion Week 2023 and the runways that follow will help you work out what fashion color trends are still to come and what fashion trends will remain key to your closet and which you might want to consider donating or reselling in the coming months. But you don't need to wait until September to get your style sorted. I've rounded up the 9 New York Fashion Week 2023 fall/winter trends you can shop and start wearing now and continue loving come fall.
New York Fashion Week 2023 trends to wear right now
There was a great mix of styles at New York Fashion Week with something for everyone. From the silhouettes to look out for, to the colors to start stocking up on, these are the 9 trends from New York Fashion Week I think you can start wearing now.
1. Lavender Looks
With the announcement that WGSN Color of the Year 2023 has been coined 'Digital Lavender', seeing this pastel hue dominating the runway for fall/winter 2023 comes as no surprise. A popular fashion color trend last year, it's not unusual to see successful styles continue for several seasons, as designers and straight-to-market brands will have sussed out what works, tapping into already established likes amongst consumers.
Spotted at the likes of Christian Cowan, Rodarte and Carolina Herrera, for fall/winter 2023 lavender covered everything from sharp suiting to ladylike dresses and even party-ready sequinned designs.
As pastel hues are often popular in summer months, playing into the light and bright feeling of the season, this is a look you can certainly invest in right now, particularly if you're looking for the best wedding guest dresses, and keep in your wardrobe for the next 12 months, offering great cost-per-wear.
(opens in new tab)
Karen Millen Lavender Suit
RRP: $360 / £209 (jacket) / $222 / £129 (pants (opens in new tab)) | Master wide legs this season with a new pant suit in a hue that will see you through the next 12 months. For extra versatility wear the blazer as part of a white jeans outfit and the blazer with a tee.
(opens in new tab)
Anthropologie Ottilie dress
RRP: £98 (UK only)| Lean into the ladylike feel of this hue with a puff sleeve dress. A popular runway interpretation for this hue, it's time to swap your best pink dresses for lavender iterations. Luckily the puff sleeve remains on trend for the moment.
(opens in new tab)
Rotate Birger Christensen Skirt
RRP: $230 / £180 | A wedding ready look, or an excellent option for what to pack for a beach vacation, this skirt will ensure you truly shine this season. Ideal with a white tee and sandals for dinner, keep it for party season this winter and team with a sweater.
2. Luxe Leather
One of the biggest fashion trends for this season, if you were wondering if leather looks were a good investment, then if New York Fashion Week 2023 is anything to go by, the answer is yes. The best leather jackets have always been key to any capsule wardrobe, but in recent years we've seen this hardy fabric used for everything from pants to skirts and some of the best dresses. While spring/summer is set to have more of a biker chic direction, for fall/winter 2023 you can expect leather to have a softer and more feminine feel. Learn how to style a leather skirt, looking for figure flattering high-waisted iterations in both pencil and A-line cuts. Meanwhile the leather blazer that seemed like it was one its way out made a comeback at Brandon Maxwell as part of a more tailored leather aesthetic.
When it comes to color, black leather of course made itself known, being the most popular choice at Altuzarra, Rebecca Crews, Proenza Schouler and Adeam, but I'm loving this red-brown hue that made appearances at Ulla Johnson and Brandon Maxwell made appearances elsewhere too for a lighter and more directional feel.
Leather wasn't just popular in New York though, known for high quality fabric, Milan Fashion Week 2023 saw plenty of leather take to the runway too, ensuring this trend is set to be big come the fall.
(opens in new tab)
Whistles Puff Sleeve Leather Dress
RRP: $759 / £379 | Leather dresses are ideal for spring and fall, so invest now to get maximum wear. Like leather jackets, the best leather dresses only get better with age and this burgundy hued design offers a refreshing twist on classic black iterations.
(opens in new tab)
Jigsaw Ryedale Burgundy Leather Blazer
RRP: £350 (international delivery available) | While there was definitely a more feminine feel to the leather look for fall/winter 2023, tailoring certainly still played its part and the leather blazer that dominated this time last year promises a rerun.
(opens in new tab)
Ted Baker Burgundy Leather Jacket
RRP: £325 (UK only) | A more directional piece, this oversized shacket combines shirt and jacket qualities in one. Team with your best skinny jeans to balance out the oversized proportions of the cut, or wear open over a fitted midi dress for a softer take.
3. The new LBD - long black dress
Reinvented for fall/winter, New York Fashion Week 2023 reimagined the meaning of LBD from little black dress to long black dress as the runways were teaming with floor length interpretations of this wardrobe classic.
From silk full-skirted gowns to more tapered, figure hugging iterations in velvet and lace, there was a nod towards old school glamour and embracing investment styles that managed to dance the line between directional and timeless classic, creating evening wear looks you could cherish for a lifetime.
One of the masters of this trend is Christian Siriano who has become an increasing hit during red carpet season and his expressive and sculptural gowns mixed black with flashes of fuchsia and white for a bold twist.
While black is often frowned upon when wondering what to wear to a wedding, these dramatic gowns are perfect for black-tie affairs. And while designer dress rental has meant you can easily switch up your occasionwear looks, if you want a versatile dress that you can rework at will, none will serve you better than a black dress.
(opens in new tab)
Reiss Noa Plunge Neck Maxi Dress
RRP: $385 / £228 | The elongated V-neck helps to lengthen a silhouette, while the train offers plenty of glam points. If you have a host of occasions on the horizon this is a great investment, as you can easily repeat-wear this dress with new accessories.
(opens in new tab)
Betsey & Adam Mesh Panel Gown
RRP: $299 / £255.79 | Looking runway ready, this dramatic dipped back gown brings elegance in droves and the mesh central panel offers additional fashion flare. The nipped in waist is enhanced by the figure flattering full skirt. Team with simple jewels.
(opens in new tab)
Needle & Thread Black Tulle Dress
RRP: $789 / £500 | When it comes to occasion dressing Needle & Thread is one of our go-to labels. Available in pale pink and red too, for those after some color, team this fairytale frock with barely-there, heeled sandals to let the tulle do the talking.
4. Lady in red
Color has long been on the agenda when it comes to trending styles, but while last year was all about pink, if New York Fashion Week 2023 has its way, fall/winter this year will be all about red. A tone as timeless in a minimalist capsule wardrobe as black, this punchy hue is practically a neutral thanks to its versatility, pairing with most colors with ease. Ruby was the key shade, however if you're wondering what color suits me, you can deviate to a different red hue, or wear ruby tones through accessories, skirts or pants to keep the color away from your face for a flattering finish.
Showcased at multiple New York Fashion Week shows throughout the week, highlights included cocktail dresses at Jason Wu, some of the best sweaters at Tory Burch - that slouchy, oversized feel is still going strong for 2023 and of course, block color, head to toe red looks at Theory - that are not for the faint hearted. And while I expect red to certainly be one of the biggest colors for the fall/winter months, this is a look that can be incorporated into your winter capsule wardrobe and beyond. Team with navy and white for a nod to nautical right now, before mixing with black and camel for cooler months.
(opens in new tab)
Zara Red Tailored Midi Dress
RRP: $69.90 / £49.99 | The draped front will help to add fullness to a small bust, this svelte shift dress is ideal for cocktail hour. The high neckline negates the need for a necklace, although as its fitted you may want your best shapewear for a contoured finish.
(opens in new tab)
M&S Autograph Ribbed Sweater
RRP: $125 / £69 | The simplest way to inject the red trend into your closet is via a simple sweater. In a mohair-blend, that offers a breathable finish, this red sweater straddles the perfect balance between fitted and slouchy. We love the ribbed detailing.
5. Shine bright
As we're looking at fall/winter 2023 trends, February's New York Fashion Week was always going to pay homage to the party season, after all, what is a winter wardrobe without a touch of metallic. Naturally gold and silver were strongest for this trend, and whether you opt for sequins or lurex threaded fabric, there is no doubt that we're all going to be looking to shine by the end of the year.
From dresses to flattering jumpsuits, while we associate this style with end of year celebrations, metallic has actually become fairly constant on our list of trends as is 'in' right now too. Choose more classic silhouettes, and let the fabric take center stage, creating an outfit you can enjoy for seasons to come.
Want something a little different? Sequin and metallic looks, didn't just come in gold and silver this season, so don't be afraid to embrace colorful metallics. Crayola brights including red, green, pink and blue were hugely popular here too.
(opens in new tab)
RRP: $360 / £199 | If you prefer pants to skirts, then swap evening dresses for a dazzling jumpsuit. This uber flattering design from British clothing brand Phase Eight features a curve enhancing wrap front and figure balancing wide leg trouser.
(opens in new tab)
Nightway Silver Sequin Dress
RRP: $119 / £101.80 | Looking for the most stylish dresses to skim your middle? Empire line cuts are great for highlighting bust and raising your waistline to your narrowest part before skimming over middles. The flirty hem on this dress balances hips.
(opens in new tab)
Mango Bias Cut Satin Dress
RRP: $169.99 / £109.99 | A great option if you're on the hunt for the best bridesmaid dresses, this asymmetric, bias cut beauty will ensure your bridesmaids look on-trend even in six months time. All you have to do is worry about the wedding dress trends 2023.
6. Here comes the sun
Dopamine Dressing was one of the biggest fashion color trends of 2022 and this look is back for a second round. While I've divided the color stories up for this trend guide, there's definitely embracement of mood-boosting brights at every turn for the season ahead, including pinks, zesty greens, pinks and a lot of yellow.
From the best winter coat at Proenza Schouler to dinner and dance-ready frocks at Carolina Herrera, the weather might be gloomier around the second half of the year, but the clothes are set to get brighter.
Although sunshine hues were definitely my favorite interpretation of this look, golden mustard tones are set to be equally key to the offering and a great choice if more highlighter shades feel a little daunting.
With spring kicking off in March there is no better time to get this look into your closet and you can certainly find key yellow looks to add to spring capsule wardrobes that you can continue to enjoy for the next 12 months.
(opens in new tab)
Tommy Hilfiger Trench Coat
RRP: £450 (UK only) | In need of the best trench coat to add to your closet? This sunshine yellow design will ensure every fall/winter day is filled with joy. Smart enough for the office, the yellow will also work beautifully with blue jeans at the weekend.
(opens in new tab)
Roksanda Yellow Caped Dress
RRP: $1,635 / £1,549 | Not all heroes wear capes, but they do sure help to up-style cocktail dresses. This striking dress can be worn for everything from wedding season to what to wear to the races over the summer months, while still working come fall.
(opens in new tab)
RRP: $1,070 / £730 | If you've previously invested in one of the best tuxedos for women then you clearly like sharp tailoring. Up the ante and give classic eveningwear a new season spin and wear your tuxedo pants with this stunning yellow velvet design.
7. Going Green
Another happy hue, the best green dresses were top of everyone's shopping list last summer, so get ready to dust them off again. While green didn't feature as heavily for spring/summer 2023, the New York Fashion Week 2023 shows ushered green back onto the runway in all its glory. From Kermit coloring to emerald and florescent interpretations, look to the likes of Kate Spade, Ulla Johnson and Christian Cowen for inspiration.
With a spectrum of greens set to make themselves known you can choose the shade that suits you. From the best blazers worked with neutrals to head to toe block color looks, you can make this style as bold or muted as you like.
(opens in new tab)
Anthropologie Bubble Hem Dress
RRP: $230 / £180 | We know the bubble hem is set to be back in for the spring season, but if you're a fan of the shape, a green version is the easiest way to carry this current fashion trend into the second part of 2023. Add a slim belt for extra definition.
(opens in new tab)
Cos Green Oversized Blazer
RRP: £135 (UK only) | Bold blazers have been on the fashion agenda for a while now and this double breasted design continues to champion an oversized silhouette. In order to maintain balance, make sure to pair it with slim fitting pants.
(opens in new tab)
RRP: £129 (international delivery available) | The best puffer jackets have become something of a staple when it comes to the types of coats needed in a modern wardrobe. This Hush design is a great dupe for the fall/winter 2023 Kate Spade one.
8. Workwear Wonders
The best loungewear dominated throughout 2021 and part of 2022, but as many of us have settled back into an office environment or at least some form of flexible working, designers took this as a signal to once again put their best foot forward when it comes to office-ready attire. There was plenty of sharp suiting, tailored coats and chic shirt dresses to light the way, with a neutral palette key to creating a workwear capsule wardrobe for the fall/winter season.
With a focus on tailored pieces and androgynous styling, layering is key to this look in the winter you can expect plenty of wool coats, straight legged pants and roll neck knits. To make this style work for now, embrace the neutral shirt midi dress and swap last season's wide leg pants for more form fitting styles.
Grey and mink were dominating colors here and while they might feel a little muted for spring/summer, there was plenty of white cotton pieces on the runway too, mix these with grey, and grey-camels for a timely look that can carry over into the end of the year.
(opens in new tab)
RRP: $79.99 / £49.99 | When it comes to how to style a shirt dress there is seemingly endless possibilities. This khaki design is easily wearable with sandals in the summer months but can be layered over roll necks and under blazers for fall/winter 2023.
(opens in new tab)
La Redoute Grey Roll Neck Sweater
RRP: $30 / £28 | Classic knitwear silhouettes are key building blocks in any capsule wardrobe and this fitted grey design is a great addition for workwear ensembles. Pair with tailoring for a cozier feel or under midi dresses to give them winter longevity.
(opens in new tab)
RRP: £189 (International delivery available) | A winter coat is an investment piece that can be loved for a lifetime and this belted design in a classic monochrome palette will see you through many winters to come. The belt adds structure to the relaxed fit.
9. The bandeau is back
New York Fashion Week 2023 revelled in the return of occasion and partywear, a look that dominated many of the key runway shows. Elevated fabrications, sequins and embellishment ensured that models dazzled and while there were plenty of one-shoulder and sculptural designs, it was the humble bandeau neckline that stole the show when it came to timeless eveningwear. Spotted on the runway at Brandon Maxwell, Dennis Basso, and Carolina Herrera, the beauty of simplicity and precise pattern cutting was the highlight of this trend. Neat, nipped-in waists and bare shoulders, with no jewelry created a very chic and minimalistic look, complemented by ballerina length hems that felt utterly regal.
An easy look to replicate right now, especially as we approach the warmer months, when bare arms are positively welcome, the key to mimicking this silhouette is to embrace the pared-back silhouette. Focus on unfussy cuts, quality fits and luxe fabrics to make this a look you can wear for occasions from now until the end of the year.
(opens in new tab)
Warehouse Pewter Bandeau Jumpsuit
RRP: £139 (UK only) | Shimmer on the dancefloor this summer in a pewter jumpsuit. Nailing two trends in one, this sequins one-piece features the bandeau neckline for a sleek and clean finish. Just make sure to get yourself one of the best strapless bras.
(opens in new tab)
Totem Strapless Midi Dress
RRP: $680 / £480 | A dress that you can wear again and again, this elegant A-line design can be reinvented year after year with a change of accessories. With a dipped back hem, the fold over bustline helps to add fullness to a small bust. Oh, and it has pockets.
(opens in new tab)
Anthropologie Bubble Hem Dress
RRP: $298 / £240 | Mixing spring trends with fall predictions, this high-low hem dress features a directional bubble hem, one of this season's hottest skirt shapes, with new runway favorite, the bandeau neckline. This dress also comes in a bold red hue.
Rivkie is a fashion editor, writer and stylist with over fifteen years' experience in the industry. Having studied design and pattern cutting at the London College of Fashion, Rivkie fell in love with styling and journalism, covering fashion weeks in London, Paris and New York.
Specialising in plus size fashion, Rivkie has long championed that style is for everyBODY and has been a regular talking head on a host of radio stations and television shows, pushing for greater representation for plus size women and fashion throughout her career.