Wedding dress trends 2023: The key dress styles brides-to-be need to know about
Getting married soon? These are the wedding dress trends 2023 that experts predict are going to be big next year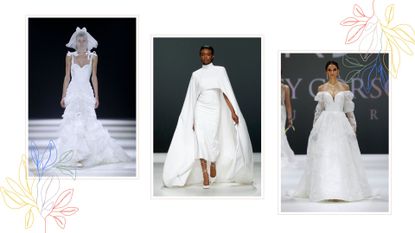 (Image credit: Getty)
From feathers to capes, these are the wedding dress trends 2023 has in store. From runway to the aisle, experts reveal the wedding dress styles brides-to-be need to look out for.
If you've just got engaged, congratulations! It's quite a whirlwind, but chances are, you've probably already started thinking about what dress to wear, and with so much choice out there these days, it can be hard to know where to start. One of the most important dresses you'll ever wear, just as with seasonal fashion trends, there are wedding dress trends to consider too. Each season bridal fashion week shows are held across the globe, showcasing the biggest trends in wedding dresses. With the biggest names - Monique Lhullier, Marchesa and Viktor & Rolf all showcasing their gowns and how they see the wedding dress trends 2023 playing out.
While wedding dresses aren't as fashion-forward as the main runway trends, they so still help to predict the silhouettes and styles that are set to be prevalent in the coming months, however, most wedding dress designers look beyond trends to create their romantic visions. For celebrity wedding dress designer Kate Halfpenny, that's architecture, art, and nature, while for London eco-bridal designer Sabina Motasem takes her inspiration from women she admires such as ballet dancer, Misty Copeland. Bridal fashion week is actually a great time for brides-to-be to start searching for that dream wedding dress, and with the wedding dress trends 2023 covering everything from asymmetric necklines to high-low hemlines, there are plenty of choices to get you started on your wedding dress journey.
8 WEDDING DRESS TRENDS 2023 TO CONSIDER FOR YOUR BIG DAY
While there are definitely some new and interesting wedding dress trends for 2023 emerging, there's still very much a hankering for traditional styles, including wedding dresses with sleeves. This resurgence for tradition over modernity could be attributed to a nostalgia for pre-Covid times, however, there are still lots of styles to choose from for brides who want something a little more fashion-forward. If you do opt for something simpler, don't forget you can still inject personality with the best wedding shoes for brides.
1. ASYMMETRIC NECKLINES
Maybe it's the general longing for '90s fashion trends, but one-shoulder wedding dresses are to have a moment in the new year. Even though the neckline has been around since Victorian times, it was last seen on Spice Girls and It Girls in the '90s, but this look is back as part of the wedding dress trends 2023 and remains just as fun and elegant. However, think less '90s and more sophisticated disco diva, as it draws on the '70s for inspiration too.
"I love asymmetric necklines," says eco-wedding dress designer Sabina Motasem. "There's no doubt as well that they imbue the wearer with a touch of disco, a Studio 54 vibe, which is great for any cool brides out there who don't want the traditional wedding dress."
If you're considering a one-shoulder wedding dress, then remember that lingerie is really important here, although many styles will have built-in corsetry, you may need to invest in one of the best strapless bras so that you feel nice and secure for the whole day. Asymmetric necklines also call for a sleek and elegant silhouette, so this is not for brides who want a full-on drama dress. It's a much more tailored silhouette, so consider the best shapewear too, so you have a streamlined finish.
"The neckline really suits the slinky style of my dresses as well, creating a fluid line from top to toe," says Sabina. "One-shoulder dresses are really elegant, but also inject a touch of sexiness without revealing too much. All that's left to do is get your dancing shoes on!"
The disco vibe really suits this style of dress when it comes to accessories as well. A silver or gold heel will add a final finishing touch, while a pair of statement earrings will inject fun into this super stylish look.
What to look out for:
Minimalist silhouette: Even if you go for a ballgown shape, keep it simple. A sleeker, simpler silhouette suits the asymmetric look better, allowing brides to look like Grecian goddesses as opposed to '80s pop princesses.
Full-length gowns: Mini dresses with an asymmetric neckline can work for less formal weddings, but this look comes into its own with a dramatic, full-length dress.
Jumpsuits and separates: There's something very modern about this neckline, which is why it works really well on bridal jumpsuits. A flattering jumpsuit is ideal for brides who want to mix up their look, separates, such as a skirt and top also work really well, which means you can change your look for the reception.
2. FEATHER EMBELLISHMENTS
Normally reserved for the best cocktail dresses, feather trims, whether on hems or sleeves, were seen across the Bridal Fashion Week shows from Madrid to New York, and it's one wedding dress trend 2023 that brides seeking a bit of glamor will be clamoring for.
This frothy trend adds a luxe feel to simple silhouettes and is a great alternative for those brides who want something different but don't like lace, glitter, or crystal embellishments.
Harriet Head, designer of unique headpieces, says that feathers add a soft, romantic feel to the final bridal look.
"They add movement and luxury and softness and are a more achievable way of staying on trend than a very beautiful expensive feather finished couture gown," she says.
"If soft and fluffy isn't your style then more edgy contemporary pieces are available now, perfect with elegant minimalist gowns."
While Oscar de la Renta's strapless dress with a full-feathered skirt is at the high end and dramatic end of the spectrum, this wedding dress trend 2023 doesn't have to be so OTT. In fact, a feather trim on a wedding dress is not only super chic but also gives more than a nod to old-school Hollywood glamour, a look highly popular with many brides
What to look out for:
Accents: While you can go full-on feather, this trend is much more subtle. Dresses with feathers on the sleeves or hem give all the romance of the feather trend, without being too over-the-top.
Vintage styles: Feathers work best with vintage styles. Think '60s shift dresses with a feather hem, or '70s style kaftans trimmed with feathers.
Feather accessories: If you like the look of feathers, but don't want them on your dress, an easy way to incorporate the trend is with your accessories. Feathery headpieces and parasols were at all the bridal fashion week shows. And nothing says glamor like a pair of feather-adorned shoes.
3. BOW DETAILS
"Statement bows are back, and they're such a great way to add drama to your dress if you don't like beading or fussy detailing," says award-winning bridal designer Elbeth Gillis.
Viktor & Rolf and Amsale were just some of the designers who incorporated romantic bows into their designs. While some were supersized, smaller bows also have their place in this trend. Viktor & Rolf covered a long dress with a plethora of tiny bows, while other designers used bows as ties on shoulders or on sleeves. The great thing about bows is that they go with all designs of dresses, from full-on ballgowns to more minimal bias-cut numbers.
If you don't want to commit to a bow for the full day, try a detachable bow advises Elbeth.
"Add a detachable bow to a simple dress to get the look," she says. "It also gives you the option to change your look in the evening if you swap it out for a plain or beaded belt."
What to look out for:
Bows at the back: Your back gets its moment in the spotlight on your big day and this is where big bows really come into their own. They look super pretty combined with a low-cut back and add a touch of romance to a simple silhouette.
Structure: This is no place for long, floppy bows, especially when it comes to the XL variety. Some designers even chose to incorporate the bow as part of the dress, adding to the sculptural look of it all.
Contrasting colors: While white rules the wedding aisle, contrasting the paleness with a black bow looks very modern and incredibly chic.
4. HIGH-LOW HEMLINE
A popular fashion look in the Noughties, the high-low hem is back for brides. Dating back to the 19th Century, the waterfall hem has been around for a while, yet the new interpretation has an edgy feel to it and is perfect for cool brides. And if you're already a fan of long skirt outfits, this should feel like a familiar silhouette.
One of those is the founder and designer of Halfpenny London, Kate Halfpenny, who chose this style for her own big day.
"I chose a high-low hem for my wedding day and our Georgie skirt has sold out in every size in every territory on Net-A-Porter so there is a lot of love for this flattering - and practical! - hemline," she says.
The joy of a high-low hem is that it gives you the glamorous impact of a longer length, with the practicality of a shorter dress – and Kate says it also has one other advantage.
"If you're a real shoe girl then the high-low hem is for you!" she says. "Your dress can still have all the drama of a train, yet you get to show off your epic heels, so it's the best of both worlds."
The shorter hemline can also be as long or short as you like. If you want to show off those legs, go for a mini, but a midi-length or bubble hem also works well with this trend. Adding sleeves will give the look a demure finish, as will a high neck.
What to look out for:
Long trains: A long train adds a dramatic flourish to a shorter wedding dress, creating a high-low feel without the need for a dress that's cutaway at the front. It also enables you to switch things up, come the reception.
Mixed fabrics: This look really comes into its own when you mix and match fabrics. Lace with satin, for example, works well. Or add layers of tulle for a romantic look as the fabric falls around your legs.
Killer shoes: This look puts emphasis on what's on your feet, so make sure they are your best designer heels. Choose glittery or metallic shoes or perhaps even that 'something blue?'
5. OPERA GLOVES
One of the biggest wedding dress trends 2022 was Bridgerton-inspired square necklines and this year, the Regency era is still influencing what brides will be wearing down the aisle - although this time, it's all about the accessories.
The opera glove - a satin or lace glove that reaches beyond the elbow - is set to big as part of the wedding dress trends 2023 and Genevieve James, Creative Director at Cornelia James believes it's because brides are hankering after full-on glamour, particularly as there has been a pause on big celebrations and many re-scheduled weddings.
"Post-pandemic there seems to be an urge for full-on glamour and there is nothing that says 'glamour' quite so eloquently as an opera glove in silk or satin," she says. "And then there is a move in favor of the romance of softer fabrics such as tulle and lace; that's the Bridgerton effect."
The perfect accessory when you're wondering what to wear to a winter wedding, lighter tulle or lace versions also work come the warmer months.
Bridal designers like Pronovias and mainstream fashion designers such as Raf Simons and Dries Van Noten, offered a modern take on the opera glove with sheer fabrics, fingerless versions, and embellishments, including the other big bridal trend for 2023... feathers.
What to look out for:
Sheer lace: For an added romantic touch, pretty sheer opera gloves in the finest lace, like the kind Nicola Peltz wore when she married Brooklyn Beckham, are a perfect choice. They work well with more lace or soft tulles to create an ethereal look.
Dark gloves: While white or cream opera gloves seem the most obvious choice for a bride, Sophie et Voila sent their runway brides out in black satin gloves, which created a dramatic contrast and would be perfect for an evening or black-tie wedding.
6. CAPES
As these gorgeous capes show, they're definitely not just for superheroes. The great thing about this wedding dress trend 2023 is that it's an easy way to give a simple dress a super stylish twist.
"In the same way that detachable sleeves and overskirts give you the opportunity for layering, a cape can add a magical element to a simple dress," says Kate. "A cape can really elevate any look and make the simplest of gowns become a showstopper. They can also make something quite lacy and pretty look edgier and fashion-forward if you choose the right fabric."
Kate says capes are also a fashion-forward version of the veil, which is perfect for those brides who are veil averse but want more drama in their look. A cape also allows you to have a two-in-one look without the expense of buying another dress.
"Many brides are now ordering two dresses for their big day, but if you can't afford that, a cape is a great alternative," advises Sabina. "It gives you two show-stopping looks. That was the whole premise behind the toppers I design. They allow brides to have two different looks, simply by adding over the main wedding dress. Like capes, they also offer brides a more modest look for the ceremony, while revealing a more sensuous look afterward, during the reception."
What to look out for:
Embellishments: If you're looking to add some edge or drama to a simple dress, Kate recommends choosing a cape with some sort of embellishment, such as 3D appliqué, or beaded with shoulder pads like her Elder cape.
Sheerness: Choosing a semi-transparent veil enables you to show off the dress beneath it, so is perfect if your wedding dress has lots of lovely details that you don't want to cover up. For simpler dresses, a more sculptural cape will add a stylish flare and definitely up the wow factor when you walk down the aisle.
7. ALL THE SLEEVES
While wedding dresses with sleeves may not sound revolutionary, these are no ordinary sleeves. Think structural puff sleeves, transparent floaty sleeves and even pleated, cape-like sleeves.
"Long-sleeved wedding dresses are such a chic alternative to sleeveless or strapless dresses," says Sabina. "Many brides do feel conscious of their arms, so having a sleeve allows the bride to carry on and enjoy their day. I always tell my brides if they feel comfortable, and not self-conscious, that they will have the best day ever!"
One specific sleeve trend that is set to be one of the biggest wedding dress trends 2023 is sleeving with a strapless dress. It may seem like an oxymoron but if you think Disney princess, you'll get the idea - essentially sleeves look almost separate from the dress, often billowing on the lower part of the arm, while the top part of the dress appears like a strapless gown. Modern Family star Sarah Hyland chose this style for her wedding and it's a true fairytale style, especially if the sleeves are puffed or made from chiffon or tulle.
For brides who are unsure about sleeves, designers like Kate are now offering detachable sleeves.
"Our brides love taking the opportunity to add the wow factor to a classic, simple, effortless dress by adding a detachable sleeve," she says.
"From a graphic Mikado pair to a little puff of tulle or a crunchy taffeta, they look amazing with a ballgown silhouette, yet equally stunning with a slinky dress. I love pieces like this as they allow our brides to update any dress and have fun. They can be traditional if they want to be, while also playing with the drama!"
What to look out for:
Volume: While puff sleeves were once reserved for the best bridesmaid dresses, puff sleeves have made a comeback for brides, but this time they've got a modern twist. Go XL with structural puff sleeves or choose more voluminous, sheer sleeves that taper into a cuff at the wrist.
Ballgowns: Ballgowns with sleeves and high necks bring all the drama to your big-day look, especially if you choose a lace or sheer sleeve.
Flared sleeves: Not sure you want to commit to a long sleeve? Flared angel sleeves are another stylish option and great for weddings in the warmer months.
8. SUPER SHEER
While all-over lace bodysuits may seem more suited to the cover of Vogue, the wedding dress trends 2023 suggest that we'll be seeing more brides in sheer and barely there dresses as they head down the aisle. One for more daring brides, the 'naked' dress is more suited to an evening wedding or the reception, but if you want to tap into this trend while remaining more covered up, opt for sheer or lace fabrics over a silk slip.
"Our brides have been wearing beautiful, sheer dresses over simple slips since the beginning of my brand," says Kate.
"Layering really allows women to create a unique wedding look with the added bonus of having two looks in one! I adore the dual silhouette effect of a huge silk organza overskirt with a fit and flare underskirt, for example."
Kobus Dippenaar, the South African designer behind Anna Georgina says there are also ways of faking the naked look, so it's not so in your face.
"Brides can choose flesh-toned underlying layers to give the illusion of (being) nude," he explains. "Skin tone liners are also a great way to exaggerate the details on a bridal gown and give it lots of ethereal appeal."
If you want to tap into this daring trend but it's too much for your wedding day, it could for one of the best rehearsal dinner dresses, especially if it's a glamorous affair.
What to look out for:
Different fabrics: While lace is always popular for this style of dress, a more modern look is a simple tulle, or perhaps one with a pattern, such as a retro spot.
Semi-sheer sections: "Sheer fabrics add sensuality to a dress and are for the more daring bride," says Elbeth, but you don't have to go all out with this look. Styles that are semi-sheer in the bodice, along the neckline, or lower down on the skirt are just sheer enough and work well for more formal weddings.
Sign up to our free daily email for the latest royal and entertainment news, interesting opinion, expert advice on styling and beauty trends, and no-nonsense guides to the health and wellness questions you want answered.
With over 22 years' experience in journalism, Jayne has written about a variety of subjects. She spent the start of her career within the world of film, interviewing Hollywood stars, attending premieres and lusting after red carpet outfits, and then moved into fashion, launching websites for big magazines such as Look, Woman's Own and Wedding and working with top fashion brands such as Westfield, LK Bennett and Hunter.
Career highlights include dressing up as Kylie (in gold hot pants!) for a national newspaper and working on big fashion events alongside Giles Deacon, Henry Holland and Naomi Campbell.