Jennifer Aniston makes a case for orange-tinted sunnies and we're here for it
We're adding Jennifer Aniston's sunnies to our cart immediately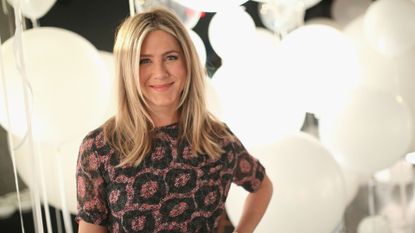 (Image credit: Getty Images)
Jennifer Aniston always amazes us with her stylish looks - but it's her latest accessory that's got us hooked!
Sunglasses are one of those fashion items that we may tend to let go by the wayside when it comes to picking a pair that suits us perfectly. It's almost like socks or a belt - you never really think about them until you realize you don't have any that you like.
So if you're looking for a pair of the best sunglasses for spring and summer 2023, look no further - Jennifer Aniston just sported a super chic pair, and we're copying her ASAP.
Jennifer Aniston, who recently shared her secret to working out successfully at 54-years-old, was seen leaving the set of Good Morning America in Times Square, Manhattan in the ever-so-snazzy sunnies.
She opted for a 70s sunglasses trend, wearing a retro pair with square frames, making them the perfect transitional look for spring. What we found really fascinating about the sunnies, though, is the tint of the lenses. The orange-tinted glasses totally stood out, especially when paired with her all-beige ensemble - making the perfect statement.
Of course, this isn't the first time the star has worn statement sunglasses, especially those with a warmer-tinted lens. Recently, she was also spotted wearing a pair with a round, tortoiseshell frame with orange-brown lenses. She's also known to sport aviator frames - a timeless and classic frame that is unisex and matches with pretty much any outfit you pair them with.
---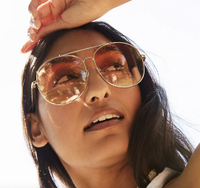 Sundown Oversized Aviator Sunglasses, $25 | Free People
Stay shaded in these so cool oversized sunnies featured in a round frame aviator design with gradient tinted lenses.
---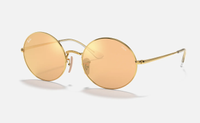 OVAL 1970 MIRROR EVOLVE Sunglasses, $133.70 | Ray-Ban
Our iconic Oval 1970 now features upgraded Evolve light-responsive technology, with colour lenses, including orange and pink. This model strikes a perfect balance between functionality and style.
Jennifer, who recently rocked a strappy dress and fresh blonde highlights, recently did a revealing interview with InStyle where she talked about the importance of taking care of yourself - and that starts with sleep, she said. "Sleep is extraordinary. It's beautiful," Jennifer says. "But, boy, did I take it for granted when we were young. When you're younger, you kind of take it for granted. You think, 'I can survive on three-to-five hours of sleep and I feel great,' and then, all of a sudden, it just starts not to feel great and your performance isn't as up to par as it should be."
But, hey, if she doesn't get enough sleep, she can cover up any dark circles with her fabulous orange sunnies!
Madeline Merinuk is woman&home's US lifestyle news writer. She covers celebrity, entertainment, fashion, and beauty news but is also obsessed with internet trends - you can find her reciting trending TikTok sounds out loud at any given time.
After winning multiple student journalism awards for her investigative work, she graduated from Hofstra University in 2021 with a B.A. in Journalism. After graduating, she worked at today.com, the digital site for the Today Show, where she wrote pop culture news and interviewed big-name personalities like Emily Ratajkowski, Haley Lu Richardson, Emma Corrin, and more.
Her personal interests, in no particular order, are: cheese, Joni Mitchell, reading, hot yoga, traveling, having multiple chapsticks in every handbag at all times, and dancing to ABBA songs as if she were in the Mamma Mia movies.