Jennifer Aniston shares her secret weapon for avoiding workout injury at 54
Jennifer Aniston knows what's what when it comes to working out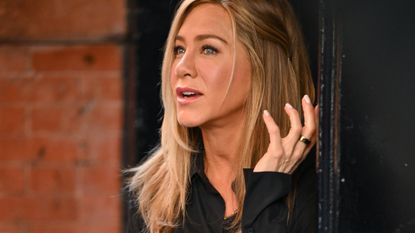 (Image credit: Getty Images)
Jennifer Aniston recently shared some wisdom on how she avoids injury and strain while working out.
If we know one thing about Jennifer Aniston and her flawless hair it's that she never fails to look amazing, regardless of her age. Fans of the Friends star have long been inquisitive about the actress' habits that keep her looking as fabulous and glowy as she does - and she's been more than gracious about sharing tips in the past, like the facial tool she uses for lifted and glowing skin.
Recently, she gave an interview with InStyle (opens in new tab) where she talked about the importance of listening to and taking care of your body - and that starts with a good night's sleep, she says.
"Sleep is extraordinary. It's beautiful," Jennifer says. "But, boy, did I take it for granted when we were young. When you're younger, you kind of take it for granted. You think, 'I can survive on three-to-five hours of sleep and I feel great,' and then, all of a sudden, it just starts not to feel great and your performance isn't as up to par as it should be."
She's right, too - in fact, according to the CDC (opens in new tab), 1 in 3 adult Americans don't get enough sleep.
"All of your body is getting all the work done that it put itself through during the day. You realize a lack of sleep leads to all sorts of health issues," she explains.
She reveals that a strict night regimen has become part of her daily habits that keep her looking and feeling well. In this nightly routine for good sleep hygiene, she incorporates epsom salt baths, sleep meditation, lavender essential oils, and most importantly, she ensures that she turns all screens off at least an hour before bed.
However, this nighttime routine doesn't just affect her sleep. She finds that, if she doesn't take that time in the evening to care for herself, she may not get adequate sleep, thus affecting other parts of her life - like a workout, for instance.
In the odds that she gets a night of inadequate sleep, she focuses on recovery the next day, rather than pushing herself beyond her limits. For example, she won't push herself too hard in a workout - if she does, she could potentially hurt herself, which obviously would throw a wrench in things.
"I don't push myself so hard [in a workout] because that will lead to an injury when your body and your brain aren't fully rested. I just try to do my best and just figure out everything possible that will ensure a good night's sleep," she says.
Madeline Merinuk is woman&home's US lifestyle news writer. She covers celebrity, entertainment, fashion, and beauty news but is also obsessed with internet trends - you can find her reciting trending TikTok sounds out loud at any given time.
After winning multiple student journalism awards for her investigative work, she graduated from Hofstra University in 2021 with a B.A. in Journalism. After graduating, she worked at today.com, the digital site for the Today Show, where she wrote pop culture news and interviewed big-name personalities like Emily Ratajkowski, Haley Lu Richardson, Emma Corrin, and more.
Her personal interests, in no particular order, are: cheese, Joni Mitchell, reading, hot yoga, traveling, having multiple chapsticks in every handbag at all times, and dancing to ABBA songs as if she were in the Mamma Mia movies.