13 best waterproof jackets for women - stay dry and stylish during a downpour
Our edit of the best waterproof jackets for women features coats tested by our fashion team and expert guidance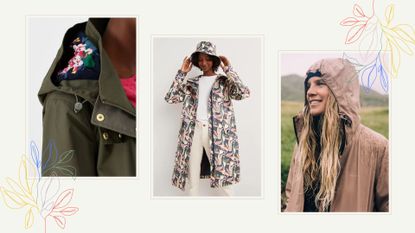 (Image credit: Joules / Boden / Finisterre)
The best waterproof jackets for women are a necessity for many of us, particularly as we head into fall. If you live in a place where rain is always on the horizon, then it pays to be prepared and as this list shows, you don't need to sacrifice on style to stay dry.
Whether you're after the best waterproof jackets for women for your daily dog walks, a countryside hike, or need to avoid a soggy commute, a waterproof jacket is a wardrobe essential. Often not considered the most stylish of buys, the best waterproof jackets should help protect you from the elements, keeping you dry in downpours, but the best performing pieces should also help you battle gusts of wind and icy spells.
One of the best winter coats, picking the best waterproof jacket for women is about more than just style, although you don't need to forgo that completely. However, there's a lot to consider when purchasing, from how much water it can withstand, to what level of the latest coat trends 2022 will come into play too and the latest straight-to-market brand buys often give a nod to the latest looks through new season prints and colors, without sacrificing on performance.
How we selected the best waterproof jackets for women
If you're on the lookout for a waterproof jacket that delivers then we've got you covered. We've spoken to style experts and immersed ourselves in the nitty-gritty to bring you the best waterproofs for women.
We've considered:
Waterproofing technology: Some designs will specify how much water the coat can withstand with a measurement in millimeters like "10,000mm." The higher this number, the more waterproof it is. Your need will be based on your waterproof usage. For those looking for clothing for hiking outfits or for daily dog-walking coats, you're best off picking the highest protection possible.
Breathability: Some waterproof fabrics can feel stuffy and sweaty once wet so breathability will help you feel less hot too.
Practical features: Mesh detailing, ventilation, and fabric weight.
Design: From look and feel to trend-led choices. We've considered cut and how flattering the jacket is, to color options and design aesthetic.
The best waterproof jackets chosen by our fashion team
1. Mountain Warehouse Alaskan Womens 3 in 1 Jacket
Best overall waterproof jacket
Specifications
RRP: $249.99 / £199.99
Sizes: US 0-24 / UK 4-28
Material: 100% Polyester
Reasons to buy
+
Very waterproof
+
Can be worn in different ways
This three-in-one parka is one of the best parkas around this season and is a real game-changer. With a quilted lining that can be removed for warmer days, it's wearable all year round. The lining can also be worn alone as a quilted jacket, giving extra wearability. It's 100% waterproof and the adjustable cuffs tapered seams and hood ensure you're fully protected from rain and wind. It's also breathable so you're warm, protected and a comfortable temperature. And, considering its size, it's really easy to pack down.
What the fashion team said: "It's a good length for keeping almost all of you dry, covering your bum and some of your thigh (depending on your height). The only downside is it's not particularly fashion-forward, but if it's practicality you're looking for, then look no further."
Waterproof rating: Tested to 10,000mm, it is suitable for heavy rain.
Breathability rating: It has a great breathability rating, measuring 5,000g in testing. This means during the 24 hour period it was measured over the fabric allowed sweat and other moisture to pass through the fabric and keep you cool, not sweaty.
---
2. Finisterre The Rainbird Waterproof Jacket
Best all-rounder
Specifications
RRP: $149 / £110
Sizes: US: 4-12 / UK: 8-16
Material: 100% Recycled Waterproof Fabric
Reasons to buy
+
Super soft fabric
+
Exceptionally waterproof
+
Breathable
Customers absolutely rave about this waterproof jacket. It has a 10,000mm Hydrostatic Head waterproof rating, making it exceptionally waterproof and it has taped seams throughout, guaranteed to keep the water out. It has a little stretch so a strong contender for exercising in too and comes in six colorways: black, khaki, almond (pictured), kingfisher blue, steel blue and vine - rich colors that can easily be worn as part of your Fall outfit ideas. Crafted from recycled fabrics, this light jacket is also breathable.
What the fashion team said: "While waterproof jackets generally have to be made of coated fabric, this does, in general, make them quite noisy, so the first thing to note about The Rainbird is how unexpectedly soft the jacket is with no noisy rustle, making it a joy to wear."
Waterproof rating: Tested to 10,000mm, it is suitable for heavy rain.
Breathability rating: 10,000g breathability rating so you stay dry, not sweaty.
---
3. Berghaus Women's Hinderwick Waterproof Jacket
Best for warmth
Specifications
RRP: $266 / £190
Sizes: US: 4-16 / UK: 8-20
Material: Hydroshell 2L fabric
Reasons to buy
+
Warm and waterproof
+
Premium quality
Waterproofs tend to be packed full of great tech to stop you from getting soaked but they aren't always so good at keeping you warm. But with Berghaus, you get the best of both worlds. With a layer of insulation underneath a waterproof shell fabric, it keeps you delightfully dry and toasty. You can adjust the hood for a better fit - ideal when you're trying to keep the rain out, and the coat also features inner cuffs, to help you master the chill.
What the fashion team said: "This coat is certainly more functional than fashionable and only comes in three colorways, but this is the most sensible of choices, it even has two zip closure pockets for your rainy day essentials."
Waterproof rating: No exact stats on-site, but they do mention the inclusion of Hydroshell 2L fabric which is lightweight and highly waterproof.
Breathability rating: No exact stats on-site, but the Hydroshell 2L fabric is breathable and the fashion team found this coat practical and comfortable. The customer reviews also give it a big thumbs up.
---
4. Columbia Women's Ampli-Dry Waterproof Shell Jacket
Best for hiking
Specifications
RRP: $150 / $135
Sizes: XS-XL
Main Material: 100% Nylon
Lining Material: 100% Polyester
Reasons to buy
+
Lightweight
+
Good for exercise
The underarm venting and lightweight fabric mean this one is really breathable. This waterproof jacket will keep you bone dry without any stickiness, making it an excellent option for light exercise - and the stretchy fabric also moves with your body. Fully seam-sealed and finished with a coated zipper closure, it protects against any sudden gusts of wind too.
What the fashion team said: "It isn't overly warm, but there's plenty of room to layer knitwear underneath, try one of the best hoodies to keep in that sporty vein. Available in three fall ready colors in the US - black, light blue and dark blue and five colors in the UK, which include red and pink."
Waterproof rating: Omni-Tech™ is a groundbreaking waterproof and breathable fabric. Again the test results aren't released as stats, but the fashion team found this one kept them super dry.
Breathability rating: Omni-Tech™ is also fully breathable avoiding the stickiness that some waterproof jackets cause.
---
5. Hunter Lightweight Waterproof Jacket
Best for everyday
Specifications
RRP: $195 / £150
Sizes: XXS-XL
Body Lining: 100% Polyester
Lining Material: Material (Face): 100% Polyurethane
Back Material: 100% Polyester
Reasons to buy
+
Fashionable look that works with different outfits
+
Very waterproof
+
Lots of colorways
The ideal waterproof for going about your day-to-day business, this is the perfect combination of practicality and style. Hunter already make some of the best wellington boots and best backpacks for working women, so it should come as no surprise that they also do great waterproof jackets too.
This yellow waterproof jacket is certified vegan and benefits from welded seams to keep you fully dry. Available in four colors - yellow (for that pop of dopamine dressing, navy, black and khaki) and features the Hunter Tri-coloured zipper with snap storm flap for added protection. The coats hood has a drawcord to allow you to adjust the opening for added wind and rain protection and a second drawcord at the waist means you can adjust the fit according to your style. Your belongings will also stay dry with reverse entry welt pockets.
What the fashion team said: "They really have thought of everything with this raincoat - and besides from keeping you dry, this coat also looks fantastic, you might even enjoy being out in the rain."
Waterproof rating: Hunter gives this coat a waterproofing level of three, although this isn't fully explained on their site, customer reviews are top-notch, suggesting this will keep you dry and stylish - great for dog walkers and festival-goers alike.
Breathability rating: Testing levels aren't revealed here but the coat has a breathable full mesh lining and underarm eyelets and back vents for added breathability.
---
6. Merrell Women's Whisper Rain Jacket
Best for traveling
Specifications
RRP: $160 / £200
Sizes: XS-XL
Material: 41% Recycled Polyester, 40% Polyester, 19% Polyurethane
Reasons to buy
+
Brim on hood
+
Deep pockets
This one packs down neatly into its own left-hand pocket, making it easy to pop in your bag as you dash out of the house. 100% waterproof, the fabric is lightweight and soft with a four-way stretch for easy movement, making it a good choice for exercise (if you're updating your gym kit, you might also be interested in our guide to the best leggings). The pockets are pretty deep, allowing plenty of room for the essentials.
What the fashion team said: "We loved the slight peak on the hood which helped to keep our face dry too. It can come up quite large so you may want to downsize or stick to your usual size if you want to layer up underneath. Available in 3 different colors in the UK and four in the US, this golden hue is our fave."
Waterproof rating: Durable Water Repellency (DWR) finish for wind and water resistance, they don't give the data on what level of rain it has been tested to, but the fashion team found this coat 100% waterproof. And it's highly recommended by website reviews.
Breathability rating: There isn't any mention of breathability but when our fashion team tried this jacket, they didn't find that they were overly warm.
---
7. Boden Longline Waterproof Mac
Best stylish waterproof
Specifications
RRP: $220 / £150
Sizes: US 2-22 / UK 6-22
Outer Material: 100% Polyethylene
Backing: 100% Polyester
Filling: 100% Polyester
Lining: 100% Polyester
Reasons to buy
+
Super stylish design
+
Bright colors and prints
If it's a stylish mac you're after, then this one is a front-runner. We often turn to Boden for our wardrobe essentials, from the best shirts to the best dresses, it's great for eye-catching designs. And we love its modern take on this classic raincoat silhouette. Fully waterproof, this Boden raincoat features a snap-and-zip closure for extra protection against showers.
The front pockets feature a flap and popper closure, so you can keep your phone and valuables both safe and dry, with tapered seams for a waterproof finish.
What the fashion team said: "Boden might be a fashion brand, but don't underestimate this lovely spring buy, this waterproof jacket can hold its own."
Waterproof rating: No test stats are given for this particular coat, although previous rainproof pieces from the brand have been tested to withstand 5,000mm of rain, so Boden do understand what is needed to make this coat withstand a downpour. With a more fashionable approach, it's great for daily use during wet weather but is probably not the one to pick for outdoor hikes and camping.
Breathability rating: There's no specific breathability rating, although given the fabrication and lack of vents, it is not the most breathable of designs.
---
8. Jack Wolfskin JWP Shell W Rain Jacket
Best lightweight waterproof
Specifications
RRP: $129.95 / £130
Sizes: XS-XXL
Material: 100% Polyester
Reasons to buy
+
Packs down easily
+
Premium-feeling fabric
Crafted from recycled fabrics, this one has some serious eco-credentials. It packs neatly into its pocket, so you can stash it easily, making it a good choice for the daily commute and weekend adventures. Available in seven colorways, it uses lightweight premium-feeling fabric (which is breathable), and while it won't keep you warm, it is perfect if you want an extra waterproof layer on warmer days - or style under one of the best gilets for added protection.
What the fashion team said: "The design is pretty basic with a simple hood and two hand pockets, but it still delivered on all the technicals, keeping us dry and comfortable during a downpour."
Waterproof rating: This jacket is very waterproof, with a rating of withstanding 20,000 mm of water/rain - making it probably the most waterproof jacket for women in this guide.
Breathability rating: >15,000 g/m²/24h** - looks confusing? Essentially this formula means that this waterproof jacket has been tested for its breathability over a 24hr period and the result is excellent. Anything over 3000 is high performance and usually found in items such as ski clothing. Breathability is measured in grams and counts the speed at which sweat moves through the fabric, per square meter over a 24 hour period.
---
9. Thought Clothing Rachael Waterproof Organic Cotton Chambray Coat
Best for sustainability
Specifications
RRP: $232 / £170
Sizes: US: 2-14 / UK: 6-18
Main Material: 100% Organic Cotton
Lining and Padding Material: 100% Recycled Polyester
Reasons to buy
+
Sustainable manufacturing
+
Flattering shape
If you've yet to discover Thought Clothing, now's your chance. The Australian clothing brand prides itself on considered and contemporary clothing, all designed with sustainability at the forefront, making it one of the best sustainable clothing brands. This chic waterproof mac is made from organic cotton chambray with a fluorocarbon-free water repellent finish - the most sustainable method. Details such as storm cuffs, taped seams, and a double-ended zip make this a stylish and practical choice.
What the fashion team said: "It was by far the most flattering coat with a drawstring elasticated waist to cinch you in."
Waterproof rating: No exact test results are revealed but if you want a waterproof coat that also considers the environment then Thought should be high on your list. With a new fluorocarbon-free repellent, they also heat sealed taped seams to make this totally rainproof.
Breathability rating: As a general rule, natural fabrics such as cotton (this is 100% cotton) are really breathable.
---
10. The North Face Dryzzle FUTURELIGHT Jacket
Best breathable jacket
Specifications
RRP: $230 / £200
Sizes: XS-XL
Material: Recycled Polyester
Reasons to buy
+
Regulates body temperature
+
Uses recycled materials
Made using Futurelight technology, the waterproof fabric provides an excellent moisture barrier, whilst remaining breathable too, regulating body temperature, keeping you comfortable and sweat-free. Not only that, it's made from recycled materials to reduce landfill waste.
What the fashion team said: The North Face has really pulled it out of the bag with this iteration. Plus points include a snap-locking storm flap to keep the wind out, secure zip pockets and adjustable hem and cuffs - oh and it comes in five stylish colors too, including this hot pink design that fits perfectly into the Fall 2022 fashion trend for discovering what is Barbiecore.
Waterproof rating: Using seam-sealed FUTURELIGHT™ 3L this coat should give good waterproofing, giving it an own-brand website level rating of three - for waterproofing (higher than repellent and resistant). It is also windproof.
Breathability rating: Although the jacket doesn't specifically discuss breathability, the fashion team found this waterproof jacket did help regulate body temperature and stopped them from feeling sweaty.
---
11. Rains Long Jacket
Best for commuting
Specifications
RRP: $125 / £95
Sizes: XXS-XL
Material : 64% Polyester, 36% Polyurethane
Reasons to buy
+
Lots of colors
+
Long length for better protection
Getting caught in the rain has never looked so chic, thanks to Danish brand Rains' waterproof coat. This long jacket is an extended version of their ever-popular classic basic jacket and we love the extra coverage. It has the same unstructured silhouette for a fuss-free finish and the matte texture adds a more luxe appearance.
What the fashion team said: Admittedly this coat is not as waterproof as some of the others but can hold its own in a heavy downpour. It's lightweight and extremely elegant, making it a good option for work and smarter occasions. It's also available in ten elegant colors.
Waterproof rating: This waterproof jacket can withstand up to 4000 millimeters of water and features ultrasonically welded seams and a placket with snap fastenings for strong protection.
Breathability rating: To keep you cool, the coat utilizes eyelets at armholes and a back yoke with concealed vents for extra breathability.
---
12. Ilse Jacobsen Long Raincoat
Best long waterproof jacket
Specifications
RRP: $270 / £230
Sizes: 34-48
Material: Shell: 94% Polyester, 6% Elastane
Bonding : 100% Polyester
Reasons to buy
+
Lightly tailored shape
+
Number of colorways
This long raincoat is made from a breathable and stretchable softshell material, with a lightly tailored silhouette to give a feminine finish. The coat features a YKK AquaGuard 2-way zipper and the surface is treated with an Ecorepel dirt and water repellent coating that creates an invisible shield. This warm orange hue plays into current fashion trends, favoring bold colors to brighten up the dull mornings ahead.
What the fashion team said: Functional and stylish, Ilse Jacobsen is minimalist Scandinavian design at its finest. With a huge array of raincoats, it was hard to pick our standout style. There are lots to choose from, so it's well worth a browse and they also have 14 colorways available, depending on if you want something sleek and subtle or an iteration that will feel cheery on a rainy day.
Waterproof rating: The coat has been tested to withstand up to 5000milimeters of rain, making it a high-quality rainwear item.
Breathability rating: With a test result of 3000 G/M2, this jacket has medium breathability, so it should stop you from getting too warm too - anything over 3000 is considered highly breathable, so really this one is right on the cusp.
---
13. Joules Loxley Longline Waterproof Jacket
Best for playful waterproof jackets
Specifications
RRP: $179.95 / £129
Sizes: UK: 6-26
Material: Main: 65% polyester, 35% cotton
Lining 1: 100% cotton
Lining 2: 100% polyester
Reasons to buy
+
Attractive lining
+
Fashion-forward shape
Fashion brand Joules makes great wellies, so it stands to reason they would know how to make standout waterproofs too. The hood also features a toggle system so you can adjust your protection. For an added touch of Joules magic, the lining features a hand-drawn print and the dark floral print inside the hood certainly adds extra luxe to the look. Available in three colorways, classic khaki and then a punchy blue or cherry red, for those who want a pop of brightness, this coat is selling fast.
What the fashion team said: Rainwear can be quite bulky, but Joules' use of toggles and adjustable waist channels allows you to adjust your fit.
Waterproof rating: No test results have been released, although the coat is made from 100% waterproof fabric and reviews from shoppers on the site are positive. the coat has fully taped seams, zip and popper fastening and hood with storm peak to ensure no droplets make it through.
Breathability rating: The coat uses underarm eyelets for ventilation and breathability - style, and practicality together, effortlessly.
---
How to choose the best waterproof jacket
There are some key things to look out for when choosing the best waterproof jacket. The lingo can be confusing and sites use a lot of abbreviations for technical terms that can make you think a product has higher specifications than it actually does.
It's important to establish what level of waterproof coat you need. Many brands offer coats that give a level of 'shower protection' which is fine for most daily occurrences, light rain between home and the car or nipping to the shops. However if you like to get out and get off-road, go for long walks etc, then beside from the best hiking boots, you'll need to invest in a raincoat that can really withstand a downpour.
Sometimes the most practical and functional rainwear isn't the most stylish, so again you need to consider if you're happy to compromise on fashion credentials to get the maximum level of protection.
We've added a handy guide to some terminology to look out for when you're shopping for the best waterproof jackets for women.
Why does breathability matter, what to look out for and how is it measured?
The breathability of a coat or jacket ensures you don't get too hot and sweaty while wearing it. This is particularly important in waterproof jackets, as they are often coated in finishes or made from non-breathable fabrics, so they can be quite warm and make you feel sweaty.
Look out for...
Eyelets under armholes to increase breathability and ventilation
Conceal vents in the back of a jacket - same great protection from rain but again with added ventilation.
This formula g/m2/d represents the level of breathability of a fabric. It is sometimes found in the product specification, take note of the number preceding it. Anything below 800 doesn't have huge amounts of breathability. Between 800-3000 has a medium level of breathability - the most common level for good quality, water-resistant coats as it gives breathability and still protects from the rain. Anything over 3000 is high-end and most common in high-performance weather wear and offers the highest level of breathability. The breathability test is done by measuring how much sweat or moisture the fabric allows through over a 24hr period, as letting it out through the fabric stops you from getting too warm.
A number of brands we looked at did not list breathability test results, but if coats have vents and underarm eyelets, these are also good indicators for good breathability.
How can you tell if a coat is really waterproof, what to look out for and how is it measured?
When picking the best waterproof jacket for women, it's important to learn the right keyphrases to look out for. For starters, remember that there is a difference between water-repellent, water-resistant and waterproof.
Water-repellent: You'll have seen water-repellent fabric, this is where the beads of water sit and roll off the top of the fabric. It repels water, however it is not impervious to water like waterproofing.
Water-resistant: This means it is made from fabric that resists water, meaning it is super hard for water to penetrate the fabric's top layer. But it is not necessarily a complete, hard, barrier.
Waterproof: No water should be making it through a waterproof jacket, but you also need to take note of just how waterproof a jacket is, what level of rain or water they have measured its waterproof-ability to.
When you look at the specification for a waterproof jacket, look out for test results of their waterproof abilities. This is measured in millimeters and is regarding the amount of water pressure the coat can take before it starts to let water in.
Anything from 1000mm-3000mm has a low resistance to water, probably only appropriate for light showers.
3000mm-5000mm gives a strong resistance. This is probably the most likely level you will see both from coats in this guide and from waterproof jackets on the main market.
5000mm is high resistance and what you should look for from high-quality rainwear specialists.
10,000mm excellent level of rain protection, most likely from activewear/outdoor clothing labels or highly specialized brands.
Other things to look out for include:
Taped, sealed or bonded seams - usually a seam is where two pieces of fabric are stitched together and if you see seams on your regular clothes, they would leave you open to the elements. For rainwear look for covered seams or those bonded with glue to help with water resistance.