Ultra Mini Uggs are the new celebrity must-have shoes and they're here to stay
A new version of the classic comfy boot has taken over the fashion circuit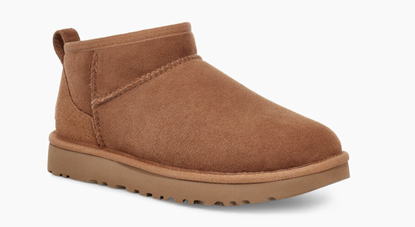 (Image credit: Uggs)
Who remembers when just about everyone started wearing classic Ugg boots?
Still going strong in terms of sales, the sheepskin boots have clearly stood the test of time, with the brand even branching out into making some of the best slippers for women too.
But a new and cooler style has launched and is already reaching peak popularity. Dubbed the Ultra Mini, the new footwear on the street is already selling out everywhere while also being part and parcel of every big celebrity's daily outfit.
---
The Ugg Classic Ultra Mini Boots are a play on their "taller" predecessors. They are short, slip-ons, have been pre-treated to repel water and basically work as both house and "errands" shoes.
In terms of color, the shoes—made of 80% wool and 20% lyocell—comes in ten different hues—black, burnt olive, chestnut, gray (our favorite!), orange soda, pink blossom, ribbon red, sky, taffy pink and purple. Depending on the shade you choose and your size, you'll have to dish out between $94 and $150 for your pair.
---
Celebrities have jumped on the Mini Ugg bandwagon which is likely why the shoes are quickly selling out everywhere.
Kendall Jenner recently sported hers—which she paired with high white socks, black leggings, and a brown sweater and mask—while walking around town.
Fellow models Emily Ratajkowski, Joan Smalls and Hailey Bieber also own pairs, turning the Mini Ugg into the unofficial supermodel shoe (can you blame them? Always on sky-high heels, they probably enjoy the comfort of the boots when not working!).
As for how to style the shoe, the world is your oyster. Mostly seen worn with thick, high socks and leggings, the boots can really work as slippers as well—whether under jeans, khakis or, well, pajamas (if you're going to be home, of course). Fashion has seldom called for the use of such a cozy item—so we suggest you run and get yours before the tide changes.
Anna Rahmanan is a New York-based writer and editor who covers culture, entertainment, food, fashion and travel news. Anna's words have appeared on Time Out New York, the Huffington Post, Fortune, Forbes, Us Weekly, Bon Appetit and Brooklyn Magazine, among other outlets.