How to clean UGGs to whisk away all kinds of stains
Help your boots to look new again with our guide on how to clean UGGs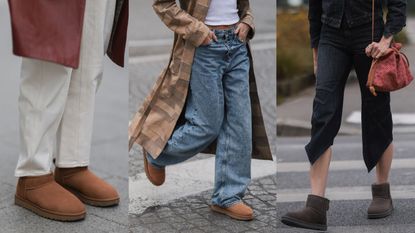 (Image credit: Getty Images)
If UGGs are your cozy footwear of choice, it's important to learn how to clean UGGs to keep your boots in tip-top condition. Unrivaled in warmth and style, they're one of the most popular cold-weather shoe choices.
As we head towards the summer months, your UGG boots are likely to be swapped out for your best sandals. But before you slide one of the best winter boots to the back of the closet, make sure to give your UGG boots a clean so that they're ready as soon as the cooler months roll around again. Toasty and built to last, they're an integral part of many a capsule wardrobe. The winter version of the best white trainers, they go with pretty much everything. From your favorite midi dresses to the best jeans, UGG boots add instant snugness to any look.
With a suede outer and a fluffy sheepskin lining, they're incredibly cozy, but this luxe mix of fabrications soaks up liquids like sponges, making them prone to stains, meaning learning how to clean UGGs and how to prevent marks in the first place is really important. And, if your UGGs are in a neutral color, like beige or chestnut brown, stains are naturally more visible. Many people throw out their UGGs when they have developed stains or started to look dirty, but the good news is that it is possible to restore even the grubbiest of UGGs to their former glory. So, before you give up on them, take a look at how to clean them yourself. And if you're getting ready to take your white trainers out again, here's our guide on how to clean white shoes, so you can kick off the season in style.
How can you prevent stains and marks on UGGs?
When it comes to caring for your UGGs, prevention is always better than cure, particularly as the fabric will last longer, the less you clean it, so avoiding marks in the first place is important. And of course, as always, test the chosen method on a small, preferably discreet or unnoticeable part of the shoe first.
"Upfront protection is the best way to care for your UGGs, and will avoid any accidental spillages or markings becoming an actual stain," advises Charlotte Staerck, CEO and co-founder of The Handbag Clinic, which also specializes in shoe care. "You should regularly treat your UGGs with a water-repellent protection treatment. For best results, keep it topped up roughly every three months—this will ensure you get the most longevity out of your UGGs and will keep them looking great."
How to clean UGGs
The best way to clean your UGGs will depend on the type of mark you're tackling. Some can be easily persuaded away with minimal effort, while others are a little more stubborn. In all cases, the better care you take of your UGGs, and the quicker you act on a potential stain, the better the result will be.
"A substance that is less viscous, such as mud, will sit on the surface of suede much longer than say, puddle water," says Charlotte. "So, the removal of mud tends to generate a better result because it doesn't absorb into the fibers in the same way water does. Generally speaking, the deeper a substance penetrates the fibers from the surface, the more difficult and complex it becomes to remove. Makeup and ink are some of the hardest stains to remove because of the high oil content."
"A lot of clients think that problems such as dye transfer and liquid staining can be "cleaned" out of their shoes but this often isn't the case, and they usually need some form of restoration work. Fabric and suede items can be cleaned but this will never guarantee full stain removal. Suede items get marks so ingrained in the fibers that these cannot always be removed without risking lightening or damaging them. Again, the golden rule is to protect your UGGs upfront, which will mean a far better chance of stain removal."
For more advice on how to get out tricky stains, check out our guides on how to get stains out of a carpet and how to remove wine stains.
1. How to remove dirt and scuff marks from UGGs
Day-to-day marks are an inevitable consequence of wearing and enjoying your UGGs. Here's how to give them a quick spruce to remove dirt and scuffs:
Step 1 - Using a soft brush, such as a nail brush or cleaning brush, gently buff and brush away any stuck-on dirt. Don't be heavy-handed, and try and work in the direction of the fabric where possible.
Step 2 - In a small bowl, combine equal parts cold water and distilled white vinegar. Don't be tempted to use any other type of vinegar, as this will merely create more stains. Vinegar is a great cleaning tool, so make sure you're always stocked up. Check out our guides on how to clean a dishwasher, how to clean copper and how to clean a toilet to see how else you can use this household item.
Step 3 - Dip a clean cloth in the mixture and wring to remove any excess liquid. Then, carefully wipe the cloth across your UGGs, making sure not to soak the fabric. Again, be gentle, as excess scrubbing can impact the color.
Step 4 - Use a second clean, damp cloth to carefully wipe away the vinegar and water solution. Leaving it on can cause your shoes to smell.
Step 5 - Using scrap paper or paper towels, stuff your UGGs to ensure they maintain their shape while damp. Once stuffed, set them aside in a cool, well-ventilated area away from any direct heat and sunlight. Never put them close to a heater or fan to dry, as this can cause them to become stiff or shrink—neither of which are ideal outcomes.
2. How to remove water marks from UGGs
"UGGs are traditionally made from suede or nubuck, which is a super absorbent material—making it all the more prone to water-staining," says Charlotte. "They are the most challenging marks to remove, because of how water stains dry below the surface and change the fibers of the suede—leaving behind a tidal mark appearance.
Of course, the last thing you want to do is add more water into the equation, so water marks ideally need to be treated with minimal liquid. Again, you may need a specialist cleaner.
Option 1 - If you notice water stains before they set in or dry, blot the fabric and then try rubbing your UGGs against each other, focusing on the stains. It sounds strange but the friction of the fabric can be enough to dislodge marks. Stuff your UGGs and leave them to dry in a cool place.
Option 2 - If you have only got a small area of your boots wet, you're more likely to develop tide-like marks. To even it up, use a clean cloth to lightly dampen the rest of the boots. Again, stuff and leave to dry.
3. How to remove oil stains from UGGs
Oil-based stains like food grease and cosmetics can be some of the most difficult to remove. If the stain is very settled or covers a large area, it is best to seek the advice of an expert service. But, if you're short on time or on a budget, there are things you can try at home.
Step 1 - Take a little talcum powder and apply it to the stain. The powder will act as a magnet, drawing the moisture out of the fabric. Set aside to allow it to work. Ideally, it's best to leave overnight, but if you're in a hurry, aim for at least an hour.
Step 2 - In the morning, use a clean brush or clean, dry cloth to gently brush away the powder.
4. How to remove unpleasant odors from UGGs
As previously mentioned, wearing your UGGs with socks will help to keep any unpleasant odors to a minimum. If you have started to notice an undesirable whiff from your boots, a specialist spray or the below at-home remedy can help.
Step 1 - Mix two teaspoons of baking soda and cornstarch. Deposit half of the mixture into each shoe. Similarly to removing oil stains, the aim is for the powdery textures to absorb excess sweat and oils inside the shoe—effectively drying them out.
Step 2 - Shake the mixture around inside the shoe, and leave to work overnight, or for at least a few hours.
Step 3 - When the time is up, gently shake the powder out of the shoe. Be sure to have removed all traces—you might want to enlist the help of a clean brush to help coax any remnants out.
5. How to clean the inside of your UGGs
Noticed that the inside of your UGGs needs a little TLC too? No problem. This is less risky than cleaning the outside, as it won't be as regularly visible.
"The sheepskin lining of your UGGs should be regularly cleaned, using a gentle approach with a cloth and specialist fabric cleaner," advises Charlotte. "Be aware, however, that because of the nature of sheepskin, overcleaning can damage the wool. We recommend a very delicate approach when teasing the fibers of the sheepskin to achieve the best clean and overall result."
6. How to clean the soles of your UGG boots
When it comes to cleaning your UGGs, the soles are the easiest section to treat. The sole will likely be rubber or plastic, depending on the design, both of which are far less delicate or absorbent than suede, nubuck or sheepskin.
"Rubber is much more versatile than suede or nubuck," says Charlotte. "Therefore a specialist leather cleaner or standard water-based cleaner can be used to remove the build-up of dirt from the outdoors. Doing this regularly will prevent the rubber staining as quickly and increase the longevity of your boots."
What can you use to clean UGGs?
Nervous about trying one of the at-home remedies above? Try a specialist kit instead:
(opens in new tab)
Clarks Suede Cleaning Kit
RRP: $7.40 / £6 | A great price point, this chic kit is perfect for treating marks and stains. Use the nylon brush for loose dirt and the brass one for more stubborn marks.
(opens in new tab)
Handbag Clinic Suede & Nubuck Cleaner
RRP: $25 / £20 | Its delicate nature means suede is one of the trickiest fabrics to treat. This kit is designed to treat shoes like UGGs with care when cleansing.
How often should you clean your UGGs?
The question of how often you should clean your UGGs is a little bit like asking how long a piece of string is. If you have mainly worn yours indoors, when traveling by car, during dry weather and on neutral terrains, then they're unlikely to have picked up much in the way of daily grime, but it's wise to clean them before you put them away at the end of the season. Equally, if you wear them with socks, they're less likely to develop an odor (if your shoes do smell, here's a hack for how to keep shoes fresh). If you're wearing your UGGs daily and are noticing that they are starting to mark, consider cleaning weekly. Or, make a habit of treating any potential marks after each wear.
While they're unlikely to get damaged at home, investing in any of the best shoe organizers will stop them from getting squashed and scuffed. It will also keep all your footwear in one place so it's easier to get dressed in the morning.
Can you put UGG boots in the washing machine?
Suede is a delicate fabric and doesn't take well to over-manipulation. For that reason, being whirled around in a washing machine, even on a handwash cycle, is likely to result in marks on the surface of the fabric. It is also best not to get suede wet, as, as we have already covered, this will likely lead to tide marks and water lines. The sheepskin can take a long time to dry once saturated too, which can also lead to a musty scent. All in all, it's fair to say that washing machines and UGG boots shouldn't mix.
Can you clean UGGs with soap and water?
If you need to clean a pair of plastic shoes, a good scrub with soap and water is a simple and cost-effective solution. UGGs, on the other hand, are not only an expensive item but made from quality fabrics, which means they don't take well to being scrubbed at or treated with harsh surfactants like soap. They don't even like water, so cleaning them in this way would only cause more problems than it solves.
Can you wear UGGs in the rain?
To ensure your UGG boots always look great, you will want to avoid wearing them during heavy rain. They should never be soaked in water, as this can mark the fabric. Of course, the weather is unpredictable, and wearing them in the rain cannot always be avoided. To minimize damage in these scenarios, blot with a clean, white towel when you get in and stuff before leaving in a cool place to dry.
Jess Beech is an experienced fashion and beauty editor, with more than eight years experience in the publishing industry. She has written for woman&home, GoodtoKnow, Now, Woman, Woman's Weekly, Woman's Own and Chat, and is a former Deputy Fashion & Beauty Editor at Future PLC. A beauty obsessive, Jess has tried everything from cryotherapy to chemical peels (minus the Samantha in Sex and The City-worthy redness) and interviewed experts including Jo Malone and Trinny Woodall.