Cleaning guru shares ingenious hack for keeping shoes fresh using teabags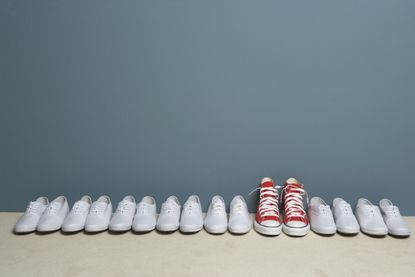 Summer and sweaty shoes are two things that, unfortunately, often sit in the same sentence.
And tackling seasonal odours emanating from our favourite footwear normally involves anything from a quick spin in the washing machine – providing the fabric's waterproof – to a frantic spritz of Fabreeze, or failing that whichever perfume we have to hand.
But now 'cleanfluencer' extraordinaire Lynsey Crombie – aka Lysney Queen of Clean – has offered up an ingenious trick that will ensure trainers (opens in new tab), plimsolls and more smell fresh throughout the hottest season of the year, and it involves nothing more than the humble teabag.
Lynsey Crombie teabag hack for shoes
Sharing the tip with her 146,000 Instagram followers, the cleaning expert reveals that any variety of teabag will do – we're thinking everyday builders rather than breaking out the earl grey – and can be simply popped into the offending pair of shoes overnight.
The porous nature of the teabags mean that all those nasty odours get drawn into your offending pair of shoes, and voila your pong problems are no more.
She also went onto reveal that once this task is done, the used teabags can also be used for other household tasks! Continuing she added, "To save waste make sure you reuse the ones from your shoes for other household tasks. Tea bags actually have lots of uses from cleaning marks of windows and mirrors to fertilising your plants."
The post attracted more than 2,000 likes and scores of comments from excited fans who were keen to give the surprising odour solution a whirl.
MORE:The handy cleaning hacks you need to know for a sparkling home
One wrote added, "Thanks for this tip...my husband cycles to work so anything to take the pong from his trainers."
While another added, "I've used this tip for many years. Learnt it off my grandad... Thought I was the only one who did this. I use the tea bags after to clean windows for a streak free shine."
A third continued, "This is brill, I will definitely being doing it this eve. ps love the trainer's, I've just bought them in the suede. Hopefully I can keep them clean."
Would you give this a try?
Miriam worked for woman&home for over five years and previously worked on the women's lifestyle magazines Woman and Woman's Own.